If you love caramel apples, this moist and delicious gluten free caramel apple cake will become your favorite apple recipe.
Fall is around the corner and I am so excited to get fresh organic apples again.
Apples are starting to show up in our farmer's market and I bought a big bag of Gravenstein apples. These apples are crisp and slightly tart, which really add a lot of apple flavor to baking.
This easy gluten free caramel apple cake recipe will help you use those yummy apples :-).
You may think I am silly. I know apples are available all year round, but in the spring and summer they are usually imported from far away, or they come from cold storage. When they are freshly picked, they are firm and juicy.
What recipes do you like to make with apples?
One of my family's favorite recipes is this gluten free caramel apple cake!
Do you like to bake or cook with them, or do you prefer to eat them raw?  My family is so fast, if I want to cook with apples, I will have to be quick. My teens love crisp apples and this big bag will be gone in just a few days.
Lucky for me my family loves to eat cake. There are a few delicious apple cakes here on the blog, including Gluten Free French Apple Cakes and this Fool Proof Gluten Free Apple Cake.  Both cakes are incredible, and full of apples…but it was time for me to make something a little different. I hid away 3 apples so I could make an apple sheet cake for them :-).
Do you know why I love this dessert? It is full of caramel flavor because I bake the caramel topping right into the cake.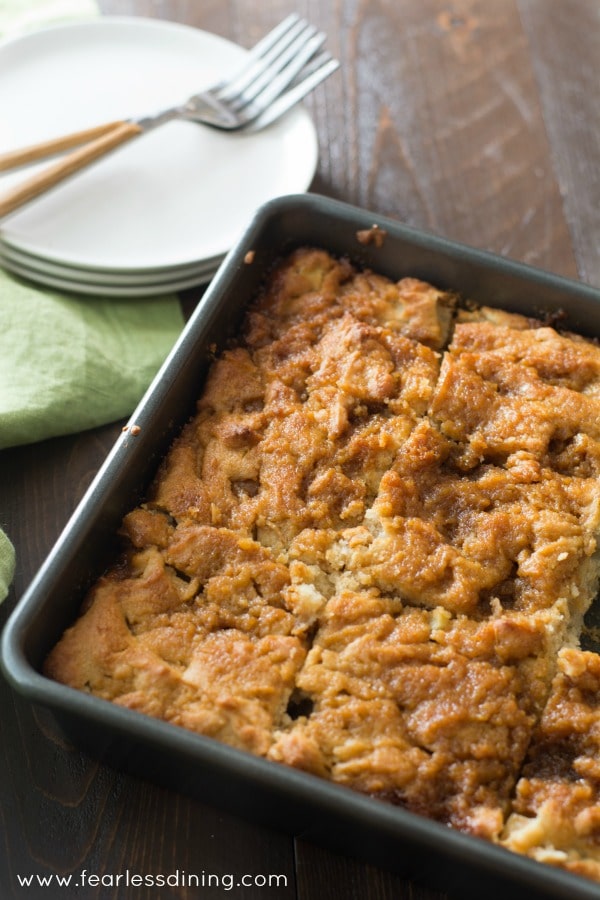 This cake is so easy to make, and there is even almond flour mixed in so that the protein can balance out some of  the caramel :-).
If you look closely at the egg photo above, you can see the tiny vanilla beans in this vanilla paste. You will LOVE Rodelle's Vanilla Paste because it adds so much real vanilla taste, with no alcohol aftertaste!
After you put the batter into your pan, pour caramel over the top. The caramel then bakes into this cake and the caramel seeps deep into the cake.
Tools Used To Make This Recipe:
8×8 baking dish. I love this pan because it is the perfect size for so many baked items I make.
Whisk. Sounds silly, but this is what I use to mix my wet and dry ingredients in their bowls. Then I use a spoon to mix the wet and dry ingredients together.
Gluten Free Flour Blend. This mix time and time again in almost all of my baked recipes. It just works.
Gluten Free Caramel Apple Cake
Print
Ingredients
2

cups

gluten free flour blend

1

cup

almond flour

3/4

cup

brown sugar

1

teaspoon

cinnamon

1

stick

butter

melted

2

large

eggs

1

cup

chopped apples

2/3

cups

almond milk

2

teaspoons

baking powder

1/4

teaspoon

salt

1

teaspoon

vanilla bean paste

1/2

cup

caramel

I used Trader Joe's jar of caramel
Instructions
Preheat the oven to 350 degrees.

Spray an 8x8 baking pan with coconut oil.

In a medium bowl, add all wet ingredients and blend.

In a large bowl, add all dry ingredients and whisk. (*Note, if your gluten free flour blend doesn't contain xanthan gum, add 1 teaspoon.)

Pour the wet ingredients into the dry ingredients and add the apples.

Mix.

Pour the batter into a baking dish and then drizzle caramel on top.

Bake for 25 minutes, or until done.

Allow to cool.
(*Please note this post has affiliate links. Ordering through my site will not change the price you pay. A tiny commission will come to Fearless Dining to help offset the cost of running this blog. I truly appreciate the support.)
My recipe has been featured on Better Homes and Gardens in 10 ways to enjoy a Caramel Apple (that's not a caramel apple).
More Yummy Caramel and Apple Desserts to Try!
Save
Save
Save
Save
Save
Save
Save
Save
Save
Save
Save
Save
Save
Save
Save