Costco is always finding new gluten free foods to tempt me with!
Hi…you have found one of the most popular posts on my blog.
I wanted to take a moment to welcome you. I started this blog two years ago to help those who need to be gluten free. Gluten free is hard, heck, anytime you have to make a huge adjustment in diet is hard. Doctors give a handout to you about gluten free, and they wish you luck. That just isn't enough and I remember standing in my grocery store for the first time. I felt so lost trying to figure out what I could feed my family safely. Please check out my family-friendly recipes if you have time.
Costco gluten free is an easy way to save on your groceries!

*If you have any questions about gluten free, please feel free to email me at [email protected] or send me a note via the blog.
It seems like more and more people are shopping at Costco to save money. Gluten free food is expensive so I am always on the hunt to find new ways to save money on gluten free groceries. I have found buying in bulk at Costco can help reduce costs quite a bit. Costco has tons of gluten free foods that you can read about here, and on my  3 other Costco Gluten Free Lists from over the past two years. Each contains different gluten free Costco finds.
*Although many of the products below are still at Costco, here are two updated Costco Gluten Free Products lists for 2016
Here are some of the fun new foods I found at our local Costco:
1. The Perfect Bar. These are by far our family's favorite protein bars. (They have to be refrigerated because they have egg white protein.) They come in Peanut Butter, Almond Butter, and a fun Cranberry Rice Puffy Crisp.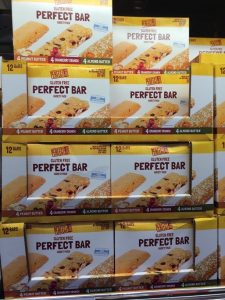 2. Sukhi's Curry Meals. I haven't tried these prepared meals, but we have tried several of their jarred Indian sauces. My kids prefer the mild flavors so I don't buy the spicier sauces often.
3. Stuffed Chicken by Vicky's Kitchen. I haven't tried this but it is certified gluten free. Fill in a comment below if you have tried these so other readers will know if these are worth purchasing!
4. Oscar Meyer is touting its gluten free turkey breast deli meat. This is good and my kids like to have this turkey sandwich meat in their lunchboxes.
5. Nature Raised Grilled Gluten Free Chicken Strips. These are really good and I find they are perfect for dinner in a hurry by making chicken tacos out of them. I loved these but unfortunately, our Costco sold out of these quickly :-(.
Does anyone's local Costco have these still?
6. Certified Gluten Free Coco-Roons Cookies. These raw treats are healthy and delicious. My kids love the lemon flavor best.
7. Two Moms in the Raw granola bars.
8. Rhythms Kale Chips in cool ranch. I tried these at the San Francisco Fancy Foods Show and really liked them. I could almost get my daughter to eat these :-).
9. Edamame Spaghetti. I have a sample of this, but I have yet to try it. (Update, we finally tried this pasta. It is easy to over cook this pasta so pull it out of the boiling water a little earlier than you would normally.)
10. Tate's Gluten Free Cookies. These are a great cookie. I also think Tate's makes these under the Trader Joe's label as well.
11. Gluten Free Chex Granola Mix. Our Costco had this for a few months, then it was gone. It was fun to sprinkle in yogurt.
12. Calbee Spinach and Kale Corn Chips. My kids wouldn't touch this but it was really good dipped in hummus.
Want to see MORE gluten free products at Costco? Check out these other posts full of gluten free goodness at Costco.
New Gluten Free Foods at Costco
Here are Some of My Most Popular Gluten Free Cookie Recipes to Check Out!
Save
Save
Save
Save