Hawaiian butter mochi is an easy dessert made with coconut and butter in a rice flour base. This butter mochi recipe makes a great gluten free dessert for any time. I also include a dairy-free option!
If you haven't tried mochi, this super easy butter mochi recipe is worth trying. Soft and creamy, this butter mochi just melts in your mouth. If you love this matcha recipe, wait until you try my matcha mochi recipe.
Jump to:
What is butter mochi?
"Bata Mochi" also known as Butter Mochi, is a naturally gluten free Hawaiian local treat. You may be surprised how easy this butter mochi recipe is to make. Hawaiian mochi cake is naturally gluten free, and our kids love it as a snack or dessert.
A lot of people have never heard of butter mochi. Think of it like a baked custard made with sweet rice flour. Butter mochi is a soft cake made with coconut (or regular) milk, sweet rice flour, sugar, and eggs.
As I worked with Skool restaurant for a blog interview, their co-owner/pastry chef, Hiroko Nagano, and I became friends. Her baking style has a Japanese influence from her family. Many of her recipes are gluten free. (You can read all about Skool and their gluten handling procedures.)
When Chef Nagano shared her amazing gluten free Black Sesame Banana Bread recipe with me, she also shared her Auntie Ellen's family mochi recipe. I knew this was special, and I asked if I could also write-up this recipe for the blog.
If you are new to gluten free, check out my post on gluten free living 101. There are tons of tips and strategies to learn how to live gluten free.
Why you need to try mochi cake:
This is not only seriously good, but this Hawaiian style mochi is different from the typical bean-filled Japanese style mochi. It is made with very few ingredients, and it tastes delicious!
Ingredients:
Sweet rice flour - Also called Mochiko. DO NOT substitute this with regular rice flour or brown rice flour or your mochi will not turn out. Trust me. You can find sweet rice flour at many grocery stores. I prefer this brand by Koda Farms.
Milk - I prefer to use coconut milk because it adds a little sweetness and flavor.
Sugar
Butter - Use unsalted butter. For dairy-free use vegan butter!
Eggs - Large
Baking powder with a tiny dash of salt
How to Make This Recipe:
Step 1: Preheat the oven to 325º F. Add the dry ingredients to a large bowl or standing mixer.
Step 2: Add your wet ingredients to a smaller bowl or add to the standing mixer. Pour the wet ingredients into the dry ingredients and mix.
Step 3: Mix the wet and dry ingredients together.
Here is a photo of the Hawaiian butter mochi batter so you can see the consistency. It is creamy and smooth.
Step 4: Pour the mochi batter into a greased 8x8 baking pan. Bake for 25 minutes. Allow cooling before cutting the mochi cake.
Tips and Recipe FAQ:
Does butter mochi need to be refrigerated?
Some people say bata mochi should be refrigerated and some people say it shouldn't be. Refrigerating the gluten free butter mochi is fine, but it will dry it out a little bit. It's better if you reheat it before serving or eating. I like to microwave it for a few seconds just to warm it up.
How do you store mochi?
Store your butter mochi on the counter too. It will last for a few days. You will know if it's bad because it will seem dry, hard, and potentially have mold on it.
Can I freeze mochi?
Yes, you can freeze Hawaiian butter mochi. It's best if you wrap the gluten free butter mochi in individual-sized pieces with plastic wrap. Then place it in a freezer bag or other airtight container. It will last around 1 month in the freezer. Toss it in the microwave for a few seconds when you are ready to serve.
Can I make mochi in a cupcake pan?
Yes, absolutely you can make butter mochi in a cupcake pan. This is ideal if you are serving to a crowd and want individual portions too. Just follow the instructions as directed. They don't take as long to cook when they are in cupcake tins unless you fill each section really full. A muffin tin filled no more than ½ way should take about 30 minutes but up to 45 minutes if filled higher.
Does shredded coconut taste good in butter mochi?
Yes, if you love coconut, you should try adding in some shredded coconut. Put up to 1 cup of shredded coconut into the batter. You can go a little bit less if you want a subtle coconut texture. Another option is to toast some coconut and put it on top. Either way, it's really
What does mochi taste like?
Mochi is sweet and chewy. Hawaiian butter mochi has a sweet buttery flavor.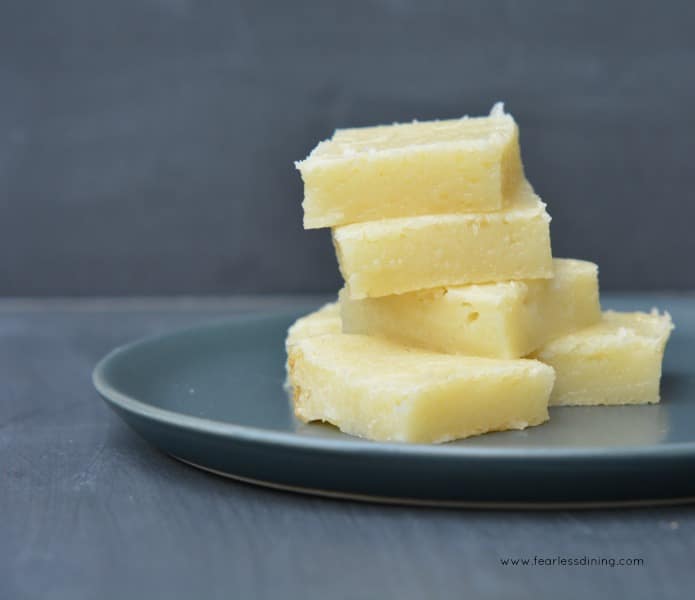 Reader Reviews:
Bailey F
Pinterest User
"This recipe looks delicious! I bet you could add different extracts for different seasons."
I LOVE hearing from you!! You can also FOLLOW ME on Facebook, Instagram, or Pinterest to see even more delicious recipes!
📖 Recipe
Auntie Ellen's Bata Mochi Recipe
Delicious Hawaiian bata mochi, or butter mochi recipe.
Ingredients
1

cup

sweet white rice flour

120 g

1

cup

coconut milk

or regular milk, 220 ml

½

cup

of organic sugar

100 g

1

large egg

2

tablespoons

melted butter

30 g

1

teaspoon

baking powder
Instructions
Preheat oven to 325 degrees.

Mix together rice flour, baking powder, and sugar in a medium mixing bowl.

Add egg, coconut milk, and melted butter and mix well.

Pour into a greased 8x8 baking dish.

Bake at 325 for 25 minutes.
Notes
1. Sweet rice flour, also called Mochiko, is the main ingredient for this dessert. DO NOT substitute this with regular rice flour or brown rice flour or your mochi will not turn out. Trust me. You can find sweet rice flour at many grocery stores. I prefer the brand by Koda Farms.
2. You can use regular milk. I prefer to use full fat canned coconut milk for added sweetness. 
3. Feel free to sprinkle with cinnamon.
Nutrition
Serving:
1
g
Calories:
136
kcal
Carbohydrates:
19
g
Protein:
3
g
Fat:
6
g
Saturated Fat:
4
g
Polyunsaturated Fat:
1
g
Cholesterol:
19
mg
Sodium:
65
mg
Sugar:
7
g
If you love the recipes you are finding on my blog, I would love for you to sign up for my newsletter (and get my free chocolate e-cookbook!)
(*This post was updated from a December 2016 post.)