When you see the ingredients in this chicken turmeric vegetable soup…you are going to think I am crazy. Once you taste it, you will love this delicious turmeric chicken soup recipe!
Turmeric
I love using turmeric in my recipes. This chicken soup recipe is full of nutrients and is a natural anti-inflammatory. Turmeric will stain your fingers, clothes, etc. I found that out when I made these turmeric chicken wings. They stained my baking sheet bright yellow!
Lately, with all of the sport injuries the guys in our family have had lately…we could really use any help we can get. My son is growing so fast, his ligaments aren't keeping up with his bone growth and he is pulling a lot of muscles. His achilles, IT band, elbows and knees. He is starting to get frustrated because he can't play sports a lot of the time. He starts another round of physical therapy, so I am hopeful he can get back to the thing he loves.
Turmeric is also a great cold-busting soup! I love to make a big pot full of this soup during cold and flu season.
It freezes well too so be prepared this winter!
Since both of my kids love soup, I thought using turmeric would be a perfect solution to get some natural inflammatory ingredients into them. (*Cooking with turmeric is easy. Here are two more delicious turmeric recipes to try: Turmeric Curry Lime Cauliflower or Turmeric Vinaigrette.)
I really don't know what I was thinking when I tossed random ingredients into the pot…but this soup turned out really, really good. Paleo, gluten free, and dairy free. It has lots of turmeric chicken flavors. You can add rice or noodles, or just enjoy it without carbs.
The first thing you will notice is the almost "neon" yellow of this soup. My son almost wouldn't eat it because of this. After a few minutes, I finally did convince him to give it a try. After two bowls, he declared this recipe a success :-).
Gluten Free Fontina Cheese Herb Scones are delicious with this soup.
(*Please note this post has affiliate links. Ordering through my site will not change the price you pay. A tiny commission will come to Fearless Dining to help offset the cost of running this blog. I truly appreciate the support.)
Tools You Need To Make This Recipe:
A big soup pot. Go ahead and make big vats of soup so that I can freeze some for other meals.
Easy chicken shredder. I used to use two forks, but these make shredding meat so much faster and easier!
Chicken Turmeric Vegetable Soup
Ingredients
6

cups

water

32

ounces

low sodium chicken broth

2

large chicken breasts

raw

1

tablespoon

turmeric

2

teaspoons

cumin

2

teaspoons

salt

I added more later so you may want to taste and add salt as needed

1

cup

peas

(frozen or fresh, not canned)

1

large onion

diced

4

parsnips

chopped

2

large potatoes

diced

1-2

zucchini

diced

1 1/2

tablespoons

olive oil

cilantro for garnish
Instructions
In a large soup pot, heat olive oil on medium heat.

Add onion and cook 3 minutes.

Add other vegetables and cook 5 minutes until they soften.

Add raw chicken breasts, water, broth, and spices.

Cover and bring to a boil.

Once boiling, reduce heat to medium low and cook until the chicken breasts are done.

Remove the chicken and with two forks, shred the chicken.

Return the chicken shreds to the pot and simmer for 10 minutes so the flavors soak into the chicken.

Garnish with cilantro.
Here are More Yummy Soup Recipes to Try!
Click here to see all of the soup recipes on this blog.
If you love soup, this Shredded Chicken Taco Soup is another quick and easy meal.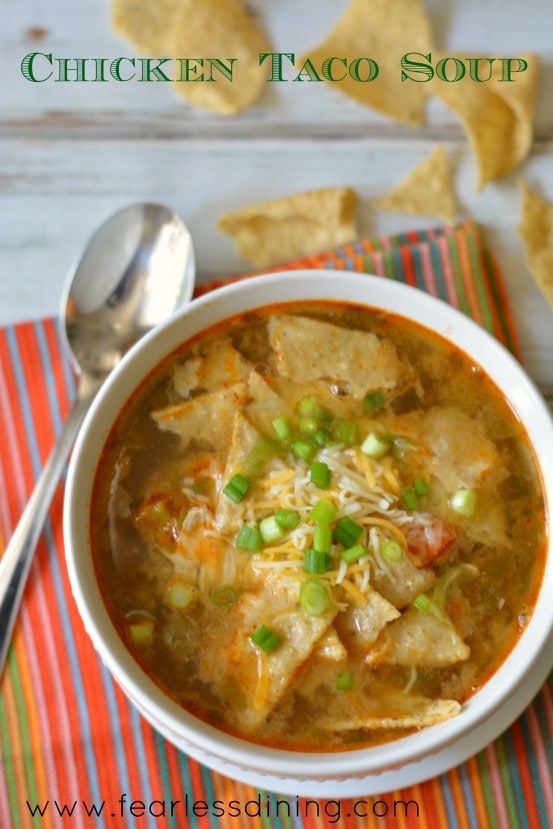 Save
Save
Save
Save
Save
Save
Save
Save