Paleo baked eggs are delicious for breakfast or brunch. Eggs are cracked into tiny honeynut squash, a delicious vessel for baking eggs in. This honeynut squash recipe is sure to please, it is so easy with just two ingredients!
This easy baked eggs breakfast recipe is healthy and makes a paleo breakfast that everyone will love. If you love breakfast as much as we do, you will want to check out all of my delicious gluten free breakfast recipes!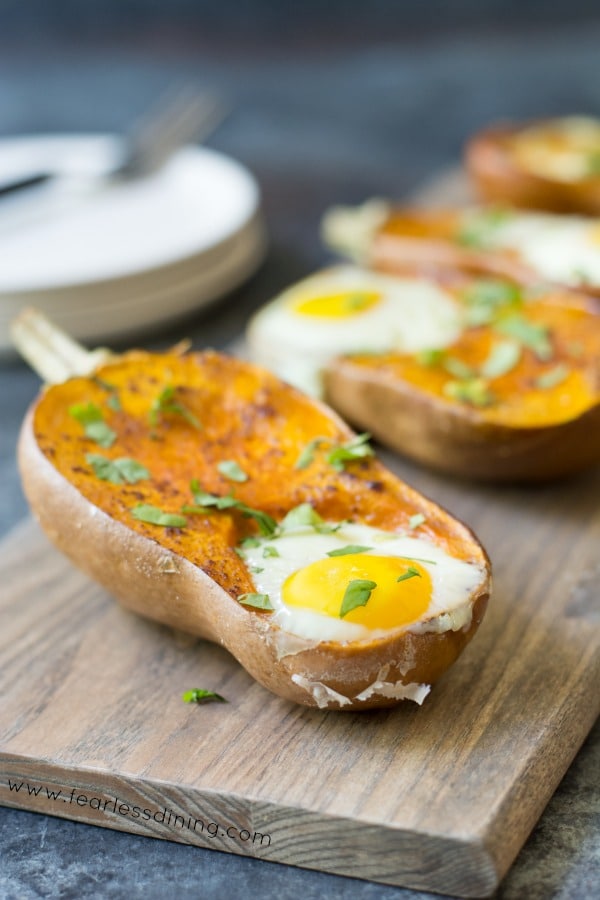 What is a Honeynut Squash?
Have you seen those cute little squash that look like mini butternut squash? These little squash are called Honeynut Squash and they are sweet and delicious!
If you wonder how the taste of honeynut squash compares to butternut squash, they are very similar. I feel like honeynut squash are a bit sweeter, which may be due to their small size.
Grab them if you can because they already disappeared from our store. The miniature butternut squash would make a delicious holiday side dish, or bake some eggs inside for a delicious paleo baked eggs breakfast.
If you love squash with baked egg, you may also want to try this Butternut Squash Egg Cups recipe!
Have you seen the honeynut squash at your local Trader Joes? At 99 cents each, how can I resist picking up a few to try out? They look pretty normal size when you look at this picture, but look below. I cut them in half and put a lime in the middle of these for a little perspective.
How do you cook honeynut squash?
The first step is to slice each honeynut squash in half lengthwise. It is easy to cut a honeynut squash as they are smaller than butternut squash. Once the squash is cut in half, use a spoon to scoop out the seeds. If you have a garden, you can dry the seeds and plant your own honeynut squash in your garden!
In this recipe, I roasted the honeynut squash in my oven. Since the eggs cook so quickly, I spread olive oil onto the squash and roasted them without the eggs for 20 minutes before adding the eggs.
If you are in a hurry, you can microwave the squash for 5 minutes to precook them before roasting with the eggs. Place the de-seeded honeynut squash halves face down in a microwave-safe dish. Cook for 8 minutes.
I created a paleo breakfast recipe with these squash because Mr. Fearless Dining is still trying to keep his carb intake down. Butternut squash works so well with eggs that I had to try with the honeynut squash.
This paleo baked eggs breakfast recipe is as easy as it gets. Slice the honeynut squash in half and scoop out the seeds. Next, drizzle olive oil and sprinkle a little salt and nutmeg on them. Bake without the egg for a bit then remove from the oven, drop a raw egg into the hole and bake again.
If you love winter squash as much as we do, don't forget to check out all of my easy gluten free winter squash recipes on the blog. You will find both savory and SWEET winter squash recipes to try!
One question I get often is people who ask if you can eat the skin of honeynut squash. You definitely could eat the skin, but it is tough and isn't sweet like the squash. Personally, our family just eats the sweet insides of the squash.
Did you know you can also use squash in desserts? Check out some of these fun ways to hide veggies!
Tools:
9x13" Baking Pan: This is just the right size to fit all of the pieces of squash in.
Olive Oil Mister: I have never heard of these until recently. This mister makes it so easy to put a fine mist of olive oil on vegetables before baking them.
Easy Paleo Baked Eggs in Honeynut Squash
Baked honeynut squash with eggs
Ingredients
3

Honeynut Squash

6

large eggs

dash nutmeg

dash salt

2

tablespoons

olive oil
Instructions
Preheat the oven to 375 degrees. (I baked mine in my toaster oven since they were so small.)

Slice each honeynut squash in half. Scoop out the seeds and place on a baking sheet.

Drizzle olive oil over each piece. Sprinkle salt and nutmeg on top.

Bake 10 minutes. Remove from the oven and crack an egg into each hole.

Bake an additional 15-20 minutes until the egg is cooked.

Serve hot. (Optional garnish with cilantro.)
Nutrition
Serving:
1
g
Calories:
153
kcal
Carbohydrates:
11
g
Protein:
7
g
Fat:
9
g
Saturated Fat:
2
g
Polyunsaturated Fat:
7
g
Cholesterol:
186
mg
Sodium:
101
mg
Fiber:
3
g
Sugar:
2
g
If you love the recipes you are finding on my blog, I would love for you to sign up for my newsletter (and get my free chocolate e-cookbook!)
Save