This is it…the moment where I reflect on the past year and think about the past year. My favorite way to do this is to list the top ten recipes for 2016. You will notice something interesting when you look at this list.
Throughout the top ten gluten free recipes on my blog, Fearless Dining, you will see that my readers have a massive sweet tooth!!
I am not kidding. These are the MOST popular gluten free recipes on my blog and 9 out of ten are desserts.
Do you see how many savory recipes are in the top ten?? That is right, there is only ONE. Every other favorite gluten free recipe is a dessert. Is this a hint that you want me to make more sweet desserts for 2017?
All kidding aside, I hope you enjoy these ten most popular recipes on the Fearless Dining blog. Each and every gluten free recipe idea here is worth a try in the new year :-).
#1 – Gluten Free Caramel Apple Cakes. This gluten free caramel apple cake recipe was by far the most popular recipe on my blog in 2016. One look at that gooey caramel and you will know why!!
#2 – Gluten Free Pumpkin 7 Layer Bars. This twist on a gluten free magic bar recipe makes these perfect for fall, and all year long!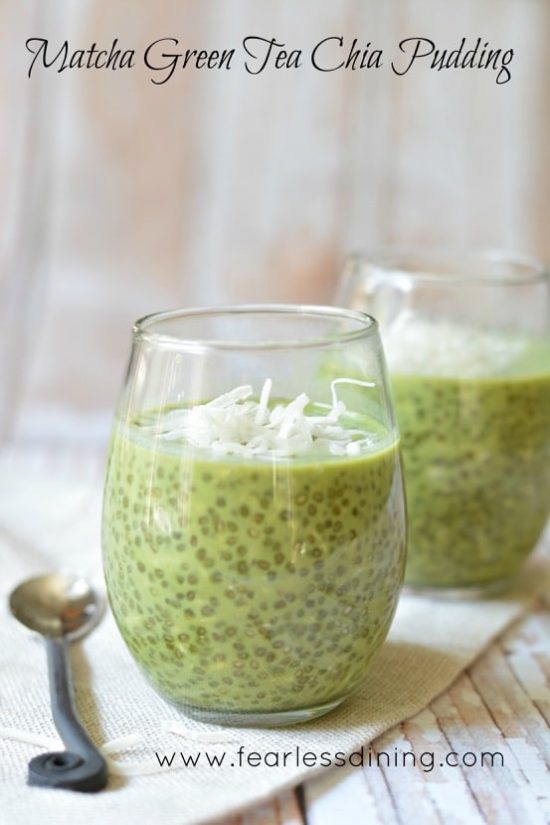 #3 – Matcha Green Tea Chia Pudding. Chia pudding took 2016 by storm as a healthy, high protein breakfast and snack option. It is so easy to make. Just dump the ingredients into a container and refrigerate overnight. It doesn't get any easier than that!
#4 – This Gluten Free Creamy Apple Cake is completely fool proof. Just try to mess it up :-). You will find this gluten free apple cake recipe to be incredibly moist and full of apple flavors. Definitely one of the top ten gluten free recipes!!
#5 – The only savory recipe to make the top ten best recipe list this year. Gluten Free Cauliflower Cheddar Pancakes. This recipe uses riced cauliflower. These pancakes are a delicious appetizer or vegetarian dish.
#6 – Gluten Free Pumpkin Baby Ruth Bundt Cake. This moist and delicious gluten free bundt cake recipe is the ultimate way to use up leftover Halloween candy!
#7 – Fresh Raspberry Mousse. This fruity raspberry mousse recipe is delicious anytime…and your kids will beg you to make this over and over again :-).
#8 – These Gluten Free French Apple Cakes are incredible. They are one of my very favorite recipes on the blog…and they taste just like a cake you could enjoy in France. You won't even know they are gluten free! I was really glad this recipe was in the top ten gluten free recipes for 2016.
#9 – Gluten Free Healthy Breakfast Donuts. There will be no guilt in your house for serving donuts for breakfast. These gluten free donuts are so healthy, and your kids will NEVER know!
#10 – Gluten Free Butterfinger Cheesecake Brownie Bars. This is another delicious dessert that you can use up leftover Halloween candy in. Gooey cheesecake on top of a gluten free brownie. It doesn't get any better than this!!
Honorable Mentions
Here are a few of my favorite recipes from the past year…
I have a feeling you will see these Paleo Bacon Wrapped Cornish Game Hens on the top ten next year!
This Gluten Free Vanilla Custard Caramel Apple Tart is a late comer to the blog…this is my kids' all time favorite recipe this year on the blog.
Something fun…making little pies in mason jar lids! These gluten free black grape galettes have a flaky delicious crust!
And there you have it. I hope you have an incredible 2017. From the bottom of my heart, I truly appreciate all of your blog visits, shares, and comments you have left for me over the past year.
Save
Save
Save