My fudgy gluten free chocolate cake with homemade cream cheese frosting is the perfect moist chocolate cake. It has rich dark chocolate flavors that blend in perfectly with the homemade cream cheese frosting. It melts in your mouth!
I include both dairy-free and nut-free options so everyone can enjoy baking this gluten free chocolate cake from scratch! Enjoy this cake in about 40 minutes!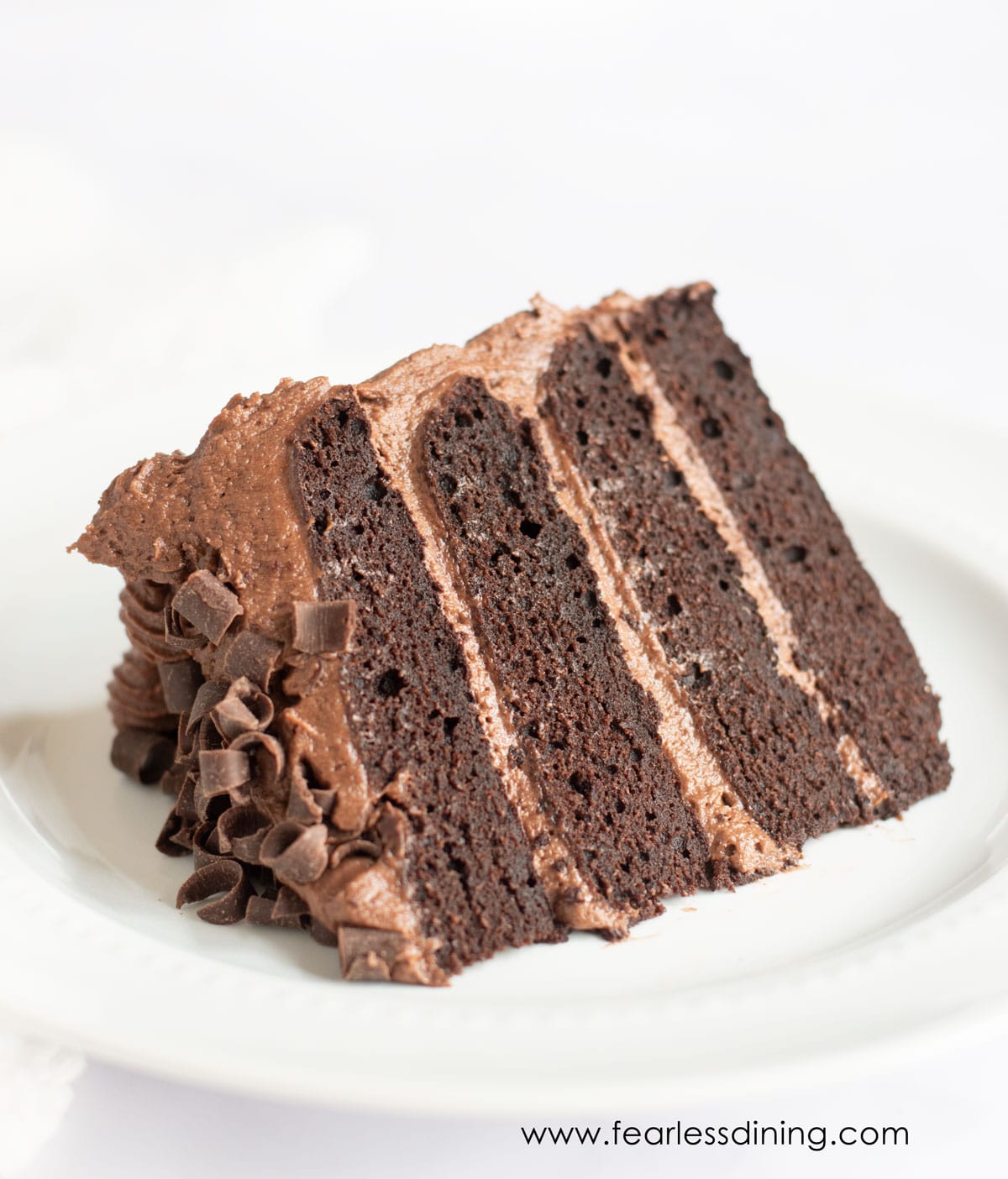 Jump to:
If you are looking for the best gluten free cake recipe, you are going to love making this cake. It is made for chocolate fanatics!
After years of perfecting my gluten free chocolate cake recipe, I can finally say it is ready for you all! If you love baking a cake from scratch, this is the cake to make! This classic chocolate cake is fluffy and fudgy and has all of the rich dark chocolate flavors you love in a cake!
And, if you prefer a great vanilla cake, this incredible Gluten Free Vanilla Cake recipe is also amazing!
If you love chocolate as much as we do, check out my best Gluten Free Chocolate Dessert recipes. They are guaranteed to help you with those chocolate cravings!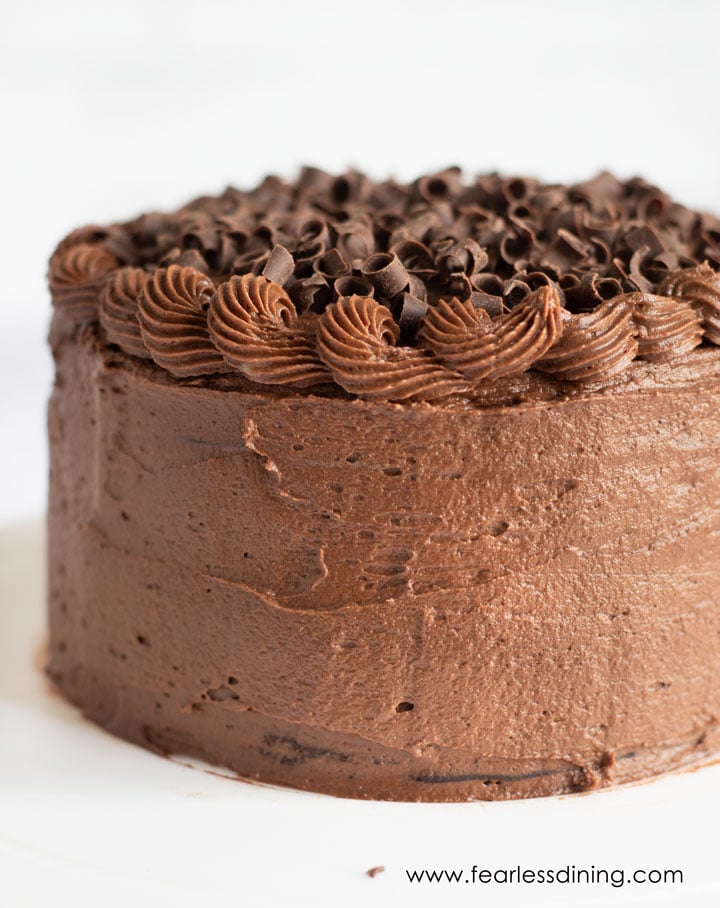 Why this is the only gluten free chocolate cake recipe you need:
You will love how easy it is to make this gluten free chocolate cake from scratch! This cake is rated a beginner baker level recipe.
This yummy gluten free chocolate cake is so fudgy! It is the ultimate chocolate lovers cake.
This chocolate layer cake serves 10 people.
You can enjoy this cake in just 40 minutes from start to finish!
Need a quick chocolate cake recipe but you don't want to bake? Try this Gluten Free Chocolate Mug Cake recipe!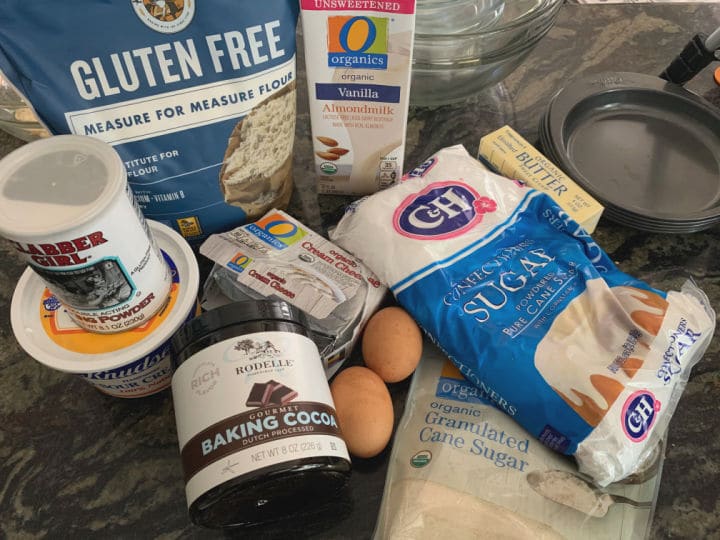 Ingredient notes:
Gluten free flour blend - I tested this recipe using Bob's Red Mill 1 to 1 Gluten Free Flour Blend and King Arthur's Measure for Measure Gluten Free Blend. That doesn't mean other flour blends will not work, I just have not tested other flours.
Cocoa powder - I love Ghirardelli and Anthony's brands. Almost all cocoa powder is gluten free, but always check the label.
Plain yogurt or sour cream - If you love your cake super moist, the secret to a moist chocolate cake is using yogurt or sour cream. I recommend using full fat yogurt in this cake, but either will work
Butter - If you need this recipe to be dairy-free, you can use vegan butter.
Non-dairy milk - I used almond milk but if you are nut-free, use a different milk.
Baking powder - Many ask if baking powder is gluten free and most are. Always read the labels!
I used this cute set of mini-layer cake pans. These cake pans make layer cakes so easy to make. You can choose how many layers to make your cake. You can also use this fudgy chocolate cake batter to make a sheet cake or even cupcakes.
Recipe step by step directions:
Preheat your oven to 350º F.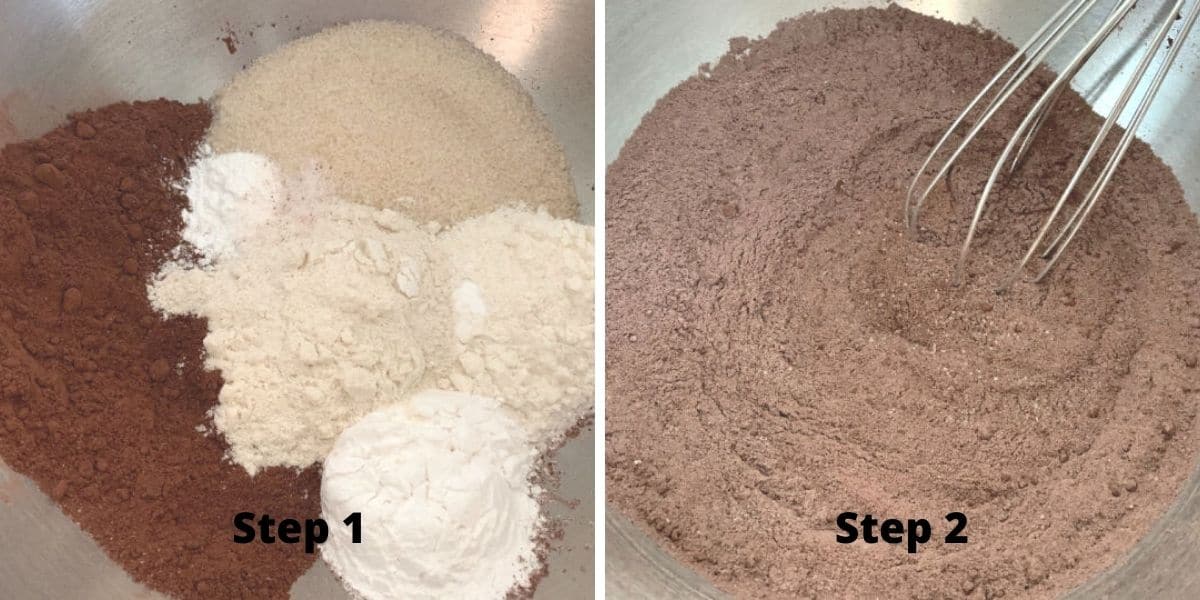 Step 1: Add the dry ingredients to a bowl.
Step 2: Use a whisk to blend the dry ingredients together.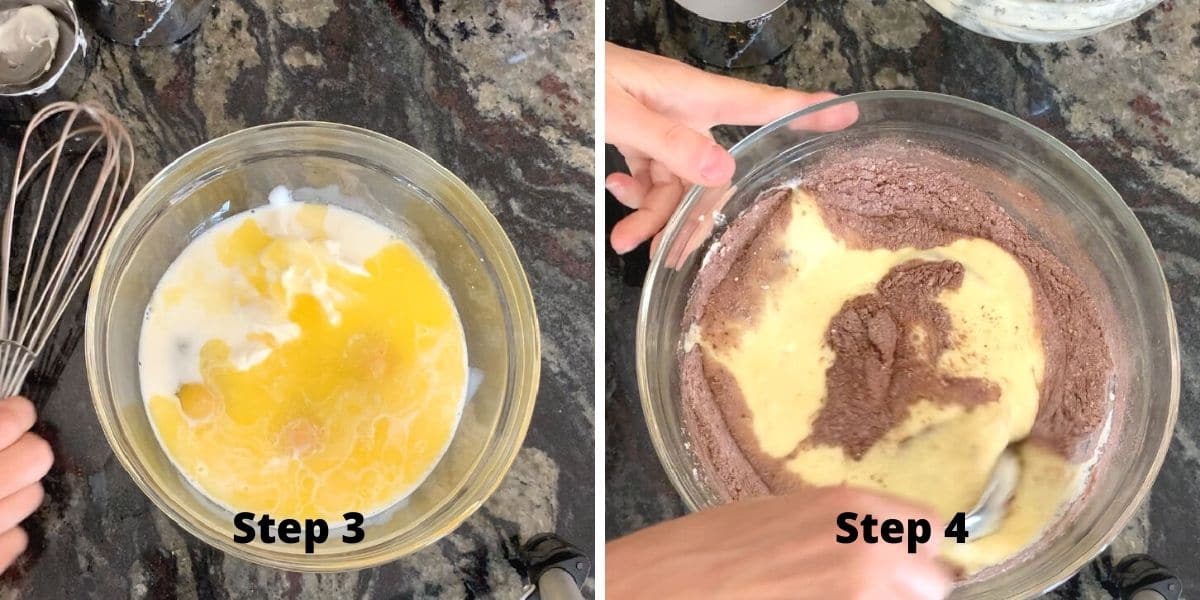 Step 3: In a smaller bowl, add the wet ingredients. Whisk to blend.
Step 4: Pour the wet ingredients into the dry ingredients. Mix the wet and dry ingredients together in the bowl with a large spoon. Mix them until they are just "barely" mixed.
HINT: Do not to over-mix or your cake or it will not be as light and fluffy! I NEVER use a standing mixer for gluten free cake. It makes your cake not as fluffy.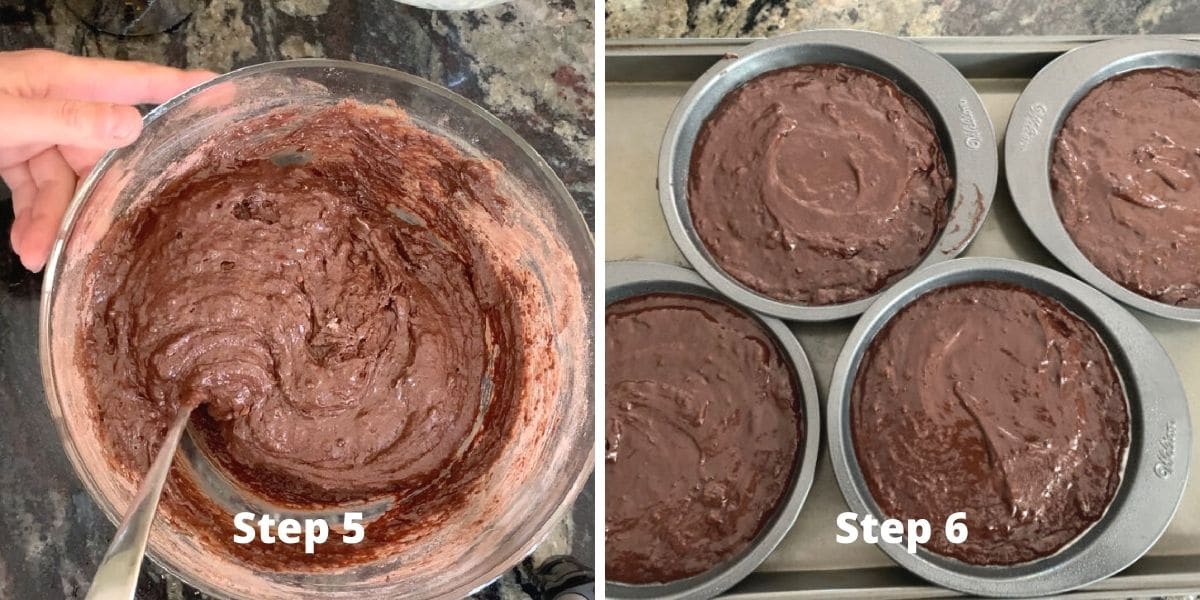 Step 5: This is the consistency of the batter. It is a nice rich chocolate color.
Step 6: Add the batter to the mini cake pans. Bake the cake at 350º F for 20 minutes. The bake time will vary depending on what pan you bake your cakes in.
To check to see if the cakes are finished baking insert a toothpick into the center of the cake. If the toothpick comes back clean, the cake is ready. If there are crumbs or batter on the toothpick, it will need to bake longer
TIP: Let the cake cool completely before frosting it. If you are in a hurry, cool your cake in the refrigerator.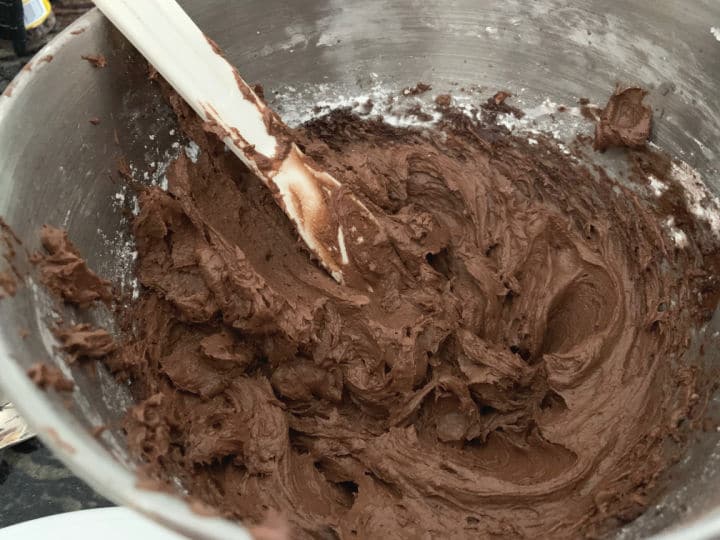 Step 7: While the cakes are cooling, mix up the cream cheese frosting in a standing mixer. Be sure your butter and cream cheese are at room temperature so your frosting is really creamy!
Frost the cake and building the layers up with frosting one by one. Add sprinkles if you like to the top.
I used Toll House Chocolate Curls that I found at my local grocery store to top the cake. If you want to make your own chocolate shavings or curls, this easy tutorial on how to make chocolate shavings is easy to follow.
If you want more chocolate, try these moist Gluten Free Chocolate Brownies.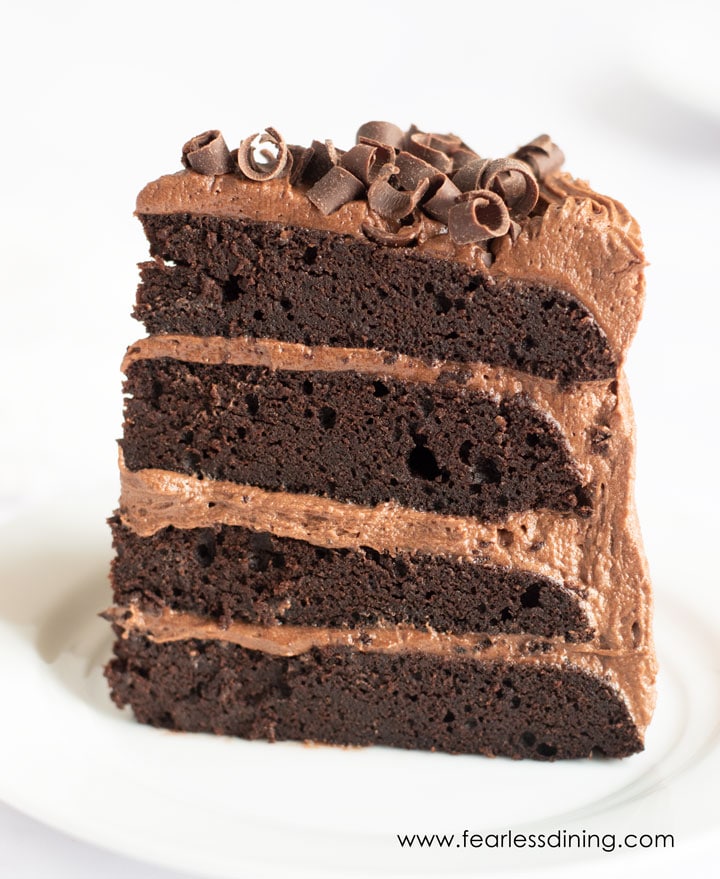 Check out my chocolate cake Google story on how to make this delicious cake recipe.
Tips and Recipe FAQ:
Can I make this cake dairy-free?
You can easily make this gluten free chocolate cake dairy-free by substituting the cream cheese for a dairy-free cream cheese like the one from Kite Hill. Also, substitute the yogurt for dairy-free yogurt.
Can I make this cake nut-free?
The only nuts in this recipe are in almond milk. Substitute soy milk or another non-dairy milk to avoid almond milk.
How long does this cake need to bake?
The layer pans I used in this cake recipe are very shallow so the cake doesn't need to bake very long. If you are making your cake in a larger pan, you will need to bake it for 20 minutes, then test to see how close it is to being done.
What brand of cocoa powder is gluten free?
Most brands are fine to use in this cake recipe. Always double-check the cocoa powder is gluten free. My favorites are Rodelle Cocoa Powder, Anthony's Cocoa Powder, and Ghirardelli Cocoa Powder.
How do I make my chocolate cake moister?
The vanilla yogurt in this recipe helps to keep my gluten free chocolate cake very moist.
Why didn't my cake rise?
If your cake didn't rise, you overmixed the gluten free cake batter. Overmixing makes your cake denser, making it more difficult for it to rise during baking.
Do gluten free cakes take longer to bake?
Gluten free cakes can take longer to bake. They also brown a bit faster so if you notice the top of your cake getting too brown, place a piece of aluminum foil over the top.
How do you prevent the cake from cracking?
If the top of your chocolate cake cracked, it was too close to the heat or your oven temperature was too hot. Try reducing the heat or lowering the rack in the oven.
Can you make this chocolate cake with oil?
If you would like to make this gluten free chocolate cake with oil instead of butter. That is fine and I tested this recently. I recommend using a light oil, not a strongly flavored one.
Can you make this cake in one bowl?
You could make this cake in one bowl, but I don't recommend it. The wet ingredients should be mixed separately so they get airy and fluffy to help the cake rise. This won't happen if you use one bowl.
More Delicious Cakes to Try:
Reader Rave:
My dearest friend is now following a gluten free diet. This cake was my first foray in baking for her --- holy heck, she LOVED it! and even the non gluten free people loved it. Its nice to make something to rave reviews while still following their dietary requests. Ill be making this often!"

Michelle, blog reader
I LOVE hearing from you!! You can also FOLLOW ME on Facebook, Instagram, or Pinterest to see even more delicious recipes!
Recipe
Gluten Free Chocolate Cake
Easy gluten free chocolate layer cake.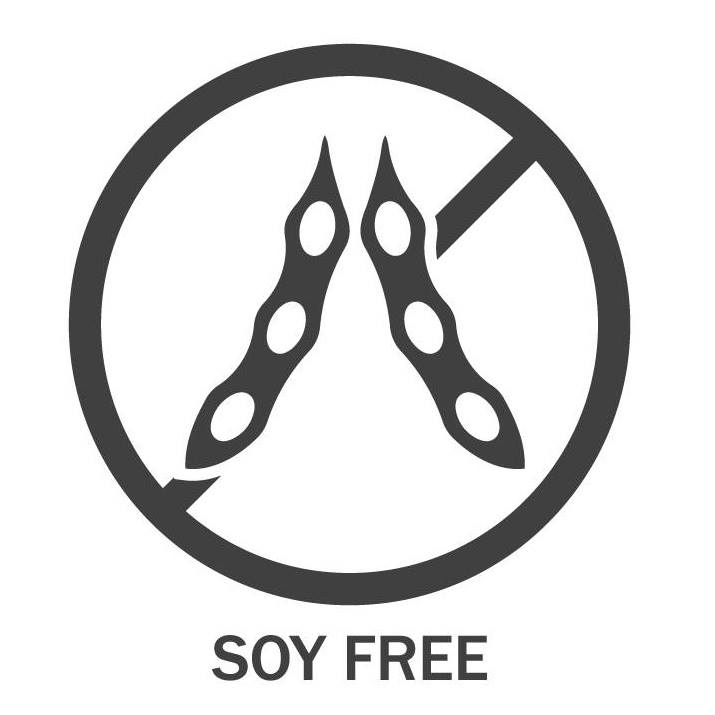 Ingredients
Cake:
¾

cup

sugar

¾

cup

cocoa powder

(*see note)

¾

cup

gluten free flour blend

(*see note)

3

eggs

size large

½

cup

butter

softened

1

teaspoon

baking powder + dash of salt

¾

cup

almond milk

or other milk

6

ounces

vanilla yogurt

*you can also use sour cream
Frosting:
8

ounces

cream cheese

softened

½

cup

butter

room temperature

3 ¾

cups

powdered sugar

½

cup

cocoa powder

1

teaspoon

pure vanilla extract
Instructions
Preheat the oven to 350º F.

In a large bowl, add all dry ingredients and whisk to blend.

In a smaller bowl, add all wet ingredients and mix.

Pour the wet ingredients into the dry ingredients and mix until just barely mixed. If you overmix your batter, your cake will turn out dense. I never use a standing mixer when I make gluten free cake because I like my cakes to turn out fluffy.

Spray cake pans with coconut oil. Add batter to each layer pan. (*see note)

Bake for 20 minutes, checking to see if it is done. (Time cooking really will vary depending on pan size, or if you are making cupcakes.)

Remove from the oven. Tip the pans so cakes come out onto the cooling rack.

To test for doneness, insert a toothpick into the center of the cake. If the toothpick comes out clean, it is done baking. If you see batter or crumbs, the cake need to bake longer.

In a mixer, add frosting ingredients and mix until thick and creamy. (Start on low speed so powdered sugar doesn't fly all over your kitchen!)

When the cake is cool, frost each layer. Use a rubber spatula to smooth and spread the frosting all around the cake.
Notes
There are many gluten free cocoa powder brands. I like Rodelle, Anthony's, and Ghirardelli.
I have tested this recipe with King Arthur Measure for Measure GF and Bob's Red Mill 1 to 1 GF blend. That doesn't mean others will not work, I just have not tested other flours.
If your gluten free flour blend doesn't contain Xanthan Gum, add 1 teaspoon.
To make this cake dairy-free, substitute the butter for vegan butter and use a dairy-free yogurt like Kite Hill brand.
I used almond milk but other dairy-free kinds of milk will work but I do not recommend canned coconut milk.
When mixing the batter, do not over-mix the batter. It would result in a denser cake.
You can bake this cake in regular-sized cake pans or as cupcakes if you don't have the mini layer pans.
This cake will keep up to 3 days in the refrigerator. You can also freeze this cake in the freezer. I recommend freezing the cake unfrosted with each layer wrapped in plastic wrap, then gently placed in a large freezer-safe zipper bag.
Nutrition
Serving:
1
slice
Calories:
565
kcal
Carbohydrates:
76
g
Protein:
7
g
Fat:
30
g
Saturated Fat:
17
g
Polyunsaturated Fat:
1
g
Monounsaturated Fat:
8
g
Trans Fat:
1
g
Cholesterol:
124
mg
Sodium:
335
mg
Potassium:
258
mg
Fiber:
5
g
Sugar:
63
g
Vitamin A:
950
IU
Vitamin C:
1
mg
Calcium:
131
mg
Iron:
2
mg
Nutrition Disclaimer
Nutritional information is an estimate provided to you as a courtesy. You should calculate the actual nutritional information with the products and brands you are using with your preferred nutritional calculator.
If you love the recipes you are finding on my blog, I would love for you to sign up for my newsletter (and get my free chocolate e-cookbook!)
Save