These gluten free pumpkin Butterfinger cupcakes are a match made in heaven. This the best fall cupcakes recipe, at least that is what my family tells me. This is the perfect use for leftover Halloween candy, or enjoy without candy!
For the best cupcake recipes, check out my Gluten Free Cupcakes resource guide!!
Click for Table of Contents:
I don't know why I was dreaming about Butterfingers last night. My go-to candy bar has always been Almond Joy...so go figure! The only thing I can think of is that I saw these new Butterfinger crumbles in our grocery store in the chocolate chip section.
I knew they would be perfect in this gluten free Butterfinger pumpkin cupcake recipe!
(*If you are a Butterfinger fanatic like me, try these Gluten Free Butterfinger Cheesecake Brownie Bars)
Is Butterfinger candy gluten free?
So, I went back to the grocery store and bought a bag of these Butterfinger crumbles. Butterfinger Candy Bars are gluten-free! (I double-checked and they are on the gluten free safe candy list! Updated 2020.)
I like to plan out the recipes I am going to make a few weeks ahead and I had originally planned to create a light pumpkin cupcake recipe for fall.
For this recipe, I used canned organic pumpkin puree. Don't use the canned pumpkin pie puree or you will get a very different flavor to these cupcakes. You could use freshly roasted pumpkin in this recipe, but your cupcakes will be VERY dense and not light and fluffy like this cupcake recipe was intended.
If you do decide to use fresh pumpkin puree, here is a great tutorial for roasting pumpkin and making homemade pumpkin puree. (While you are at it, try that gluten free pumpkin donut recipe too. It is crazy good!!)
I mentioned my intention to combine pumpkin and Butterfinger and both of my kids decided that Butterfingers and pumpkin won't go together.
I think the words "eeeewwww" and "don't do it mom" were screeched around my kitchen.
You know how vocal kids can get when they close their mind off to a new idea.
Of all of the cupcake flavors, I think I like this one best because of the natural sweetness from the pumpkin really blends well with Butterfinger candy bars.
And they were...amazing!
And my kids are eating crow :-). They loved them. Do you think your kids would eat this combination? I can't wait to hear what your family thinks about this cupcake recipe.
Tips and variations:
If you want these cupcakes to be light and fluffy, it is important not to overmix the batter. Mix until the wet and dry ingredients are barely mixed.
To reduce the high glycemic sugar, feel free to substitute coconut sugar in this recipe. (Note that coconut sugar will only work for the cupcakes, it will not work in the frosting!)
Feel free to use a different gluten free candy, or leave the candy out to make these less sweet.
Instructions: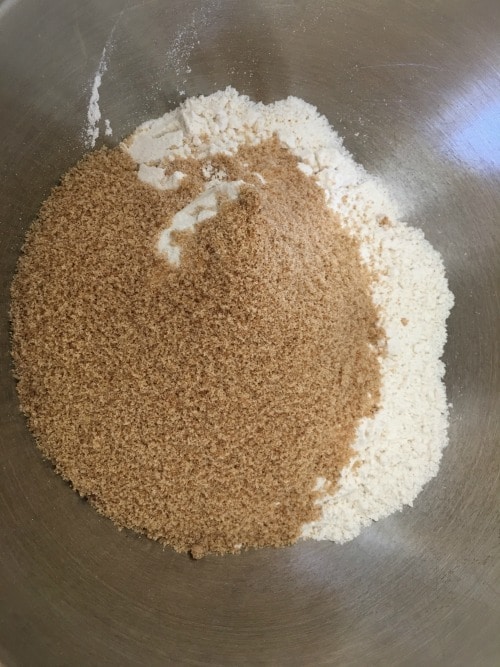 The first step is to add the dry ingredients to a bowl. Don't forget to add 1 teaspoon of Xanthan Gum if your gluten free mix doesn't include it. The Xanthan Gum helps hold the cupcakes together so it is important. Guar Gum will also work! Whisk to blend.
I have tested two gluten free flour blends in this recipe. I liked King Arthur Gluten Free Measure for Measure and Bob's Red Mill 1 to 1 Gluten Free Flour Blend. This doesn't mean other blends won't work, I just haven't tested any others. Try to avoid flour blends that are high in starch.
As always, if your blend does not contain Xanthan Gum, you will need to add 1 teaspoon.
Add the wet ingredients and whisk to blend. This is why I prefer canned pumpkin puree in this recipe. See how creamy the wet ingredients look? It is hard to get pumpkin you roast to be as smooth.
Mix the wet and dry ingredients. Add to a paper cupcake lined muffin tin. Bake at 350 degrees F for 20 minutes until done. Allow cooling.
Next, you want to make the frosting. Add the softened cream cheese and other frosting ingredients to a mixer.
Whip the frosting ingredients up. Use a frosting bag or knife to spread the frosting onto your cupcakes. Top with crushed Butterfingers or your favorite gluten free candy, or use none!
More Delicious Gluten Free Cupcake Recipes to Try:
These are gluten free, wheat-free, and perfect for anyone with Celiac.
Tools:
Muffin pan. This is the best way to get those cute cupcake shapes. Just add liners so you can pop them right out!
Electric mixer. This handy gadget keeps your batter super smooth which = fluffy cupcakes.
(*Note, this post was updated from an older September 2015 post. I hope you enjoy the extra tips and ideas!)
📋 Recipe
Gluten Free Pumpkin Butterfinger Cupcakes
Easy gluten free pumpkin cupcakes with Butterfingers.
Ingredients
1 1/2

cups

gluten free flour blend

*see note

1

cup

almond flour

1

cup

sugar

1 1/2

teaspoons

baking powder

1

teaspoon

baking soda

1/8

teaspoon

salt

1 1/2

teaspoon

ground pumpkin pie spice

2

large eggs

1

cup

pumpkin puree

3/4

cup

milk

*see note

1/4

cup

melted coconut oil

2/3

cup

Butterfinger crumbles

plus extra for sprinkling on top of frosting.

For Frosting:

1

stick butter

soft and room temperature

2 1/2

cups

powdered sugar

1

teaspoon

vanilla

1

tablespoon

water
Instructions
Preheat the oven to 350 F degrees.

In a large bowl, add all dry ingredients and whisk to blend.

In a medium bowl, add all wet ingredients and blend.

Pour wet ingredients into dry ingredients and mix.

Put paper cupcake wrappers into each cup in a muffin tin.

Fill each cup 3/4 with batter.

Bake 15-20 minutes until done.

Cool.

For Frosting

Put all ingredients into a large bowl.

With an electric mixer, whip until light and fluffy.

Spread on top of each cupcake.

Sprinkle Butterfinger Crumbles on top.
Notes
I have tested this recipe with Bob's Red Mill 1 to 1 GF blend and Authentic Foods Multi Blend in this recipe. That doesn't mean others will not work, I just have not tested other flours.
If your gluten free flour blend doesn't contain Xanthan Gum or Guar Gum, please add 1 teaspoon.
To make these nut-free, omit the almond flour and substitute an extra 2/3 cup of gluten free flour blend. Also, use nut-free non-dairy milk.
These cupcakes will keep up to 3 days in an air-tight container, or up to 4 months in the freezer.
To test for doneness, insert a toothpick into the center of the cupcake. If the toothpick comes out clean, it is done baking. If you see batter or crumbs, the cupcakes need to bake longer.
Adding Halloween candy on the frosting is optional.
Nutrition
Serving:
1
g
Calories:
401
kcal
Carbohydrates:
68
g
Protein:
6
g
Fat:
22
g
Saturated Fat:
11
g
Polyunsaturated Fat:
10
g
Cholesterol:
53
mg
Sodium:
426
mg
Fiber:
3
g
Sugar:
48
g
If you love the recipes you are finding on my blog, I would love for you to sign up for my newsletter (and get my free chocolate e-cookbook!)
Save