These healthy gluten free peanut butter muffins are perfect for a filling nutritious breakfast.
I am all about healthy quick breakfasts. These delicious muffins can even be frozen and thawed out when you need a nutritious breakfast or snack.
What is your go to grab and go breakfast?
I had hoped to make this gluten free peanut butter muffin recipe a long time ago, but it is almost impossible to find enough peanut butter in our house to make these muffins.
You can imagine my house:
Mr. Fearless Dining comes into the kitchen, grabs a spoon and dips it into the peanut butter jar. My son comes in and follows suit. Next thing you know, the peanut butter jar is gone. Let's not even talk about double dipping. They swear they don't. This easy kid friendly peanut butter muffin recipe is wheat free and dairy free.
Well, these muffins are deliciously peanut buttery…if that is a word :-).
I make a double batch and toss the left overs in the freezer. The next morning I put them into the microwave for 30 seconds and breakfast is served!
Check out how easy this gluten free muffin recipe is to make.
This photo shows the consistency of the batter once the wet and dry ingredients are mixed in.
Fill cupcake liners with the batter and bake for 20 minutes at 350 degrees.
Click here to see all of my gluten free muffin recipes.
(*Please note this post has affiliate links. Ordering through my site will not change the price you pay. A tiny commission will come to Fearless Dining to help offset the cost of running this blog. I truly appreciate the support.)
Things You Need to Make This Recipe:
This is my favorite muffin tin for making muffins.
These mixing bowls are key to fluffy muffins. They don't slide when you mix the batter so you can mix this very lightly.
Healthy Gluten Free Peanut Butter Muffins
Ingredients
1 1/2

cups

Pamela's Baking and Pancake Mix

1

cup

Gluten Free Ancient Grain Oatmeal

Trader Joe's, but regular gluten free rolled oats are fine too.

3

tablespoons

flaxseed meal

1

tablespoon

chia seeds

1/2

cup

peanut butter

3/4

cup

almond milk

3/4

cup

coconut sugar

1/3

cup

butter

melted

1/8

teaspoon

salt

1

teaspoon

vanilla

2

large eggs

1/2

teaspoon

baking soda
Instructions
Preheat the oven to 350 degrees.

In a mixer, add all wet ingredients and mix on low speed.

Slowly add dry ingredients.

When all of the dry ingredients are mixed in most of the way, increase the speed to medium.

Mix about 30 seconds.

Turn off the mixer.

Line a muffin tin with paper muffin liners.

Fill each muffin section 3/4 the way up with the batter.

Bake 20 minutes.

Remove from the oven and put muffins onto a cooling rack.
Here is a round up of the top 6 gluten free healthy muffin recipes on my site!
If you need a few more ideas to serve with these muffins, how about these?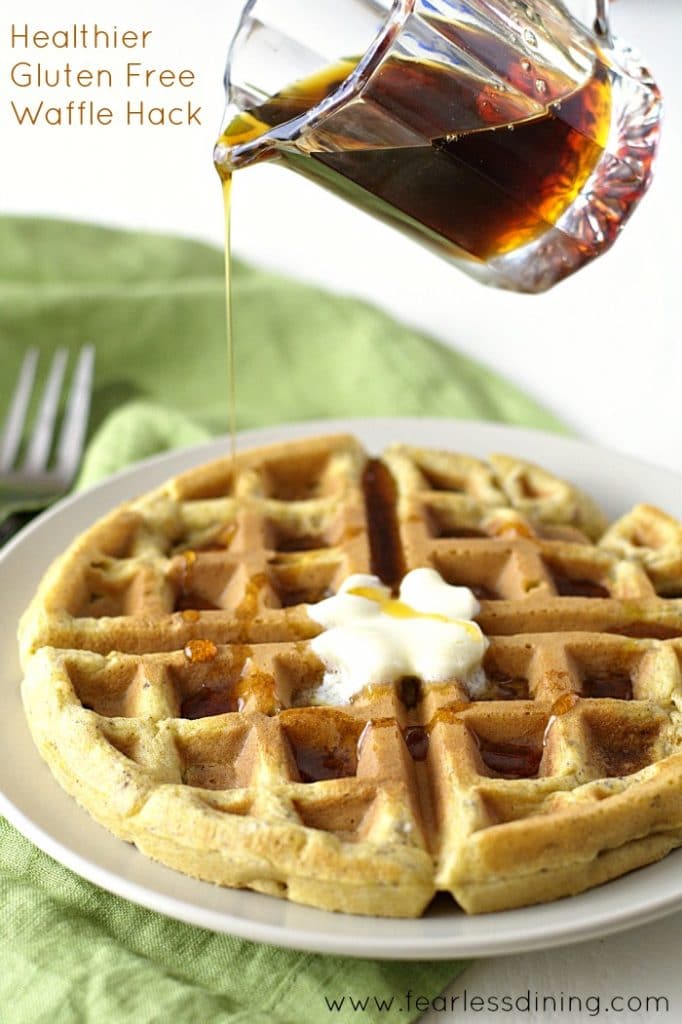 Turkey and Heirloom Tomato Omelettes
Save
Save
Save
Save