Yup, I created an amazing gluten free acorn squash cookies. It has a secret ingredient you MUST promise never to tell my kids about.
I know we have talked about this before on my blog.
My kids will not touch any treat they think is healthy. Hidden veggies? They will run screaming!
(*If they don't run screaming, feel free to try these other hidden vegetable desserts: Kabocha Squash Mousse and these Paleo Delicata Squash Brownies!)
If I share this recipe with you, you must absolutely promise never to tell my children. These are the cookies they beg for. I have even caught my son stealing one and dashing up to his room to quickly eat it when he thought I wasn't looking.
If they found out there was acorn squash in this cookie, they would storm to their rooms, roll their eyes, and never eat them again. Kids are just weird that way!
You may ask why I used a squash in my cookie recipe. Well, now that I get weekly organic farm boxes from Farm Fresh to You, I am getting all sorts of fun produce to play in the kitchen with. What better way to experiment than to use a vegetable in an unexpected way!
Before I dive into the recipe and photos, I want to share a photo of a stowaway."
This little guy was in our farm box last week. Ladybugs eat aphids and other pests, and are a key part of organic farming. This is just one sign that organic farms really understand organic farming and pest management and keeps us safe by not using toxic pesticides!
Acorn squash is a sweet and light winter squash. It can be cooked in many ways.
For this cookie recipe, I wanted my squash to be really mushy and soft. I cut the squash in half, scooped out the seeds, and then put the half upside down in a bowl filled with a little water. I microwaved it for 6 minutes until it was soft.
I mixed up the dry and wet ingredients in separate bowls, then added everything together to mix.
As you can see from this photo, this is a very moist cookie batter.
OMG cookies! I do want to warn you to be careful. The little caramel bits are really hot when melted. Use caution when pushing these cookies off of your spatula. You can get burned if you are not careful.
Secret Ingredient, Best Gluten Free Cookies Ever!
You won't believe how good these cookies are. Full of healthy squash, your kids will never know!
Ingredients
1 cup almond flour
3/4 cup Authentic Foods Multi Blend Flour
1/4 cup ground flaxmeal
1 cup coconut sugar
1 teaspoon baking powder
1/2 teaspoon baking soda
1/4 cup Bob's Red Mill Gluten Free Corn Flour
1 cup acorn squash mash
2 large eggs
1 teaspoon vanilla
3/4 cup coconut oil, melted
1 teaspoon cinnamon
1/2 teaspoon ginger
1/2 cup white chocolate chips
1/2 cup caramel bits, (I used some by Kraft but you can also chop up caramel squares, or make them)
Instructions
Preheat the oven to 350 degrees.
Cut acorn squash in half lengthwise and scoop seeds out.
Put half of the squash face down in a bowl.
Fill bowl 1 inch deep with water.
Microwave for 5-8 minutes until very soft.
In a large bowl, whisk all dry ingredients.
In a medium bowl, add all wet ingredients, including squash mash.
Pour wet ingredients into dry ingredients and add chips and caramel.
Mix well.
Scoop onto greased cookie sheet.
Bake 7-10 minutes (until done.)
*Be careful. Caramel bits are very hot when it comes out of the oven.
Nutrition Information:
Yield:

18
Serving Size:

1
Amount Per Serving:
Calories:

265
Total Fat:

14g
Saturated Fat:

9g
Trans Fat:

0g
Unsaturated Fat:

4g
Cholesterol:

22mg
Sodium:

106mg
Carbohydrates:

32g
Fiber:

2g
Sugar:

19g
Protein:

4g
Please note this nutrition information is calculated by a recipe plugin and is an estimate based on the ingredients used in this recipe.
Want to try more fun "hidden vegetable" dessert recipes?
Gluten Free Sweet Potato Scones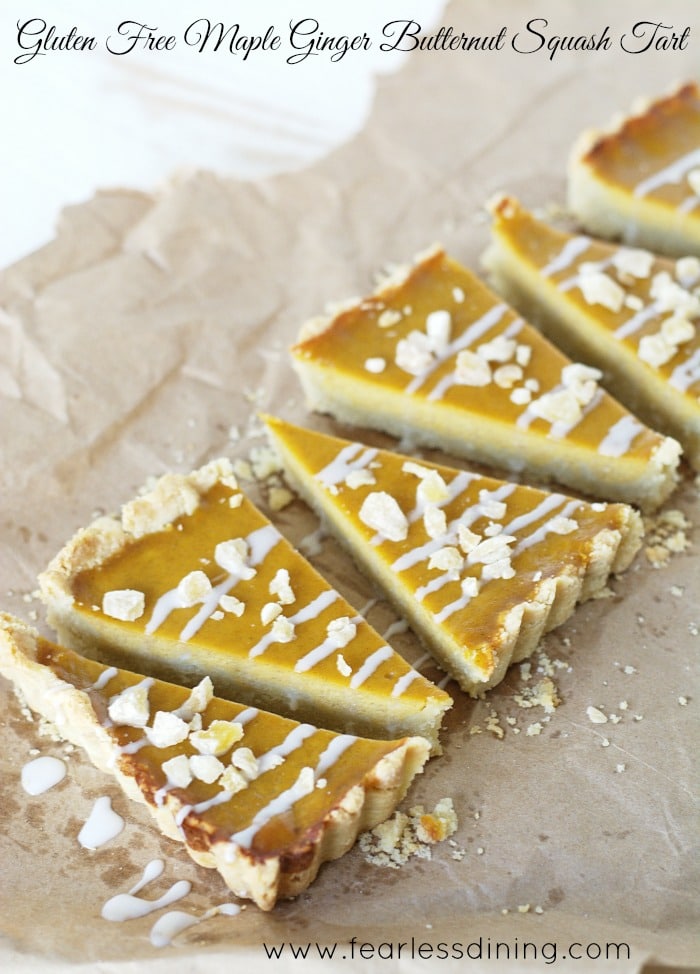 Gluten Free Maple Ginger Butternut Squash Tart
Save