If you haven't tried making homemade gluten free matzo for Passover yet, you are going to love how easy this recipe is to make. Topped with traditional salt, or spruce it up with some everything bagel seasoning. This gluten free matzo recipe is egg-free and dairy-free as well!
Jump to:
Making gluten-free matzo is a great option because it allows individuals who are gluten intolerant or have celiac disease to participate in the Passover tradition without sacrificing their health. Matzo is a staple food eaten during the Jewish holiday of Passover. Passover commemorates the Israelites' liberation from slavery in ancient Egypt, and it is celebrated over seven days.
Sometimes gluten free matzo can be hard to find in local stores, so making gluten free matzo from scratch is a great option. My crispy gluten free matzah can be made into sheets and shaped like traditional matzah, or freestyle as ovals you roll the dough out as. It is perfect to serve with any meal.
I also like to use a pizza wheel to cut them into gluten free matzo crackers, which are awesome for dipping into dips like my Hatch Chile Hummus or this Roasted Eggplant and Pepper Dip.
Why do you eat Matzah at Passover?
Matzo has a long history that dates all the way back to when the Israelites were escaping from Egypt. They were in a hurry and didn't have time to allow their bread to rise before they had to leave. This unleavened bread is a staple during Passover.
Serve this matzo at your Seder, or you can eat it as you would crackers. You can also crush it up to use in other gluten free recipes for Passover.
Why This Recipe is Great:
I love making my own homemade matzo. I have worked on this recipe for a long time and I finally got my matzo to be crispy, and delicious.
Use it to make gluten free matzah bark if you are looking for a fun Passover dessert!
My recipe is easy to make, only requires 4 simple ingredients you already have on hand, and it can also be made into gluten free matzo crackers!
If you are new to gluten free living, I have a ton of great Gluten Free Resources to help you every step of the way.
Top Pick
Bob's Red Mill Gluten Free 1:1 Flour, 22-ounce 4 pack
This is a great gluten-free flour blend for making cookies, muffins, and biscuits. For best results, be sure to let the batter sit for 15-20 minutes before baking. Do not use this blend for yeast recipes.
Buy Now
We earn a commission if you make a purchase, at no additional cost to you.
Ingredient Notes:
Gluten Free Flour Blend - You can use any brand. I used Bob's Red Mill 1 to 1 GF Blend. Just make sure your blend has xanthan gum or guar gum to hold it together. King Arthur's Measure for Measure also works well.
Olive Oil - I use extra virgin olive oil in my matzah recipe. It helps keep the matzah from getting hard like a brick.
Salt - You can use any type of salt, but I prefer using kosher salt in this recipe.
Optional Toppings:
Everything Bagel Seasoning - This adds a fun flavor to your matzo. I get this at Trader Joe's in their spice section, but Amazon and any grocery store should carry some version of this seasoning.
Sesame Seeds - I use raw sesame seeds since they toast when they bake with the matzah.
Poppy Seeds - These are another fun topping to add before baking.
Recipe Step-By-Step Directions:
🔑 Sandi says: Before mixing up the ingredients, preheat your oven to 425º F. If you have a pizza stone, put that into the oven to get nice and hot. (Be very careful when taking it out to add the matzo dough!)
Step 1: Add the dry ingredients to a large mixing bowl and whisk to blend. Pour the wet ingredients in.
Step 2: Mix the ingredients to form a dough ball.
Step 3: Sprinkle parchment paper or a silicone mat with a little gluten free flour and put the dough ball on the paper.
Step 4: Use a rolling pin to roll out your matzo. Make your dough as thin as you can. I often have to sprinkle the top with a little more flour, so the dough doesn't stick to the rolling pin. That is ok and normal.
Step 5: Cut your dough into a square. Sprinkle with salt and score the dough. To score the dough press your fork into the dough in rows. This will keep your dough from puffing up too much while baking.
Step 6: If you are making gluten free matzo crackers with your dough, use a pizza wheel to cut the dough into little rectangles or squares. Sprinkle salt or another topping on top. You can also add herbs like thyme and rosemary.
Step 7: I bake this on the pizza stone but because the matzo dough is so thin, I put the parchment paper and rolled out the matzo dough right onto the pizza stone.
Step 8: Bake for 10-15 minutes and then check to see if it is bubbling on the underside. The actual baking time will vary depending on the size and thickness of your matzo dough sheets.
Serve With:
Make it a delicious Passover cedar meal by serving this matzo with:
Tips and Recipe FAQ:
Is it spelled Matzo or Matzah?
Matzo has many different spellings. Matzo or Matzah is a common question! In the food industry, you will see Matzo on the packaging, but in the religious community, the Matzah spelling is more common
What brands of Matzah are gluten free?
There are two brands of gluten free matzah. Manischewitz and Yehuda. Both brands are very good and can be found in most grocery stores around Passover. If you are looking for it outside of Passover, Thrive Market carries it in their online store year-round.
Matzo can turn out hard. Is there a way to bake it softer?
If you don't want your matzo to be as crunchy, use a pastry brush and LIGHTLY spread olive oil over the matzo dough. This will make it a little softer.
How long will this matzo keep fresh?
This matzo technically can keep fresh for 4 days, but stored in a container, it gets a bit soft. You can pop it in the toaster to re-crisp it, but it really is best the same day you bake it.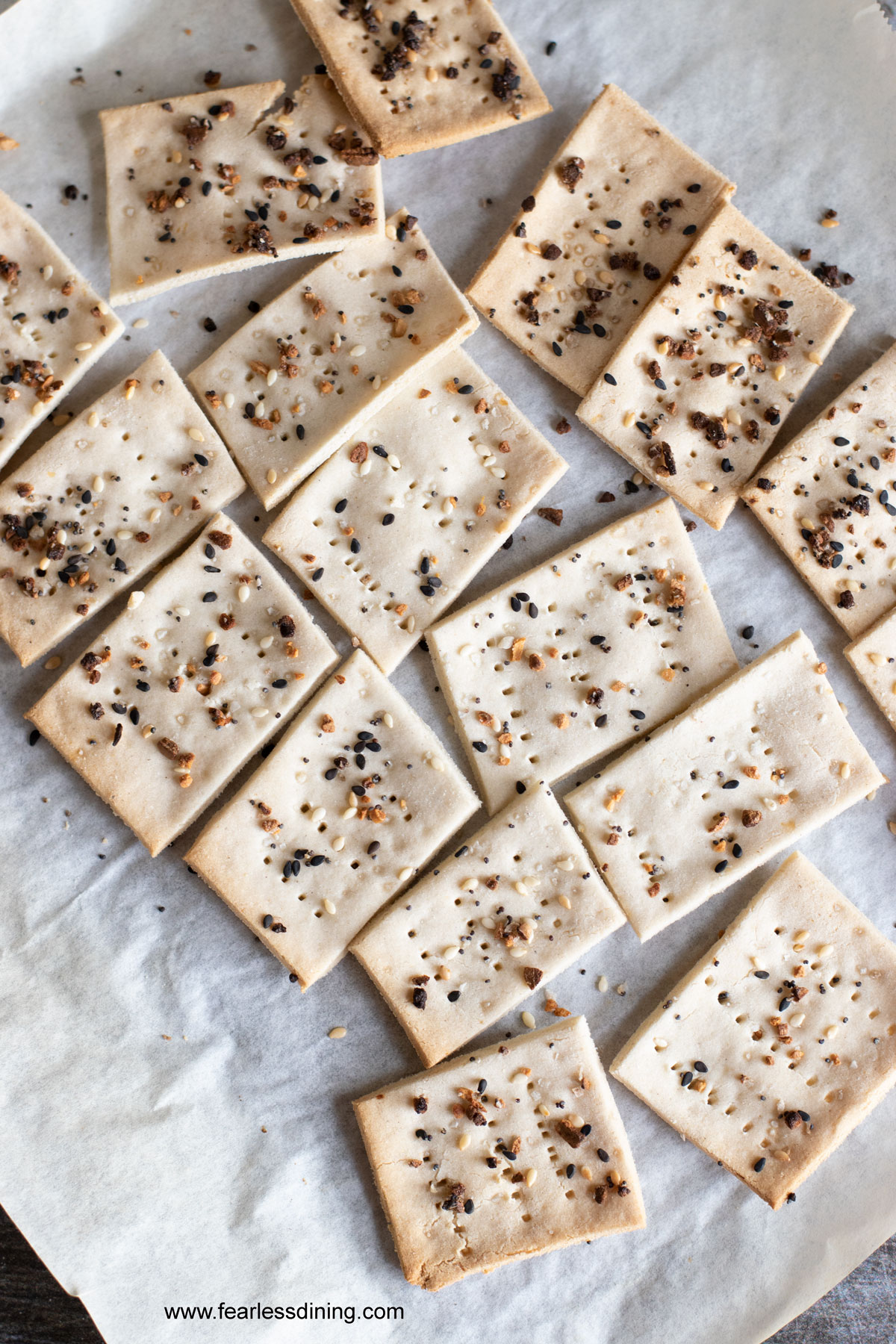 I topped my gluten free matzo crackers with everything bagel topping. They are full of flavor!
More Passover Recipes:
📖 Recipe
Gluten Free Matzo
Get ready for Passover with this crispy gluten free matzo recipe. Top with traditional salt, or shake things up with an everythibg bagel topping.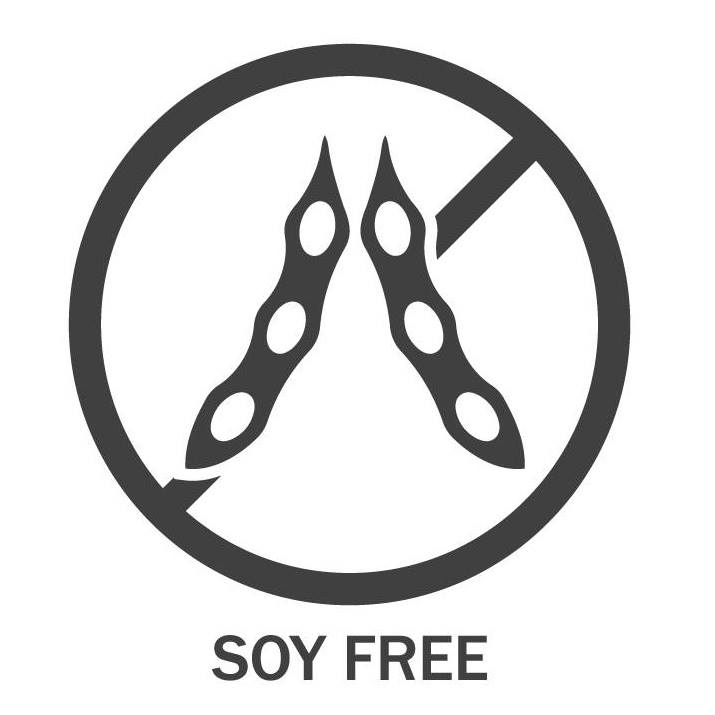 Ingredients
Optional Toppings
2

tablespoons

everything bagel

½

teaspoon

coarse salt

1

tablespoon

sesame seeds
Instructions
In a large bowl, add the flour and salt and whisk to blend.

Preheat the oven to 425º F. If you own a pizza stone, heat it in the oven as it preheats.

Add the water and olive oil and mix well.

Put a piece of parchment paper on the counter and dust it with gluten free flour blend.

Put the dough on the parchment paper. Sprinkle the dough with a little flour and roll the dough to a very thin rectangle.

You can cut the edges to make your matzo into a square, rectangle, or leave as rolled.

Optional: If you don't want your matzo to be too crunchy, brush the matzo with olive oil.

Use a fork to score the dough. I did mine in rows to mimic the look of store-bought matzo.

Sprinkle coarse salt, poppy seeds, sesame seeds, or everything bagel on top. Slightly press the toppings in.

Lift the parchment paper up and quickly put it onto the hot pizza stone. Bake for 15-20 minutes until the matzo is crisp.

Remove from the oven and repeat with the next piece.
Notes
You can use any gluten free flour blend for this gluten free matzo recipe. If your flour blend doesn't contain xanthan gum, you will need to add 1 teaspoon and whisk that into the dry ingredients.
Technically, this matzo will keep up to 4 days. The downside is the matzo loses its crispness stored in a container. You can try to re-crisp it in the oven at 225º F for 10 minutes.
To make gluten free matzo crackers, use a pizza wheel to cut each rolled matzo dough into squares or rectangle crackers. Bake as directed above.
SPECIAL NOTE
Please know that every gluten free flour blend has a different starch to grain ratio. If you use a blend I didn't test, you may need to adjust your moisture levels in your baked goods.
Nutrition
Serving:
1
g
Calories:
215
kcal
Carbohydrates:
33
g
Protein:
5
g
Fat:
9
g
Saturated Fat:
1
g
Sodium:
490
mg
Potassium:
5
mg
Fiber:
5
g
Sugar:
2
g
Vitamin A:
1
IU
Calcium:
41
mg
Iron:
2
mg
Nutrition Disclaimer
Nutritional information is an estimate provided to you as a courtesy. You should calculate the actual nutritional information with the products and brands you are using with your preferred nutritional calculator.
This post was updated from an older March 2021 post with more recipe details.
If you love the recipes you find on my blog, I would love for you to sign up for my newsletter (and get my free gluten free lemon dessert e-cookbook!)