If you are learning how to bake gluten free, you have probably had some epic baking fails. I walk you through the most common gluten free cake baking problems and how to prevent or fix these problems.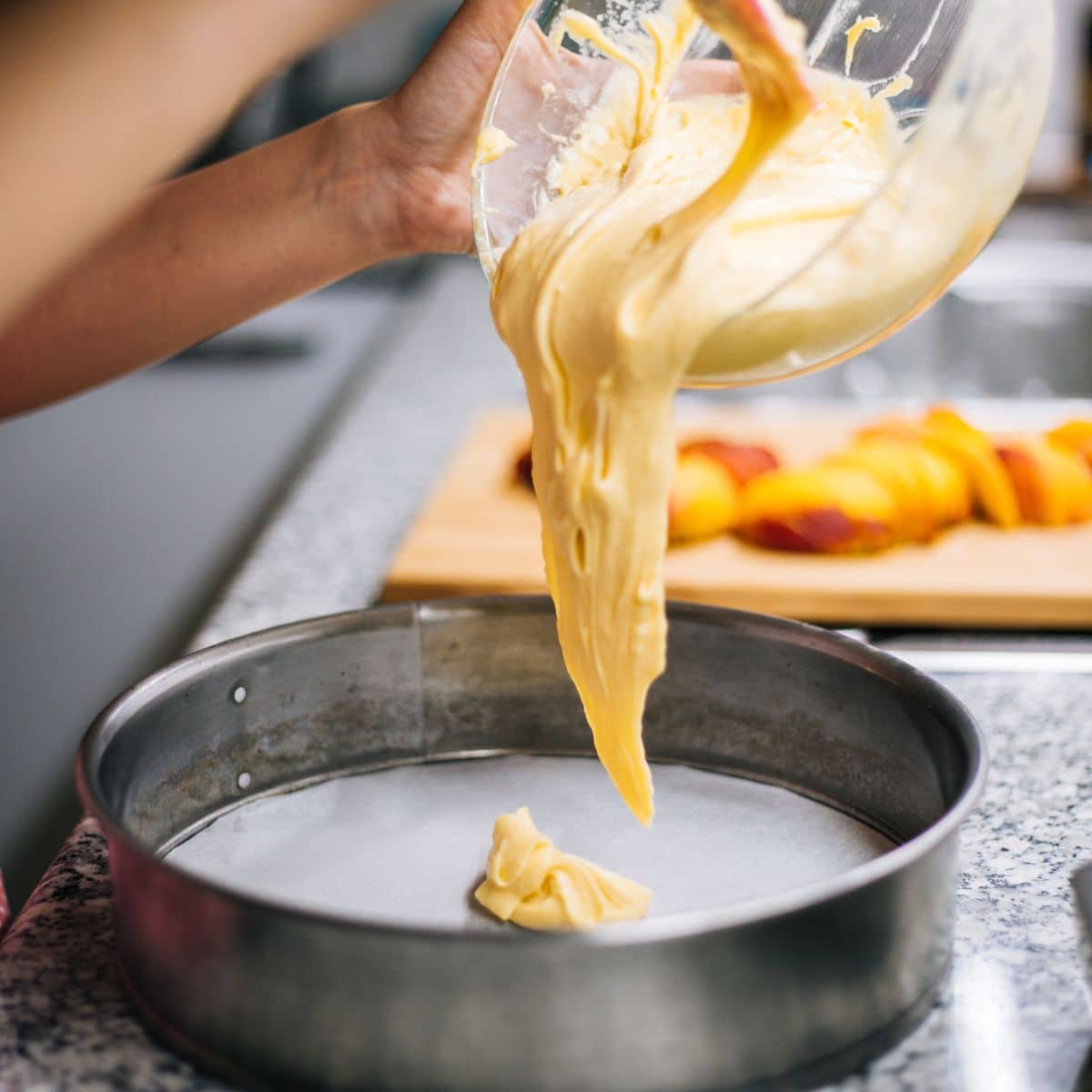 Jump to:
We have all been there. You decide to bake a gluten free cake. You use the gluten free flour blend you have on hand and the cake doesn't turn out. Or, perhaps you used a 1:1 gluten free flour blend in place of wheat flour to convert a regular recipe to gluten free.
There are so many ways that gluten free cake-baking failures can happen. Let's dive in and troubleshoot the most common gluten free cake problems.
If you are looking for ways to improve your baking, check out my Gluten Free Baking Tips. If you are new to gluten free, I have a huge gluten free resources list to help you ease into gluten free living!
If you also love to bake bread, check out my Gluten Free Bread Troubleshooting and Gluten Free Cookie Troubleshooting Guides.
The Best Tools For Making Cake:
The Gluten Free Cake is Dense:
There is nothing more frustrating than having your gluten free cake turn out dense. This can be caused by a few potential issues.
Overmixing the cake batter. Be sure to mix the gluten free cake batter only until the ingredients are combined and avoid overbaking by checking the cake a few minutes before the suggested baking time. I don't recommend using a stand mixer or electric mixer when making gluten free cakes or cupcakes.
You used a starchy gluten free flour blend. Some blends have a high starch-to-grain ratio, which can affect the moisture level of the cake. This will make the cake turn out denser.
Measure your ingredients accurately. If you use too much flour or liquids, it will affect the texture of your cake. To measure your gluten free flour, I recommend using either the spoon method or leveling method. Spoon Method: You can also use a spoon to fill the measuring cup. Use a knife to level along the top to remove the extra flour. Leveling Method: Put the measuring scoop into the flour and fill. Do not pack the flour. Use a knife to scrape along the top to remove the extra flour.
If you are new to cake baking, here is a good write-up of my favorite Kitchen Tools For Baking Cakes. Using the right equipment can help prevent baking fails.
Dense Cake Fix:
Unfortunately, there isn't much you can do to fix a dense cake. Luckily, you don't have to toss the cake in the trash. You can use the dense cake to make Gluten Free Cake Pops or these Gluten Free Cakesicles.
The Gluten Free Cake is Dry or Crumbly:
If your cake is dry, most likely you didn't use enough liquid ingredients (or you had too much flour.) See above for gluten free flour measuring tips.
Another cause of a dry cake is overbaking. If you bake your cake too long, moisture is baked out of the cake.
If your gluten free cake is crumbly, but not dry, did you check to ensure your gluten free flour blend had a binder like xanthan gum, guar gum, or psyllium husk? Gluten free baking needs a binder to help hold it together. Many premade blends contain this, but others do not. If your mix doesn't have this ingredient, you will need to add one teaspoon to your dry ingredients.
Dry cake can happen if you don't use enough liquid ingredients. Some gluten free flour blends are starch heavy and need a different liquid-to-flour ratio than others. Try adding a bit more liquid, such as milk, and mix the ingredients until just combined.
Dry Cake Fix:
Brush the top of your cake with simple syrup. The syrup will absorb down into the cake and moisten it.
The Cake Sunk In The Middle:
Opening the oven door too soon. I know it is tempting to open the oven door and check on your cake, but opening the oven door can cause your cake to sink in the middle. Cakes need a consistent, steady baking temperature. Opening the oven door lets cooler air into the oven, slowing the baking process. Check your oven temperature and avoid opening the door too soon.
Overmixing the batter. If you overmix your cake batter, you deflate the air bubbles you get when mixing the dry and wet ingredients together.
Using expired baking powder or baking soda. Always check the expiration date of your baking powder or baking soda before using it.
Underbaked. The last reason a cake could sink in the middle is if the cake is underbaked. Know that the cake bakes from the outside in, so if you take it out of the oven too soon, the middle hasn't had a chance to finish baking.
Sunken Cake Fix:
Unfortunately, you can not pop the cake back in the oven to bake more. Once you remove the cake from the oven, the cake will not continue to rise. If the cake is fully baked.
If the cake is fully baked, you can cut the higher edges of the top of the cake so that the cake is level on top.
The Cake is Too Moist:
The cake is undercooked. One of the biggest reasons for a too moist cake is if you didn't bake the cake long enough. Bake the cake until a toothpick inserted into the center comes out clean.
Too much liquid. Be sure to measure your ingredients accurately and not use too much liquid.
Too much oil. If you used too much oil or butter, it can result in a cake that is too moist.
Moist Cake Fix:
There are not too many things you can do to fix a too-moist cake. You can definitely try to evaporate some of the moisture by baking it longer in a slightly hotter 375º F oven.
The Cake is Burnt or Dark:
High oven temperature. If your cake is burnt or dark, it is possible you baked the cake at too high of an oven temperature.
Leaving it in the oven for too long. Check your oven temperature and reduce it if necessary, and be sure to check the cake a few minutes before the suggested baking time.
Burnt Cake Fix:
If you have a burnt gluten free cake, there isn't much that can be done. If the burnt part is just on the bottom or top, you can cut the burn areas off. You can use the non-burnt area and frost that, or use the remaining cake in cake pops or cakesicles (linked above in the dense cake section.)
The Cake Is Gritty:
If your cake turned out gritty, it means you used a gluten free flour blend that isn't milled as finely. Usually, rice flour is the main culprit of gritty gluten free cake.
Grit Fix:
The only way to fix a gritty texture is to avoid the problem when you are making your cake batter. Let your cake batter sit for 15-20 minutes before you bake the cake. This will help soften the rice flour in the blend.
My Pick
More Tips:
Use the right baking pan. Many pans don't conduct heat the same way which can lead to uneven baking. For example, glass and silicone molds do not conduct heat well and are not recommended for baking cakes. The best cake pans are typically non-stick pans and dark pans for better heat conduction.
Prevent sticking. There are two great ways to prevent your cake from sticking. Use a good baking spray like La Tourangelle. This a great gluten free baking spray. You can also line your cake pans with parchment paper. (NOTE: Pam Baking Spray is NOT gluten free!)
Toothpick Test. Always test your cake with a toothpick to ensure the cake is fully baked. Insert a toothpick into the center of the cake. If the toothpick comes out clean, it is done baking. If you see batter or crumbs, the cake needs to be baked longer.
Remember that gluten free baking is a science, and small variations including the flour blend you use can make a big difference in the outcome of your cake. Practice, patience, and attention to detail are key to baking a great gluten free cake.
If you love to use a cake mix to bake cakes, I have some great Gluten Free Cake Mix Hacks to help your cake mix taste better.
Easy Gluten Free Cake Recipes:
If you are looking for a tried and true gluten free cake recipe, I have tons of great cake recipes! I always list the gluten free flour blends I used and tested in the recipe so you know what works. I have over 100 incredible gluten free cake recipes including mug cakes, snack cakes, pound cakes, and more!
Looking for more? Get my FREE Gluten Free Lemon Desserts E-Cookbook when you sign up for my weekly recipe newsletter!