You are in for a big surprise if you haven't shopped at your local Costco store. Costco carries a TON of great gluten free items. Buying in bulk at Costco can help you save a lot of money. Print out my handy shopping guide, so you know what to look for! Updated 3-01-23 with more gluten-free products that I found at Costco.
Note that this is a long post. Costco has so many gluten free products. I encourage you to use the Table of Contents below this photo to help you navigate through to find what you are looking for!
Jump to:
If you are looking for your local Costco, here is a store locator! If you are looking for party foods, I created a separate list of Costco gluten free appetizer ideas for you.
**SCROLL DOWN for a PRINTABLE Gluten Free Costco Food List!! Take it with you for easy gluten free shopping at your local Costco store!
Gluten Free Costco
Groceries are expensive, and gluten free food tends to cost more than other grocery items. Our family loves to save money buying in bulk at Costco, and fortunately, Costco has a great selection of gluten-free products for us to choose from.
Products will vary from store to store (even within the same city), and below are the gluten free products available in our California Bay Area stores that could be available in yours too.
If you spy something gluten free at Costco, please leave a comment and let us all know. If you are sticking to a budget, you can find more tips for living gluten free on a budget!
PRINT THIS HANDY SHOPPING LIST TO TAKE TO COSTCO WITH YOU! (Just click the link below!)
(*NOTE: I just found out that Costco's Rotisserie Chicken is gluten free. It says it on the package too!  So YAY!! There is NO gluten in Costco chicken Rotisserie!) We had it last night with several gluten free friends, and nobody reacted!! I will get it added to the shopping list soon, so just pencil it in for now.)
Costco Gluten Free Bread
Some Costco stores sell Udi's Gluten Free Bread in the freezer section. Others sell twin packs of this Franz Gluten Free Bread in shelf-stable packaging. Which does your store carry?
A kind reader mentioned that her store carries BFree Pita Bread in her local store. Do you have this gluten free bread at your local Costco? It is great for making pizzas or sandwiches.
Costco Gluten Free Pasta Brands
*I have some tips on preparing gluten free pasta and recipes that you can read; here are more yummy Gluten Free Pasta Recipes to try.
Edamame Spaghetti. I have a sample of this, but I have yet to try it. (Update, we finally tried this pasta. It is easy to overcook this pasta, so pull it out of the boiling water a little earlier than you would normally.)
Rice Ramen. This is NEW at my Costco in San Jose, CA. I love that there is a gluten-free ramen option. Has anyone seen this in their local Costco yet? You can try my recipe for Gluten Free Ramen. There is even a video to show you how to make it.
These Organic Manitou Rice Noodles are new at Costco and are perfect for making Asian dishes! Give it a try in this easy Gluten Free Beef and Broccoli recipe.
Go Go Quinoa Organic Macaroni Pasta...I didn't buy this gluten free pasta. I am wondering if this gluten-free quinoa pasta will stay a la dente. Has anyone tried this new gluten free Costco pasta?
I bought these Healthy Noodle noodles to try. My kids HATED them. These are supposed to be fat-free, zero carbs...let me know what you think!
TruRoots Pasta
Chickpea Pasta - it is a chickpea and lentil blend.
True Republic Cauliflower Linguini - This is in the refrigerated section
Costco Gluten Free Granola
There are lots of gluten free granola recipes on my blog that you can make at home. It is so much cheaper to make your own, but buying granola at Costco can also save you money buying it in bulk!
Safe Fair Birthday Cake Granola - there ought to be a law against this granola because it is so YUMMY that it is easy to overeat it!
Autumn's Gold Paleo Granola - this new grain-free granola from Autumn Gold is really good and not too sweet. If you want to try making your own paleo granola, it is really easy to make from scratch with this Paleo Granola recipe.
Purely Elizabeth Granola - I like this brand. It is for sale at most grocery stores, but buying it in bulk is the cheapest way to go.
Chex Granola - Gluten Free Chex Granola Mix. Our Costco had this for a few months. Then it was gone. It was fun to sprinkle in yogurt. This is no longer at our Costco as of February 2017. Is this gluten free granola at your Costco?
Nature's Own has a new gluten free granola. I haven't tried this brand, but if you love granola...let me know what you think. You can also make homemade granola in just minutes with this easy Cinnamon Granola recipe.
Catalina Crunch - Also keto.
NuTrail Keto Granola
Costco Gluten Free Protein Bars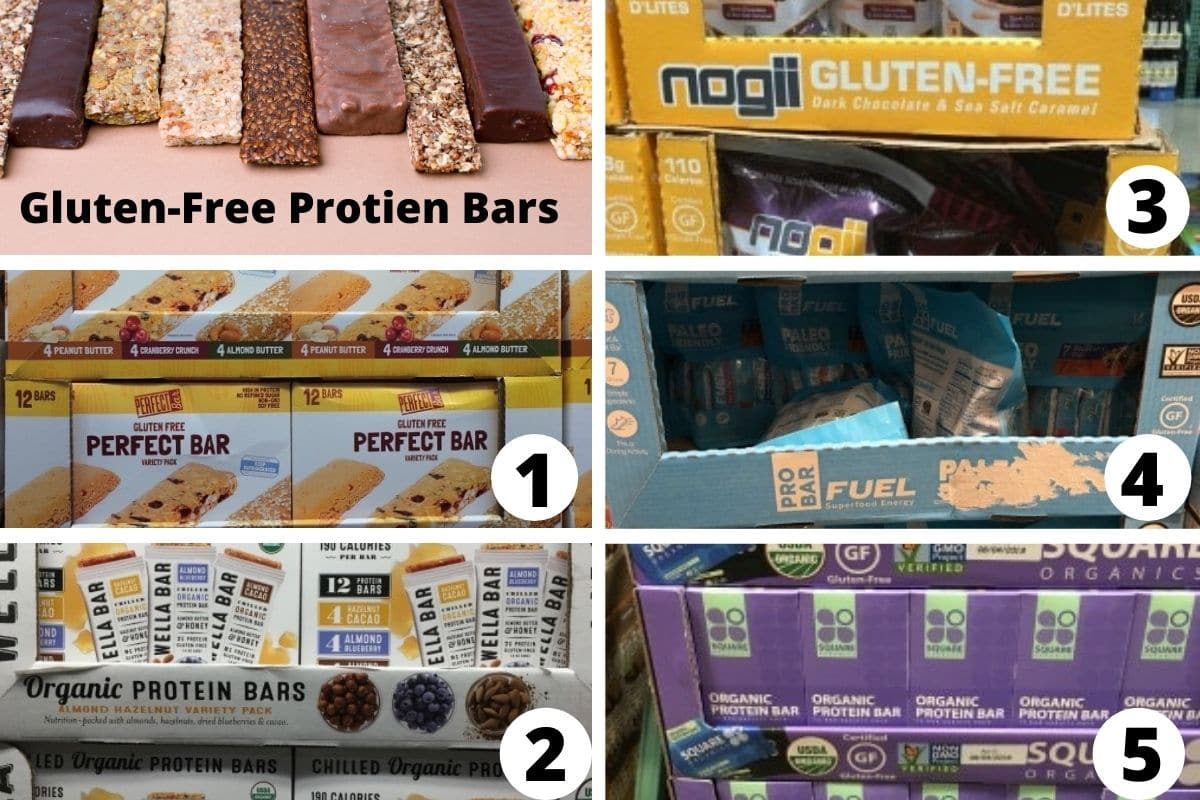 The Perfect Bar - These are by far our family's favorite gluten free protein bars. (Note, they have to be refrigerated because they have egg white protein.) They come in Peanut Butter, Almond Butter, and a fun Cranberry Rice Puffy Crisp.
Wella Bars - Here is a new gluten free protein bar from Ella. These are in the refrigerated section of Costco, so they aren't in the usual place. I am going to buy these, and I will let you know what we think. I suspect these gluten free bars will be good in a school lunchbox!
Nogi Bars - Another new item this month! I did buy these protein bars, and I really like them. They are the perfect pick-me-up in the afternoon. These protein bars are chocolate-coated and taste like candy bars.
Pro Bars Fuel - ProBar Fuel. This is a paleo-friendly sports bar. I picked up a bag to try on bike rides to see if it gave me a boost.
Square Bars - Have you tried these Organic Protein Bars from Square Organics? Update: I tried these protein bars! They come in mint, coconut, peanut butter, and chocolate. My whole family loved them. These Square Organics protein bars are perfect in a school lunch box!
Siren Snacks - Chocolate Peanut Butter Bars
Costco Snacks
From The Ground Up - Surprisingly, these fun gluten free cauliflower snack sticks are pretty tasty! Even my kids liked them.
Organic Bin Bin Rice Crackers - I haven't tried these, but I imagine they would be great with my Roasted Eggplant and Red Pepper Dip recipe.
Inno Foods Coconut Clusters - I LOVE these, and I buy a big bag every time I visit Costco. These Coconut Clusters at Costco are crazy addictive, so consider yourself warned. I ate a good portion of the bag while driving home. Just watch the chia seeds. They can get stuck in your teeth.
Paleo Bites - Our Costco also now has some grain-free goodies like these Paleo Bites.
Two Moms - Two Moms in the Raw granola bars. Our Costco gets a few different products by Two Moms in the Raw...it seems to alternate what they have each month.
Bobo's
Lotus Foods Tamari Rice Crackers - I haven't tried these yet, so if you tried them, leave a comment and let us know how they taste!
Figgy Pops - Another NEW product, Figgy Pops. These are little energy bites. Has anyone tried this gluten free product?
Made Good - The people who invented Made Good Granola Bites are just geniuses. This product has tons of hidden veggies inside, which taste like granola cookies. Your kids will have no idea these are healthy!!
Yes Peas - New are these pea chips by Yes Peas! Our store had a Himalayan salt flavor.
Acai Bowls - These make a great snack or even breakfast! You can also make your own homemade acai bowls quite easily!
Costco Gluten Free Cookies
Click here to view my gluten free cookie and gluten free dessert bar recipes.
Sejoyia Lemon Crisps - These are delicious light cookies our whole family loved. They are super thin, so they have fewer calories.
Sun Tropics Coconut Rolls - These are my all-time favorite cookie, now in a gluten free version. They also come in a salted caramel flavor!!
Tates Bake Shop - Tate's Gluten Free Cookies. These are great cookies. I also think Tate makes these under the Trader Joe's label as well. Our Costco is sold out of these Tate's Gluten Free Cookies, but you CAN find these under Trader Joe's private label.
Heavenly Chunks - I haven't tried these yet, but they look really delicious.
French Macarons - These are in the refrigerated section and taste great. You can also make your own homemade French Macarons. It is easy with my step-by-step directions!
Nothin But - Nothinbut Granola Cookies. These gluten free cookies look like they would be great for a school lunch box.
Coco-Roons - Certified Gluten Free Coco-Roons Cookies. These raw treats are healthy and delicious. My kids love the lemon flavor best.
Costco Gluten Free Crackers
Sonoma Creamery - These are the best cheese crisp crackers I have tried. They are perfect for snacking.
Crunchmaster - One of the first gluten free cracker brands, these are delicious and one of the healthier cracker options.
Simple Mills - These are my kids' favorite. They are made with almond flour and are great with cheese. Costco has a ton of great gluten free cheeses!
Whisps - This is another cheese crisp cracker. I haven't tried it yet.
Mary's Gone Crackers - These seed crackers are one of my personal favorites.
Parm Crisps - Crispy baked parmesan crackers.
Del Real Pupusas
Del Real Pork with Red Sauce Tamales
Spinach and Pepper Egg Bites
Costco Gluten Free Meals
These prepared meals save you time in the kitchen. If you have time to cook, here are some awesome meal recipes, many of which are ready in under 30 minutes.
LOTS of new gluten free prepared meals at our Costco this month!!
Bakery on Main - These handy gluten free oatmeal cups are so easy. Just add water.
Kevin's Paleo - This chicken is available at many grocery stores now, but it is much cheaper at Costco in bulk. My whole family loves them.
Caesar Kitchen Lemon Chicken Piccata - Has anyone tried this newly prepared meal?
Beyond Burger - These are great for a quick and easy dinner.
Amylu - These chicken burgers are stuffed with kale and mozzarella.
Milton's Cauliflower Pizzas - Another great easy dinner.
Texas Tamale Company - Chicken tamales are in the refrigerated section.
Kirkland Precooked Brown Rice and Quinoa is a huge time saver.
Saffron Road makes a lot of great Indian-prepared meals. Many are also vegan.
Loma - Plant-based chipotle bowls.
Three Bridges Egg Bites - Bacon and Cheese Egg Bites by Three Bridges make a great grab-and-go breakfast.
Sipping Snack - These Bone Broth packets just need water to make a nutritious bone broth. Bone broth makes a great base for soup or sip any time.
Bibigo - This prepared rice is so quick to heat up. Use it as a side dish, or make these yummy Mango Dessert Sushi.
Don Lee Cauliflower Bites - I bet these new Organic Cauliflower Bites would make a great appetizer for game day or any get-together. I will pick these up and see how my kids like them. Here are even more appetizer recipes if you prefer to make your own!
CedarLane Steel Cut Oats Bowls - Quick and easy for breakfast! These steel-cut oats by Cedar Lane would make a great quick and easy gluten free breakfast.
Here is a new soup at Costco. It is by Biount, and it is a Chicken Ginseng Soup...look for it in the refrigerated section.
Cooking Made Easy - Thai Chicken
Chicken Tikka Masala - pair with the pre-cooked rice above!
Chicken skewers - These are in the refrigerated section, and they are great on salads!
Atkins Lamb Shanks - Just heat and serve.
Chicken Burrito Bowls - These are great to bring to work for lunch. I bought these to try out. My teens loved them...I was a little less enthused.
Black Bean Burgers - Another easy dinner idea for vegans. Has anyone tried them yet?
Vegetarian Veggie Bites - Another new item at our local Costco.
Del Real Pork Tamales - These are at our grocery stores, but again, they are much cheaper in bulk at Costco
Del Real Carnitas - These are great for tacos and enchiladas!
Stuffed Grape Leaves - I haven't tried these but I bet they would make a great appetizer.
Sukhi's Curry - Another great quick and easy dinner. Sukhi's Curry Meals. I haven't tried these prepared meals, but we have tried several of their jarred Indian sauces by the same company. My kids prefer the mild flavors, so I don't buy the spicier sauces often. My Costco still carries these as of February 2017.
Stuffed Chicken by Vicky's Kitchen. I haven't tried this, but it is certified gluten free. Fill in a comment below if you have tried these so other readers will know if these are worth purchasing! I didn't see this one last week. Did you try it?
These Angus Steak Tips by Mission Hill Bistro look like a great dinner if you need dinner in a hurry. Please let us know if you get a chance to try them. If you have a slow cooker, you may want to make this easy Pot Roast recipe. It has only 5 simple ingredients and can cook all day while you are at work.
Chicken strips are great to add to salads. Nature Raised Grilled Gluten Free Chicken Strips. These are really good, and I find they are perfect for dinner in a hurry by making chicken tacos out of them. I loved these, but unfortunately, our Costco sold out of them quickly.
Riced Cauliflower Stir Fry - This looks like a great quick and easy meal idea. It is vegan, but you can add shrimp, chicken, or beef to make it a meal for non-vegans.
Fresh Chicken Bites by Fresh Additions. Their fully cooked chicken bites are perfect to toss on a salad, quesadilla, or plain.
Cauliflower Sandwich Thins - I first tried something similar at Trader Joe's, and they were so good I tried this brand. It was great for making a sandwich. It is also keto.
Amylu Sausages - These are delicious and all-natural with no antibiotics.
Cauliflower Linguini - I haven't tried this yet, but it is a great deal with two large packages per set.
Siete makes great wraps and these almond flour grain-free tortillas were surprisingly good. They are fun to make rolled sandwiches too!
Sonoma Flatbreads Chicken and Kale Flatbread look good. I bought them so I will have to report back how they taste!
No photo, but Costco has Pupusas! I can't believe these pupusas are gluten free. We liked these pupusas. They are handy to pack and take for lunch if you can access a microwave!
Another with no photo...the cranberry almond chicken salad by GoodFoods looks healthy and delicious. A few readers commented below if you want to know if this is good. I have received many reader comments about Costco's gluten-free chicken salad. Half of you like this and half of you don't. What do you think?
For my vegan readers. Costco now carries Hodo Soy also makes a gluten free tofu burger. Most meatless burgers have wheat, so these are a great option if you want a vegetarian option.
Please check out my family-friendly recipes and gluten free desserts recipes if you have time.
Gluten Free Chips at Costco
Rhythm Kale Chips - Rhythms Kale Chips in Cool Ranch. I tried these at the San Francisco Fancy Foods Show and liked them. These kale chips by Brad's may be a great way to get our kids to like it, too. Let me know what you think! If you want to get your kids to eat fresh kale, try this Kale and Apple Salad recipe.
Dang Chips - Dang is making a sticky rice chip...I haven't tried it yet, but it looks interesting.
Brad's Crunchy Kale Chips - Another kale chip. Has anyone tried it?
Everything Pretzels - These chips by Gratify are really good!
Kettle Chips - Costco carries several of Kettle's chips.
Late July - These tortilla chips are one of our favorites.
Gluten Free Miscellaneous Foods at Costco
Oscar Meyer - Gluten free turkey lunch meat.
Veggies Made Great - These muffins are so good! They are great as a breakfast or snack.
Brazi Bites - If you love cheese bread, these are good. You bake them for 15 minutes.
Popcornopolis - Kettle corn in individual bags. They are great in a lunch box.
BirchBenders - Paleo pancake mix. Grain-free and refined sugar-free.
Fun salad toppers - Has anyone tried these?
Outer Aisle Cauliflower Sandwich Rounds
Sweet Potato Fries
Chocolate Peanut Butter Rice Chex
Bobo's Filled Oat Bars
Parm Crisps
Siren Snacks
Field Trip Beef Jerky - This is a great brand, and it is much cheaper to buy at Costco vs Whole Foods!
Pork rinds by 4505 Chichabrones
Sabatino's Paleo Sausage - I tried these and felt they were just okay, not great.
Lorissa Kitchen Beef Jerky - Another great jerky option.
Silva Sausage - We liked this brand, though my son had difficulty with spinach in a sausage :-).
Amylu Chicken Sausage - These are more breakfast style, and we didn't like them.
There is a new peanut-free peanut butter by NuttZo. It is filled with nuts and seeds and has a crunchy texture.
Teton Polish Sausage
Kirkland Dinner Franks
Kirkland Beef Hot Dogs
Del Rey Pupusas
Del Rey Pork Tamales
Rosarita Refried Beans
Costco Gluten Free Desserts
I probably should have this section at the top of the post; you know I am all about gluten free desserts!!
Kirkland Ice Cream Bars - Kirkland is their store brand. The ice cream bars are seriously high quality, and it wouldn't surprise me if Haagen Dazs didn't make them.
Kulfi Bars - These are ice cream bars. I haven't tried them yet.
Haagen Dazs - These are so decadent!
Sun Tropics Rice Pudding - Has anyone tried them? I am typically a sucker for tapioca pudding, but my family enjoys my Caramel Tapioca Pudding recipe store-bought, so there is no desire to buy this 🙂
These new almond butter chocolate cups by Chocxo are perfect. Perfect if you have to avoid peanuts! These chocolate cups are also certified gluten free!
NEW! This chocolate mousse from Sweetaly was very tempting. Has anyone tried it yet? I have yet to make a homemade chocolate mousse, but I have made a Raspberry Mousse get gets rave reviews.
Costco Keto Products:
This trip to my local store proved interesting. Costco is jumping onto the keto bandwagon in a big way. There were a lot of gluten free keto products. Here are the new ones I found.
Chocolate Keto Snaps by ChocXO.
Keto Krax by Keto Made Simple.
Keto Bars by Keto Made Simple.
Keto & Paleo Brownie Mix by Miss Jones. (I have not tried this mix as I am not keto myself, but I have tried delicious Miss Jones gluten-free mixes.)
Keto Nut Granola by NuTrail. If you are keto, this would be great for hiking.
Catalina Crunch - Keto cinnamon toast crunch cereal sounds like a delicious breakfast option.
If you want something sweet, click here to view my gluten free dessert recipes.
Again, if you spy something gluten free at your Costco, please leave a comment and let us all know.
Simplifying the art of baking and cooking gluten-free recipes.
Save
Save