Making homemade toffee can be harder than it looks. I'll show you every toffee fail you can possibly have and how to fix them all. Then, I'll share my homemade toffee recipe for chocolate-covered toffee with pistachios.
This post is for you for all the times you made toffee from scratch and failed. I tried to make homemade toffee, and I messed up everything possible.
Jump to:
It took three tries...two of which ended up in the trash. I am sharing everything I learned, and a video that shows some of my "bloopers" and tough lessons. If you love chocolate desserts as much as I do, you will want to check out my best gluten free chocolate desserts.
How to Make Homemade Toffee:
Today, we are going to talk about homemade toffee. I love the stuff but had never thought to make it from scratch. I wanted to give it a try, and I found a great toffee recipe here. The recipe by FunkySeaMonkey looked easy enough.
I was naive to think this pistachio toffee candy would be easy to make...I could almost taste the buttery crunch of the toffee! I had great plans to use this toffee as a topping for a dessert I created...not to mention my kids wanted to make teacher gifts with it.
FAI
L
#
1:
Butter separating out
Here was my first attempt at making this homemade toffee recipe. I had my two cups of sugar and two cups of butter. I didn't realize how important temperature could be. See that buttery oil slick on top of my toffee?
My first batch of toffee started out great...I had a pot of boiling toffee. It was browning beautifully. Then, butter happened.
The butter separated from the toffee, leaving a big oil slick-looking goo.
You can see it when I dumped the toffee onto the parchment paper. Nothing is more frustrating than when the butter separates from the sugar in cooking toffee!
Common toffee making mistakes:
Here are the mistakes I made on the first batch of homemade toffee:
I started out with way too high of a heat. (At least, I think this was an issue.) I set my portable cooktop at 260 degrees F.
I stirred too quickly. I didn't realize this could be an issue.
I didn't add a dash of salt. They say you can save a ruined batch of toffee by adding a dash of salt. It didn't work for me with this batch, but I added a little salt in my second attempt.
To combat these issues, I tossed this batch of greasy, buttery toffee into the trash and started again.
Second attempt at making toffee:
This time, I started out with a lower heat starting temperature on my cooking surface. I gradually melted the sugar and butter and heated up my toffee.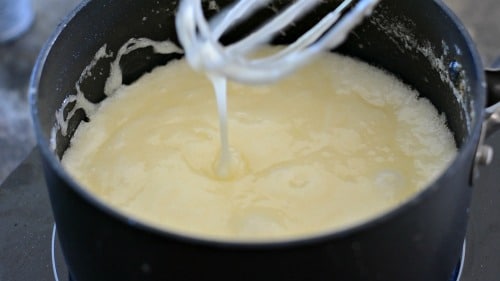 Things are thickening up nicely, and the butter is still behaving!
Toffee Making Tips:
I used the whisk, mixing slowly. I like to think this allowed the sugar to blend into the butter as the toffee mixture heated up.
What color does toffee become when cooking?
The homemade toffee is ready. See the beautiful golden brown color? And the butter stayed mixed in with the sugar. (YAY!)
How to prevent toffee from separating:
To prevent separation this time, I used a whisk to mix the toffee ingredients gradually. (I tried not to stir too often, but when I did, I used the whisk.)
I slowly cooked my toffee mixture to the perfect 300 F. I started my cooktop at 160 F degrees and gradually increased the temperature to 212 F.
My toffee browned beautifully, and I poured it onto the pan.
So far, everything was perfect. The butter didn't separate, and the toffee looked creamy and delicious. Time to add the melted chocolate and pistachios.
The chocolate spread perfectly onto the chocolate. You can see how quickly the pistachio toffee hardens. See the underside? I put the tray in the freezer to cool for a few minutes.
I removed the tray and broke apart the toffee.
And here we have FAIL #2.
The chocolate didn't stick to the toffee. So now I had a great thin chocolate layer broken into bits and a separate toffee layer all broken into bits. Ugh, this is not looking good for chocolate-covered toffee!
I went to Google once again to see what could have caused the chocolate not to stick to the toffee.
Why chocolate didn't stick to toffee:
This likely happened because the toffee was already starting to cool before I added the melted chocolate.
Some recommend putting the chocolate bits on top of the toffee and letting the heat from the toffee melt the chocolate.
Another recommendation I found was to dust cocoa powder on top of the toffee just before adding the melted chocolate.
By this point, I was a little over all of my failures!
I did what any person who is tired of tossing food into the trash would do. I microwaved the chocolate back on! (I didn't have the heart to toss another batch of pistachio toffee in the trash!)
Here is a video I put together to show you my whole process for making this homemade toffee recipe. I didn't include the video of the buttery disaster of the first batch, but you can see that in the pictures above!
More easy homemade candy recipes to try:
Quick and Easy Chocolate Peanut Butter Fudge , or this Turmeric White Chocolate Bark
Easy 3 Ingredient Chocolate Bark
What do you think? Are you ready to make some homemade pistachio toffee for yourself?
Tools:
An easy to read candy thermometer.
A strong whisk to ensure the mixture blends well.
📖 Recipe
Homemade Chocolate Pistachio Toffee
A homemade toffee recipe with pistachios
Ingredients
2

cups

sugar

2

sticks butter

1

teaspoon

vanilla

16

ounces

dark chocolate

½

cup

roasted pistachios

dash salt
Instructions
Add sugar, butter, salt, and vanilla to a pot.

Cook on medium-low heat until blended. Use a whisk to blend slowly.

Gradually increase the heat and let the mixture boil. It should thicken and darken to a golden color.

Continue to whisk to blend every few minutes. Mix slowly.

Melt the chocolate in a microwave-safe dish.

When your toffee is a dark golden color and registers 300 F degrees with a candy thermometer, remove and pour onto a parchment paper lined cookie sheet.

Spread thinly over the parchment paper. Quickly dust lightly with cocoa powder and then quickly add the melted chocolate.

Use a spatula to spread the melted chocolate over the toffee. Add pistachios.

Refrigerate to cool. When the mixture is hardened, break apart then store the toffee in a container.
Notes
Please see the important tips I learned from my fails. I write them up quite a bit in my blog post.
SPECIAL NOTE
Please know that every gluten free flour blend has a different starch to grain ratio. If you use a blend I didn't test, you may need to adjust your moisture levels in your baked goods.
Nutrition
Serving:
1
g
Calories:
250
kcal
Carbohydrates:
29
g
Protein:
2
g
Fat:
15
g
Saturated Fat:
8
g
Polyunsaturated Fat:
5
g
Cholesterol:
22
mg
Sodium:
83
mg
Fiber:
2
g
Sugar:
26
g
Nutrition Disclaimer
Nutritional information is an estimate provided to you as a courtesy. You should calculate the actual nutritional information with the products and brands you are using with your preferred nutritional calculator.
Looking for more? Get my FREE Gluten Free Lemon Desserts E-Cookbook when you sign up for my weekly recipe newsletter!