These gluten free peanut butter cinnamon rolls are about to become your family's favorite morning treat. Roll them up with cinnamon and then drizzle peanut butter sauce all over them when they come out of the oven!
Today you get this post from my husband's point of view.
You know how books give the his and hers version? You have to understand, my husband has never wanted much to do with my blog, except eat what I make.
Well, these gluten free cinnamon rolls inspired him to write a few words for you today.
You see, when you are gluten free, you don't often get treats like cinnamon rolls. They are a little time consuming to make, and getting the yeast to rise in gluten free dough can be a challenge…but the end result is SSSOOOO worth it.
Hi Everyone, it is Mrs. Fearless Dining's husband, David.
It's Christmas morning, and your kids are up faster than Santa's sleigh sped around the world last night. They need some kind of breakfast to fuel the present-opening frenzy. There's the usual daily breakfast stuff (blah). There's always fruitcake, but do you really want to ensure a meltdown when your little ones' crash from their sugar highs? If you're gluten-free, like my family and I are, fruitcakes have a density that requires registration with the International Atomic Monitoring Agency, and an appeal that matches an IAEA inspection, too.
There really is a better answer: peanut butter.
This holiday season, Sandi (Ms. Fearless Dining and my wife) made Skippy Natural peanut butter cinnamon rolls for our family. She's made a lot of recipes for you, the readers of this blog, but this one, with the combination of cinnamon rolls and peanut butter more than doubling the appeal, disappeared faster than, well, let's just say much faster than she wanted it to. (These photos are actually of the second batch that Sandi had to make because the first was way too tempting for us.)
It's thanks to Skippy Natural Peanut Butter that we get to enjoy these delicious, more healthy treats. Please let Sandi know how your family enjoys these Peanut Butter Cinnamon Rolls! (She already knows how much I enjoyed them – it meant a trip to the virtual doghouse, but it was soooo worth it!)
Our family loves Skippy because it so smooth to spread on peanut butter sandwiches. Did you know how easily Skippy mixes in to work with all sorts of recipes? From these cinnamon rolls to the peanut butter glaze on top, this peanut butter was so creamy to use.
Cinnamon rolls have universal appeal (there's a whole chain of stores that makes just these!), and, well, peanut butter.
I needn't say more.
Peanut butter is even more delicious and also more healthful than cinnamon rolls, and it's just as tempting. Combine peanut butter and cinnamon rolls, and even the those with the steeliest wills will be wiping crumbs off their faces (while your wife is not looking and after she asked you to wait until the photos were done. I'm only human, and these were sitting around for hours!).
But there is more to say: by using Skippy Natural peanut butter in these delicious rolls, the protein content slows down the hyper-burn rate a bit. We've lowered the likelihood of sugar-crash-temper-tantrum driven tears falling among the shreds of wrapping paper. And that, my friends, is a blessing on Christmas morning.
If you celebrate holidays other than Christmas, then make these peanut butter cinnamon rolls on New Years Eve to help you recover on New Year's morning. (But good luck on keeping them around that long!)
How to make gluten free cinnamon rolls:
Mix the peanut butter and other ingredients in your mixer. Set the dough aside some place warm to rise.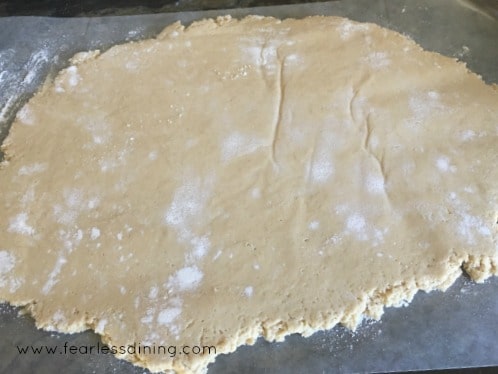 Roll the cinnamon roll dough out flat.
Add the brown sugar and cinnamon filling. Cut the dough and bake the rolls for 20 minutes.
How to make the creamy peanut butter glaze.
Gluten Free Peanut Butter Cinnamon Rolls
How to make gluten free peanut butter cinnamon rolls.
Course:
Breakfast, Dessert
Ingredients
2 1/4

cup

Bob's Red Mill 1 to 1 Gluten Free Flour Blend

(*Note, my flour blend has xanthan gum included. If yours doesn't, add 1 teaspoon.)

2

teaspoons

yeast

1/4

cup

Skippy Natural Peanut Butter

1/2

cup

warm water

1/2

cup

almond milk

3

tablespoons

melted butter

2

tablespoons

honey

2

large eggs

For Filling:

1/2

cup

brown sugar

1

tablespoon

cold butter for rolls

1

teaspoon

cinnamon

For Glaze:

1

cup

powdered sugar

1/4

cup

Skippy Natural Honey Peanut Butter

2-3

tablespoons

water
Instructions
In a dish, add 1/2 cup warm water, yeast, and honey.

Let sit for 5 minutes until yeast starts to bubble.

In a mixer, add eggs, peanut butter, melted butter, yeast mixture, and almond milk.

Mix on low to blend.

Add flour 1/4 cup at a time and continue mixing on low.

Once all flour is added, turn up the speed to medium high.

Blend one to two minutes.

Put plastic wrap over the mixing bowl and set in a warm spot to allow the dough to rise.

Rise 30 minutes.

Preheat the oven to 350 degrees.

Cut off a large piece of wax paper.

Dust with flour.

Drop the dough on and sprinkle a little flour on top.

Place another piece of wax paper on top and roll to 1/2 inch thickness with a rolling pin.

Place tiny chunks of cold butter along the dough.

Spread the cinnamon sugar mixture on top.

Slowly roll the dough into a log.

With a sharp knife, cut the dough into 2 inch slices.

Arrange into a greased 8x8 baking dish.

Bake for 20 minutes.

While the rolls are baking, add Skippy Natural Honey Peanut Butter and powdered sugar into a small bowl.

Add 2-3 tablespoons water.

Mix with a whisk to blend.

Spread over the cinnamon rolls and enjoy!
Nutrition Facts
Gluten Free Peanut Butter Cinnamon Rolls
Amount Per Serving (1 g)
Calories 274
Calories from Fat 90
% Daily Value*
Total Fat 10g 15%
Cholesterol 37mg 12%
Sodium 111mg 5%
Potassium 111mg 3%
Total Carbohydrates 41g 14%
Protein 6g 12%
* Percent Daily Values are based on a 2000 calorie diet.
More Delicious Gluten Free Desserts to Try!
Save
Save
Save
Save