If you love eggnog, this Eggnog Panna Cotta with Homemade Pistachio Toffee is going to be a fun recipe for you to try!
Lots of fresh spicy eggnog flavors, combined into one smooth and creamy dessert!
With this homemade panna cotta recipe, I am closing out my eggnog cravings for the season! I was happy to tempt you with my favorite eggnog desserts like this Gluten Free Eggnog Bread Pudding and these Gluten Free Eggnog Skinny Cheesecakes…but I am ready to just sit back and enjoy now :-).
Panna Cotta
Panna Cotta is a dessert that my kids love. It is thick and creamy, and you can make it in all sorts of fun flavors!
Panna cotta is an Italian favorite. It is made with cream, sugar, and gelatin to set it. It is a dessert that is so easy to make, my kids frequently make it. I have been encouraging their kitchen explorations, even if they seem to only want to make desserts because they really need to learn how to cook.
Hopefully, you will love this easy eggnog panna cotta recipe as much as we did!
In order to make this recipe, you are going to want to see how to make the Homemade Toffee that tops this dessert. It adds the perfect little "crunch" factor to this panna cotta recipe.
(*Tip, make sure you read through the whole toffee recipe before starting. There is even a video to show you all of the steps! I had some horrible "bloopers" along the way. I talk about each recipe fail, and how to fix them!)
More Delicious Flavors of Panna Cotta to Try:
Add fresh berries and a little whipped cream.
Flavor with rum as the Italians do.
Add cocoa powder and a little more sugar to make chocolate panna cotta
Flavor with some espresso!
Types of Gelatin:
For this recipe, you will want to use an unflavored gelatin.
I know a lot of people don't like to use gelatin for various healthy/quality reasons. I did find this brand of gelatin which is non-GMO, certified gluten free, dairy free, Kosher, and Halal.
Gelatin is important in this recipe because it is what causes the cream (or eggnog in this case) to firm up.
How to make Panna Cotta:
The first step to making this easy panna cotta recipe is to dissolve the gelatin with some of the eggnog. Let it sit and thicken for 15 minutes.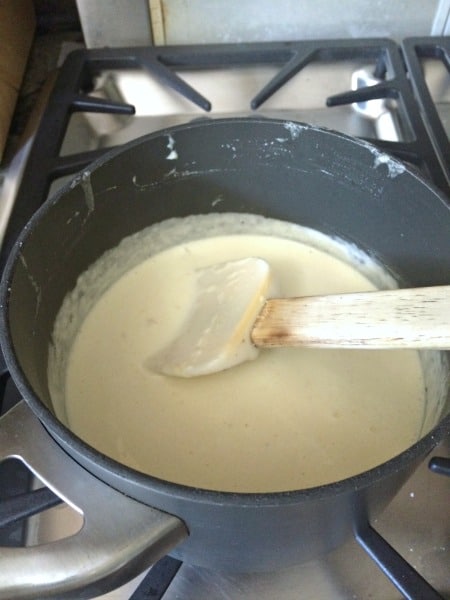 Cook the eggnog on low heat. Don't bring it to a boil. Add the gelatin eggnog combination. Slowly cook to thicken.
Gently pour the mixture into small glasses or ramekins and chill in the refrigerator.
(*Please note this post has affiliate links. Ordering through my site will not change the price you pay. A tiny commission will come to Fearless Dining to help offset the cost of running this blog. I truly appreciate the support.)
Things You Need To Make This Easy Panna Cotta Recipe:
Ramekins to make single servings of this dessert.
Small Mason Jars also are great. You can close the lids to keep them fresh longer.
Eggnog Panna Cotta Recipe
An easy eggnog panna cotta with pistachio toffee.
Ingredients
1

cup

eggnog

1

teaspoon

gelatin

1/4

cup

sugar

2

cups

heavy cream

1

teaspoon

vanilla
Instructions
In a small dish, combine 1/3 cup heavy cream and 1 teaspoon gelatin. Whisk to blend and allow to sit 10 minutes.

In a saucepan, combine the rest of the heavy cream and sugar.

Cook on medium-low heat until the sugar dissolves.

Add eggnog and gelatin mixture to the pan. Whisk and allow to heat just until it boils.

Remove from the heat and pour into ramekins or glass mason jars.

Cover each dish with plastic wrap and chill in the refrigerator.

Optional top with toffee.
Nutrition Facts
Eggnog Panna Cotta Recipe
Amount Per Serving (1 g)
Calories 347
Calories from Fat 279
% Daily Value*
Total Fat 31g 48%
Cholesterol 133mg 44%
Sodium 54mg 2%
Potassium 129mg 4%
Total Carbohydrates 14g 5%
Protein 4g 8%
* Percent Daily Values are based on a 2000 calorie diet.
More Delicious Gluten Free Recipes to Try