This delicious Gluten Free Eggnog Bread Pudding is a special treat that is good enough for holiday entertaining!
Enter the perfect gluten free bread, and you have a kid-friendly gluten free eggnog dessert! If you love eggnog as much as we do, check out all of my gluten free eggnog recipes!
(*This post was sponsored by Franz Bakery. All gushings and opinions about this eggnog bread pudding and gluten free breads are my own!)
Why we love eggnog:
There is something to be said for the holiday season. The traditions, the food, the flavors! Do you have a food or flavor that makes you feel like smiling?
Eggnog does it for me! It is creamy and full of sweet spices like nutmeg and cinnamon. You can use dairy-free or regular eggnog in this recipe. Add a fresh homemade whipped cream, and I could live on the stuff! Even my picky one will eat this eggnog bread pudding.
What makes this gluten free bread pudding recipe even more special is that it was made with Franz Gluten Free Mountain White bread. If you haven't tried Franz gluten free breads yet, you are in for a special treat.
I have used Franz Gluten Free Breads in a few recipes now. Check out this Gluten Free Ricotta Stuffed French Toast recipe and this Roasted Acorn Soup with Homemade Pumpkin Spice Croutons recipe.
Franz Bakery makes several types of gluten free bread including:
Mountain White
7 Grain
Raisin Bread
Blueberry
Great Seed (I used this to make my Gluten Free Stuffing recipe!)
Gluten Free Bagels
Gluten Free Hot Dog and Hamburger Buns
You can order online, or if you are in the San Francisco Bay Area, you can find it in many Costco stores!
They also have gluten free product available on Amazon Fresh in The Bay Area and LA, also available in Amazon Prime in SF, Sacramento, and Oakland and available at 365 Stores by Whole Foods Market in Santa Monica, Silverlake, and Concord, CA.
This bread pudding is perfect for those holiday get-togethers, or, add a couple more eggs and it is healthy enough for breakfast! Franz Gluten Free Bread absorbs all of that eggnog goodness so the flavors soak into all of the layers!!
Are you ready to try making this gluten free dessert for yourself?
Ingredients:
gluten free bread
eggnog, either regular or dairy-free
eggs
cinnamon, nutmeg, allspice
Instructions:
Making a gluten free eggnog bread pudding is so easy! With just a few simple steps, you can put it together.
The first step is to open the special bag that the Franz bread is in. I call it a special bag because it makes Franz bread shelf stable until you open it. This really came in handy when Houston was besieged by the hurricane.
Franz answered the call for help from Houston charities. Franz was able to donate boxes of gluten free bread to the people in emergency shelters who needed gluten free food.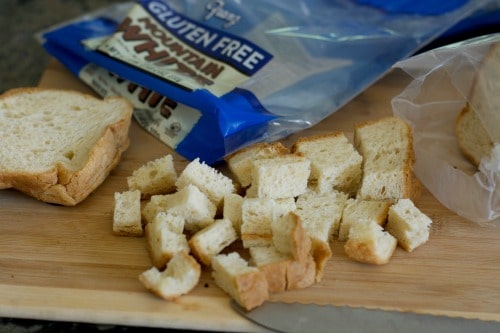 How large should the bread cubes be cut?
You can make the cubes any size for this gluten free eggnog bread pudding recipe. I made my cubes 1 inch by 1 inch.
Don't forget to include the crust. My kids hate crust, but when it is hidden in a casserole like this gluten free eggnog bread pudding, they love it!
Can you make this dairy-free?
You can easily make this recipe dairy-free by using dairy-free eggnog! You will find soy-based, almond-based, and coconut-based eggnog.
Soak the gluten free bread cubes in eggnog and sprinkle with cinnamon and other spices. I let the bread soak for 20 minutes so that it falls apart when saturated.
How long do you soak the bread for?
You can soak the bread pudding overnight in the refrigerator if you like a very soft bread pudding.
How long will bread pudding keep in the refrigerator?
This eggnog bread pudding is a great dish to make ahead as it will keep in the refrigerator for 3 days.
Bake the bread pudding and top with whipped cream. Franz Gluten Free Bread would also be delicious in this Classic Gluten Free Bread Pudding, or this Gluten Free Sweet Potato Bread Pudding recipe. I love eggnog desserts :-). Think of this bread pudding as the ultimate Christmas bread pudding recipe.
Substitutions and Variations:
Add chocolate chips for a sweet treat!
Top with this homemade Vanilla Cream Sauce!
Add pecans for an extra shot of protein
Candied ginger chunks would add a delicious zing to this recipe!
More Gluten Free Pudding Recipes:
Gluten Free Sweet Potato Bread Pudding
I LOVE hearing from you!! You can also FOLLOW ME on Facebook, Instagram, or Pinterest to see even more delicious recipes!
Gluten Free Eggnog Bread Pudding
A simple gluten free eggnog bread pudding recipe.
Ingredients
4

cups

gluten free bread

2

cups

eggnog

you can use regular or non-dairy

3

eggs

1

teaspoon

cinnamon

½

teaspoon

nutmeg

¼

teaspoon

allspice

⅛

teaspoon

salt
Instructions
Preheat the oven to 350 degrees.

Chop gluten free bread on a cutting board into 1 inch cubes.

Put the cubes in a large bowl.

In a small bowl, add eggnog, spices, and eggs. Mix well with a whisk.

Pour wet ingredients into the bread cubes and stir to coat the cubes.

Allow the bread cubes to sit for 20 minutes to absorb all of the liquid.

Put into a greased baking dish and bake for 25 minutes, or until done.
Notes
Feel free to use any gluten free bread you have on-hand! You can use regular or dairy free eggnog.
Nutrition
Serving:
1
g
Calories:
128
kcal
Carbohydrates:
14
g
Protein:
6
g
Fat:
5
g
Saturated Fat:
2
g
Polyunsaturated Fat:
3
g
Cholesterol:
95
mg
Sodium:
174
mg
Fiber:
1
g
Sugar:
7
g
If you love the recipes you are finding on my blog, I would love for you to sign up for my newsletter (and get my free chocolate e-cookbook!)