Maple and bacon flavors collide in a yummy scone recipe! You are going to love these Gluten Free Bacon Maple Scones! Maple and bacon flavors take center stage in this maple bacon recipe and work perfectly with a cup of coffee or tea.
Sweet with a hint of smoky saltiness, you will love how tasty these gluten free scones taste! If you love scones as much as we do, check out all of my delicious gluten free scones recipes!
Click for Table of Contents:
Today I am hosting the girls for a pre-holiday get together. We try to do this every few months to catch up, and just celebrate with some "togetherness time." It is like our calm before the storm...or should I say calm before the holiday madness?
If you want to offer a variety of scones, try these Gluten Free Cheese Scones, or these Gluten Free Strawberry Scones for friends' get-together.
And for my bacon lovers, these Gluten Free Maple Bacon Donuts are also delicious!
You will love these scones with a hot cup of coffee or tea. They make a delicious breakfast or mid-afternoon snack!
Walmart has you covered for all of your shopping needs! Whether you need coffee, bacon, or gluten free ingredients, they have it all. (You would be surprised by the amount of reasonably priced gluten free Walmart products!! Check out my Gluten Free Walmart Shopping Guide post to see what else they have!!)
Instructions:
First, add the dry ingredients and cold butter. Use a pastry blender to cut the butter into the dry ingredients. The dough will be grainy when you are done.
What gluten free flour is best for scones?
I have tested three gluten free flour blends in this recipe. I liked King Arthur Gluten Free Measure for Measure, Nameste GF Flour, and Bob's Red Mill 1 to 1 Gluten Free Flour Blend. This doesn't mean other blends won't work, I just haven't tested any others. Try to avoid flour blends that are high in starch.
As always, if your blend does not contain Xanthan Gum, you will need to add 1 teaspoon.
Can you make this dairy-free?
You can make this gluten free maple scones recipe dairy-free. You will want to use a stick of very cold vegan butter and cut it in the same way as I show above.
Add the cooked and chopped bacon and pecans. Mix and then add all of the wet ingredients into the bowl. Mix well.
Instructions:
The gluten free scone batter will be thick as shown above. You can see the bacon chunks in the batter.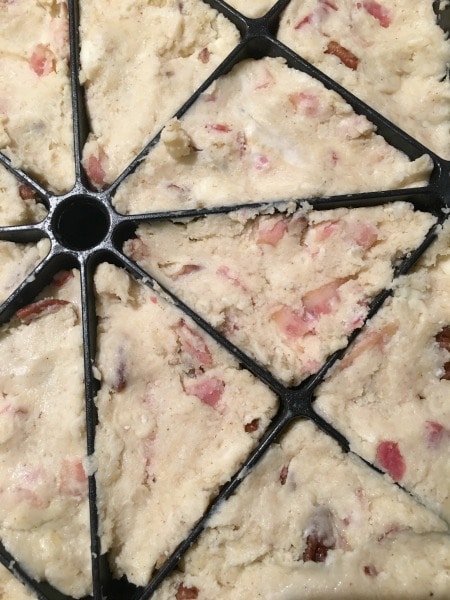 Press the scone batter into a scone pan and bake. These easy Gluten Free Maple Bacon Scones are almost ready!
Do you need to have a scone pan?
You definitely do not need a scone pan to make this recipe. To make this scone recipe without a scone pan. Here are the directions:
Take your scone batter and place it on parchment paper.
Form it into a circle about 2 inches tall.
Use a knife to precut into triangle-shaped wedges.
Bake at 350 degrees F for 20-25 minutes until done.
Remove from the oven and re-cut the cut lines.
Make the maple drizzle the same as directed below.
This is from my Gluten Free Coconut Date Pecan Scones recipe on the blog.
Next, we need to make the maple glaze for these Gluten Free Bacon Scones.
What type of maple syrup is best?
I prefer to use Grade B maple syrup in my recipes. It is more nutrient-dense and flavorful than Grade A maple syrup. If you can't find Grade B maple syrup, it can be tough, please do use Grade A maple syrup in this recipe.
Mix the powdered sugar and maple syrup. Mix the glaze. (Mix carefully so the powdered sugar doesn't go flying!)
Dip the scones into the maple syrup to coat each scone. Remove from the glaze and allow to dry on a cooling rack. Optional, top with a pecan half.
Can you make this scones recipe nut-free?
You can easily make this scones recipe nut-free!! To make this easy maple scone recipe nut-free, just omit the pecans.
Can you make this recipe vegan?
If you are looking to make just a maple scone or if you need a vegan version, you have two options.
You can use vegan bacon to maintain the maple bacon flavors, or
You can omit the bacon altogether and just enjoy this as a maple pecan scone.
📋 Recipe
Easy Gluten Free Maple Bacon Scones
An easy Gluten Free Maple Bacon Scones recipe that is perfect with coffee or tea.
Ingredients
2 cups gluten free flour blend
2 tablespoons sugar
1/4 teaspoon salt
8 tablespoons butter, cold
2 eggs
1/2 cup almond milk
1/4 cup chopped cooked bacon
1/4 cup chopped pecans
1/2 cup powdered sugar, (glaze)
2-3 tablespoons maple syrup
Instructions
Preheat the oven to 350 degrees.
In a large bowl, add flour, sugar, and salt. Whisk to blend.
Add chunks of cold butter. Use a pastry blender to chop up all of the butter. Your dough will be grainy. (You can also use a food processor to do this.)
In a small bowl, add eggs and milk. Add to scone dough with the chopped cooked bacon and pecans.
Mix well.
Grease a scone pan and add batter to each section and bake for 22-25 minutes.
Remove scones from the oven. Take out of the scone pan and allow to cool on a cooling rack.
In a bowl, add powdered sugar and maple syrup. When the scones are cool, dip one side into the glaze and put back on the rack until the glaze hardens.
Notes
If your gluten free flour blend doesn't contain Xanthan Gum, add 1 teaspoon.
Nutrition Information:
Yield:

16
Serving Size:

1
Amount Per Serving:
Calories:

176
Total Fat:

9g
Saturated Fat:

4g
Trans Fat:

0g
Unsaturated Fat:

4g
Cholesterol:

42mg
Sodium:

148mg
Carbohydrates:

20g
Fiber:

1g
Sugar:

8g
Protein:

4g
Please note this nutrition information is calculated by a recipe plugin and is an estimate based on the ingredients used in this recipe.
(*This post was updated from a December 2017 post with more details and recipe tips.)