Have you ever grilled fruit? How about a grilled fig?
I saw a photo on Pinterest last week of a slice of grilled watermelon that really caught my eye. At first my mind couldn't wrap around the concept of cooking watermelon, or any fruit for that matter.
Questions raced through my mind…did the heat destroy or add to the flavor of the watermelon? Did the char marks change the watermelons taste? How would brie stand up to the grilled fruit sweetness?
My kids wondered how do you grill fruit.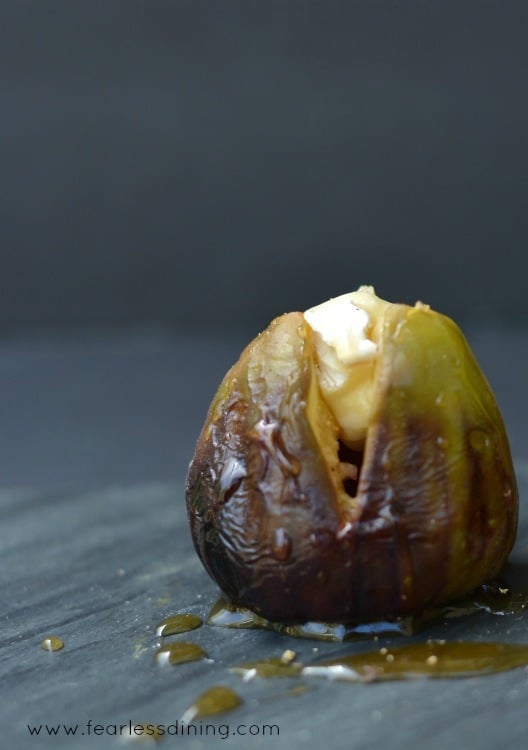 I had a box of figs sitting on the counter that were about to spoil, making these the perfect fruit for us to experiment with.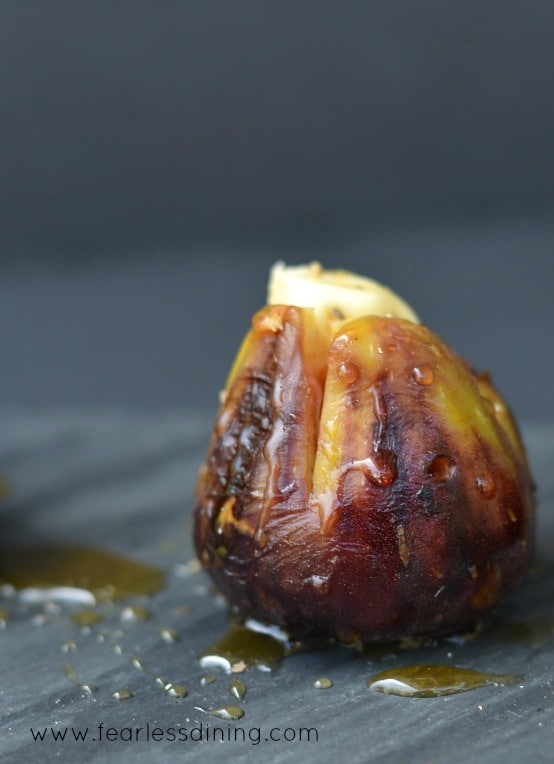 (As you can see, there are a lot of pictures in this post. It was so hard to choose which photos to include in this post. They all came out beautifully. You can almost see the honey drip slowly, wrapping around these figs.)
These figs look beautiful on the grill. I kept the lid open and grilled them slowly so they wouldn't burst. lightly brush with organic cold pressed olive oil to prevent burning.
When they looked like they had softened, I brought them inside. Carefully make two deep cuts from the top down. Insert a small chunk of brie. the heat from the figs helped soften the brie even more, melding the flavor into the figs.
Next, I drizzled honey and then sprinkled some cracked pepper on top. These figs would be a perfect appetizer if you need a fancy dish for a party.
The verdict: grilled figs were delicious and I can easily see grilling figs in my future. The flavors really work well together.

Here is our little fig tree. Another month and we should have our own fresh figs.
Check out all of the appetizer recipes on this blog!
Grilled Brie Stuffed Figs with Honey
Ingredients
8

fresh figs

1/4

inch

wedge of brie cheese

cut into small 1/2cubes

organic cold pressed olive oil

2-3

grill skewers

honey

Freshly ground black pepper
Instructions
Preheat your grill and make sure the surface is clean.

Soak wooden skewers (if you are using wood.)

Press the figs onto the skewers.

Lightly brush each side with olive oil.

Grill until softened with the lid on the grill up so they don't overheat and burst.

When cooked, bring them inside and let cool for 5 minutes.

Remove from skewers.

Make + shaped cuts from the top down midway into the fig.

Stuff with the brie cheese.

Drizzle honey and then sprinkle cracked pepper on top to taste.
More Yummy Fig Recipes to Try!

If you are looking for more appetizers, try these Delicata Squash Stuffed Mushrooms!
Save
Save
Save