If you are craving dessert but don't want to heat up your oven, this easy gluten free chocolate oat no-bake cookie recipe is a great treat to make! I even made these healthier so you have way less guilt!
These no-bake cookies with quick oats (Gluten Free!) are my go-to summer cookie recipe! If you are looking for more recipes to make when it is hot, you will love these gluten free summer recipe ideas.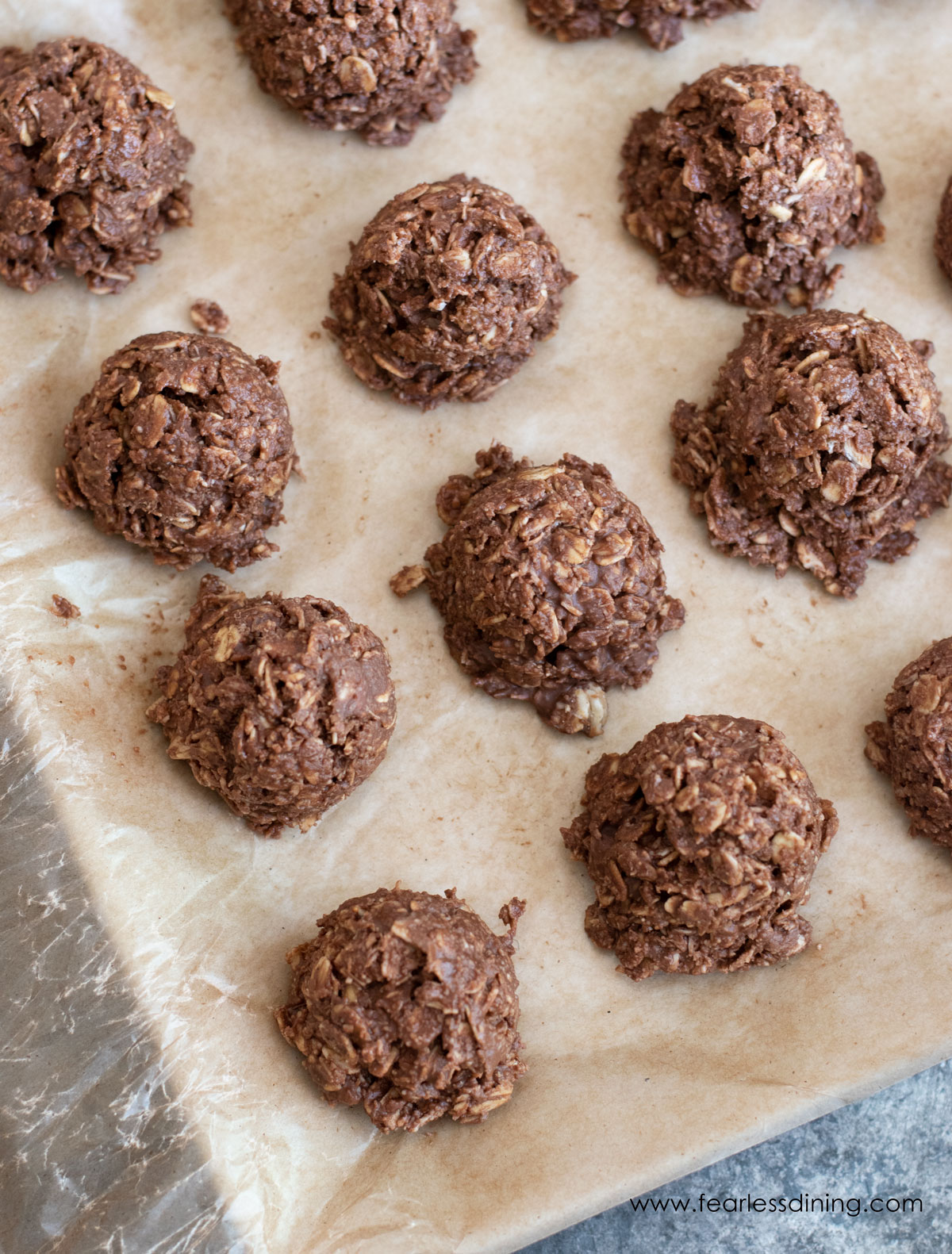 Jump to:
Do you ever have a craving for peanut butter that won't go away? What if you could snack on it in a deliciously fun way?
I have seen drop oatmeal cookies that looked delicious, but I wanted my version to be healthier, especially if my kids were going to eat more than one of these in a sitting. I went to my favorite standby, almond meal.
You can't tell it is in there with the melted chocolate and peanut butter, but it helps add more protein to the cookies to balance out the sugars and carbs. If you love oatmeal in recipes, you will also want to try my popular gluten free banana oat muffins recipe!
Why gluten free oats?
Oats are naturally gluten free, but they are often grown and stored near wheat and cross-contamination is very high. There are several companies that make certified gluten free oats including Trader Joe's, Bob's Red Mill, and Quaker.
If you are new to gluten free living, my handy guide for gluten free living can help you get adjusted quickly.
Ingredients:
Crunchy unsalted peanut butter
Honey
Coconut oil
Gluten free whole rolled oats
Almond flour
Organic shredded coconut (unsweetened)
Chocolate chips
Instructions:
Add the dry ingredients to a bowl and whisk to blend.
In a microwave safe container, add your peanut butter, chocolate, coconut oil, and honey. Microwave for 35 seconds and mix. Microwave on 20 second intervals stirring after each until the ingredients are all melted.
Pour the chocolate mixture into the dry ingredients and mix well. Allow to sit for 10 minutes so everything absorbs together.
Use a cookie scoop to drop the cookies onto the wax paper. Place in the refrigerator for 1 hour to firm up. Enjoy!
💭 Top tip:
Use a mini muffin pan to make these cookies bite-sized for portion control. I often make my cookies really large because I can't stop at eating just one. Using this little pan helps me behave :-).
If you don't have a muffin tin, you can easily use a plate with a piece of wax paper over it as I show in the photos.
Common Questions:
How do you store these cookies?
Because these are made with melted ingredients, you will need to store them in the refrigerator.
Can you use quick oats?
This recipe will work with quick oats, but they will get mushy so I do recommend rolled oats.
Can you bake these cookies?
This recipe is specifically designed not to be baked. There is no egg or anything to hold these together so they would not hold up to baking.
Can you make these nut-free?
To make these nut-free, omit the almond flour and add ¼ cup additional rolled oats. Use Sunbutter instead of the peanut butter.
Can you make these no-bake cookies dairy-free?
You can easily make these dairy-free by using a dairy-free chocolate chip like Enjoy Life brand.
🥣 Mix-ins:
You can add all sorts of fun mix-ins to this simple no-bake oat cookies, depending on if you want to keep them healthier or make them more like a dessert. Try some of these fun ideas:
M&Ms
Chocolate chips
Caramel chips
Chopped nuts (pecans, peanuts, walnuts)
Chia seeds
More No-Bake Dessert Recipes:
Tools:
Certified Gluten Free Quick Oats It is really important to make sure your oats are certified gluten free. Oats are very easily cross-contaminated with wheat so really make sure so you stay safe.
A muffin tin to add the cookie dough into.
If you tried this recipe or any other recipe on my blog, please leave me a rating and a comment. I LOVE hearing from you!! You can also FOLLOW ME on Facebook, Instagram, or Pinterest to see even more delicious recipes!
📖 Recipe
No Bake Chocolate Oat Cookies
Easy gluten free no-bake chocolate oat cookies.


Instructions
In a saucepan, add peanut butter, honey, and coconut oil.

Cook on low heat until melted. Add chocolate chips.

Stir until mixed.

To make this in the microwave, add the chocolate, peanut butter, honey, and oil in a microwave-safe dish. Microwave 35 seconds, then stir. Repeat intervals of 20 seconds until the mixture is melted. Mix to combine.

Add oats and almond meal.

Mix together.

Drop into a mini muffin tin, or onto a cookie sheet.

Refrigerate until hardened.

Refrigerate any extras in a container.
Notes
1. Make sure to use certified gluten free oats.
2. To make these cookies nut-free, omit the almond flour and add ¼ cup additional rolled oats. Use Sunbutter instead of the peanut butter.
Nutrition
Serving:
1
g
Calories:
272
kcal
Carbohydrates:
26
g
Protein:
5
g
Fat:
18
g
Saturated Fat:
9
g
Polyunsaturated Fat:
8
g
Cholesterol:
2
mg
Sodium:
22
mg
Fiber:
4
g
Sugar:
14
g
If you love the recipes you are finding on my blog, I would love for you to sign up for my newsletter (and get my free chocolate e-cookbook!)
(*This recipe was updated from an old July 2014 post.)
Save