These pan-roasted shishito peppers make a simple and delicious appetizer. These little peppers have the best flavor; luckily, only one in ten are spicy! You can roast or pan-fry them and serve them in only 10 minutes!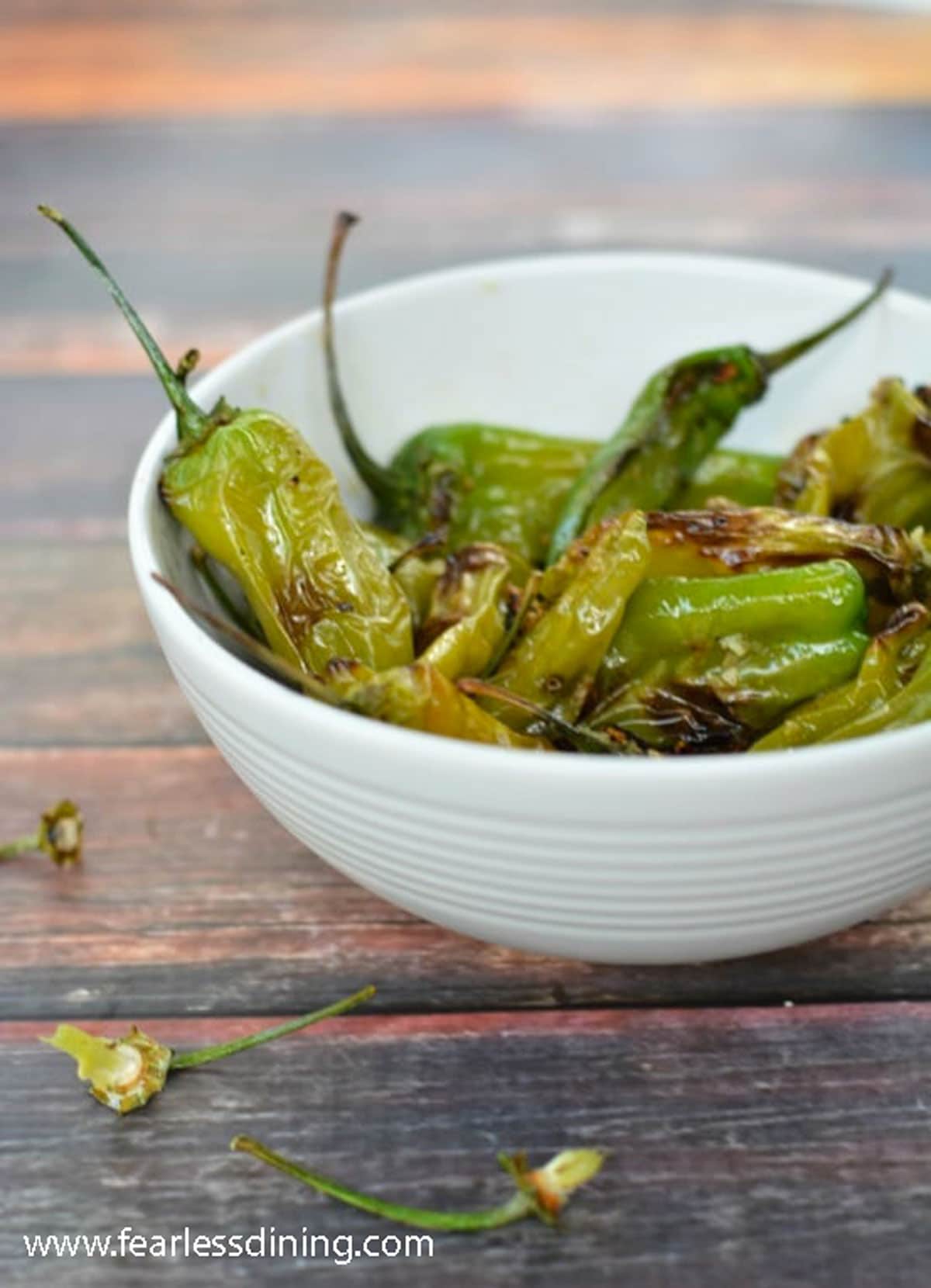 Jump to:
Have you seen those bins of shishito peppers at your local farmer's market? If you haven't seen them, these Japanese peppers should come soon because they are all the rage!
You will also find that many grocery stores are starting to carry them in the refrigerated produce section, including Trader Joe's. Here are some of my very favorite shishito pepper recipes to try when you find these peppers.
What Are Shishito Peppers?
Shishito peppers are tiny, bright green peppers. Shishito peppers originally came from Japan. They are considered sweet peppers and are very mild. These peppers are mild, and they say 1 in 10 are actually spicy.
Part of the fun is eating the peppers to look for the spicy ones. Eating these peppers is a little like Russian Roulette. You never know which is the spicy one!
You will often see green shishitos, but I recently found out they can come in a vibrant red color, too! (Check out this delicious Red Shishito Pepper Soup I made with them!)
Shishitos make a great side dish or appetizer, and you can also use them as a part of the main dish.
These peppers are easy to eat. You grab them by the stem and bite the pepper off the stem. I know it sounds weird but you eat the seeds and all. We toss the stems, but I would say don't toss them on the ground if you have pets. Our friend's dog got really sick from the stems.
Why This Recipe Is Great:
You can get these peppers all year, meaning this easy appetizer is no longer just something to enjoy in the summer.
Shishito peppers are very versatile and work in many recipes. I share five easy ways to cook and enjoy shishito peppers below.
You can enjoy the blistered peppers plain with some lemon juice, sea salt, and a little oil, or dip them in a creamy dipping sauce or soy sauce.
They cook in just a matter of minutes. All you need is 10 minutes.
Recipe Step By Step Directions:
Step 1: Gently wash the shishito peppers. Do not remove the stems. Pat them dry with a paper towel.
Step 2: Heat avocado or another high-heat oil in a 12" large cast iron skillet over medium-high heat.
Because you are roasting these peppers at temperature, you must use an oil with a high smoke point. I typically use avocado oil or canola oil for this. I do not recommend using olive oil. When the pan is hot, toss in the shishito peppers whole.
Step 3: Add the peppers in a single layer in the pan. Toss to coat in the oil.
Step 4: Cook the peppers, stirring occasionally, until they develop a nice char. This blackened blister helps give these peppers a sweeter taste. The peppers soften as they blister, making them so good!
Step 5: As the peppers blister, I like to add some lemon, minced garlic, and flaky salt. The garlic gets nice and crispy around the peppers. You can toss in some sesame seeds, onions, or diced shallots, too if you like!
More Ways to Cook Shishito Peppers:
These little mild peppers can be cooked in several ways. Shishito peppers can be cooked in many ways, including:
Pan-frying
On a grill - Add them to a grill basket (see above!) and toss them onto the grill!
Baked in an oven
Sautéd
Air fry them!! They come out perfect every time!
Air Fryer Shishito Peppers:
Another fun way to cook shishitos is in an air fryer. Cooking your shishito peppers in an air fryer is so easy, and you get the same delicious charred flavor.
Spray a high-heat oil in the air fryer basket.
Fill the bottom of the air fryer with washed shishito peppers. Leave the stems on! Do not overfill the air fryer so that air can circulate around the peppers.
Spray them with more oil and dust with salt.
Air fry them at 400º F for 7-8 minutes.
I love to drizzle garlic butter over the charred shishito peppers for more flavor!
Note this post was updated from an older Sept 19, 2014 post with better photos and directions.
Tips and Recipe FAQ:
How long do shishito peppers keep fresh?
Cooked shishito peppers will keep fresh for up to 3 days in the refrigerator. Store them in an air-tight container.
What do you eat roasted shishito peppers with?
You can eat shishito peppers as an appetizer or with a meal like steak or seafood.
Can you eat shishito peppers raw?
You can eat these peppers raw, but they taste better charred with salt and oil.
Do you need to refrigerate shishito peppers?
Uncooked shishito peppers should be stored in the produce bin in your refrigerator to keep fresh.
If you love shishito peppers as much as we do, how about trying this Chilled Shishito Pepper Soup recipe?
More Easy Pepper Recipes:
📖 Recipe
Blistered Shishito Peppers with Garlic
An easy roasted shishito pepper and garlic recipe. It makes a delicious appetizer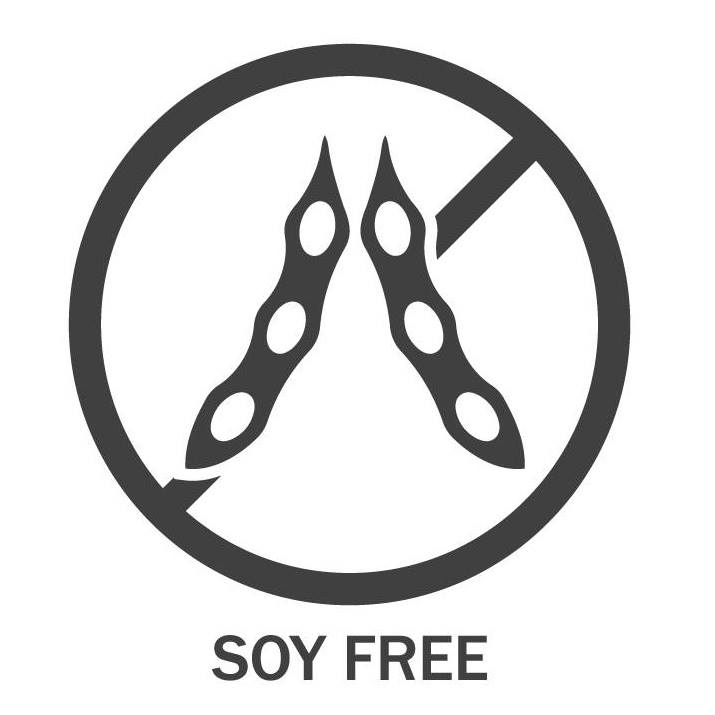 *As an Amazon Associate, I earn a small commission from qualifying purchases.
Ingredients
1

pint

shishito peppers

1

tablespoon

avocado oil

1

clove

minced garlic
Instructions
Heat a cast-iron skillet with avocado oil or another high smoke point oil.

Heat the oil on medium-high heat. Add the shishito peppers and toss to coate them in the oil.

Cook the peppers until the skins blister. Add the garlic and sprinkle with kosher or sea salt.

Remove them from the heat and serve warm.
Notes
You can cook shishito peppers in several ways. You can pan-fry as listed above, or use a vegetable basket and cook them on a grill.
I recommend using an oil that can tolerate high heat. I have pan-fried shishito peppers in avocado oil, coconut oil, and canola oil. Do not use olive oil or it will get rancid.
Cooked shishitos will keep up to 4 days in an air-tight container.
SPECIAL NOTE
Please know that every gluten free flour blend has a different starch to grain ratio. If you use a blend I didn't test, you may need to adjust your moisture levels in your baked goods.
Nutrition
Serving:
4
peppers
Calories:
9
kcal
Carbohydrates:
1
g
Protein:
1
g
Fat:
1
g
Saturated Fat:
1
g
Sodium:
1
mg
Potassium:
35
mg
Fiber:
1
g
Sugar:
1
g
Vitamin A:
73
IU
Vitamin C:
16
mg
Calcium:
2
mg
Iron:
1
mg
Nutrition Disclaimer
Nutritional information is an estimate provided to you as a courtesy. You should calculate the actual nutritional information with the products and brands you are using with your preferred nutritional calculator.
Simplifying the art of baking and cooking gluten-free recipes.
Save
Save