These pan roasted blistered shishito peppers make a delicious appetizer.
Have you seen those bins of shishito peppers at the farmer's market? If you haven't seen them, many grocery stores are starting to carry them too, including Trader Joe's.
I am lucky because I have received shishito peppers in my Farm Fresh to You farm box for the past few weeks.
Do you know how to cook shishito peppers? They work so well in so many types of recipes. Here are some of my favorite shishito pepper recipes!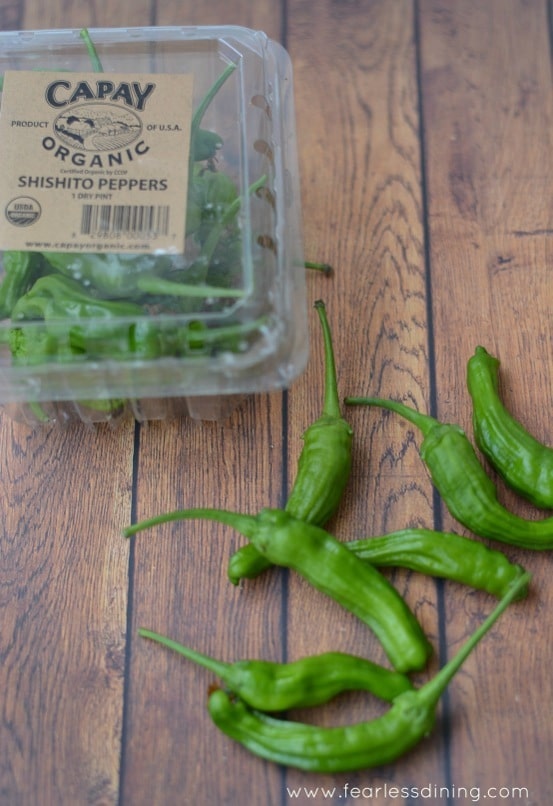 Shishito peppers originally came from Japan. They are considered a sweet pepper and are very mild. They are small and green, and I recently found out can come in a vibrant red color too! (Check out this delicious Red Shishito Pepper Soup I made with them!)
They say 1 in 10 shishito peppers are hot, but I have yet to find a hot one….and I have had at least four pints of shishito peppers in the past month in our farm box.
Many people don't know what to do with shishito peppers. 
Well, they make a great appetizer!!
We were at a fabulous restaurant in downtown Campbell called Liquid Bread (it is no longer in business) a few weeks ago. They served up shishito peppers charred with garlic and crunchy enoki mushrooms on top and it was just fabulous. Everyone at our table loved them.
These peppers are easy to eat. You grab them by the stem and bite the pepper off the stem. I know it sounds weird but you eat the seeds and all. We toss the stems, but I would say don't toss them on the ground if you have pets. Our friend's dog got really sick from the stems.
Check out how easy this blistered shishito recipe is to make.
Heat olive oil in a cast iron pan. When the pan is hot, toss in the shishito peppers whole. Add minced garlic and salt.
You want your peppers to blister like shown in this photo. The peppers soften as they blister, making them so good!
As the peppers blister, I like to add some minced garlic and salt. The garlic gets nice and crispy around the peppers. You can toss in some onions too if you like!
More Ways to Cook Shishito Peppers
Add them to a grill basket and toss them onto the grill!
Bake them in an oven.
What else can you do with roasted shishito peppers?
How about trying this Chilled Shishito Pepper Soup recipe.
More Delicious Shishito Pepper Recipes to Try!
Save
Save