So you bought a package of little green Padron peppers and you are wondering what to do with them. I love these bite-sized mild peppers. There are so many fun ways to cook them.
Join along as I show you how to roast Padron peppers and create a simple easy Padron peppers recipe.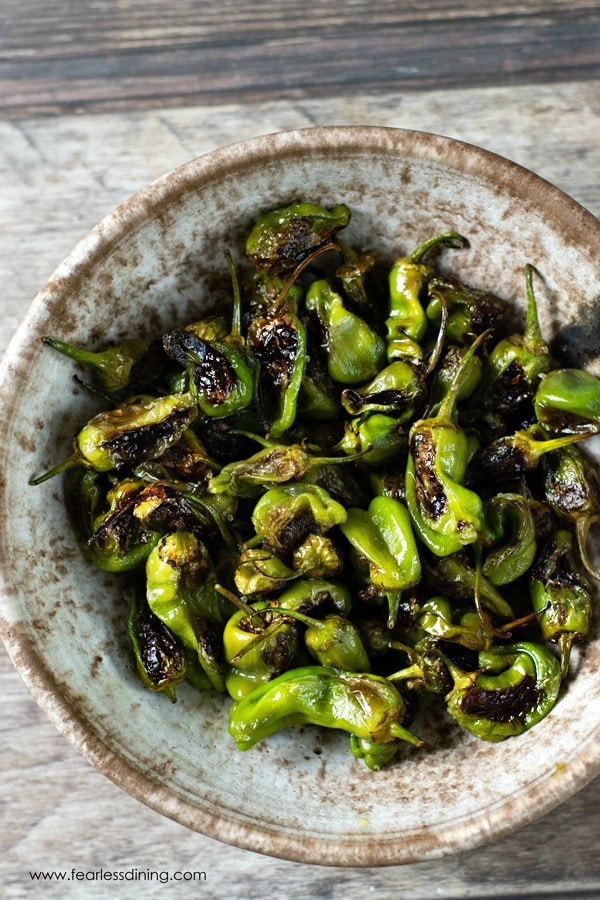 Have you tried Padron peppers? They are my new favorite little bit-sized pepper to cook. If you don't like super spicy, these little peppers are for you!
Where to find Padron Peppers?
They are in the farmer's markets now, but if you have a small ethnic market nearby, you may be lucky enough to find them all year round! You know me, I LOVE peppers. Check out my popular Shishito Pepper and Hatch Green Chile Pepper recipes.
You will find lots of fun pepper recipes to try here at Fearless Dining! (And they are all gluten free!)"
Padron peppers are not big! These peppers are only two inches long and can come in either green or yellow colors. They are mostly mild, but watch out for that rare 10% that have a spicy kick!
Pimientos de Padron
Did this fancy title fool you? Padron peppers are originally from Spain but are also grown in Mexico and the United States too. You can find them on menus in tapas restaurants used in all sorts of fun Padron pepper recipes.
How to Cook Padron Peppers
There are several ways to cook Padron Peppers including:
Cooking in a special grill basket on a grill. (Pictured grill basket above. Note those are shishito peppers cooking in the grill basket.)
Blister the peppers with garlic and oil over high heat in a cast iron pan. (Pictured below this list.)
Cut them and cook them in a recipe. I don't do this as often, but it helps cook their flavor into the recipe you are making.
Blistered peppers
I recommend using a cast iron skillet to blister peppers. Cast iron pans can get really hot, which blisters the skin on the peppers. It almost adds a caramelized flavor to the blistered peppers…totally worth it!
One question I get a lot is can you eat Padron pepper seeds. The answer to this question is yes, you can. It is smart to ask this question because many peppers like jalapeños seeds are HOT! You don't have to worry about this with Padron peppers.
Padrone Pepper Appetizer Recipe
I can't wait to share with you my second favorite way to eat Padron peppers! (The first way was blistered. I love to pop them in my mouth!
Grab your favorite hummus and gluten free crackers. (I love to use a hummus with roasted red peppers.)
Top your gluten free crackers with hummus.
Add a blistered Padron pepper on top. You probably won't want to eat the stems so go ahead and remove those. I left them on for the pictures because it looked pretty :-).
Pop the whole thing into your mouth!
This appetizer is easy to make in under 15 minutes, and it is perfect for a party or game day celebration!
More Delicious Pepper Recipes to Try:
Are you ready to make some peppers?
(*Please note, this post contains affiliate links. If you make a purchase with one of these links, it will not change the price you pay. A tiny commission will come to Fearless Dining to help offset the costs of running this blog. I truly appreciate your support.)
Things You Need to Make This Recipe:
A good 12 inch cast iron skillet.
Or, you can use a grill basket and cook these on your grill.
Blistered Padron Peppers
Bite-sized blistered Padron peppers cooked in garlic and oil.
Ingredients
1 pint Padron Peppers, washed
1 tablespoon avocado oil, or another high heat oil
2 cloves garlic
salt to taste
Instructions
Heat a cast iron skillet on high heat with the avocado oil.
When the skillet is hot, add the garlic and peppers. Turn the heat down to medium-high.
Cook, stirring occasionally. Allow the skin to blister all around the peppers. 
When the peppers are done, remove from heat and sprinkle with salt.
Recommended Products
There are affiliate links in my posts. This doesn't change the cost you pay for an item, it just means a tiny commission comes to Fearless Dining to help offset the costs of running this blog.
Nutrition Information:
Yield:

6
Serving Size:

1
Amount Per Serving:
Calories:

63
Total Fat:

5g
Saturated Fat:

0g
Trans Fat:

0g
Unsaturated Fat:

4g
Cholesterol:

0mg
Sodium:

99mg
Carbohydrates:

5g
Fiber:

1g
Sugar:

2g
Protein:

1g
Please note this nutrition information is calculated by a recipe plugin and is an estimate based on the ingredients used in this recipe.
More Yummy Appetizer Recipes: