From starter to dessert, your entire meal can be prepared on the barbecue. For this roundup, I wanted to end on a sweet note with some delicious gluten free grilled fruit desserts. Desserts made on the grill are sweet and refreshing.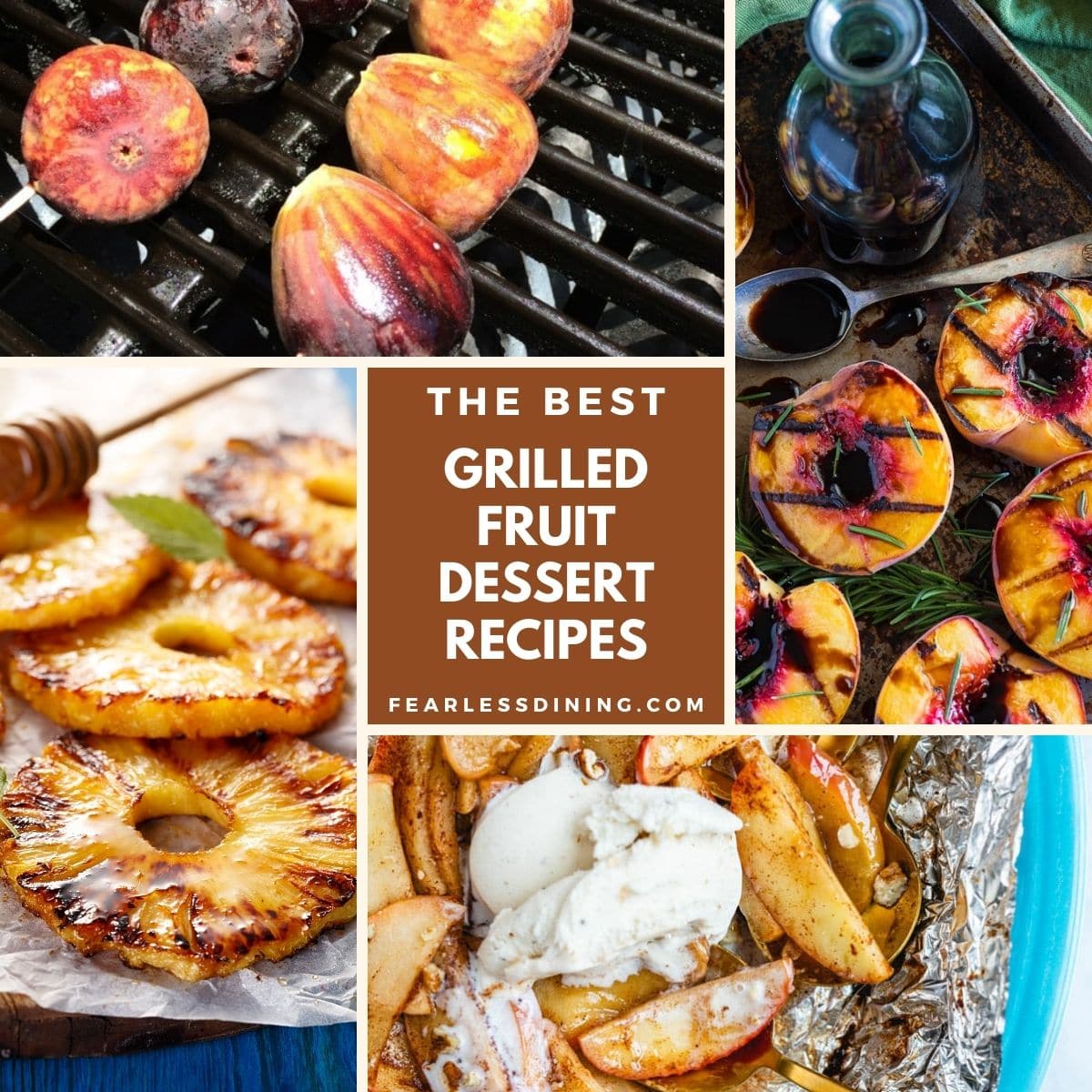 Jump To:
Grilled fruit is absolutely delicious whether you eat it plain, or as a component in a dessert recipe. I found some quick and easy, mouthwatering gluten free desserts that really highlight that caramelized grilled fruit flavor.
Tips for grilling fruit:
Soak the skewers in water for 1-2 hours to prevent the wood from burning.
If the fruit is thick, cut hatch marks on it so the inside also grills and gets to caramelize. (This is great for mangos!)
If you have smaller fruit, like cherries, you may want to use the top rack to avoid burning the fruit.
If you don't use skewers, make sure to use bigger pieces of the fruit so that it doesn't fall between the grill slats!
I know it can be tempting to check the fruit as it grills, but try not to. The constant heat on the whole surface will allow it to cook evenly. Grill over low to medium heat.
What are the best fruits for grilling?
You can grill any fruit, but some fruits get such a rich caramelized flavor. Try one of my favorites:
Melons like cantaloupe or watermelon
Grapes
Mango
Figs - stuff them with cheese!
Stone fruits - grill them then add a scoop of vanilla ice cream!
Bananas
Pineapple - toss it on the grill to cook, then drizzle it with honey!
Is grilled fruit healthy?
Grilled fruit is healthier than many sugary desserts! You don't even need to top your grilled fruit, enjoy it freshly grilled and you will be able to taste the natural sweetness.
Figs are one of my favorite fruits to grill. Figs are very soft so you don't need to grill them very long to get their sweet flavors to come forward to caramelize!
Grilling bananas is so easy. Just slit the skin open a little bit so steam can escape. I often grill bananas just to ripen them up a bit more for my gluten free banana bread recipe!
If you want to try something fun with grilled bananas that is out of this world...slit the banana peel and then fill with chocolate chips. The chocolate will melt into the banana as it cooks, making a delicious treat. I even will add mini marshmallows!
There is nothing better than grilled pineapple. Top with vanilla ice cream and a hot caramel sauce for a simple dessert that tastes fancy!
How long does grilled fruit keep fresh?
Grilled fruit should keep fresh up to 4 days in the refrigerator. Seal the fruit in an air-tight container.
If you are new to gluten free living, I have a great guide to gluten free to help you get started.
And if you are hoping to pick up a few tips about grilled vegetables, feel free to check out my 4 easy vegetable marinade recipes!!
More gluten free grilled fruit dessert recipes:
Gluten Free Grilled Fruit Dessert Recipes
Easy and delicious grilled fruit dessert recipes
If you love the recipes you find on my blog, I would love for you to sign up for my newsletter (and get my free gluten free holiday cookies baking tips!)