Gluten free chocolate donuts topped with an edible cookie dough frosting make this the best gluten free chocolate donut recipe I have ever made!
I hope you're ready for a special treat because these gluten free chocolate donuts are hard to resist. I bet these mini chocolate donuts are a decadent dessert your whole family will love.
Don't forget to check out my most popular gluten free donut recipes…they are all hard to resist!
Today is special for two reasons.
It is National Donut Day, and even more importantly, my son's birthday! I have no idea where the years have gone…but all of a sudden, I have a 5'8 growing teenage boy. My son loves gluten free baked chocolate donuts and I am hoping that he will love this new chocolate donut recipe.
With two very important occasions today, I wanted to celebrate his birthday with a treat he will remember for years. He loves chocolate.
He is also VERY guilty of trying to steal cookie dough anytime I am baking. I am not kidding….he never gives up. (He gets this from Mr. Fearless Dining…it must be genetic!)
We hope you like these gluten free chocolate donuts as much as our son did!"
Today, I am combining both of his favorite sweet things into one special dessert! Here is the Gluten Free Edible Cookie Dough Frosting recipe.
This easy cookie dough frosting recipe is quick and easy, and is delicious on any baked item…or just eat it by the spoonful!
How to make gluten free chocolate donuts:
Add the dry ingredients to a bowl and whisk to blend.
Mix the wet ingredients and whisk to blend. Pour the wet ingredients into a bowl and mix well.
This is what your chocolate donut batter will look like when mixed.
Add the batter to your donut maker. Note this is an older model Babycakes Donut Maker, the new donut maker has a more square body shape. Cook for 4-5 minutes until done.
Allow cooling then frost with the cookie dough frosting.
These mini donuts were made in my Babycakes Donut Maker, but you can definitely use a donut pan if you prefer to bake your chocolate donuts in the oven.
Baked donuts are a lot healthier than fried donuts.
Frosting or Glaze?
This cookie dough frosting works so well with this doughnut recipe. Of course, this gluten free edible cookie dough is also good enough to frost a cake like this Simple Gluten Free Layer Cake recipe.
You can also make a glaze for your gluten free donuts with powdered sugar and a little water. (2 cups powdered sugar to 1/4 cup almond milk.) Just dip your donuts in and then set onto a rack to dry.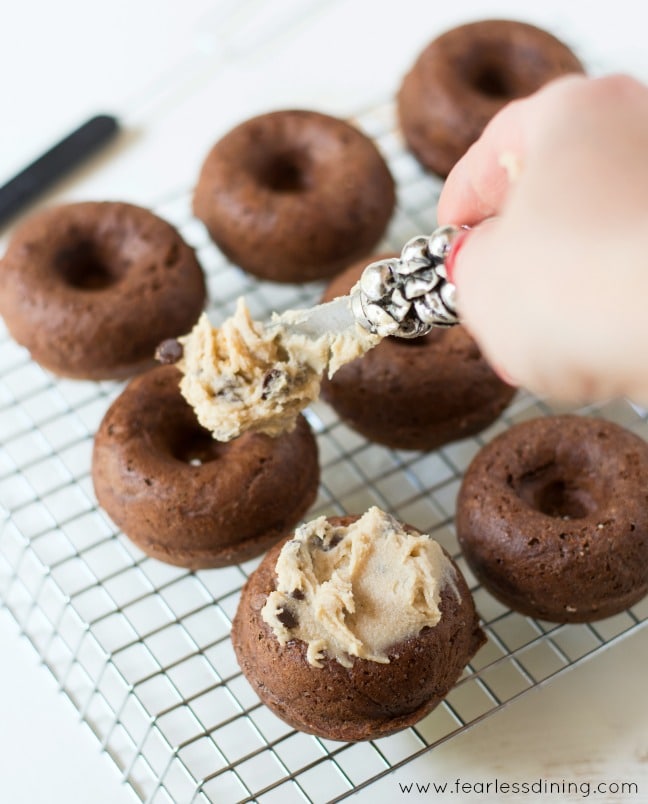 And just in case these chocolate donuts with cookie dough frosting aren't enough, here are a few more of my most popular donut recipes to get you through your day.
Fun ingredients to include:
(Feel free to add some fun mix-ins to these donuts!!)
Mini chocolate chips
Walnuts or other nuts
White chocolate chips
Caramel chips
More delicious baked donut recipes to try:
Gluten Free Vanilla Pudding Donuts
Gluten Free Chocolate Orange Donuts
Super Healthy Breakfast Donuts
Grain Free Blueberry Donuts with Coconut Glaze
(*Please note this post has affiliate links. Ordering through my site will not change the price you pay. A tiny commission will come to Fearless Dining to help offset the cost of running this blog. I truly appreciate the support.)
Things You Need To Make This Easy Chocolate Donut Recipe:
Babycakes Donut Maker. This is my very favorite kitchen toy!
Donut pan…just in case you prefer to bake your donuts.
How to Make GlutenvFree Chocolate Donuts:
Gluten Free Chocolate Donuts with Cookie Dough Frosting
Yield: 24

Prep Time: 10 minutes

Cook Time: 10 minutes

Total Time: 20 minutes

Easy gluten free chocolate donut recipe.
Ingredients
3/4 cup almond flour
1 cup gluten free flour blend, (*Note, my flour blend has xanthan gum included. If yours doesn't, add 1 teaspoon.)
(*Please note my gluten free flour blend contains xanthan gum as a binder. If your blend doesn't have this
1 teaspoon baking powder
1/8 teaspoon salt
3/4 cup sugar
3 tablespoons unsweetened cocoa powder
1 stick butter, melted
2 large eggs
1/4 cup almond milk or water
Cookie Dough Frosting:
1/2 stick butter, softened
1/2 cup brown sugar
1 teaspoon vanilla
dash salt
3/4 cup gluten free flour blend
mini chocolate chips
Instructions
Preheat Babycakes Mini Donut Maker or Preheat your oven to 350 degrees.
Spray coconut oil in the mini donut pan if that is what you will use for this recipe.
In a large bowl, add all donut dry ingredients and whisk to blend.
In a smaller bowl, add all donut dry ingredients and mix well.
Pour wet ingredients into dry ingredients and mix.
Put dough into each cavity of the donut maker or donut pan.
Follow directions on donut maker.
If using a pan, bake for 10 minutes, check to see if done.
Remove from the donut maker or pan and allow to cool on a cooling rack.
For Cookie Dough Frosting
Mix all ingredients and put in the refrigerator for 20 minutes to cool.
Spread onto cool donuts. Top with sprinkles, more chips, etc.
Nutrition Information:
Yield: 24 Serving Size: 1

Amount Per Serving:

Calories: 234 Total Fat: 11g Saturated Fat: 5g Trans Fat: 0g Unsaturated Fat: 5g Cholesterol: 31mg Sodium: 96mg Carbohydrates: 32g Fiber: 2g Sugar: 15g Protein: 4g

Please note this nutrition information is calculated by a recipe plugin and is an estimate based on the ingredients used in this recipe.

(This post was updated from a July 2016 post with more cooking information)
More Yummy Gluten Free Donut Recipes
Save
Save
Save