Gluten free donuts are easy to make in a donut maker or can be baked in an oven. With these easy gluten free donut recipes, you can make gluten free donuts in every flavor imaginable.
If you love donuts, you are going to LOVE these easy gluten free dairy free donuts recipes!!
This is a roundup of all of the donut recipes on my blog, in one handy place so you can find exactly what you are craving! If you love easy gluten free donut recipes, this will be a great resource for you.
The Best Gluten Free Donuts
Are you ready for donut madness here? I am about to spoil you with some of the best donut recipes ever. These are the recipes that we make and devour on a regular basis!!
To make things easier to sort through to find your new favorite gluten free donut recipe, I will organize the recipes by types of donuts, according to dietary needs. There are 3 categories:
gluten free dairy free donuts
gluten free donuts
paleo donuts
I will also notate if the recipe is nut free, making it as easy as possible for you to find the information you need.
Are baked gluten free donuts better?
All of my donut recipes are baked because baked gluten free donuts are so much lower fat than fried donuts!
Every gf donut recipe on my Fearless Dining blog are made either in a Babycakes Donut Maker or baked in a donut pan in your oven. Both ways to cook these donuts give you a slightly crisp on the outside and moist on the inside donut.
Here are the most common ingredients used to make gluten free donuts, so you can have a gluten free shopping list easily accessible. Pick a recipe and get baking :-).
Gluten free flours used to make gluten free donut recipes:
Additional Gluten Free Donut Ingredients:
Other common ingredients I use in gluten free donuts are:
Coconut Sugar…I love this lower glycemic sweetener. It helps lower the possibility of sugar-buzzed kids :-).
Gluten Free Oats, make sure the brand you use is certified gluten free! Oats are naturally gluten free, but they are often grown near wheat so the chance of cross-contamination is high.
Chia Seeds are fun to add a little extra protein to a donut. You can also use these seeds as an egg replacer by mixing 1 tablespoon chia seeds with 3 tablespoons water.
You will find Flaxseed Meal in my healthy Breakfast Donuts recipe.
Cocoa Powder. I like Anthony's Goods cocoa powder a lot. Ghirardelli is also a good cocoa powder to use.
Sprinkles are one of my favorite ways to decorate donuts. Any grocery store should have a
Many of my gluten free donut recipes contain nut flour. If you can't eat nuts, here is an easy substitution to make the donuts nut free:
Take out the almond flour and substitute 1/4 cup gluten free flour blend for 1/2 cup almond flour. You may need to tweak moisture a bit in the recipe, but this usually works well.
How long do you bake gluten free donuts for?
If you are baking your gf donuts in a BabyCakes Donut Maker, it will take 3-4 minutes for your donuts to bake. If you are making a gluten free donut recipe in a donut pan, your donuts will need to bake for 20-22 minutes at 350F degrees.
Can you use a gluten free cake mix in a donut pan or donut maker?
Of course, I would love for you to try one of the donut recipes below, but if you are looking to make donuts with a mix, my favorite gluten free donut mix is:
Recipes for Gluten Free Dairy Free Donuts
These are the donuts that are both gluten free and dairy free! Keep in mind that all donuts in the Paleo section are also gluten free and dairy free.
Gluten Free Lemon Donuts This is one of the early donut recipes on Fearless Dining. It is still one of my favorite because it is full of fresh lemon flavor! (Contains almond flour.)
These little donuts are made in a donut maker, but you can also bake them in a donut pan. They are moist and delicious with a homemade lemonade icing!
Love donuts, but want to be a little healthier?
These are the donuts you can let your kids eat for breakfast. No guilt!! Healthy donuts are fun when they taste really good! Just look at the ingredients in this Gluten Free Breakfast Donuts recipe. (Contains almond.)
These Gluten Free Pumpkin Donuts are crazy good! They are moist and delicious! Dust with a powdered sugar/cinnamon blend. These donuts are both gluten free and dairy free, they are also refined sugar-free if you use the optional honey glaze!!
(Dairy-free, refined sugar-free, and nut free option too!)
Gluten Free Chocolate Orange Donuts are a fun way to use fresh orange in your recipe. I can't resist chocolate and orange flavors combined! (Nut Free)
These donuts remind me of that chocolate candy shaped like an orange and you can break it into "sections" like a real orange.
Why yes, that is bacon on top of the donut! You will love these Gluten Free Maple Bacon Donuts! (Contains almond.)
Bacon+maple syrup=hard to resist donuts!
Don't let the ugly picture fool you. These Cashew Meal Banana Donuts are made with cashew meal. I used to find it at Trader Joe's, but they no longer carry it. You can easily make your own cashew meal by grinding cashews in a grinder like this one. (Contains cashew.)
Easy Gluten Free Donut Recipes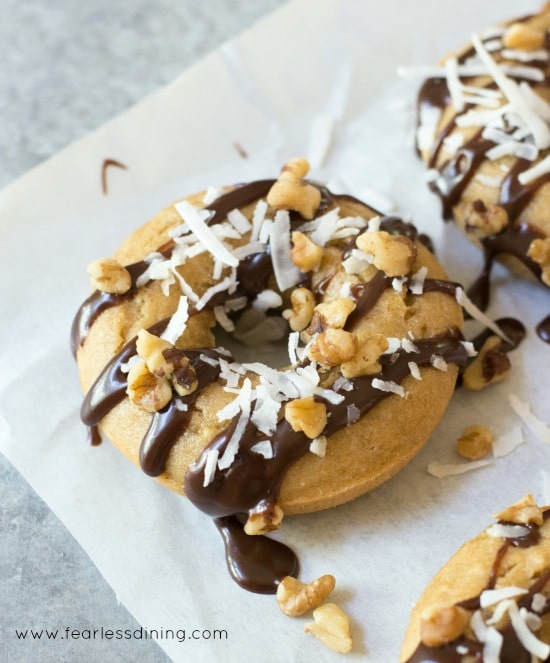 Love chunky monkey? These gluten free Banana donuts with chocolate, coconut, and walnut are based on my favorite ice cream! (Contains walnuts and almond flour.)
These donuts were baked in a donut pan, but you can also cook the batter in a donut maker.
These Gluten Free Vanilla Pudding Donuts are so incredibly moist…they are full of vanilla flavors. Drizzle icing or enjoy them plain. These mini vanilla donuts won't last long in your house! (Contains almond flour.) The secret to these moist donuts is the vanilla pudding mix.
(You can also make a chocolate version using chocolate pudding mix!)
If you love matcha, these Gluten Free Matcha Coconut Donuts are for you! Rich flavor and a white chocolate drizzle on top! (Nut Free.)
(*Note, not all matcha green tea powders are gluten free. Make sure you read the ingredients list on matcha first. Trader Joe's matcha has wheat flour in it!)
Love chocolate gluten free donuts? These Gluten Free Chocolate Donuts are my son's favorite. They have an edible gluten free cookie dough frosting on top! (Contains almond flour.)
These gluten free chocolate donuts were a huge hit in our house.
Get ready for the holidays with these Gluten Free Gingerbread Donuts. Full of gingerbread flavor, Mr. Fearless Dining is known to eat these two at a time! (Okay, not really, but he LOVES this gluten free donut recipe!)
Paleo Donut Recipes
It doesn't get any better than these Paleo Apple Cinnamon Donuts. Chunks of apple and a delicious honey glaze are part of this easy gluten free donut recipe. (No refined sugar, grain free, nut free.)
Paleo donuts are both gluten free and dairy free donuts!
Fresh blueberries are what makes these Grain Free Blueberry Donuts so good. There is a coconut glaze that is hard to resist! (Nut free.)
Lastly, I have an easy gluten free donut recipe for Cardamom Donuts. Flavored with cardamom, these paleo donuts make your kitchen smell so good when baking!
Stay tuned for more donut recipes, which will be added to this post as I create them. If there is a special donut you love, write me a note and let me know. I would love to make it and include it here!