If you love English muffins, wait until you try this homemade gluten free English muffins recipe. Slightly crisp on the outside, soft on the inside with lots of nooks and crannies. They have a nice flavor that is made for butter and jam! All you need is 6 simple ingredients!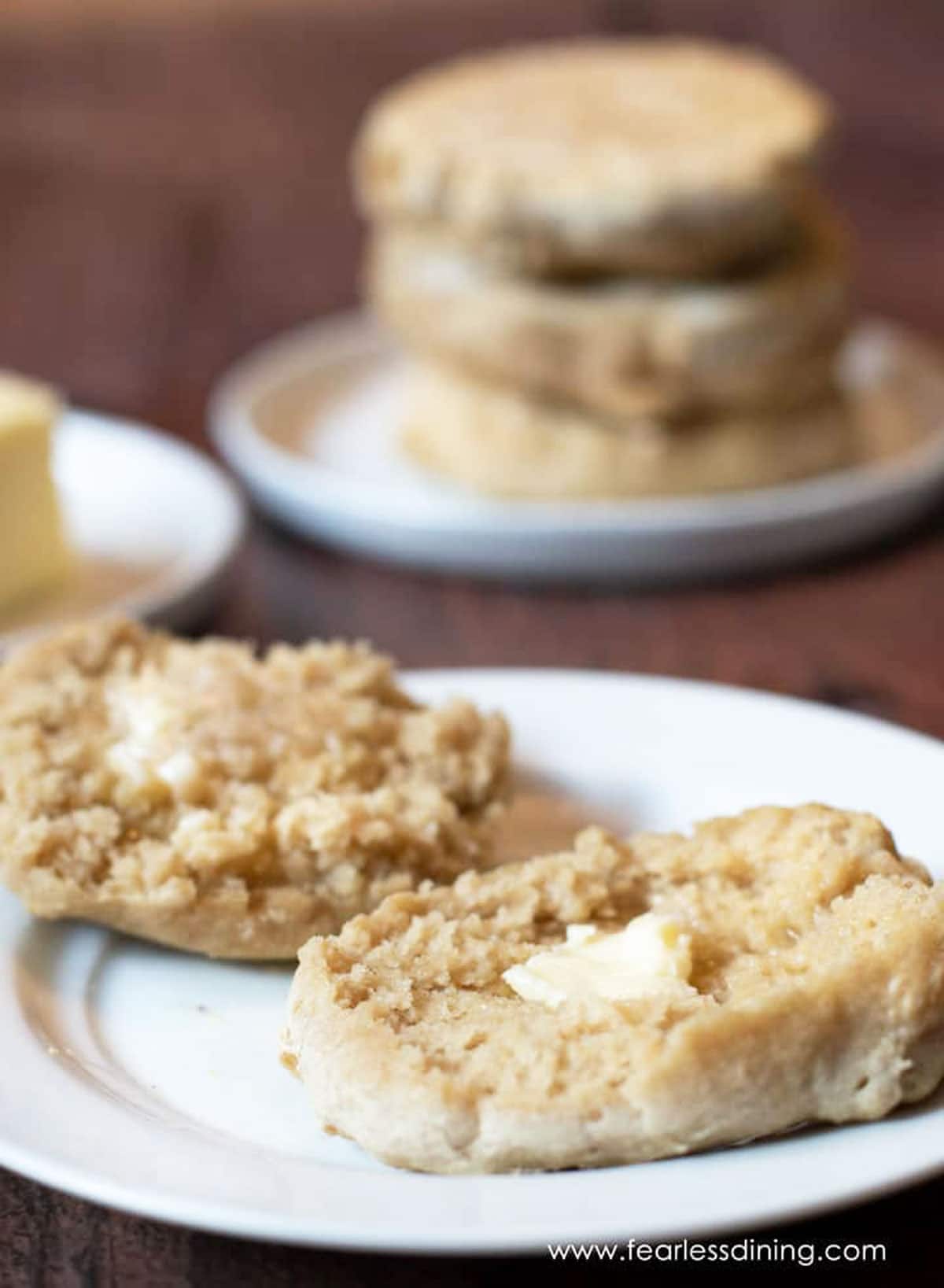 Jump To:
After many attempts over the past few months, I have finally perfected my homemade gluten-free English muffins recipe! It was a wonderful celebration, with everyone adding butter to their hot English muffins and devouring them!
This recipe has been in the works for months, and I finally nailed it. I am happy to say these English muffins are also dairy-free and egg-free, making them vegan too!
If you have missed English muffins since going gluten free, you are in for a treat with this simple gluten free breakfast recipe. All you need is four ingredients that are probably already in your pantry! For more breakfast ideas, check out all of my gluten free breakfast recipes.
Why This Gluten Free English Muffins Recipe Is Great:
It is so much cheaper to make your own gluten free English muffins from scratch! Store-bought muffins are expensive!
One thing you will love about this recipe is how allergy-friendly they are. These gluten free English muffins are also egg-free and dairy-free, making them completely vegan! You can also use a sourdough starter or active dry yeast.
This recipe has so few ingredients you probably already have everything you need to make these!
You can freeze these English muffins so you always have them on hand.
Serve these with my Garden Vegetable Shakshuka and dip them in!
Top Pick
Steve's Gluten Free Bread Flour Blend, 3 lbs
This Authentic Foods Steve's Gluten Free Bread Blend is hands down the best gluten-free flour for yeasted bread recipes. With this flour, you can braid, shape, and roll incredible bread, cinnamon rolls, and pizza crust. (Note, it doesn't work in a bread machine.)
Buy Now
We earn a commission if you make a purchase, at no additional cost to you.
Ingredient Notes:
Gluten free flour blend - I have tested this recipe with Authentic Food's Steve's GF Bread Blend and Cup4Cup. (Note Cup4Cup has milk powder, and it isn't dairy-free.) Other gluten free flour blends should work, but you need to be sure to use a gluten free flour blend that works well with yeast. Note - King Arthur's Measure for Measure and Bob's Red Mill 1 to 1 GF Blend state on their bags that these blends don't rise well in yeast recipes.
Note if your gluten free flour blend doesn't contain Xanthan Gum, psyllium husk, or Guar Gum, you will need to add that too.
Yeast - double-check the brand you use is gluten free. Red Star Platinum is NOT gluten free!
Honey or sugar - You can use either. This recipe only calls for a small amount to proof the yeast.
Salt - I used sea salt.
Water-purified is best because the chlorine in tap water really can mess with yeast and rising.
Recipe Step-By-Step Directions:
Step 1: In a glass bowl, add the sugar and dry yeast to warm water. Make sure the water is about 120º F. Allow the yeast to sit and ferment for 5-10 minutes. You will know the yeast is ready to use when it is bubbly.
Tip: Use purified water if you can. The chlorine in tap water may affect your yeast and hinder its growth.
Step 2: In a large bowl, add the flour mixture, baking soda, and salt. Whisk to blend the dry ingredients together.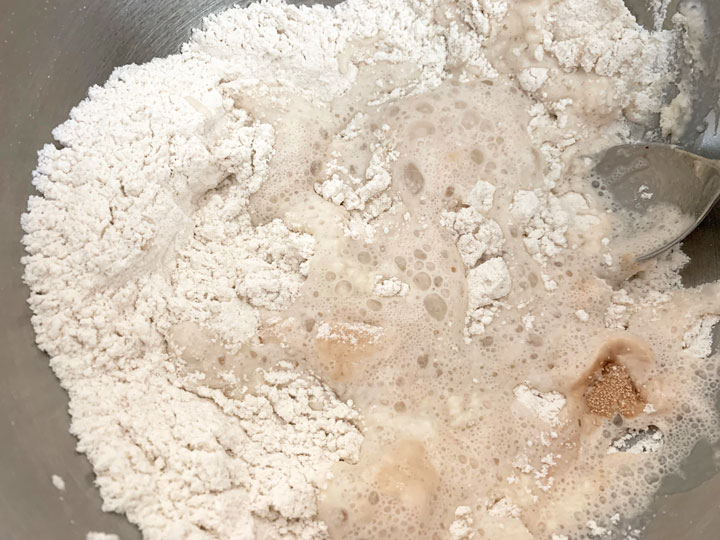 Step 3: Pour the yeast mixture (or sourdough starter) in, then add the additional water. Mix well with a spoon scraping the bowl's sides to get all the batter.
You can also use a standing mixer with either a dough hook attachment or a paddle attachment to mix the dough.
This photo gives you an idea of what the batter consistency looks like. You will note the batter is like a very thick pancake batter.
Step 4: Place the dough in a warm spot for the dough to rise. For sourdough, you will need to let the batter rise longer than when you use active dry yeast.
For sourdough starter - allow rising in a warm spot for 4 hours. For active dry yeast - allow rising for 45-60 minutes.
Dough Rise Tip: Preheat your oven to 200º F, then turn it off. Cover your dough bowl with plastic wrap and place the mixing bowl into the oven. This is the type of warm place you need for rising dough.
I have made tried making gluten free English muffins multiple times with multiple fails. I first tried using thick dough that you could shape with your hands, but the dough was too dense, and it didn't get the puffy nooks and crannies that English muffins are famous for. This is why my batter is a little thicker.
Step 5: Time to cook your English muffins! I used mason jar lids (without the middle part), and I made some without. If you have English muffin rings, use those. For best results, spray the inside of the rings with cooking spray. (I used a spray of avocado oil that I found at my local grocery store.)
Step 6: Heat a non-stick pan on your stovetop over medium heat. Place your mason jar lids in the skillet and then fill with batter.
Optional: Sprinkle the slightest bit of cornmeal in each lid before adding the batter.
Step 7: Cover the pan and cook your muffins for 7-8 minutes, then flip over to cook the other side. If you are not using mason jar rings, just put the dough on the pan, and try to make it into a circle shape. Press the dough down to about 1 ½ inches tall.
Covering your pan will create steam, which makes your nooks and crannies' bubbles form better.
Step 8: Have you ever wondered how to get those nooks and crannies in your English muffin? These nooks and crannies are from air bubbles while the muffins are cooking. This is the perfect texture you are looking for when making this recipe.
Step 9: Use a fork to poke holes in a row all around the English muffin. This helps you split the English muffin in half without cutting through the nooks and crannies.
From here, if your muffins are still warm, enjoy. You can toast them in a toaster or toaster oven for added crispness. These nooks and crannies fill with melted butter and taste amazing!
This stack of vegan English muffins is ready to be eaten for breakfast! The top English muffin was cooked freestyle without using a mason jar lid, and the bottom two were cooked in a mason jar lid.
Expert Tips and Recipe FAQ:
Are English muffins gluten free?
English muffins are typically made with wheat flour, so unless the English muffins specifically say gluten free, they wouldn't be.
How long will these gluten free English muffins keep fresh?
These should keep 2 days in an air-tight container or up to 4 months in the freezer. To reheat, you need to toast them to get the crispness back.
How do you get the nooks and crannies?
The best way to enhance the nooks and crannies while cooking is to cover your pan while they are cooking. The steam will help make the nooks and crannies.
Can you freeze English muffins?
You can easily freeze these English muffins. Just let them cool completely, poke the sides all the way around with a fork, then pop them into a zipper freezer bag.

To thaw, either microwave the English muffin for 30 seconds or let it sit out on the counter until thawed.
Store-Bought Gluten Free English Muffins
If you don't have time to make your own, there are a few delicious gluten free English muffins you can buy in stores, including:
Trader Joe's now carries gluten free English muffins!
This post was updated with more information and better instructions from an older November 2020 post.
More Gluten Free Breakfast Recipes:
Recipe
Gluten Free English Muffins
Homemade gluten free English muffins are so easy to make. All you need is 4 simple ingredients. Dairy-free, egg-free, and 100% vegan.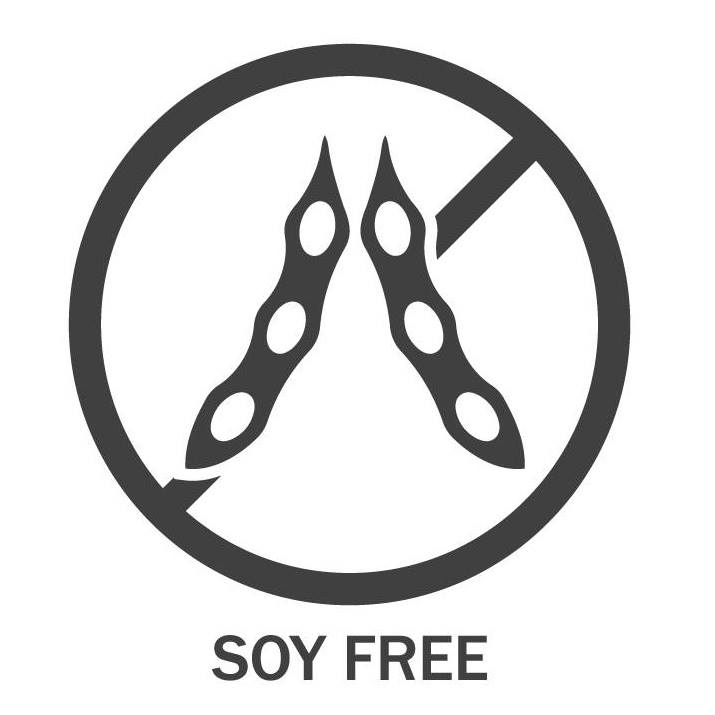 Ingredients
Yeast Mixture:
¾

cups

water

120º F

2 ¼

teaspoons

active dry yeast

or 1 packet

2

teaspoons

sugar
Instructions
In a small bowl, add the warm water, sugar, and yeast. Allow to sit and proof for 10 minutes until it is bubbly and frothy.

Add your gluten free flour blend, salt, and baking soda to a bowl and whisk to blend.

Pour the yeast mixture into the flour mixture and mix well. Your mixture should have the consistency of very thick pancake batter. Add more water as needed to get the consistency to match my photo above. (Every gluten free flour blend is different and higher starch blends need more water than others.)

Cover with plastic wrap and allow to rise for at least 2 hours. I let mine rise overnight so I could make them when we woke up.
To cook:
You can cook your English muffins in two ways. First, you can use rings like mason jar lids without the middles, or drop style. Both work well.

Heat a non-stick pan over medium heat. Spray the mason jar lids with cooking spray.

Drop in the mason jar lid rings and fill each with English muffin batter. Cover tge pan and cook for 7-8 minutes and then flip to cook the other side for 7 minutes. *Covering your pan allows steam to form. The steam helps make better nooks and crannies!

Keep an eye on the pan temperature. You may need to adjust your heat lower if the muffins cook too fast. Remove from the heat when finished cooking.

To cook drop style, drop the dough onto the pan and shape in circles with a spoon. Try to use your spoon to flatten the top. Cover and cook the same as if you had the mason jar lids as described above.

To get those nooks and crannies, use a fork and make a horizontal line of fork holes all the way around each muffin. Pull open.

Toast and serve with butter and or jam.
Notes
I have tested this recipe with Cup4Cup in this recipe. That doesn't mean others will not work, I just have not tested other flours. 
If your gluten free flour blend doesn't contain Xanthan Gum, psyllium husk, or Guar Gum, please add 1 teaspoon.
Pay attention to the rise times so your muffins turn out fluffy with lots of nooks and crannies.
These muffins will keep up to 2 days in an air-tight container, or up to 4 months in the freezer. Once you store them, you will need to toast them to crisp them up again.
Nutrition
Serving:
1
g
Calories:
102
kcal
Carbohydrates:
21
g
Protein:
4
g
Fat:
1
g
Saturated Fat:
1
g
Sodium:
253
mg
Potassium:
29
mg
Fiber:
4
g
Sugar:
2
g
Calcium:
18
mg
Iron:
1
mg
Nutrition Disclaimer
Nutritional information is an estimate provided to you as a courtesy. You should calculate the actual nutritional information with the products and brands you are using with your preferred nutritional calculator.
If you love the recipes you find on my blog, I would love for you to sign up for my newsletter (and get my free gluten free lemon dessert e-cookbook!)