Lemon desserts are the way to get that sweet and tart fix that you crave! Feast your eyes on these awesome gluten free lemon dessert recipes using fresh lemons to give you that bold and zesty flavor that will leave you wanting more!
Table of Contents
Before I get started with all of the yummy gluten free lemon desserts, I want to talk a little more about one of my favorite things... lemons :-). How about lemon peels?
They both help add flavor. The outside of the lemon packs a flavorful punch and adds a new dimension of lemon to your baking and cooking.
Our lemon tree is blooming and I am loving the sweet fresh lemons for baking and cooking.
Our new favorite treat is a lemon slushie. To make it add a peeled whole lemon into a Vitamix or blender. Add ice, a little water, and 5-6 drops of liquid Stevia. Blend and serve...it is so refreshing!!
How to zest a lemon
Lemon zest will give your food a nice zing of citrus. The lemon rind has natural oils that will add bold flavors that can complete a dessert or dinner dish.
Grab whatever tool you want to zest your lemon with whether it is a microplane, paring knife, vegetable peeler, or even a citrus zester. Then in one direction remove a very thin layer of the peel. You want only to remove the colored skin and leave the white alone.
*Note: when you zest too much in one spot and get the white flesh it will give you a very bitter taste, so zest carefully!"
Ideas to use lemons:
Okay, you can literally eat your favorite lemon desserts anytime! I thought I would give you some ideas on how to serve your next lemon treat. Take a look at these ideas:
Dinner Party - I promise if you make any of the lemon desserts in this list, your guests are going to rave about how amazing they are.
Bridal Shower - These lemon treats are perfect for an elegant bridal shower. The bride and her guests are going to fall in love with the look and taste.
Birthday Party - Why not try something a little different for the next birthday party you throw. Lemon desserts are always a hit and they add a sweet light flavor to compliment any meal.
Barbecue - Nothing is more fun than having friends and family come over for a barbecue. The fresh flavor of lemon just screams summertime! Everyone is going to beg you for your recipes too.
Can lemons be frozen?
Yes, you can freeze lemons. Freezing a lemon whole will result in a mushy center, so they are best if used for baking or using the juice. Freezing fruits is a great way to save them if you have a lemon tree and get too many at once.
Slicing the lemons and storing them in a freezer bag or airtight container is a great way to keep them longer. They will last six months to a year in the freezer.
To thaw them, place them in the fridge overnight or sit on the counter until they have defrosted. You can juice them and add it to baked goods, fish, salads or anything else you need some zesty flavor.
Are lemons good for you?
Lemons are loaded with tons of healthy nutrients! They are citrus fruit that has lots of vitamin C, antioxidants, folate, and minerals. Each tasty lemon also has iron, fiber, potassium, magnesium, and more.
Lemons are also great for detoxing and keeping your liver happy, so don't forget to add a slice of lemon to your water!
Do lemons go bad?
There are several ways to tell if lemons have started going bad. If you notice the flesh of the lemon has become discolored or extra soft you should discard. (We always see this if a lemon sat too long.)
White spots or if the lemon is slimy then it is a good indication it is past its prime.
If you ever notice a lemon is oozing juice, then it is for sure time to throw it out. Lastly, if you notice a stinky pungent odor, then the lemon has spoiled and should be discarded.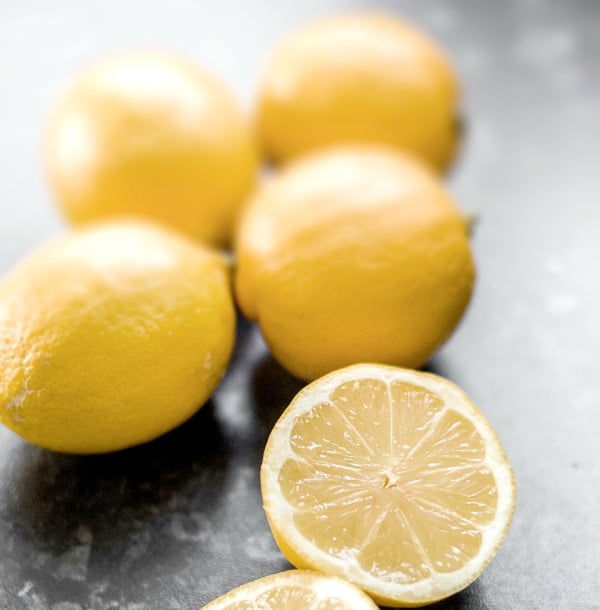 Ways to use lemons:
Lemons are so versatile, and you can make lots of different recipes. The opportunities to use lemon is endless, but here are a few of the best ideas:
Cakes, muffins & pastries - This roundup is full of delicious recipes that will please your palate and use up your lemons.
Marmalades - Use the marmalade in dressings, marinades or in pastries. No matter how you use it, it is going to taste amazing!
Meat - Add lemon juice to your chicken, fish or salad to give the dish some extra pizzazz.
Drinks - Add lemon to your water, tea, juice or other beverages. You will get a fresh, zesty flavor no matter how you use it. You will also want to try this Tequila Lemonade Cocktail recipe :-).
Let's get serious now and drool over all of the lemon desserts on my blog. There are a ton of them, I can't help it because lemons are my thing...and having a giant lemon tree in the backyard definitely helps!!
The Best Gluten Free Lemon Desserts
The best gluten free lemon desserts. You will find lemon cakes, cupcakes, ice cream, and bars. Fresh lemon desserts are perfect for a party!
If you love the recipes you find on my blog, I would love for you to sign up for my newsletter (and get my free gluten free chocolate desserts e-cookbook!)