Lemon desserts are the way to get that sweet and tart fix that you crave! Feast your eyes on these awesome gluten free lemon dessert recipes using fresh lemons to give you that bold and zesty flavor that will leave you wanting more!
Jump to:
Before I get started with all of the yummy gluten free lemon desserts, I want to talk a little more about one of my favorite things... lemons :-). How about lemon peels? They both help add flavor. The outside of the lemon packs a flavorful punch and adds a new dimension of lemon to your baking and cooking.
Lemons add that special flavor to so many of my gluten free dessert recipes. If you haven't used lemon flavor in your dessert recipes, you need to give it a try!!
I am sharing my best gluten free lemon dessert recipes in hopes to help bring confidence to your baking. Nobody will know these desserts are gluten free. They taste that good.
Check out all of my gluten free dessert recipes. I have 100s to choose from!
Our lemon tree is blooming, and I am loving the sweet fresh lemons for baking and cooking.
Why Are Lemon Desserts Great?
Refreshing taste: Lemons have a tart and tangy flavor that is refreshing and palate-cleansing. This makes it a great ingredient for desserts, especially during hot weather or after a heavy meal.
Versatility: Lemon can be used in a variety of desserts, such as pies, cakes, tarts, sorbets, donuts, and more. It can be paired with other flavors like berries, vanilla, and chocolate to create complex and delicious desserts.
Appearance: Lemon desserts are often visually appealing, with their bright yellow color and fresh citrus aroma. They can add a pop of color and flavor to any dessert spread.
How To Zest A Lemon:
One of the best things about using lemons is including the zest from the peel. The lemon zest will give your food a nice zing of citrus. The lemon rind has natural oils that will add bold flavors that can complete a dessert or dinner dish.
Grab whatever tool you want to zest your lemon with, whether it is a microplane, paring knife, vegetable peeler, or even a citrus zester. Then in one direction remove a very thin layer of the peel.
Note: when you zest too much in one spot and get the white flesh, it will give you a very bitter taste, so zest carefully! You want only to remove the colored skin and leave the white alone.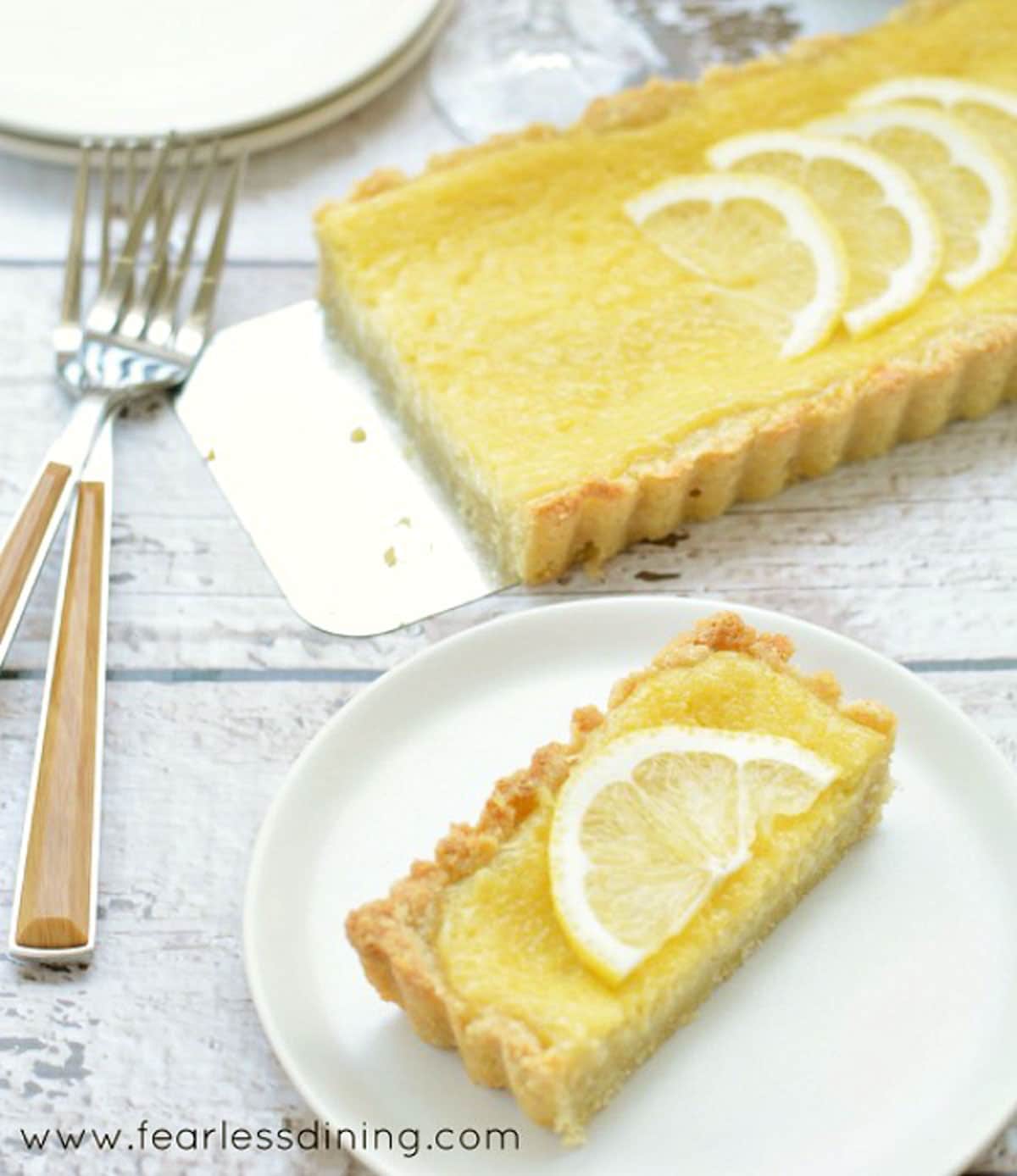 Tools For Making Pancakes:
Ideas To Use Lemons:
Okay, you can literally eat your favorite lemon desserts anytime! I thought I would give you some ideas on how to serve your next lemon treat. Take a look at these ideas:
Dinner Party - I promise if you make any of the lemon desserts in this list, your guests will rave about how they couldn't tell the dessert was gluten free,
Bridal Shower - These lemon treats are perfect for an elegant bridal shower. The bride and her guests are going to fall in love with the look and taste.
Birthday Party - Why not try something a little different for the next birthday party you throw? Lemon desserts are always a hit, adding a sweet, light flavor to compliment any meal.
Barbecue - Nothing is more fun than having friends and family over for a barbecue. The fresh flavor of lemon just screams summertime!
Can Lemons Be Frozen?
Yes, you can freeze lemons. Freezing a lemon whole will result in a mushy center, so they are best if used for baking or using juice. Freezing fruits is a great way to save them if you have a lemon tree and get too many at once.
Slicing the lemons and storing them in a freezer bag or airtight container is a great way to keep them longer. They will last six months to a year in the freezer.
To thaw them, place them in the fridge overnight or sit them on the counter until they have defrosted. You can juice them and add them to baked goods, fish, salads, or anything else you need some zesty flavor.
Do Lemons Go Bad?
There are several ways to tell if lemons have started going bad. If you notice the flesh of the lemon has become discolored or extra soft, you should discard it. (We always see this if a lemon sits too long.)
White spots or if the lemon is slimy, then it is a good indication it is past its prime.
If you ever notice a lemon is oozing juice, then it is for sure time to throw it out. Lastly, if you notice a stinky pungent odor, the lemon has spoiled and should be discarded.
Ways To Use Lemons:
Lemons are so versatile, and you can make lots of different recipes. The opportunities to use lemon are endless, but here are a few of the best ideas:
Cakes, Muffins & Pastries - This roundup contains delicious recipes that will please your palate and use up your lemons.
Marmalades - Use the marmalade in dressings, marinades, or pastries. No matter how you use it, it is going to taste amazing!
Drinks - Add lemon to your water, tea, juice, or other beverages. You will get a fresh, zesty flavor no matter how you use it. You will also want to try this Tequila Lemonade Cocktail recipe :-).
Let's get serious now and drool over all of the lemon desserts on my blog. There are a ton of them; I can't help it because lemons are my thing...and having a giant lemon tree in the backyard definitely helps!!
The Best Gluten Free Lemon Dessert Recipes:
Gluten Free Lemon Pound Cake
A moist and delicious homemade gluten free lemon pound cake recipe. This recipe gets rave reviews and nobody will know it is gluten free!
Check out this recipe
Gluten Free Lemon Poppy Seed Muffins
The best light and fluffy gluten free lemon poppy seed muffins recipe! They are perfect for breakfast or a snack.
Check out this recipe
Gluten Free Lemon Layer Cake
Easu directions to make a gluten free lemon layer cake. This lemon cake is perfect for a birthday, or any celebration.
Check out this recipe
Gluten Free Lemon Brownies
These moist lemony gluten free lemon brownies are topped with a delicious lemonade glaze.
Check out this recipe
Gluten Free Lemon Cupcakes with Lemonade Icing
Easy light and fluffy gluten free lemon cupcakes with a lemonade icing.
Check out this recipe
Gluten Free Lemon Cookies
Delicious, slightly crisp, gluten free lemon cookies. If you love sugar cookies, this lemony version will make your day!
Check out this recipe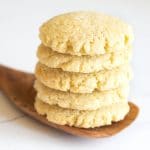 Gluten Free Lemon Mug Cake
A gluten free lemon mug cake topped with lemonade icing. This delicious mug cake is ready in under 3 minutes!
Check out this recipe
Gluten Free Pink Lemonade Cupcakes
Cute gluten free pink lemonade cupcakes with a pink lemonade buttercream frosting.
Check out this recipe
Gluten Free Lemon Curd Coconut Cupcakes
Easy lemon curd filled gluten free cupcakes with coconut frosting
Check out this recipe
Gluten Free Lemon Donuts
One bite and you will be hooked on these delicious gluten free lemon donuts! They are full of fresh lemon flavor.
Check out this recipe
🍋 Sandi says: Let me know which of these recipes you try first!
Looking for more? Get my FREE Gluten Free Lemon Desserts E-Cookbook when you sign up for my weekly recipe newsletter!
This recipe was updated from an old March 2019 post with more delicious lemon recipes.