If you love gingerbread, this gluten free gingerbread linzer cookie recipe is one you won't want to miss!
These deliciously good gluten free gingerbread linzer cookies also makes great cut out cookies so you can use your favorite holiday cookie cutters! Want another delicious gluten free cookie? Try these AMAZING Gluten Free Christmas Cookies!
The holiday season is coming so fast. Am I the only one who is still wondering where fall went? This year has just flown by! There is one special thing leading up to the holidays that I love...cookie making!
What are Linzer Cookies?
Have you tried linzer cookies? Linzer cookies have a pretty exciting history! Believe it or not, these cookies were originally a torte that originated in Linz, Austria. Linzer is said to be the oldest cake recipe there is. Over the years, the recipe was adapted into a "cookie-sized" version.
If you love filled cookies, you will definitely want to try my other gluten free linzer cookie recipes like these Gluten Free Nutella Stuffed Linzer Cookies and these Grain Free Jam Filled Linzer Cookies.
These gluten free gingerbread linzer cookies are a fun holiday cookie with a delicious hint of spice from the ginger.
You can just barely see the powdered sugar falling on to these cookies! I decided to adapt my linzer cookie recipe even further by giving these cookies a fun gingerbread flavor for the holidays. These cookies are perfect for holiday gatherings, cookie exchange parties, and just eating for fun :-).
(* I was given vanilla by Rodelle to create this recipe for their holiday celebration.)
One of the things that makes these cookies is vanilla. Rodelle Vanilla is a high-quality vanilla that adds so much vanilla flavor to your recipes. I have been a brand ambassador for Rodelle for a few months now and I sincerely love the flavor of their vanilla. (I could eat their vanilla bean paste by the bucket!!) Here are some fun vanilla facts:
These cookies are so easy to make! (And I know this is a linzer cookie recipe, but this dough makes killer gingerbread men!!)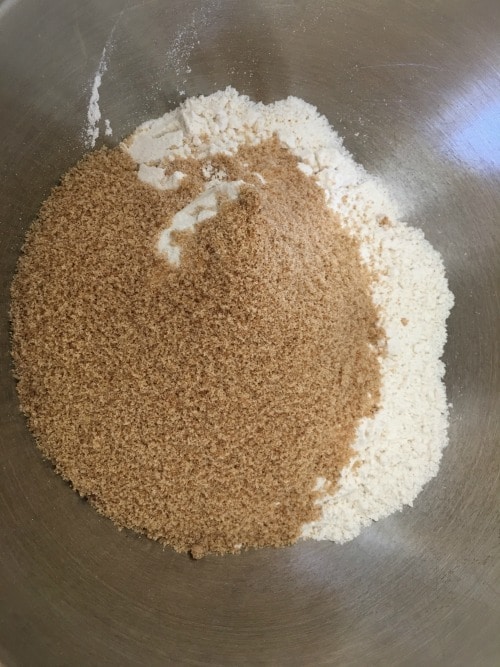 Add the dry ingredients to a large bowl. Use a whisk to blend all of the ingredients together.
Add the Rodelle Vanilla to the wet ingredients.
Mix the wet and dry ingredients together to make a semi-stiff dough. I chilled the dough for 1 hour so that the cookies will hold their shape when baking.
Roll the dough between two pieces of wax paper to flatten.
How thin do you roll out the cookie dough?
I rolled this gluten free gingerbread cookie dough to ¼ inch thickness. You can do a little thinner if you prefer a thinner linzer cookie or gluten free cut-out cookie.
Linzer Cookie Cutters
Use a linzer cookie cutter (or gingerbread man cookie cutter!) to make your tops and bottoms. Here is full disclosure...I hate the red linzer cookie cutters I have. The dough sticks to them and it is a pain to get the middle section out.
I plan to buy these linzer cookie cutters soon. They have good reviews. If you have a linzer cookie cutter you like, please send me a note or add a comment and let me know which you use.
What kind of fillings can you use?
Frosting (vanilla goes beautifully with the gingerbread flavor!)
Nutella...because who doesn't love chocolate and gingerbread combined?
Optional: Dust your linzer cookies with powdered sugar and holiday-colored sprinkles. More Delicious Gluten Free Holiday Cookie Recipes:
Easy Gluten Free Sugar Cookies
Things You Need To Make This Gingerbread Linzer Cookie Recipe:
I am totally in love with this rolling pin...it is even dishwasher safe!
If you choose to make this recipe refined sugar-free, use this coconut sugar instead of the brown sugar.
Gluten Free Gingerbread Linzer Cookies
Easy gluten free gingerbread linzer cookies.
Ingredients
2 ¼

cups

gluten free flour blend

1 ½

teaspoons

baking powder

1

teaspoon

baking soda

⅛

teaspoon

salt

1

tablespoon

ground ginger

2

teaspoons

cinnamon

¼

teaspoon

ground cloves

1

stick butter

melted

¾

cup

brown sugar

½

cup

molasses

2

teaspoons

vanilla

1

egg

frosting

Nutella, or another filling you like.
Instructions
Preheat the oven to 350 degrees.

In a large bowl, add all dry ingredients and whisk to blend.

In a small bowl, add all wet ingredients and whisk to blend.

Pour the wet ingredients into the dry ingredients and mix.

Lay out a piece of wax paper and put the dough on top. Cover the dough with another piece of wax paper and use a rolling pin to flatten the dough.

Use linzer cookie cutters to cut out the tops and bottoms of the cookie shapes.

Place the cut out cookies onto parchment paper. Move the paper to a cookie sheet.

Bake the cookies for 6 minutes.

Remove from the oven and transfer cookies to a cooling rack.

Frost the bottoms of the cookies, place the cutout top cookie on top. Sprinkle with powdered sugar.
Nutrition
Serving:
1
g
Calories:
139
kcal
Carbohydrates:
22
g
Protein:
2
g
Fat:
5
g
Saturated Fat:
3
g
Polyunsaturated Fat:
2
g
Cholesterol:
18
mg
Sodium:
135
mg
Fiber:
1
g
Sugar:
13
g
If you love the recipes you are finding on my blog, I would love for you to sign up for my newsletter (and get my free chocolate e-cookbook!)
(*Note, this post was updated from a 12/2016 post.)
Save