One bite of this Mashed Potato Pie with Potato Bacon Roses is all it takes to be hooked. Kids love these little pies and make the perfect side dish for any party!
Jump to:
(*This post is sponsored by Idaho® Potatoes. All delicious crispy opinions are my own.)
I had such a tough time naming this recipe. This is the first time I have struggled to name a recipe. There are so many words to describe this mashed potato side dish.
I could call it a bacon rose tart or even a baked mashed potato cake. Any of these names would work, but none really describe the sensation of potato and bacon flavors meshing together to create an incredible combination.
Whatever you decide to call this side dish, the star of the recipe is really the potatoes. I was so excited to partner with the Idaho® Potato Commission for this post. Being gluten-free, our family eats a LOT of potato dishes. My kids love potatoes, even my picky ones.
If you love sides as our family does, you will want to check out all of my delicious gluten free side dish recipes.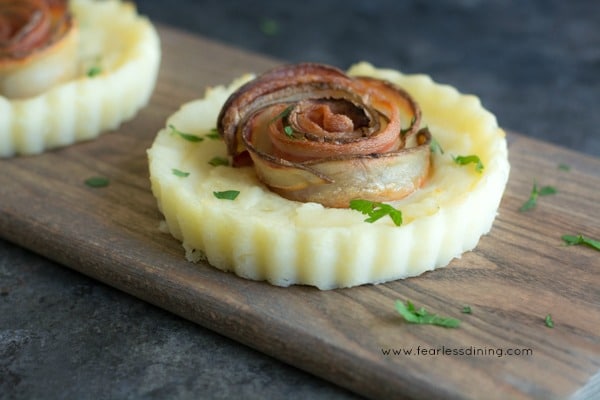 The base part of this pie is the mashed potatoes. This is the best leftover mashed potato recipe ever! If you have leftover mashed potatoes, most of this recipe's ingredients are already made!!
Types of Idaho® Potatoes:
Idaho® Potatoes are high-quality potatoes that are available all year long. Just look for the Grown in Idaho label on your potatoes.
Grown in Idaho exclusively, Idaho® potatoes are known for their low moisture. This low-moisture content means your baked potatoes will be fluffier, and your fries will be crispier!
Idaho® Potatoes come in several varieties, including:
Russet - Burbank, and Norkotah
Red-Cal Red, Red La Soda, and Norland
Fingerling - Russian Banana, French Fingerling, and Purple Peruvian
Yukon Gold and Yukon Gem
I used Russet potatoes for this mashed potato pie recipe because I wanted the potato roses to be nice and crispy. Russet potatoes are also large, which I needed to shape the potato roses.
Tips:
These potato bacon roses are really easy to make! I wrote a tutorial on my blog how to roll a potato bacon rose a while ago that you can read as well. I am going to walk you through it here as well.
First, you want to use Russet potatoes for this recipe. You don't want the potato roses to get mushy, which can happen with a waxier potato.
Use a mandolin slicer to cut the potato into thin slices. You want to slice the long way so that you get long slices.
Lay a few slices of potatoes to overlap, but make a six-inch long row. Lay a piece of raw bacon on top of the row. If you need visuals, check the potato bacon recipe linked above. There are photos of every step.
Next, you want to roll the potato rose really tightly.
Add the rolled rose into a muffin tin, as shown below.
Instructions:
Roll the potatoes and bacon into a muffin tin for baking. Bake for 45 minutes at 375 degrees F until the roses look crispy.
Next, let's make the gluten free mashed potatoes! (If you have leftover mashed potatoes, skip this step!)
Peel the russet potatoes and cut them into large pieces. Add them to a pot and cover with water. Cover the pan and bring to a boil. Cook until the potatoes are soft. Drain the potatoes in a colander and add to a large bowl.
Do you have to peel the potatoes?
You do not need to peel your potatoes when making regular mashed potatoes, but for this recipe, where presentation is a big part, you will need to peel the potatoes.
Add the liquid ingredients, butter, salt, and pepper to the potatoes, and use an electric mixer to whip them. Beat until they are creamy.
How do you prevent lumps?
Preventing lumps is very important when making mashed potatoes. You need to make sure your potatoes are cooked thoroughly, have enough liquid, and mix with an electric mixer on high to break up the potatoes.
Can you make these dairy-free?
You can make these mashed potatoes dairy-free by using dairy-free milk substitutes and vegan butter.
Add the mashed potato to mini round tart pans. Note that the potatoes are a little thicker than I would make if they were a side dish. They hold their tart shape better when the potatoes aren't as fluffy.
Add a baked potato bacon rose to each mashed potato tart.
These mashed potato pies come out beautifully every time! Here are even more delicious potato recipes to try:
📖 Recipe
Mashed Potato Pie with Potato Bacon Roses
A delicious potato side dish with potato bacon roses.



*As an Amazon Associate, I earn a small commission from qualifying purchases.
Ingredients
4

cups

Idaho® russet potatoes

peeled and chopped

3

Idaho® russet potatoes

for slicing, leave peel on!

12

slices

raw bacon

1

cup

heavy cream

1

teaspoon

salt

½

teaspoon

ground pepper

3

tablespoons

butter
Instructions
Preheat the oven to 375 degrees.

Use a mandolin to slice the potatoes lengthwise. 

Slice the top curve off of the potato slices. This will be the flat bottom side. Lay the slices in a row, so that they all overlap. You want this to be 5 inches long.

Lay a raw piece of bacon over the potato row. 

Slowly roll the potato and bacon to make a rose. 

Peel russet potatoes (all but 3). Chop and add to a pot of water. Boil the potatoes until they are soft. Drain in a colander.

Bake the potato roses for 30-45 minutes until somewhat crispy. (They will crisp further when baked in the mashed potato pie.)

For the mashed potatoes. Add the boiled potatoes, cream, butter, salt, and pepper to a bowl and beat them with an electric mixer until they are creamy.

Spray round mini tart pans with olive oil. Fill each with mashed potato until it is full. Spread the mashed potato so that it is brushed against all sides of the tart pan.

Add a cooked potato bacon rose to the center of each pie.

Bake the pies for an additional 20 minutes. The potato will puff up around the potato bacon rose.

Serve hot.
SPECIAL NOTE
Please know that every gluten free flour blend has a different starch to grain ratio. If you use a blend I didn't test, you may need to adjust your moisture levels in your baked goods.
Nutrition
Calories:
325
kcal
Carbohydrates:
26
g
Protein:
7
g
Fat:
21
g
Saturated Fat:
10
g
Polyunsaturated Fat:
10
g
Cholesterol:
49
mg
Sodium:
406
mg
Fiber:
3
g
Sugar:
2
g
Nutrition Disclaimer
Nutritional information is an estimate provided to you as a courtesy. You should calculate the actual nutritional information with the products and brands you are using with your preferred nutritional calculator.
Simplifying the art of baking and cooking gluten-free recipes.