There are so many gluten free foods at Walmart Stores!
Walmart is taking huge strides towards being a destination for inexpensive gluten-free food options.
SCROLL DOWN to see all of the  Walmart gluten free food!! Take it with you for easy gluten free shopping! (Printable shopping list coming soon!)
Have you been to your local Walmart lately? I go to Walmart fairly often because their prices for gluten free are the cheapest in town! (I mean real gluten free brands; the ones that cost double at other stores!)
I don't know how Walmart keeps their gluten free foods priced so low, but it is worth the trip to shop at Walmart!!
Use this handy store finder to find a Walmart near you. I shop at their grocery stores that they fondly call Walmart Neighborhood Market, but I have found many of the same gluten free foods at the Walmart Super Center nearby too.
Walmart Gluten Free 2017
As you know from my popular Costco Gluten Free Shopping post, variety varies by store. I am working on a printable shopping list of all of the gluten free foods I found at my local Walmart. Check back soon!
Let's start by looking at how big the gluten free food section is at Walmart. (YES, Walmart is making gluten free sections! But they still have lots of gluten free foods scattered around the store so don't forget to look all over the store!)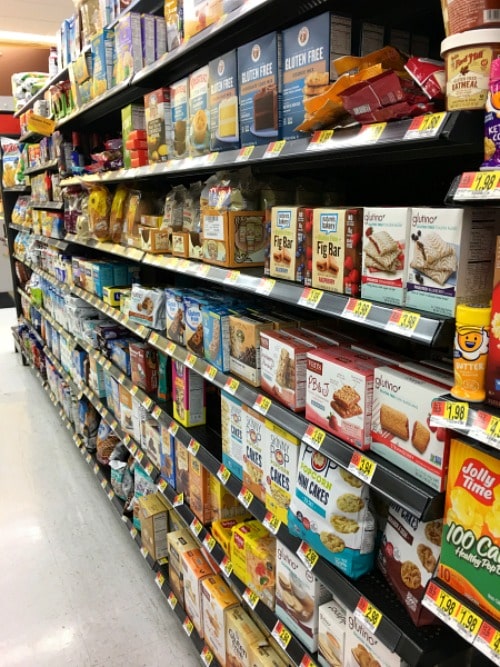 Can you believe how many gluten free products at Walmart there are? The gluten free aisle goes from the right of this photo, almost to the other end! It's about 12 feet long!!
And wait until you see the prices!! Same brands as regular grocery stores, but much cheaper!! Glutino, Schar, Kinnicki, Udi's, Canyon Bakehouse, all of the most popular gluten free brands are at Walmart.
Here are some close ups of the Walmart gluten free section!
(Tons of Gluten free flour Walmart, gluten free cookies Walmart, and gluten free snacks Walmart. Gluten free bread Walmart.)
More gluten free snacks, gluten free crackers, gluten free cake mixes Walmart! (It took 4 pictures to get the whole gluten free aisle for you. I wanted you to see all of the gluten free products!
Gluten free pretzels, protein bars, and gluten free cookies! Walmart has so many gluten free snacks, it is hard to choose what to buy.
I bought some of those Canyon House Bagels… can't wait to try them. Gluten free pasta, gluten free tamari, and gluten free bread and bagels, and spices at Walmart!
Walmart is your place to gluten free shop!
Gluten Free Prepared Meals
There are so many gluten free prepared meal options at Walmart. I didn't get pictures of everything. These meals are perfect for busy nights when you don't have time to cook. Gluten free products are everywhere!
Who knew Walmart had paleo foods? They have an ENTIRE freezer case of paleo frozen dinners. Look at the prices too! If you eat paleo, check out all of my Paleo Recipes.
If you love Ethnic foods, these Meal Kits by Marion's Kitchen are all gluten free. They had gluten free Chinese and Indian foods.
Another big freezer case filled with gluten free frozen pizzas, gluten free frozen dinners, and gluten free bread! Almost the whole case was filled with Udi's gluten free products.
If you love pizza, you should try my Gluten Free Flatbread Pizza recipe!
Walmart has several kinds of gluten free chicken nuggets, tenders, and gluten free burritos. If you want to make your own gluten free chicken tenders, this Coconut Pecan Chicken Tenders recipe is delicious!
Has anyone ever tried these Curry in No Time prepared meals? Walmart gets the best gluten free food variety.
Freschetta gluten free pizzas used to be owned by a company called Sabatassos. You can read all about these pizzas here.
Crappy picture, sorry, but yummy gluten free waffles. Aren't these waffles $6 at other grocery stores?
I can't wait to try this gluten free miso broth from Ocean's Halo.
Gluten Free Pasta and Gluten Free Side Dishes
I have ever heard of Miracle Noodles, have you? They are gluten free, vegan, and non-gmo!
We tried these gluten free ramen noodles by Lotus Foods recently. My son definitely prefers the plain noodles where we can make our own broth. They are like cup of noodles, but much healthier!
Gluten free tortillas.
Guerro makes so many types of gluten free tortillas. Walmart has them all!
Hungry Jack gluten free mashed potatoes.
Not only do they have a large assortment of quinoa, but they also have several kinds of organic rice.
Gluten Free Condiments and Baking Flours
Did I mention that Walmart has a ton of organics?
Gluten free Kinder's BBQ sauces are our favorite!
Have yu tried Tsang's gluten free Asian Sauces? We love their peanut sauce!
Lots of gluten free flours that I use all of the time! I love using almond and coconut flours in my baking.
Not only do they carry several gluten free flours in the gluten free section of Walmart, they also have Pillsbury gluten free flour in the baking section!
I also use coconut oil in many recipes. They have organic coconut oil at Walmart.
Gluten Free Cereals and Gluten Free Snack Foods
My kids love these EnviroKidz cereals. Can you believe these gluten free cereals are only $3.68? I paid a lot more than that at the other grocery store!
Walmart has all varieties of Chex gluten free cereals, and they carry several flavors of gluten free Cheerios too.
In addition to the Lara bars and other gluten free bars, they also have these Kind Bars.
WHEW! There you have it…Walmart gluten free products are everywhere!!! I will work on pulling it all together into a printable shopping list. There is so much!!
If you see more gluten free at your Walmart, please leave a comment so I can add it to this list for everyone!
Thank you!,
Sandi
While you are here, check out some of the most popular recipes on my blog 🙂