Whether you are a seasoned gluten free baking pro or if you are a complete newbie, my gluten free baking tips will help you become a better baker!
Jump to:
Best Gluten Free Flour Blends For Baking:
Determining what gluten free flour blend to use will vary by what you can easily find. Each flour blend has a different ratio of gluten free grains and starches. It really makes gluten free baking more like a chemistry experiment!!
I wrote up all of the gluten free flour blends and individual gluten free flours/starches I have used. Read to find out the best gluten free flour to use and when.
Gluten free flour blends come in many different price points, so I tend to use the less expensive blends for cake, cookies, and muffins—the more expensive blends I use for bread, pizza, biscuits, and pie crust.
Bread and Buns - For bread, especially if you are shaping it, I recommend using Authentic Foods Steve's GF Bread Blend. It is hands down the best gluten free blend I have ever found. Note that it is NOT good for bread machine recipes. Just check out my Gluten Free Challah recipe to see how easily you can braid the dough!
Bread Machine Bread - I use a custom blend of gluten free flour and starch for my popular Gluten Free Bread Machine Bread recipe. I find this blend is far superior to anything else I have tried. Most gluten free blends on the market I have tried do not work well in the bread machine because they are not good with yeast recipes. I tested Cup4Cup Gluten Free Flour Blend, and it works well in my bread machine.
Pies, Quiche, and Tarts - My favorite gluten free flour blend for pies, quiche, and tarts is Cup4Cup. King Arthur Measure For Measure and Better Batter GF Blend are also good brands for flaky crusts. Note Better Batter is expensive, but you can often find it for sale on their website. Check out how flaky my homemade Gluten Free Pie Crust recipe turns out with the Cup4Cup blend.
Biscuits - My favorite gluten free flour blend for making biscuits is Cup4Cup. Indeed, I tested seven different gluten free flour blends, and I shared all of the results in my popular Gluten Free Biscuits recipe so you can see how each blend performed.
Cakes and Cookies - I tend to use the less expensive flour blends for cakes and cookies. I find that King Arthur Measure for Measure and Bob's Red Mill 1:1 GF Flour Blend work just fine. There is no huge difference in using these brands compared to the more expensive blends.
I encourage you to try my DIY Gluten Free All Purpose Blend too. It works well in both regular and yeast recipes.
Gluten Free Flour Measuring Tips:
Measuring your gluten free flour accurately will make a huge difference in how your baked goods turn out.
In a perfect world, we would all use a digital scale to measure flour, but I have found that every gluten free flour blend has a slightly different weight. This is due to the flour and starch ratios used by different companies. I use one of two methods:
Spoon Method: You can also use a spoon to fill the measuring cup. Use a knife to level along the top to remove the extra flour.
Leveling Method: Put the measuring scoop into the flour and fill. Do not pack the flour. Use a knife to scrape along the top to remove the extra flour.
Why use Room Temperature Ingredients?
Using room temperature baking ingredients for your gluten free baking can be important because it helps to ensure that the ingredients mix together evenly and create a smooth texture in the finished baked goods. Here are a few reasons why room-temperature ingredients are important in baking:
Improved mixing: Room temperature ingredients, such as eggs and butter, are easier to mix together than ingredients that are straight from the refrigerator.
Better rising: Yeast and other leavening agents work best when the ingredients they are interacting with are at room temperature. Cold ingredients can slow down the rising process, which can result in a denser, heavier baked good.
More consistent results: Using room temperature ingredients can help ensure that your baked goods turn out consistently from batch to batch. This is because the temperature of your ingredients can affect the final outcome of your recipe.
Faster baking time: Room-temperature ingredients can help your baked goods cook faster and more evenly. This is because cold ingredients can take longer to heat up in the oven, which can result in uneven baking.
If you are egg-free, here are some great Egg Replacer Ideas For Gluten Free Baking.
Gluten Free Yeast Baking Tips:
Yeast - First, be sure your yeast is gluten free. Red Star Platinum is NOT gluten free. Also, check the expiration date before you use it!
Rising - Rise your dough in a warm oven. It truly is the best way to rise gluten free dough. Heat your oven to 200º F. Turn the oven off. Cover your dough loosely with plastic wrap and place it in the warm oven to rise.
When To Rise The Dough - One of the biggest mistakes I see is when people rise their gluten free dough, then shape it. Then the dough doesn't rise, and it loses its fluffiness. Gluten free baking is very different. With gluten free, you only get one good rise. It is critical to shape your dough before the rise! This goes for bread, yeast donuts, rolls, breadsticks, bagels, etc.
You can also make a homemade Gluten Free Sourdough Starter for baking!
If you are making yeast bread, be sure to read my article on Gluten Free Bread Troubleshooting so you can avoid any problems baking your bread.
Gluten Free Quick Bread Tips:
Do not use a standing mixer. It will overmix your batter every time.
Mix your wet and dry ingredients until they are just barely mixed. This will help ensure you get the fluffiest quick bread.
If you are using a wet vegetable like zucchini, be sure to squeeze out the extra liquid. This will help you avoid quick bread that is too moist. Try this technique with my Gluten Free Zucchini Muffins.
I always recommend using aluminum-free baking powder for biscuits and all of my baked recipes. It will prevent any metallic aftertaste.
If you use an inexpensive gluten free flour blend, let the batter sit for 10-15 minutes before baking. This will eliminate the grittiness some gluten free flour blends have.
I will say in a recipe which gluten free flour blends I have tested in my recipes. You will need to add one teaspoon if you use a flour blend that doesn't contain xanthan gum or guar gum. This is the magic that holds your gluten free baked goods together.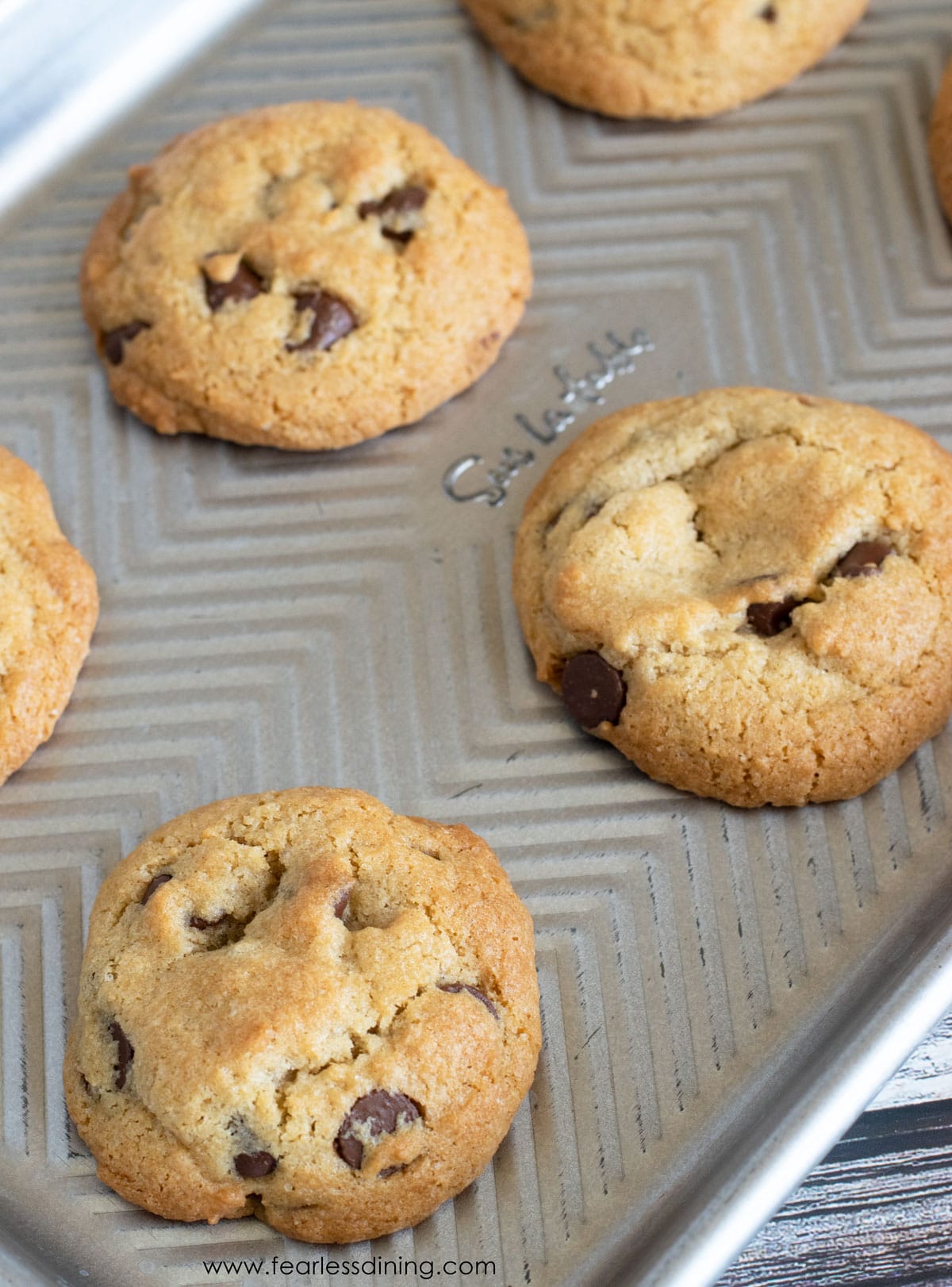 Gluten Free Cookie Baking Tips:
I am a huge cookie lover. If you love to bake cookies, use these tips so that your gluten free cookies turn out perfectly every time.
Use room temperature butter and eggs. I know that it sounds crazy to use butter and eggs at room temperature, but it dramatically helps how your cookies will turn out. You'll thank yourself later if you try it.
Take special care to measure correctly. If you add in too much gluten free flour or other ingredients, it can mess with the cookies as they bake. If they don't have the proper ratios of ingredients, you may end up with a baking disaster.
Chill the dough when possible. I know you are probably ready to eat your cookies right now, but taking a few minutes to chill the batter makes them less likely to spread.
Your oven temperature may be off. Periodically, check your oven temperature to make sure it's right. Otherwise, the cookies will, for sure, spread if it's not accurate.
Use a cooled cookie sheet when baking. Don't take a hot cookie sheet and put the batter on it, or I promise the cookies won't turn out. They start baking immediately, and it messes with their shape of them. Use a couple of sheets and rotate them out when making large batches of cookies.
Don't let the cookies sit on the pan too long. After they have baked, only let them sit on the baking sheet for up to 5 minutes. The pan will still be hot and continue baking them otherwise.
Gluten Free Cake Baking Tips:
There are a lot of fun ways to ensure your cake turns out well. I have a great Gluten Free Cake Troubleshooting Guide if you run into problems.
Avoid gritty texture in your cake. Let your cake batter sit in the pan for 15-20 minutes so that the rice flour softens.
Do not open the oven door. This can cause your cake to fall in the middle!
Use the right flour blend. I talk a lot about flour blends because each is so different. Try to use the flour blend the recipe creator used for the best results. See my section above about flour blends for more details on which flour blends I trust for cakes.
If you are using a cake mix, try some of these awesome gluten free cake mix hacks to enhance the flavor and texture of your cake.
Looking for more? Get my FREE Gluten Free Lemon Desserts E-Cookbook when you sign up for my weekly recipe newsletter!