Gluten Free bread baking can be a rewarding and delicious experience, but sometimes things don't go quite as planned. Gluten free baking is very much like a science experiment. I wrote this troubleshooting guide to help you identify and fix common gluten free bread baking issues.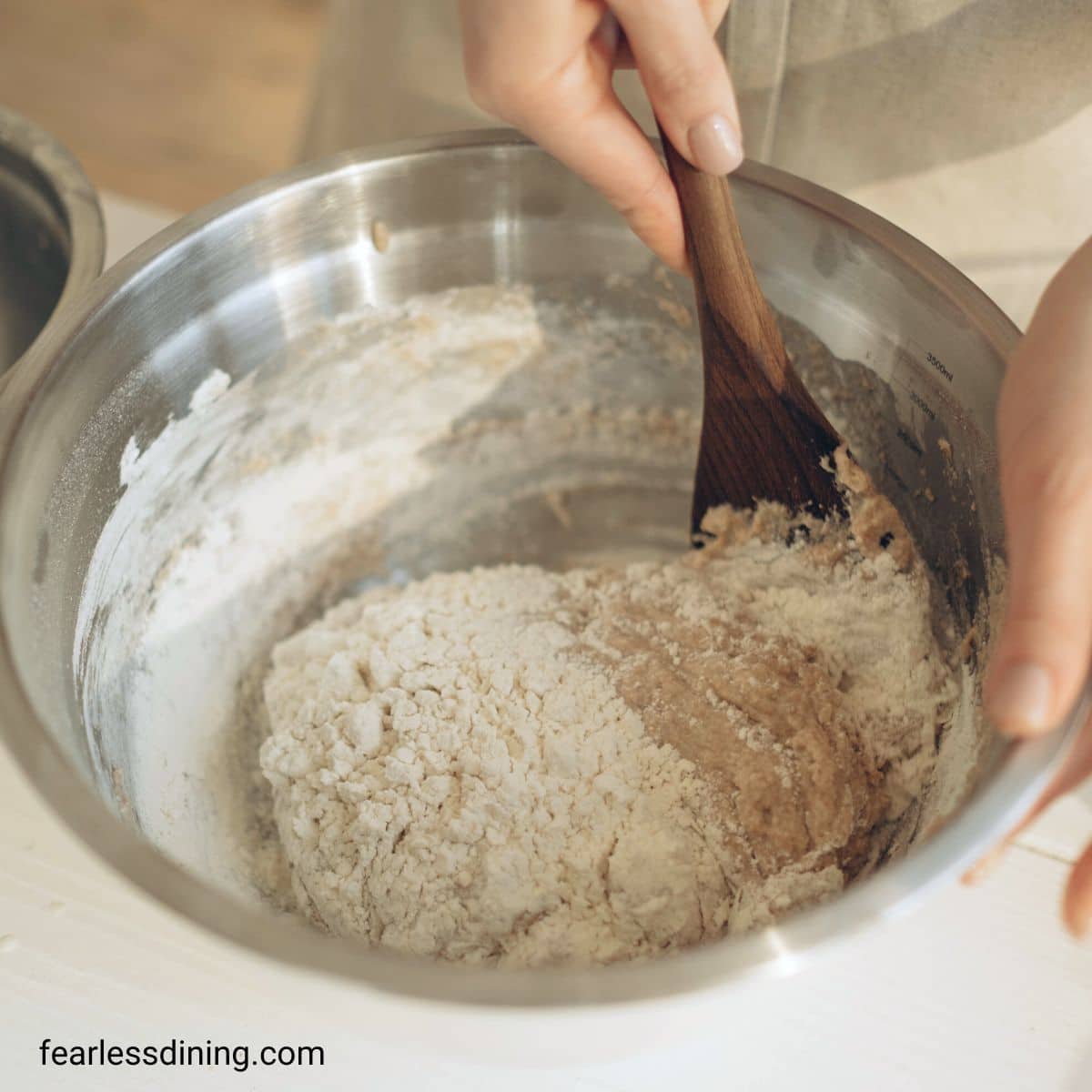 Jump to:
One of the biggest issues I hear people struggle with is baking gluten free bread. Every flour blend will perform differently in a gluten free bread recipe. This is because every gluten free flour blend has a different weight, depending on the starch content.
Every gluten free flour blend also has a different grain-to-starch ratio, and this can affect so many things when you bake gluten free bread. Different grain-to-starch ratios affect how much liquid you will need to make the bread and the structure of the bread. Some flour blends need a LOT more liquid in a recipe than others.
Let's break it down by problem and solution. I will try to give the best fixes to try.
I have tons of easy Gluten Free Baking Tips that can help you learn how to become a better gluten free baker. If you are new to gluten free, be sure to check out my Gluten Free Resources page for helpful articles to get you started.
Top Pick
Steve's Gluten Free Bread Flour Blend, 3 lbs
This Authentic Foods Steve's Gluten Free Bread Blend is hands down the best gluten-free flour for yeasted bread recipes. With this flour, you can braid, shape, and roll incredible bread, cinnamon rolls, and pizza crust. (Note, it doesn't work in a bread machine.)
Buy Now
We earn a commission if you make a purchase, at no additional cost to you.
If you are baking gluten free bread, it is important to use the right tools for making bread. Having the right equipment will help you have more success in baking.
What gluten free flour blends work with yeast?
One of the biggest reasons people fail when baking gluten free bread is because of the gluten free flour they use. Many gluten free flour blends do not work with yeast, but very few people realize this.
Always read the back of the bag of flour AND check the brand website. Popular blends like Bob's Red Mill 1:1 and King Arthur Measure for Measure do not work with yeast. Bob's states this on their website, not the product itself, while King Arthur states it on the back of their bag of flour.
Here are a few gluten free flour blends that work with yeast:
My Gluten Free Bread Machine Bread recipe is a great recipe with directions for both the bread machine and oven baking.
Why is my dough sticky?
If you notice your gluten free bread dough is too sticky, it usually means you have too much liquid in the dough. The best way to fix sticky dough is to add more gluten free flour. Some gluten free flour blends are very starchy, and you need to use more flour with these blends than other blends.
Why didn't my gluten free bread rise?
If your gluten free bread didn't rise, here are some things to check:
Was the yeast expired? Did you use the right type of yeast that the recipe called for? (Active dry yeast or Rapid-rise yeast.)
What temperature was the water you proofed the yeast in? The water should be no hotter than 110º F.
Did you add some sugar, honey, or something for the yeast to eat to the water you proofed the yeast in?
Did you shape your dough then rise the dough, or did you rise the dough then shape it? You only get one good rise with gluten free dough, so it is critical to shape the dough before the big rise.
How did you rise the dough? If it is winter, it will be much harder for the yeast to grow. I always preheat my oven to 200ºF and then turn the oven off. I rise my shaped bread in this nice warm oven. (Cover it with plastic wrap so the dough doesn't dry out.)
Also, an important thing to note is the yeast you use. Always be sure it is gluten free. Most yeast is gluten free, but the Red Star "Platinum" is NOT gluten free.
Why did my gluten free bread turn out gummy inside?
Many ask why their gluten free bread is gummy. This can have several different causes, including:
The most common reason your bread is gummy, sticky, or doughy in the middle is that your bread didn't bake long enough. Gluten free dough needs to be baked much longer than regular bread dough.
There was a high level of liquid ingredients in your recipe.
You used a very starchy gluten free flour blend.
You cut the bread while it was still hot.
Why did my gluten free bread fall apart?
If your gluten free bread is falling apart, you didn't use a binder in the flour blend. Gluten in wheat is the "glue" that holds regular baking together. Gluten free flour doesn't have the same "glue," so you have to add it.
Ensure the gluten-free flour blend contains either xanthan gum, guar gum, or psyllium husk. Note Authentic Foods Steve's Gluten Free Bread Blend uses vegetable fiber, which includes psyllium husk. If your blend doesn't have one of these, you must add it to your ingredients.
Why is my gluten free bread dense?
If your gluten free bread turned out dense, you didn't have enough liquid in the dough. It is critical to measure your dry ingredients accurately. Measure for weight when you can.
If you don't have a digital scale, I recommend using either the spoon or the leveling method to measure your flour.
Spoon Method: You can also use a spoon to fill the measuring cup. Use a knife to level along the top to remove the extra flour. Leveling Method: Put the measuring scoop into the flour and fill. Do not pack the flour. Use a knife to scrape along the top to remove the extra flour.
Why did my gluten free bread collapse during baking?
If your gluten-free bread collapsed during or after baking, you either had too much liquid in the bread dough or over-proofed the yeast.
You can also read my guide to the Best Gluten Free Flour Blends. I discuss the gluten free flour blends and which are best for which types of recipes.
Why does gluten free bread taste sour?
This problem is not as common for gluten free bread, but if you do taste a sour taste and you didn't make sourdough, you probably let your bread dough sit too long. The yeast over-fermented.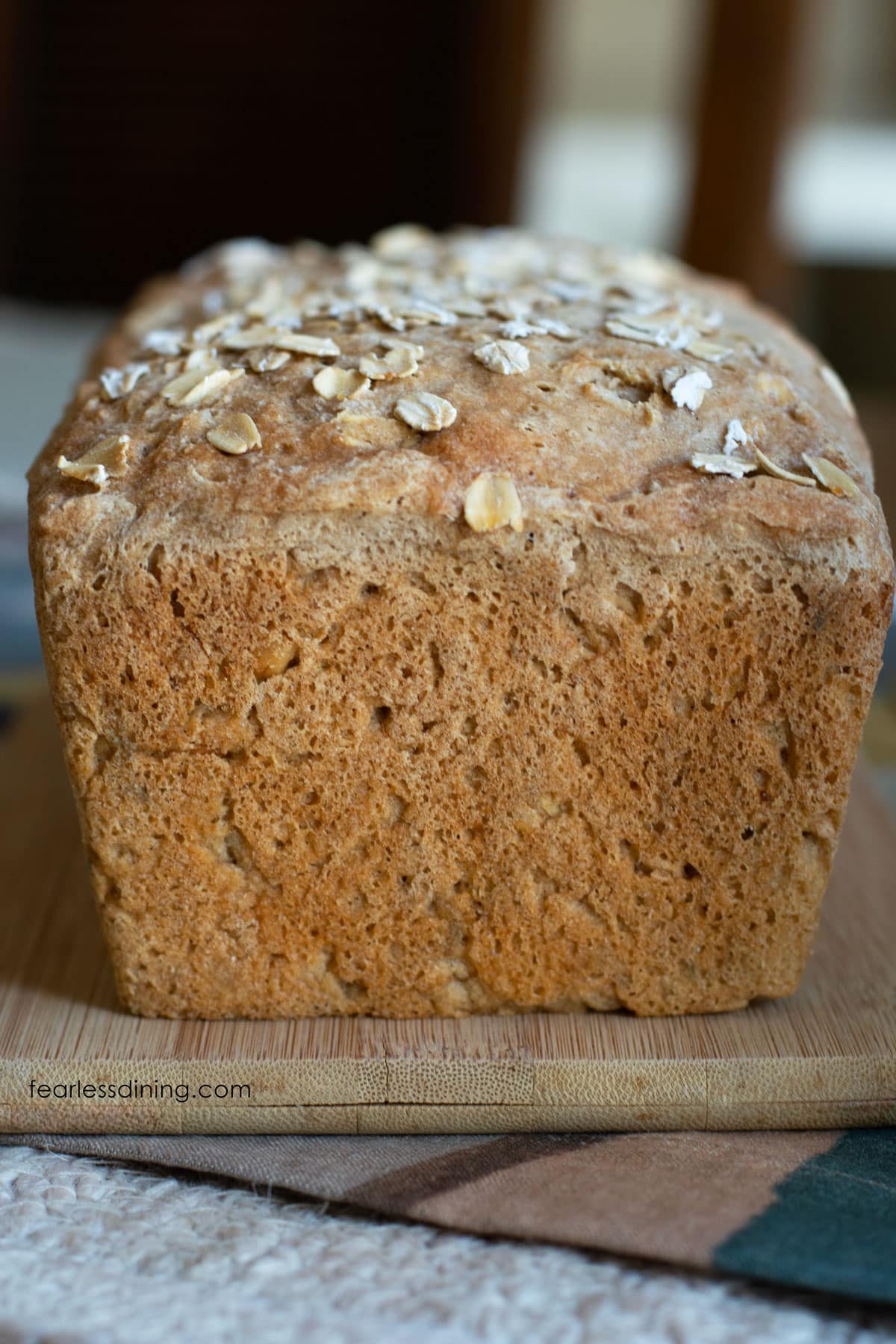 If you love to bake, read my Gluten Free Cake Troubleshooting and Gluten Free Cookie Troubleshooting Guides, too!
Great Gluten Free Recipes To Try:
Simplifying the art of baking and cooking gluten-free recipes.