Gluten free pie crust can be used to make all sorts of delicious gluten free recipes. Learning how to eat gluten free doesn't have to be difficult, and baking this gluten free pie crust recipe will be easy, too! If you love flaky pie crust, this recipe will become a staple for you.
You can also use this simple gluten free pie crust to make tarts, too! If you love pie as much as my family does, check out all of the gluten free pie recipes on my blog!
This gluten free pie crust makes one crust. Double it if your recipe requires a top crust. You can use this single pie crust to make delicious galettes like this gluten free plum galette.
Click for Table of Contents:
When I went gluten free, I worried I would miss all of my favorite things. There were not many gluten free products in the stores, so I had to learn (often the hard way) how to make things.
When more and more gluten free products hit the stores, I took a much-needed break from trying to re-create gluten free versions of everything. I fell in love with this Bob's Red Mill Pie Crust Mix.
Pie filling ideas:
Don't forget to check out this list of 50+ gluten free pies!! There is a pie for every diet: paleo, whole30, keto, and vegan!
After a little while, I realized I LOVE making gluten free pie crust from scratch. You can't beat the homemade pie crust flavor.
This is the only gluten free pie crust recipe you will ever need because this easy gluten free pie crust is great for making both sweet and savory pie recipes.
If you love pecans, you must try this homemade gluten free pecan pie recipe. It is amazing with this crust!
It won't get any easier than this gluten free pie crust recipe, so keep reading to see lots of step by step pictures to help guide you to making perfect gluten free pie crust.
How can I use gluten free pie crust?
A gluten free quiche, or a gluten free fruit pie? This easy gluten free pie crust recipe is PERFECT in this Gluten Free Asparagus Goat Cheese Tart recipe. You can also use this flaky pie crust for quiche recipes!
Making gluten free pastry with rice flour and other gluten free flours can be tricky! If it has been a long time since you enjoyed gluten free pastry, give this gluten free flaky pastry recipe a try.
There are a lot of steps to making your gluten free pastry dough flaky, don't be intimidated. It is worth EVER bit of effort once you bite into these pastries."
What are other types of gluten free crusts?
If you don't like to roll out the dough and make a pie crust this way, there are lots of other easy gluten free pie crust styles you can try. Here are a few of my favorites:
Gluten Free Graham Cracker Crust
Raw Coconut and Almond Crust
You can also make delicious gluten free graham cracker crusts. Just check out the crust recipe in these Gluten Free Chocolate Brownie S'mores Tarts and this Gluten Free Pumpkin Tart. Almond flour pie crust also makes a wonderful gluten free crust!! Go see the recipe for these Raw Gluten Free Strawberry Tarts.
Instructions: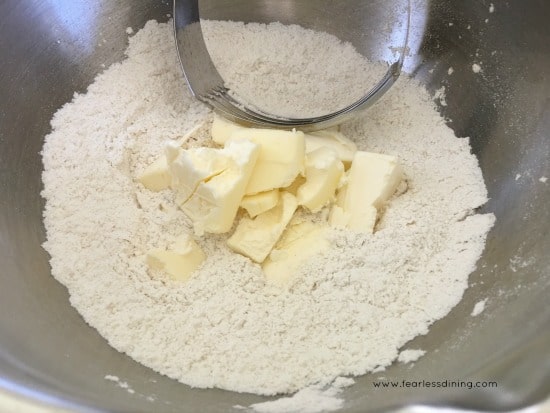 How do you cut butter into flour?
Mix your dry ingredients and use a pastry blender to cut the butter into the flour. These tiny pieces of cut butter is what makes your pie crust so flaky and delicious.
Tip: Make sure the butter is really cold before cutting it into the flour. Cold butter makes your pie crust flakier!
Pour in your wet ingredients into the dry ingredients cut with butter and mix. Time to get your hands dirty! Use your hands to blend in until you have a firm gluten free dough ball.
Place the pie dough between two sheets of wax paper and roll in a circle shape.
How big do you roll out pie crust dough?
I like to roll my pie crust dough and then when I think I am close to the size of the pan, I will hold the pan up to the dough circle. You want the dough to be rolled out and big enough to go up the sides, and to have a little extra to pinch along the outer edges.
Remove the top piece of wax paper. (Tip: Keep the wax paper on one side of the crust dough so that you can transfer it to your pie pan easier!)
Position the dough over your pie pan.
How do you keep the crust from getting air bubbles when baking?
Heat can cause all sorts of mischief when you bake. Pinch the edges of the dough in a design. Use a fork to make steam holes on the bottom. These steam holes prevent your crust from bubbling and puffing up in a weird way.
Do you have to grease the pie pan?
Even though there is a lot of butter in this pie crust recipe, I like to use a light oil spray to lightly coat the pie pan. This is just extra caution to prevent the pie crust from sticking to the pan.
How long do you bake a pie crust?
When baking gluten free, I find that you need to pre-bake your pie crust a little before adding the filling. I bake this pie crust at 350 degrees F for 10-15 minutes.
Remove the pie crust from the oven and add your fruit or another pie filling. You can make a top crust, or bake as is to cook the filling in.
Can you freeze pie crust?
Yes! This pie crust freezes very well. Just defrost, fill with your favorite filling and bake.
Now your pie crust is ready to fill to make your gluten free pie! If you don't feel like making a top crust, you can also use this pie crust recipe to make this Honey Apple Galette.
Reader adaptations:
Reader A Wilson said "Turned out beautiful! Finally a pie crust I can move from counter to pan without it falling apart! Didn't need more than 1/4 c water either. Highly recommend this recipe!!!"
Pinterest user Twisted Enchantment said "This is my go to gluten free pie crust. My whole family loves it. I've used it for pot pies, blueberry pie, pumpkin pie, hand pies and even for gluten free pop tarts."
Reader Alicia P said lard works very well instead of butter in this pie crust recipe.
Tools:
My favorite gluten free flour blend.
This is an inexpensive easy dishwasher safe rolling pin.
📋 Recipe
Gluten Free Pie Crust Recipe
How to make a homemade gluten free pie crust.
Ingredients
1 1/2 cups gluten free flour blend
1/4 teaspoon salt
9 tablespoons butter
1 large egg
1 teaspoon lemon juice
1/4 cup water, +1 to 3 additional tablesppons
Instructions
Preheat the oven to 350 degrees.
In a large bowl, combine dry ingredients.
Use a pastry blender to cut in the butter until it is in tiny pieces.
In a small bowl, add wet ingredients and mix.
Pour wet ingredients into the dry ingredients and mix. Use your hands to make a dough ball.
Place the dough ball onto a piece of wax paper.
Top with another piece of wax paper and use a rolling pin to roll flat in a circle shape.
Remove the top piece of wax paper. Place the dough dough side to the greased pan and drop in. Remove the top piece of wax paper.
Bake for 10 minutes. Remove from the oven and fill the crust with sweet or savory filling. Bake an additional 25 minutes.
Nutrition Information:
Yield:

8
Serving Size:

1
Amount Per Serving:
Calories:

209
Total Fat:

14g
Saturated Fat:

8g
Trans Fat:

1g
Unsaturated Fat:

4g
Cholesterol:

58mg
Sodium:

179mg
Carbohydrates:

18g
Fiber:

1g
Sugar:

0g
Protein:

3g
Please note this nutrition information is calculated by a recipe plugin and is an estimate based on the ingredients used in this recipe.
Save