If you love flaky pie crust, this recipe for a simple gluten free pie crust will become a staple for you. You can also use this gluten free pie crust in tarts too!
When I went gluten free, I worried I would miss all of my favorite things. There were not many gluten free products in the stores, so I had to learn (often the hard way) how to make things.
When more and more gluten free products hit the stores, I took a much-needed break from trying to re-create gluten free versions of everything. I fell in love with this Bob's Red Mill Pie Crust Mix.
Don't forget to check out this list of 50+ gluten free pies article!! There is a pie for every diet: paleo, whole30, keto, and vegan! 
After a little while, I realized I LOVED to make my own gluten free pie crust from scratch. You can't beat the homemade pie crust flavor.
This is the only gluten free pie crust recipe you will ever need because this recipe is great for both sweet and savory pie recipes.
It won't get any easier than this gluten free pie crust recipe, so keep reading to see lots of step by step pictures to help guide you to making the perfect gluten free pie crust.
What should I make with this pie crust? A gluten free quiche, or a gluten free fruit pie? This easy gluten free pie crust recipe is PERFECT in this Gluten Free Asparagus Goat Cheese Tart recipe.
Can you freeze gluten free pie crust?
Yes! This pie crust freezes very well. Just defrost, fill with your favorite filling and bake.
This gluten free pie crust freezes well, so you can make several and freeze the extra gluten free crusts.
Making gluten free pastry with rice flour and other gluten free flours can be tricky! If it has been a long time since you enjoyed gluten free pastry, give this gluten free flaky pastry recipe a try. There are a lot of steps to making your gluten free pastry dough flaky, don't be intimidated. It is worth EVER bit of effort once you bite into these pastries.
More gluten free crust ideas:
You can also make delicious gluten free graham cracker crusts. Just check out the crust recipe in these Gluten Free Chocolate Brownie S'mores Tarts and this Gluten Free Pumpkin Tart. Almond flour also can make a wonderful gluten free crust!! Go see the recipe for these Raw Gluten Free Strawberry Tarts.
How to make a gluten free pie crust: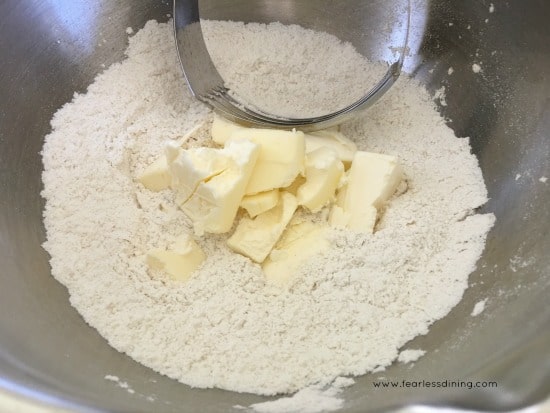 Mix your dry ingredients and use a pastry blender to cut the butter into the flour. These tiny pieces of cut butter is what makes your pie crust so flaky and delicious.
Pour in your wet ingredients and mix. Use your hands to blend in until you have a firm gluten free dough ball.
Place the pie dough between two sheets of wax paper and roll in a circle shape.
Remove the top piece of wax paper.
Position the dough over your pie pan.
Pinch the edges of the dough in a design. Use a fork to make steam holes on the bottom.
Now your pie crust is ready to fill to make your gluten free pie! I love this pie crust for gluten free quiche crust too!
Check out all of the gluten free pie recipes on my blog!
(*Please note this post has affiliate links. Ordering through my site will not change the price you pay. A tiny commission will come to Fearless Dining to help offset the cost of running this blog. I truly appreciate the support.)
Things You Need to Make This Recipe:
My favorite gluten free flour blend.
This is an inexpensive easy dishwasher safe rolling pin.
Gluten Free Pie Crust Recipe
How to make a homemade gluten free pie crust.

Course:
Dessert, Main Dish
Ingredients
1 1/2

cups

gluten free flour blend

1/4

teaspoon

salt

6

tablespoons

butter

1

large egg

1

teaspoon

lemon juice

1/4

cup

water

+1 to 3 additional tablesppons
Instructions
Preheat the oven to 350 degrees.


In a large bowl, combine dry ingredients.


Use a pastry blender to cut in the butter until it is in tiny pieces.


In a small bowl, add wet ingredients and mix.


Pour wet ingredients into the dry ingredients and mix. Use your hands to make a dough ball.


Place the dough ball onto a piece of wax paper.




Top with another piece of wax paper and use a rolling pin to roll flat in a circle shape.


Remove the top piece of wax paper. Place the dough dough side to the greased pan and drop in. Remove the top piece of wax paper.


Bake for 10 minutes. Remove from the oven and fill the crust with sweet or savory filling. Bake an additional 25 minutes.

Nutrition Facts
Gluten Free Pie Crust Recipe
Amount Per Serving (8 slices)
Calories 158
Calories from Fat 81
% Daily Value*
Total Fat 9g 14%
Cholesterol 43mg 14%
Sodium 155mg 6%
Potassium 7mg 0%
Total Carbohydrates 16g 5%
Protein 3g 6%
* Percent Daily Values are based on a 2000 calorie diet.
Yummy Gluten Free Pies and Desserts to Try!
Save
Save
Save
Save
Save