My original post on how to make gluten free sourdough bread turned out to be so long, I felt it would be so much easier for everyone if I broke it down by writing up how to make the gluten free starter information separately.
Jump to:
When I first interviewed Sadie at Bread Srsly, she was so generous to share an older version of her famous sourdough recipe with me to share with my readers. I have streamlined Sadie's original recipe and tested a few different gluten free flours and blends in order to make it easier for you to recreate this recipe.
If you want to try her original recipe, you could use ¼ cup of millet flour or ¼ cup of sorghum flour. (Check out Rachel's comment in my Gluten Free Sourdough post linked at the top of this page to see her comments how she uses the millet flour!)
I will cover all of the steps needed to make a gluten free sourdough starter with several different gluten free flours and blends so you can compare and dive in to make your own starter!
Sourdough Starter Prep Instructions:
Day 1:
Mix together equal parts of a gluten free flour blend and water. I used ¼ cup flour to ¼ cup water ratio. If your gluten free flour blend is starchy, you will want to use ¼ cup flour to ½ cup water. (Stay away from pure starch sources such as tapioca and potato.) *NOTE: I highly recommend using filtered or bottled water. Chlorine and chemicals will kill the beneficial bacteria you are trying to grow.
Leave it in a bowl at room temperature. Cover the bowl with a towel. (You can use Bob's Red Mill 1 to 1 GF Blend , King Arthur Measure for Measure GF Blend., GF Jules Gluten Free Flour Blend), or individual flours like brown rice, millet, or sorghum.
Use: I used ¼ cup King Arthur Measure for Measure and also GF Jules GF Blend for my test starters. My reader Dana used ¼ cup Bob's Red Mill 1 to 1.
Day 2:
Add a little more flour and water every 8-12 hours (2-3 times a day). Stick to a 1:1 or a 1:2 ratio, depending on which works best for you. I keep my starter in my kitchen bay window, but I ensure a clean kitchen towel completely covers it so no sunlight gets in.
Days 3-4:
After 3-5 days, your mixture should smell sour and have lots of bubbles. Congratulations! You are almost there.
Day 5:
This is what it looks like now! It is thick and creamy looking with lots of little bubbles. It still has the consistency of runny pancake batter.
Using the Starter:
Now, make the actual starter that you use to make the bread!! Once your mixture is bubbling, add some to your bread mix (see recipe card below).
Do not use any yeast! Don't forget to check out my instructions for making gluten free sourdough bread when you are ready to make your first loaf!
Step 1: Add your starter, filtered water, and bread mix as listed above to a large bowl.
Cover with a towel and let rise for at least 12 hours. (See the above photo; the mass should almost double in size.)
How to feed the starter?
If you love sourdough bread and want to continue making it regularly, your best bet is to keep a starter in the refrigerator. The starter will need to be fed for it to survive.
You will need to feed your starter in the refrigerator every 3 days to keep it going. I feed mine by adding 2 tablespoons of additional flour to 2 tablespoons of purified water. Stir it well so the flour is incorporated in. If your blend is starchy, you can use 3 tablespoons of water.
When you want to bake bread, take the starter from the refrigerator the night before. Feed it (2 tablespoons flour and 3 tablespoons of purified water) and cover it completely with a clean kitchen towel. You don't want it exposed to the sunlight. Use for baking sourdough the next day, then put the starter back into the refrigerator.
My daughter named our starter Alfred. It is a tradition to name your sourdough starter. What will you name your starter?
Can you switch flours mid-way?
I have been using the King Arthur Measure for Measure gluten-free blend for a couple of weeks, and I finally used the bag. I haven't been able to get more, so I added brown rice flour to feed my starter.
The starter exploded and almost overflowed over the sides of my jar. It tripled in size. I will be using some discard to make pizza tonight with it. I think moving to the brown rice flour fermented so quickly because it didn't have the starch that the King Arthur mix has.
Is it necessary to discard some starter?
Many people discard some of their starters as they add flour and water 3x a day to grow the starter. I understand this, as you will end up with a huge starter if you don't toss some.
There are definite benefits to discarding some of the starter as it makes the bacteria stronger. If you use the starter to make bread or other recipes more than two times a week, you don't have to discard it. If you only use the starter once, or a week or less, discarding it is a good idea.
I did not discard when making my starters. It wasn't in Sadie's original instructions, and I had great luck without discarding anything.
How do I know if it has gone bad?
If your sourdough starter has been exposed to bacteria, it can go bad. The easiest way to tell if your starter is still good is to open it and smell it before each use. Also, look at the starter to make sure it is still bubbling.
If it smells like unbaked bread, then, it is still good and can be baked. If you notice a foul odor, mold growing, or a pink or orange tint, it has gone bad and should be discarded.
What is the liquid on top of my starter?
The liquid that forms on top of your sourdough starter is known as "hooch." When you see hooch in your starter, that indicates that the sourdough needs to be fed; the development of hooch is perfectly normal and not a cause for concern.
Simply drain off the hooch before you feed the sourdough starter. You may notice the hooch smells like alcohol, which is also expected.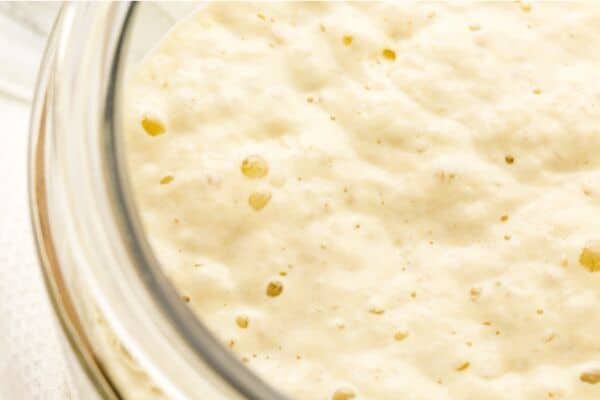 This sourdough starter, aka levain, is popular in my Gluten Free Crescent Rolls recipe, too!
Can I freeze the starter?
Yes, you can freeze the sourdough starter. If you freeze the starter, you will not have to feed it. When you are ready to bake the bread, you must give the sourdough starter a week before the dough is active again. You must begin the feeding process once you remove it from the freezer.
Freezing the starter is an excellent idea if you don't have the time and effort to keep feeding it. I recommend freezing the sourdough starter if you are going on vacation or aren't going to be home for some reason for several days.
Don't forget to check out the next step...making the sourdough bread! You can use this sourdough starter to make this delicious gluten free flatbread.
📖 Recipe
How to Make a Gluten Free Sourdough Starter
An easy tutorial to make your own homemade gluten free sourdough starter.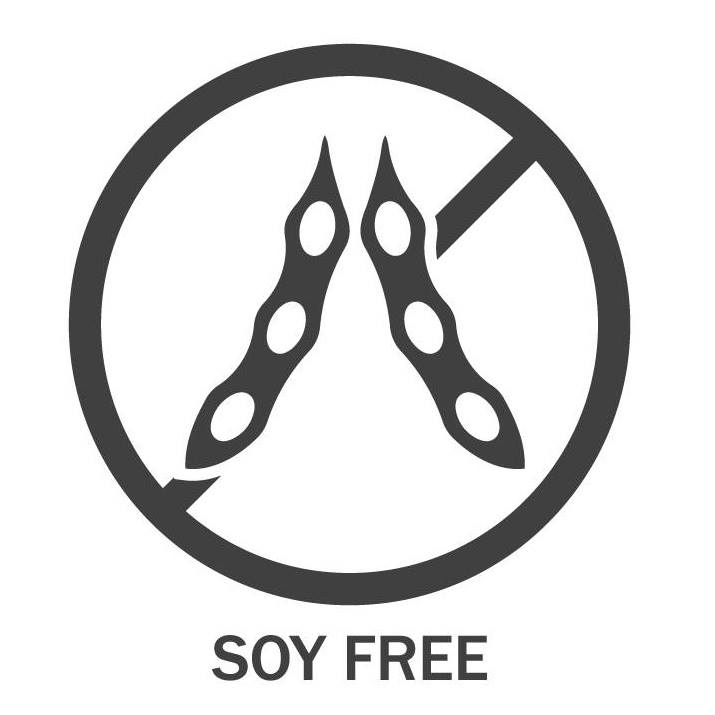 *As an Amazon Associate, I earn a small commission from qualifying purchases.
Instructions
Add the flour and water to a jar and mix well.

Cover with a clean dish towel and leave it on the counter. I kept mine in my kitchen bay window so it was warmed by the sun.

3x a day, add 2 tablespoons of flour and ¼ cup water. You want the consistency to be like runny pancake batter so feel free to use more water if the starter needs it. Some gluten free flours need more liquid so go by the water feel of the starter.

By day 3-5 your starter mix should be bubbly and smell sour.
Add your starter to the bread mix:
2 cups gluten free flour blend (*see note)
1 ½ teaspoon Kosher salt
½ c sourdough starter (see post for directions to make this)
water by feel

Mix well and set out to rise for 12-24 hours. Congratulations! This is your starter. See my gluten free sourdough bread recipe linked in this article for the bread recipe to use your starter with.
Notes
I have used sorghum, brown rice, and millet flours successfully. I also have used King Arthur Measure for Measure GF Blend, Bob's Red Mill 1 to 1 GF Blend, and GF Jules gluten free flour blends to make a successful starter.
I found my starter really likes brown rice flour and it bubbles really well using it.
In order to give your natural yeast a chance, I highly recommend using purified water. Chlorine in tap water can kill your yeast, making your starter not grow.
SPECIAL NOTE
Please know that every gluten free flour blend has a different starch to grain ratio. If you use a blend I didn't test, you may need to adjust your moisture levels in your baked goods.
Nutrition
Serving:
1
g
Calories:
100
kcal
Carbohydrates:
22
g
Protein:
3
g
Fat:
1
g
Fiber:
3
g
Sugar:
1
g
Calcium:
20
mg
Iron:
1
mg
Nutrition Disclaimer
Nutritional information is an estimate provided to you as a courtesy. You should calculate the actual nutritional information with the products and brands you are using with your preferred nutritional calculator.
Simplifying the art of baking and cooking gluten-free recipes.