With school in full swing, I am always thinking about how to get my kids to eat more protein so that they have some energy for after-school activities and homework.
Simple hot cream cheese dip
Not only is it one of the most popular hot cheese dips I make, but this appetizer is ready in just minutes!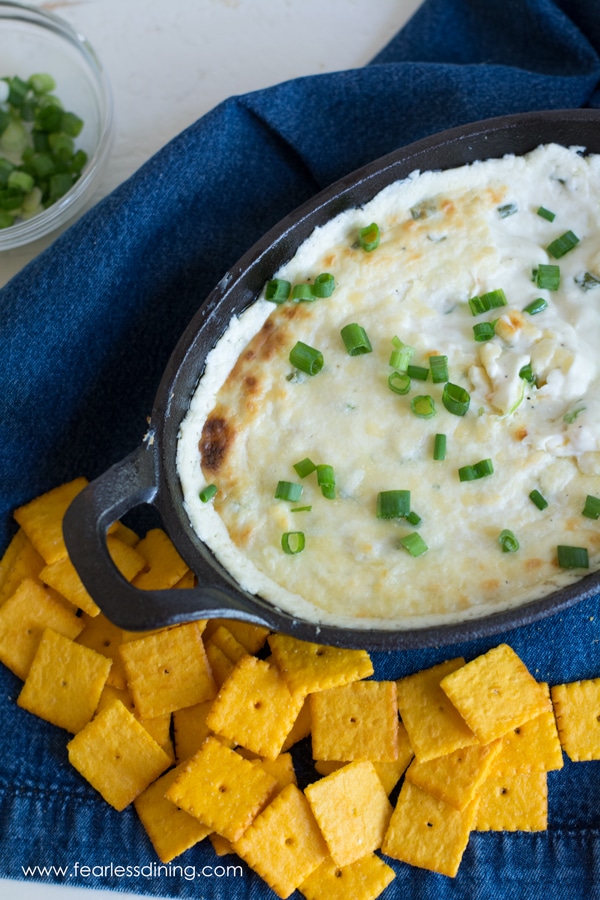 (*This post was sponsored by Lance Snacks. I appreciate any support you give to the brands that help support this site. Please know, all crunchy opinions are my own. Thank you!)
I know I have spent a lot of time talking about Lance Gluten Free Crackers. I can't help it. Their crackers are so easy to enjoy by themselves and in my favorite recipes. Today I want to talk more about Lance Gluten Free Cheddar Cheese Crackers.
Here is a short video to show you how easy this hot cream cheese dip recipe is to make.
Lance's Gluten Free Crackers are AHMAZING dipped into this gooey hot cheese dip!!
These cheese crackers are perfect to use in recipes like this delicious quiche recipe, they are great alone packed in my kids' school lunches, and they make a fun cracker for dips!
Before we knew we had to be gluten-free, I fed my kids Cheez It crackers. Once we eliminated gluten from our diets, we missed cheese crackers. It is hard when your kids are young and you take away their favorite foods. There wasn't a substitute and I wasn't savvy enough to create a gluten-free cheese cracker for them. I have to say, we are pretty thankful to have found Lance Gluten Free Crackers.
With Lance, you don't have to sacrifice taste when choosing gluten-free snacks! Their crackers are made with real peanut butter or cheese and they don't include artificial colors, flavors, or preservatives, high fructose corn syrup, or hydrogenated oils.
I think you will love this cheese dip because it is so versatile You can use your favorite flavors in this hot dip. We love scallion, so we used chopped scallions in our recipe.
Other ingredients you can use in this cheese dip:
Thawed frozen spinach that has had the extra water squeezed out.
Chopped canned artichokes.
Onions and bacon.
Sundried tomatoes or fire roasted red peppers.
Fire roasted hatch chiles! This would add a lot of delicious spice to this cheese dip.
I made a double batch of this dip because I knew my kids would love to snack on it after school. I used a high protein Greek cream cheese so I knew this would give them an energy boost to get started on their homework.
The first step is to let the cream cheese soften on the counter. I took mine out before I took the kids to school. By the time everyone was dropped off, it was the perfect temperature for the mixer.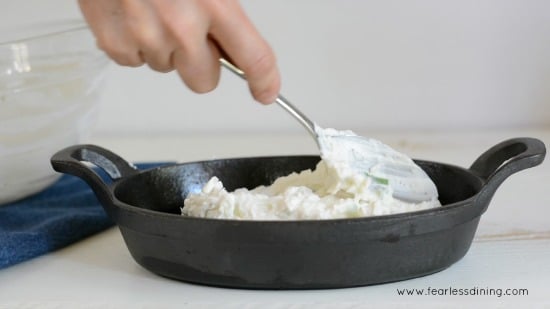 Spread out the cheese, then spread parmesan on top. Bake for 15 minutes and serve hot.
How to make a cream cheese dip:
Hot Cream Cheese Dip with Scallions
A cheesy hot cream cheese dip with scallions.
Ingredients
8 ounces Greek Cream Cheese, Softened. Regular cream cheese is okay if you can't find Greek cream cheese
4 ounces Gouda, shredded
1/4 cup chopped scallions
1/2 teaspoon salt
1/4 teaspoon pepper
2 garlic cloves, minced
Instructions
Preheat the oven to 375 degrees.
Add softened cream cheese to a large bowl and mix with an electric mixer. 
Add garlic, gouda, scallions, and seasoning. Mix in with the electric mixer.
Pour the cheese mixture into a baking dish and bake for 20 minutes.
Serve hot with crackers.
Nutrition Information:
Yield:

8
Amount Per Serving:
Calories:

109
Saturated Fat:

3g
Cholesterol:

31mg
Sodium:

395mg
Carbohydrates:

3g
Sugar:

2g
Protein:

5g