If you love a moist, juicy chicken that is super easy to make, wait until you try this delicious gluten free Slow Cooker Lemon Chicken recipe!! Even your pickiest eater will love this easy slow cooker chicken recipe! This recipe is naturally gluten free, paleo, dairy-free, Whole30, and keto!
While you are here, you may want to check out all of my delicious Gluten Free Chicken recipes on the blog. They are kid-approved and super easy to make.
How to cook a whole chicken in the slow cooker?
Today I am guest posting on my friend's blog, A Day in Candiland. She runs a series on simple slow cooker recipes and I wanted to make this recipe to share with her readers as well.
If you want to see this gluten free lemon chicken recipe, head over to her blog and check out my 5 Ingredients Slow Cooker Whole Chicken Recipe!
You will need 5 simple ingredients to make this slow cooker whole chicken including:
A whole chicken
Lemons
Fresh herbs like thyme and parsley
Garlic
Olive oil
Can you cook a frozen chicken in the slow cooker?
You can definitely cook a frozen chicken in the slow cooker, but it is going to take an EXTRA 4-6 hours to cook your chicken. In my recipe, it will be harder because I season the chicken under the skin so that the flavors seep into the meat. This can't happen if your chicken is frozen.
Is it dangerous to Cook Chicken in a Slow Cooker?
It is not dangerous to cook chicken in a slow cooker. When the chicken is done, it is very important to check the internal temperature before eating. You want to make sure your chicken has an internal temperature of 165F degrees.
More 5 Ingredient Slow Cooker Recipes
If you are into easy recipes, here are more delicious easy 5 ingredient slow cooker recipes:
Whole Chicken Recipes: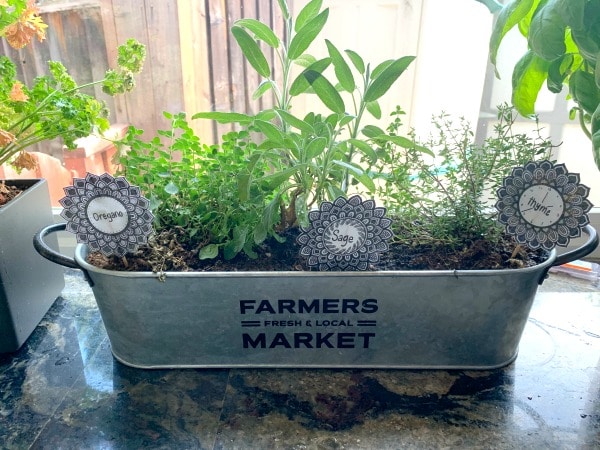 This slow cooker recipe has all of the good stuff, fresh herbs, juicy lemon...and it tastes incredible. If you love using fresh herbs in your cooking, why not try growing fresh herbs in your kitchen?
Here are even more delicious recipes that use fresh herbs:
Delicious Side Dishes to Serve with Lemon Chicken:
I hope you enjoy this yummy Slow Cooker Whole Chicken recipe, again...all you need to do is head over to my friend, Candi's blog for the recipe and directions :-).