If you love citrus and cake, you are going to want to give this moist Gluten Free Orange Almond Flour Cake a try!
I am crazy about the fresh orange and almond flavors in this gluten free orange cake recipe. This orange almond cake would be perfect for brunch, or any get-together!
(*This post was sponsored by California Grown. All of the opinions are my own.)
I am so excited to work with California Grown and share how much I use California Grown foods on a daily basis! Our family is lucky to live in California, and have easy access to delicious fresh foods. We shop at our local farmer's market here every week, but you can find California Grown product and products in your grocery stores too!
California grows more than 400 different commodities, growing more than a third of the country's vegetables and two-thirds of the country's fruits and nuts"
I used California Grown oranges and almonds to make an incredibly moist show stopper Gluten Free Almond Flour Cake!
California Grown
One of the missions of California Grown is to connect people to the farmers who grow our foods. If you shop at your local farmer's market, stop and talk to the farmers. They all have a story, and even great recipe ideas!
There is one vendor who has lots of fresh asparagus. I spent about 15 minutes talking to the farmer. I had no idea that once you plant asparagus, that bed of plants can produce for up to 20 years. I learn something new every time I shop at the market.
At this time of year, citrus is king in the markets. I have wanted to perfect my gluten free almond flour cake recipe but add a special twist.
I was able to find a vendor with several varieties of fresh oranges. I bought a few different ones to test out the flavors. My orange cake recipe uses both navel oranges and mandarin oranges!
Healthier Orange Cake
This gluten free orange cake recipe is completely redone to be a much healthier version of pound cake.
My recipe is refined sugar-free, dairy free, and full of protein thanks to the delicious almond flour.
You will find this doesn't look like a typical gluten free cake recipe because it is denser. Don't worry because this cake is as moist and delicious as any pound cake out there!
Homemade Almond Flour
If you have been following me for awhile, you know I like to add nutrition in when I can. I added almond flour to this recipe, first to add some protein to balance out the sugars in this recipe, and second because almond flour adds moisture to keep this delicious cake moist.
Did you know that California's second largest crop is almonds? With a little Cuisinart or food grinder, you can even grind almonds down to make your own almond flour! Check out my Instagram Live because I showed everyone how to grind up almonds into a fine powder!
To make almond flour from scratch, add 1 cup raw almonds to your grinder. Grind until your almonds are flour like. Be careful not to over grind or you will end up with fresh almond butter!
I wanted to make this gluten free pound cake recipe even better so I used coconut oil instead of butter so that it would be dairy free too!
I can't wait to hear what you think!
How to make a gluten free orange almond flour cake:
Add your dry ingredients to a bowl and whisk to blend.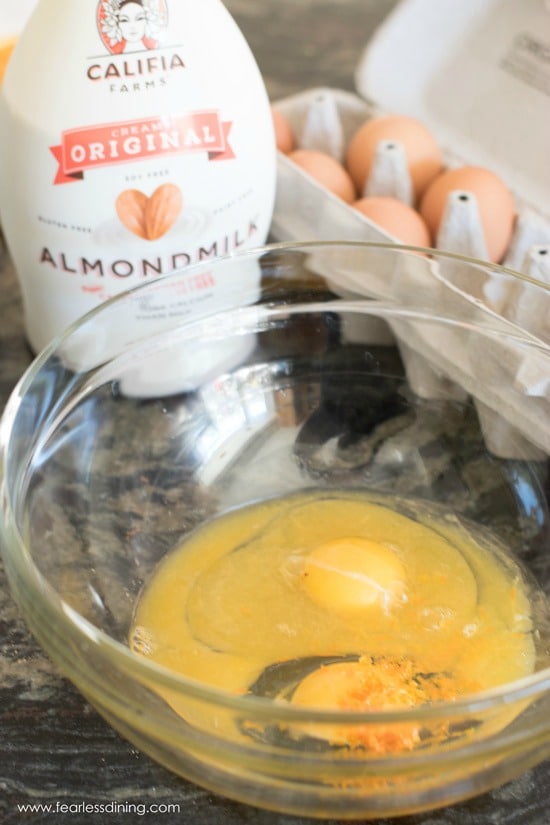 Add your wet ingredients and orange zest to a bowl and whisk to blend.
Pour the wet ingredients into the dry ingredients and mix well.
Spread out orange slices in a greased cake pan. Sprinkle the oranges with one tablespoon coconut sugar.
Pour the cake batter on top of the orange slices and bake at 350 degrees for 45 minutes.
More Delicious Gluten Free Cakes with Almond Flour:
Things You Need to Make This Gluten Free Almond Flour Cake Recipe:
A mini Cuisinart Food Processor like what I used, or a grinder.
Gluten Free Flour Blend or this one (*note, make sure your gluten free flour blend contains Xanthan Gum. If not, please add 1 teaspoon.)
Gluten Free Upside Down Orange Almond Flour Cake
A delicious gluten free upside down orange cake that is also dairy free and refined sugar free.
Ingredients
1 cup gluten free flour blend
1 cup almonds, or almond flour
3/4 cup coconut sugar, (separate out 1 tablespoon)
1 teaspoon baking soda
1 teaspoon baking powder
1/8 teaspoon salt
1/4 cup orange juice
1 tablespoon orange zest
2 eggs
1 cup almond milk
1/3 cup coconut oil, melted
orange slices
Instructions
Preheat the oven to 350F degrees.
In a food processor or grinder, grind 1 cup of almonds into almond flour.
Add all dry ingredients to a large bowl and whisk to blend.
Add wet ingredients to a bowl and whisk to mix.
Pour wet ingredients into the dry ingredients and mix well.
Spray a cake pan with coconut oil. Spread orange slices on the bottom. Sprinkle the 1 tablespoon coconut sugar over the oranges.
Add cake batter on top of the orange slices.
Bake for 45 minutes until done.
Remove from the oven and allow to cool on a cooling rack. Turn the cake upside down on a plate and serve.
Nutrition Information:
Yield:

12
Amount Per Serving:
Calories:

203
Saturated Fat:

5g
Cholesterol:

27mg
Sodium:

173mg
Carbohydrates:

19g
Fiber:

2g
Sugar:

7g
Protein:

4g
Please note this nutrition information is calculated by a recipe plugin and is an estimate based on the ingredients used in this recipe.
More Delicious Gluten Free Recipes to Try: