Sweet juicy strawberries, cream cheese, and a delicious sweet crumble combine into the perfect gluten free dessert! Mouthwatering Gluten Free Strawberry Cream Cheese Bars recipe.
One bite and I promise you will be hooked too! If you love strawberries as much as we do, you will love this healthier gluten free strawberry oatmeal breakfast bars recipe too!
(* This post was sponsored by CK Mondavi. All delicious opinions are my own. Keep reading because CK Mondavi is giving away a trip for two to Napa, CA!)
I am really excited about this new strawberry bar recipe I created. I wanted to pull in foods that would pair with this delicious chardonnay by CK Mondavi. The sweet flavors of ripe strawberries pair beautifully with the lemon and citrus flavors of this wine.
If you have been following my blog for a while, you will remember I have created several recipes around CK Mondavi's wines. Here are some of my favorites:
Each of these recipes has a special CK Mondavi wine paired with it. I have wanted to add another dessert to the pairings so I hope you enjoy this new recipe! Wait until you try their Chardonnay, it is medium bodied with a hint of oak…there are so many ways to enjoy it this summer.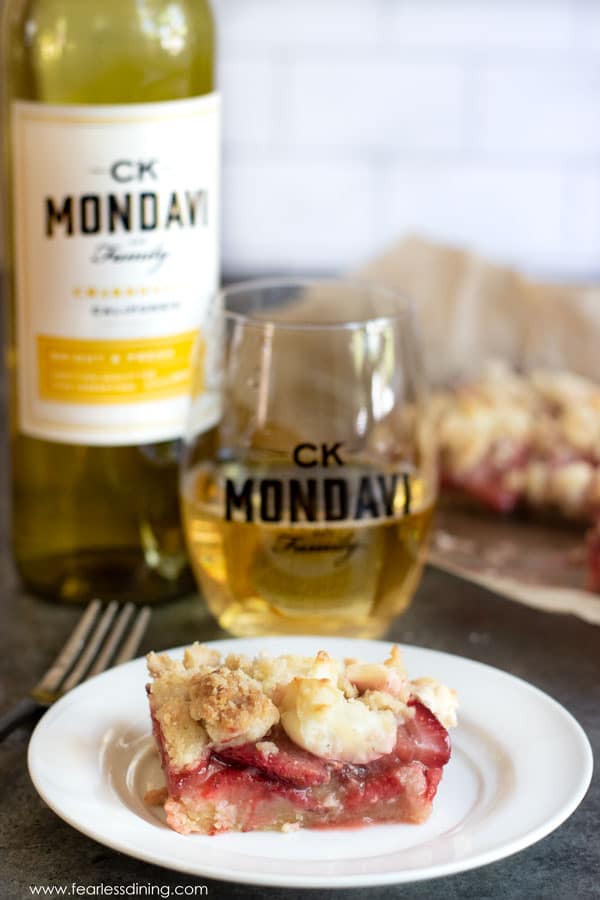 Would you like to play Bocce with the fun folks at CK Mondavi? Enter to win a trip for two to Napa!! For entry and ALL of the details, go here. Napa is a beautiful city and there are TONS of great restaurants that cater to gluten free customers.
Are you ready to see how easy these strawberry crumble bars are to make? Gather your ingredients!!
Shopping List:
Sugar
Cream Cheese
Strawberries
Egg
Butter
Baking powder/salt
Steps to make these gluten free strawberry cream cheese bars:
Let's start by making the crust.
Add the dry ingredients to a bowl and whisk to blend. In another bowl, add the wet ingredients and whisk to blend.
Pour the wet ingredients into the dry ingredients and mix well.
Pour 3/4 of the crust into an 8×8 pan. (Reserve the remaining crust for the top crumble.)
Press the crust down in the pan.
Spread strawberry jam onto the crust dough.
Add sliced fresh strawberries on top of the jam.
Sprinkle the rest of the crust over the top of the bars, then add chunks of the cream cheese. Bake at 350F degrees for 30 minutes.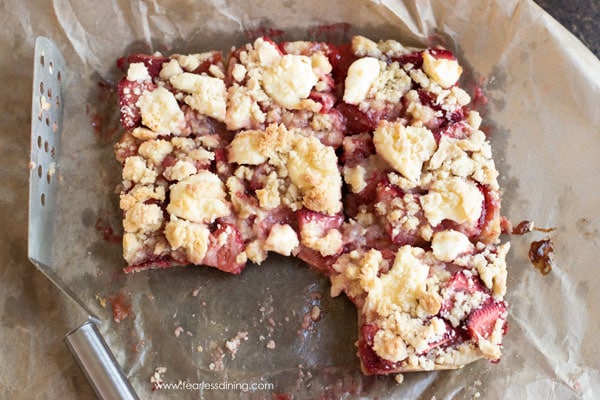 Can you make this gluten free strawberry bars recipe dairy free?
Yes, you can now that there are some good dairy-free cream cheese brands out there. Try Kite Hill or Tofutti cream cheeses. If you can't have butter, substitute coconut oil.
Can you make this recipe nut free?
I add almond flour to sneak in protein to balance out the sugar. If you can't eat nuts, simply increase the amount of gluten free flour blend to 1 1/2 cups and omit the almond flour.
How long do these gluten free strawberry cream cheese bars need to bake?
I baked my strawberry bars for 30 minutes. If your strawberries are very juicy, you may need to bake your bars 10 minutes longer to get the crust baked in the middle.
Can you use frozen strawberries if you don't have fresh strawberries?
You can use frozen strawberries, but you will need to thaw and drain off some of the liquid before adding to the crust. Otherwise, it will be too soggy.
Enjoy!!
How to make gluten free strawberry crumble bars:
Delicious Gluten Free Strawberry Cream Cheese Bars
A delicious Gluten Free Strawberry Cream Cheese Bars recipe.
Ingredients
1 cup gluten free flour blend
3/4 cup almond flour
1/2 teaspoon baking powder
dash salt
1/2 cup butter, melted
3/4 cup sugar
1 egg
4 ounces cream cheese
1/3 cup strawberry jam
1 1/4 cup sliced strawberries
Instructions
Line an 8x8 pan with parchment paper.
Preheat the oven to 350F degrees.
Wash and slice the strawberries.
In a large bowl, add the dry ingredients and whisk to blend.
In a small bowl, add the butter and egg. Make sure the melted butter is not hot. Add a little butter to the egg and whisk, this tempers the egg so it won't cook. Add the rest of the butter and whisk.
Pour the wet ingredients into the dry ingredients.
Mix well. Pour 3/4 of the crust mixture into the baking pan and press flat to cover the bottom of the pan.
Spread the jam over the crust, then add the strawberries.
Top with chunks of cream cheese and the rest of the crumble crust mix.
Bake 30 minutes. Remove from the oven and allow to cool.
Recommended Products
There are affiliate links in my posts. As an Amazon Associate, I earn from qualifying purchases.
Nutrition Information:
Yield:

16
Serving Size:

1
Amount Per Serving:
Calories:

198
Total Fat:

11g
Saturated Fat:

5g
Trans Fat:

0g
Unsaturated Fat:

5g
Cholesterol:

34mg
Sodium:

100mg
Carbohydrates:

22g
Fiber:

1g
Sugar:

14g
Protein:

3g
**If your gluten free flour blend doesn't include Xanthan Gum, please add 1/2 to 1 teaspoon! **Please note this nutrition information is calculated by a recipe plugin and is an estimate based on the ingredients used in this recipe.