Fall is my favorite time for baking and cooking pumpkin recipes. Sweet recipes, savory recipes, pumpkin is that flavorful stereotypical fall food. I pulled all of my best gluten free pumpkin recipes together in one place to make it easier for you to find them all. 
Why is pumpkin so popular in the fall?
Pumpkin is considered a winter squash and its peak growing season is at the end of August throughout the winter months. Pumpkin works beautifully in both sweet and savory recipes. It is full of nutrition and is easy to hide in desserts as a way to sneak in veggies!
Check out some of my most popular gluten free winter squash recipes for some great sweet and savory recipe ideas!
Can I cook with pumpkin year-round?
I love to cook and bake with pumpkin and you can definitely bake with it year-round. That being said, it can be difficult to find fresh pumpkins all year round.
To save time, I use canned pumpkin in the spring and summer months when I am craving something with pumpkin.
Which is better, canned or freshly roasted pumpkin, for baking?
This is a tough question. Both are delicious and nutritious. Roasted pumpkin definitely has a better flavor, but it is very hard to get freshly roasted pumpkin puree to be as fine as canned.
I prefer to use freshly roasted pumpkin in savory recipes and canned pumpkin in dessert recipes. Canned pumpkin is pureed so much smoother than freshly roasted pumpkin, which means no lumps in my baking!
If you are new to gluten free living, definitely check out my Gluten Free 101 Guide for tips and tricks for cooking, baking, and dining out gluten free.
How do you cut a pumpkin?
Cutting a pumpkin is easy, but you definitely need to take some precautions. Place your pumpkin on a cutting board and grab a sharp knife. Stand the pumpkin, so the stem is facing upwards. Cut from the stem down to the bottom along one side. Repeat on the other side and pull the pumpkin apart. You can see a great step-by-step tutorial on cutting a pumpkin here.
How do you bake pumpkin seeds?
One of my favorite snacks is baked pumpkin seeds. After you cut your pumpkin, scoop out the seeds with as little orange flesh as possible. Place them into a bowl. Toss with some light oil like avocado oil and sea salt.
Bake at 375º F until they are golden brown. Many people like to boil their pumpkin seeds before baking. Here is a great recipe for roasting pumpkin seeds.
How do you roast a pumpkin?
Roasting a pumpkin is easy. You can either roast two halves of a pumpkin or chop it up, as shown in the photo above. To roast a pumpkin:
Preheat your oven to 350º F.
Slice your pumpkin, leaving the skin on, or remove it if you prefer to roast just the pumpkin flesh.
Brush the pumpkin with oil and add salt to taste.
Place on a parchment paper-lined baking sheet.
Bake for 45 minutes (Note the time will completely vary depending on if you leave the skin on and how small or large your pumpkin pieces are.
Test to see if the pumpkin is roasted by inserting a fork. If the pumpkin flesh is soft, the pumpkin is done baking.
Make your homemade pumpkin puree with this simple pumpkin puree tutorial.
What can I make with pumpkin?
The sky is the limit!! You can make baked goods like pumpkin bread, mousse, cookies, soups, salads, fritters, donuts, muffins, cupcakes, etc. Just keep reading for all sorts of delicious gluten free pumpkin recipe ideas!!
What can you do with leftover pumpkin?
Pumpkin puree will keep fresh in the refrigerator for 2-3 days if you put it into a sealed container. Do not refrigerate in the open can! You can make any of the recipes in this post with leftover pumpkin puree, as none of these recipes require a full can of pumpkin to be used.
Don't forget to check out what is in my gluten free pantry. I give you all of the information on gluten free ingredients that work the best in my gluten free recipes!
The Best Gluten Free Pumpkin Recipes:
Gluten Free Pumpkin Cheesecake
A deliciously creamy gluten free pumpkin cheesecake that is perfect for the holidays.
Check out this recipe
Fluffy Gluten Free Pumpkin Cupcakes with Cinnamon Buttercream
Quick and eacy gluten free pumpkin cupcakes. If you are looking looking for delicious light and fluffy gluten free pumpkin cupcakes, you will love this recipe.
Check out this recipe
Gluten Free Chocolate Pumpkin Cake
A moist delicious gluten free chocolate and pumpkin marble cake recipe. If you haven't had a swirl cake, it is the best of two cakes swirled into one!
Check out this recipe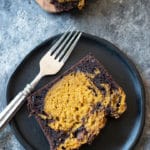 Gluten Free Pumpkin Molasses Cookies
These soft gluten free pumpkin molasses cookies taste like fall and winter combined with their delicious flavors.
Check out this recipe
Gluten Free Pumpkin Cheesecake Muffins
Fluffy gluten free pumpkin cheesecake muffins that are absolutely delicious.
Check out this recipe
Gluten Free Iced Pumpkin Cookies
Soft, delicious gluten free iced pumpkin cookies recipe.
Check out this recipe
Gluten Free Pumpkin Oatmeal Cookies
Homemade gluten free pumpkin oatmeal cookies loaded with chocolate chips!
Check out this recipe
Gluten Free Pumpkin Scones
These delicious flaky gluten free pumpkin scones are topped with a creamy cinnamon icing.
Check out this recipe
Easy Gluten Free Pumpkin Pie Bars
Delicious homemade gluten free pumpkin pie bars. These pumpkin bars have a shortbread crust, creamy pumpkin pie middle, and then are topped with a sweet crumb topping!
Check out this recipe
Gluten Free Pumpkin Coffee Cake
A decadent light and fluffy gluten free pumpkin coffee cake with a thick streusel topping.
Check out this recipe
Gluten Free Pumpkin Donuts with Honey Glaze
Easy healthy gluten free pumpkin donut recipe.
Check out this recipe
If you love the recipes you find on my blog, I would love for you to sign up for my newsletter (and get my free gluten free lemon dessert e-cookbook!)