Here are some of the best winter squash recipes that you need to try this fall! Delicious autumn squash recipes from breakfast all the way to dessert!
Whether you are looking for savory or sweet ways to use winter squash, there is an option for everyone!
Sweet and Savory Winter Squash Recipes
Do you love winter squash? It is one of my favorites because of the sweet earthy flavors! Let's not even get into how great these ideas are for hiding vegetables!
If you are like me, you like to add nutrition to your baking. My kids can't tell some of these recipes have squash inside!!
And what better way to sneak in some nutrition than to add sweet winter squash to your baking and cooking? Squash cookies, cakes, and brownies! There are so many cooked squash recipes worth trying!
Let's talk about winter squash basics.
What are different types of winter squash?
Here are my best winter squash recipes, just in time for fall and the holiday season!
Kabocha squash has become one of my favorite winter squash to use in recipes.
If you have vegetarian or vegan guests for the holidays, this gorgeous roasted stuffed kabocha squash is wonderful to serve. It can sit next to the turkey and your non-meat eating friends will feel that their meal is just as pretty.
Paleo Delicata Squash Brownies
I bet you didn't know delicata squash can take brownies over the top! Delicata squash adds a rich flavor that compliments the chocolate flavor. *Bonus your kids will NEVER know these are healthy. No refined sugars, these brownies are paleo!
Roasted Acorn Soup with Homemade Pumpkin Spice Croutons
This thick and creamy bowl of comfort is an absolutely delicious fall soup. Paired with a simple tutorial to make homemade gluten free croutons, it is a recipe worth making again and again. You can even make a double batch and freeze this soup!
If you love delicata squash, these tasty Gluten Free Delicata Squash Quesadillas make an awesome appetizer or snack. Step by step directions to cook delicata squash for the best game day party food!
Gluten Free Butternut Squash Caramel Cake Bars
Here is another dessert in which squash is the star. You will love how well butternut squash and caramel work together in this moist gluten free cake recipe. This squash cake recipe is really easy to make!
This butternut squash dessert makes a delicious sheet cake…just add some vanilla cream cheese frosting!
Vegan Roasted Kuri Squash Soup
Have you tried kuri squash? They certainly look funny (just look at the picture of them in the post!) Funniness aside, a kuri squash has the flavor of a combination of sweet potato and butternut squash. It is absolutely delicious in this soup.
Spicy option too for those who are brave!
Did you know you can use a vegetable peeler on a butternut squash to make ribbons? They make the perfect basket in this baked egg breakfast recipe!
Kabocha Squash and Apple Fritters with Pepper Jelly
Kabocha squash isn't just for pretty looks. It also pairs beautifully with apple in this Gluten Free Kabocha Squash Apple Fritter recipe! Crispy on the outside, add pepper jelly for an extra kick of spice!
Creamy Vegan Butternut Squash Soup
If you love hot soups, this creamy butternut squash soup is for you. It is a simple recipe that is ready in under 30 minutes!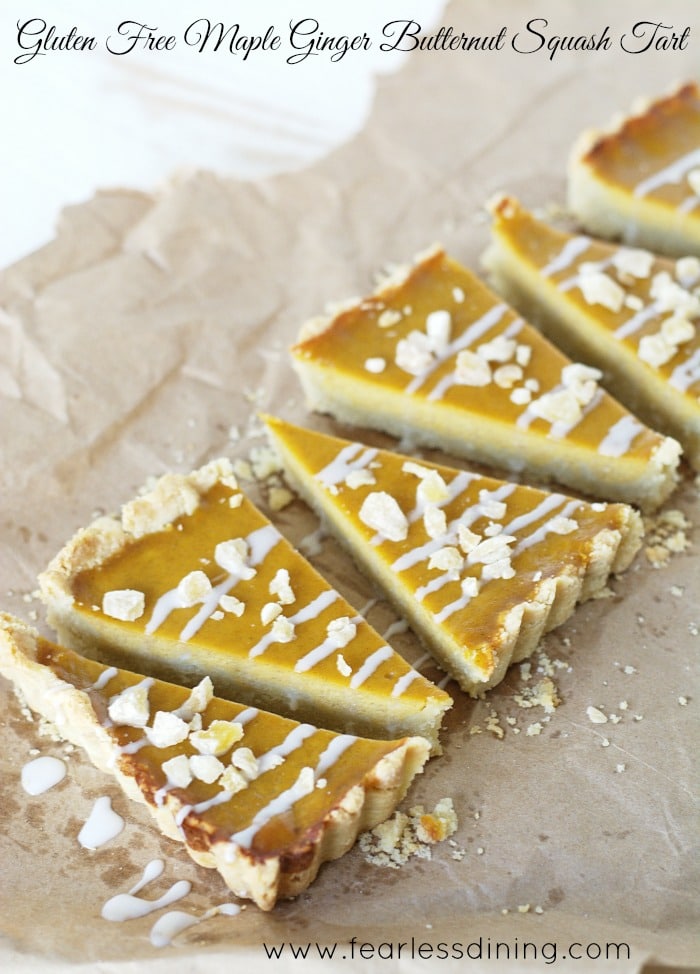 Gluten Free Maple Butternut Squash Tart with Candied Ginger
Buck the holiday pie trend with this flavorful maple butternut tart. This is a delicious gluten free tart recipe you will love for dessert! I love this easy butternut squash dessert! It is perfect for Thanksgiving, or any fall celebration.
Gluten Free Delicata Squash Scones
Delicata squash and cornmeal combine to make a delicious savory scone for you to enjoy. Serve it alongside a bowl of chili or hot soup!
Leftover Stuffing Roasted Butternut Squash
What better way to use up leftovers than roasted in a winter squash? This butternut squash caramelized, adding a fabulous flavor to the leftover gluten free stuffing!
Delicata Squash Cheddar Fritters
Love crispy cheesy fritters? This is the appetizer for you to enjoy! Delicata squash tastes delicious with cheddar cheese. This appetizer goes fast at a party so make a double batch!!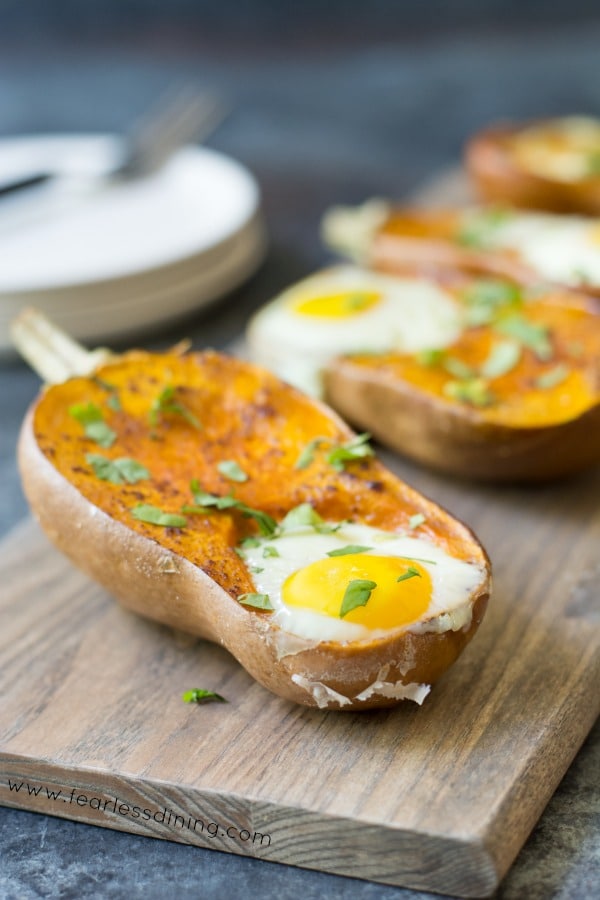 Have you seen those super cute little honeynut squash? Smaller than a butternut squash, and even sweeter. Honeynut Squash is the perfect vessel for eggs in this Honeynut Squash Baked Eggs recipe.
Acorn squash takes center stage in this easy creamy one pot acorn squash risotto recipe. This is a great vegetarian dish to serve a crowd.
Kabocha squash makes a creamy sweet mousse that is perfect for dessert! This is another dessert where you don't tell your kids it is healthy!! Who can pass up a squash dessert this good?
This spaghetti squash is stuffed with pesto, mozzarella, and sun-dried tomatoes to make a delicious vegetarian light lunch! You may also like this Mediterranean Spaghetti Squash recipe.
Hope you enjoy these delicious winter squash recipes!! Which cooked squash recipe would you try first?
Let me know what you think :-).
Sandi
P.S. If you love pumpkin recipes (they are a winter squash too!) try some of these:
More Gluten FreeYummy Recipes to Try!