If you have wondered what to make with prickly pears, you will love these fun tips and recipe ideas! I will walk you through everything you need to know about these exotic cactus fruits and how to enjoy their flavor!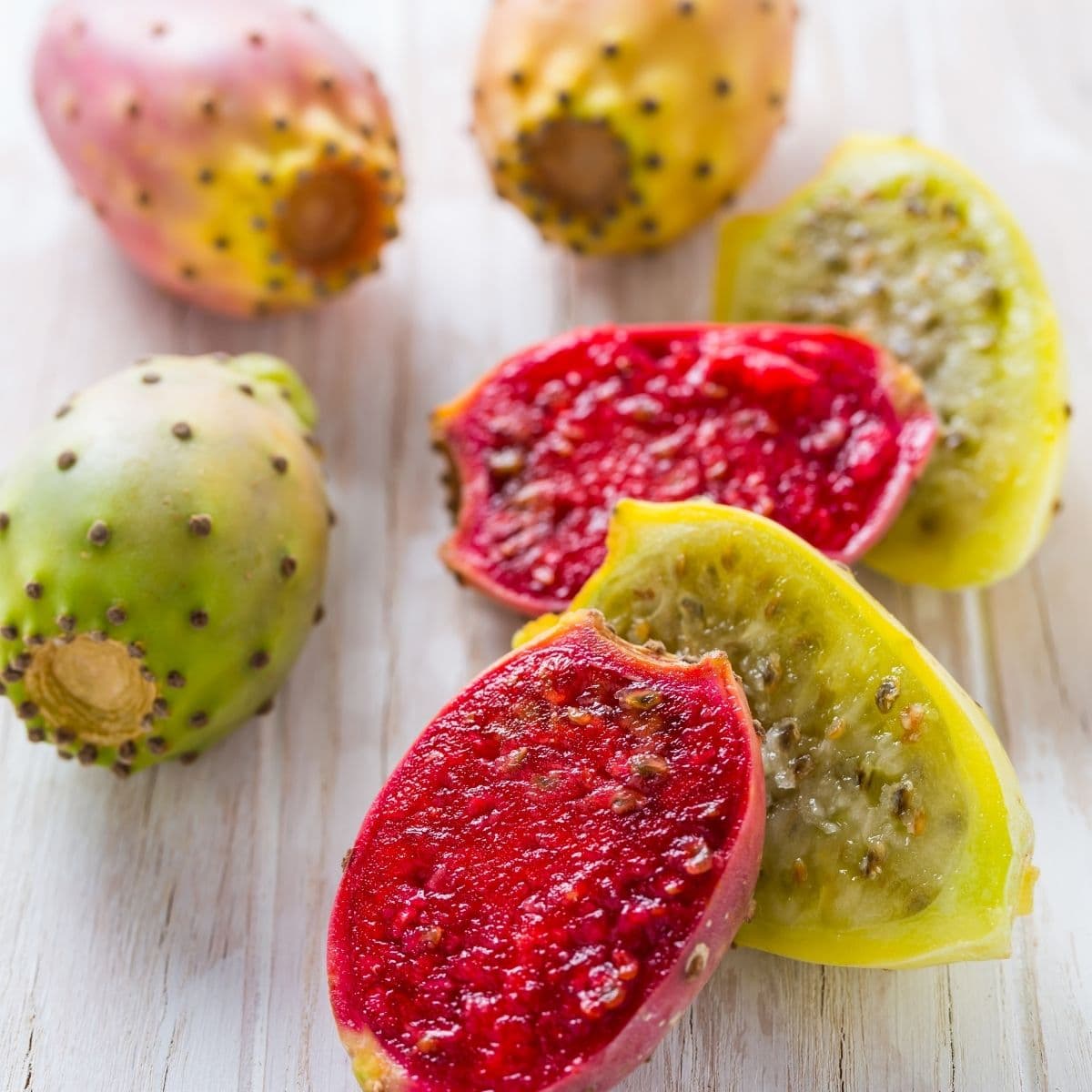 Jump to:
I have a special treat for you today! I am in love with prickly pears and will show you some of the best prickly pear recipes you can make with them!
Prickly pears have many names, including cactus fruit, cactus pears, Opuntia, cactus fig, and even Mexican tuna fruit. (How silly is that name?) They can be found throughout Mexico and some of the southern states.
Prickly pears come in several colors, ranging from red to hot pink, orange, and green. You can use any color of prickly pear in the recipes I share. I love using vibrant red and purple cactus pear fruit juice to make syrup.
How to eat a prickly pear:
There are lots of ways to eat a prickly pear. You can make a jam, prickly pear chutney, or cactus pear jelly. I love using juice to make syrup for cocktails! Sauces for roasted meats flavored with prickly pear add so much flavor.
Prickly pears taste like a cross between watermelon, strawberries, and raspberries. They have an earthy flavor and are great for sweet and savory recipes! My favorite way to enjoy them is in my Prickly Pear Margarita recipe!
What part of the prickly pear is edible?
You can eat the fruit inside of the cactus pear rind. You do not want to eat the peel or spines.
How to remove prickly pear spines:
Lucky for us, most prickly pears are sold with the spines removed. If you end up with a spiny cactus pear, you can safely remove the thorns with these steps:
Wear thick gloves
Use tweezers or plyers to pull the spines out of the prickly pear carefully.
How to cut a cactus pear:
Cutting a cactus pear is easy once the spines are removed. Place the pear on a cutting board, and take a sharp knife, and cut both ends off. Next, make a horizontal knife slice about ⅛ of an inch down the skin. You should be able to peel the skin off, leaving just the fruit.
The bummer about prickly pears is their seeds. They are hard as rocks and not edible in their current form. You will need to either remove them if you use pieces of the fruit or strain them out if you want the juice. Some brave people make cactus pear seed oil out of them, but that takes a lot of special equipment.
How to remove the seeds:
The best way to remove the seeds is to press the fruit through a fine-mesh strainer. The juice can pass through into a glass. If you want to have chunks of fruit, you can eat the fruit and then spit out the seeds. It isn't ideal, but whichever you do, be careful because the seeds are small but rock-hard.
How long will prickly pears keep fresh?
Prickly pears should keep fresh on the counter or in the produce drawer of your refrigerator for a week or two, depending on how ripe they were when you purchased them. If they are cut open, store them in these airtight containers.
And now for the recipes. These are easy, prickly pear recipes you can make quickly. I can't wait to hear which one you liked best!
The Best Prickly Pear Recipes
Prickly Pear Syrup
A simple prickly pear syrup that can be used for cocktails, or on desserts.
Check out this recipe
Prickly Pear Paletas Recipe
Food & Wine's fresh prickly pear ice pops are made of lime, agave, and prickly pear.
Check out this recipe
Summer Sorbet: Prickly Pear Recipe—Organic Spa Magazine
Vibrant color, big flavor and nutrients—all from a prickly little fruit that grows atop the nopal cacti found in California and the Southwest.
Check out this recipe
Cactus Fruit | Prickly Pear Gum Drops
It's pretty easy to turn cactus fruit into candy, and I'll show you how to make prickly pear gum drops. Easy AND delicious! Makes a fun gift idea!
Check out this recipe
Prickly Pear Ice Cream
In launching this site, I hope to head into 2018 with a creative and adventurous spirit. In other words, do dumb things and have fun doing them. So it seems fitting to kick it off with a crazy reci…
Check out this recipe
Prickly Pear Jelly
Prickly pear jelly is a real treat, and lets you have a taste of the dessert anywhere in the world. The fruit has a distinctive taste that's hard to describe, warm and earthy but also
Check out this recipe
Prickly Pear Jam
Don't be afraid to use prickly pears to make this uniquely flavorful jam, but do use gloves to remove the invisible spines.
Check out this recipe
Tenderloin with prickly pear sauce
This prickly pear sauce recipe combined with the tenderloin is superb. The prickly pear with its prickly exterior has a sour taste.
Check out this recipe
Prickly Pear Bourbon Cocktail
A delicious cocktail with prickly pear syrup and bourbon. Enjoy over the rocks with a twist of lime.
Check out this recipe
Simplifying the art of baking and cooking gluten-free recipes.