You are going to love how easy it is to make a prickly pear syrup!! The cactus pear fruit is sweet and colorful! I have used this sweet syrup for cocktails, pancake syrup, and even as a natural coloring for frosting!
If you like prickly pears, you will want to try these yummy Prickly Pear Margaritas!!
What is prickly pear fruit?
Prickly pear fruit comes in several colors and varieties. I have found cactus fruit pulp in a brilliant orange, and a vibrant hot pink so far.
I am lucky our little produce market often has cactus pears so that I can experiment with them!
You definitely want to find these with the spines (aka giant thorns) removed. The thorns are hard to remove and they really hurt if you accidentally prick yourself with one.
Have you seen other colors of cactus pear fruit? Check these prickly pears out! They come in some beautiful colors!! I have made a syrup out of both orange and hot pink cactus fruits.
You are going to love how easy making this prickly pear syrup is. The hardest part is finding prickly pears. We are lucky to have a small produce market here and they have different varieties of prickly pears most of the year.
What color is prickly pear fruit?
Prickly pear cactus fruit can vary in color from golden orange to hot pink.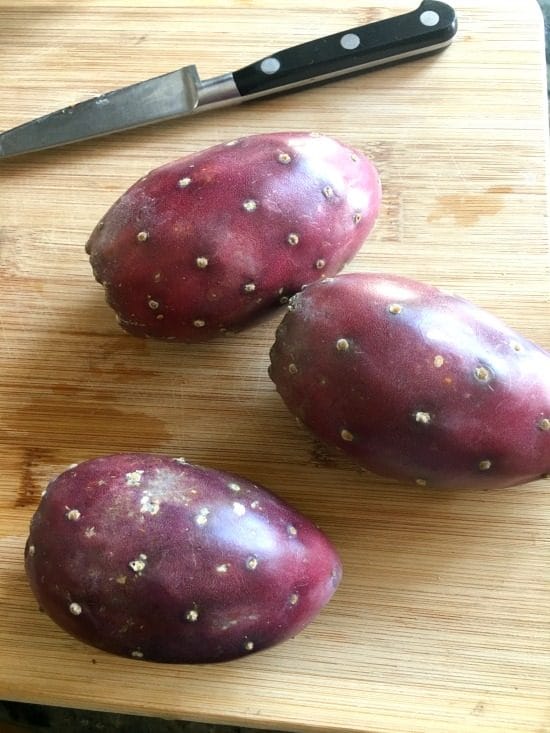 This is what cactus fruit looks like when the thorns are removed. I don't recommend buying with the thorns as they are really tough to pull off without hurting yourself.
This is what the hot pink prickly pear looks like inside.
Here is what the orange prickly pear fruit looks like. I used it to make the margarita I mentioned above.
How to remove prickly pear seeds
Prickly pears have a ton of tiny, rock-hard seeds. You definitely do not want these in your syrup!
For this golden prickly pear, I didn't cook the pulp into syrup, I just strained it to mash out the liquid. The strainer is important because it keeps all of the seeds out of the juice.
To get the useable parts, I scoop out the flesh of the prickly pear. For this recipe, I put the flesh into a pot and simmer with ¼ cup sugar and 1 tablespoon lemon juice. I simmer this for about 30 minutes on really low heat until it thickens a bit.
Next, get out that strainer and run the liquid and prickly pear through it. Use a spoon to press it into the strainer to get all of the juice out. Allow the liquid to cool and you have your syrup! It tastes amazing with bourbon in this Prickly Pear Cocktail.
More Fun Syrup and Sauce Recipes to Try:
Tools:
A fine mesh strainer to prevent the hard seeds from getting into the syrup.
You will want to use a cutting board that won't stain.
Prickly Pear Syrup
A simple prickly pear syrup that can be used for cocktails, or on desserts.
Ingredients
1 ½

cups

prickly pear

3

cups

water

½

cup

sugar
Instructions
Take your de-thorned prickly pears and cut them in half.

Scoop out the middle fruit and add to a pot with the water and sugar.

Bring to a gentle boil, then reduce the heat to simmer.

Allow the mixture to simmer, stirring occasionally, for 30 minutes. When the mixture thickens, remove from the heat and allow to cool.

Take a soup ladle and add one scoop of the mixture to a strainer. (Make sure the strainer is over a bowl.)

Use a spoon to press the prickly pear mixture into the strainer to get all of the liquid out. Empty the strainer of the seeds and thick pulp and repeat until you do this with all of the prickly pear mixture.

Chill for one hour.
Nutrition
Serving:
1
g
Calories:
60
kcal
Carbohydrates:
15
g
Sodium:
5
mg
Fiber:
1
g
Sugar:
12
g