I don't think I will ever tire of using organic canned pumpkin…not after enjoying a slice of this moist gluten free pumpkin bread.
To make this gluten free dairy free pumpkin bread even more special, I added caramel chips. The sweetness of the caramel really blends together with the rich pumpkin flavors.
Baking with Pumpkin
Pumpkin is such an incredible vegetable…its sweet earthy richness was just made to go with gluten free baking. It makes cookies and cakes so moist, it is impossible to know they are gluten free.
I had a cup of pumpkin puree left over from when I made pumpkin cookies the other day and I needed to use up the canned pumpkin before it spoiled.
This gluten free pumpkin bread in the morning is one of my favorite things to enjoy, especially with a cup of coffee.
Little did I expect my kids to eat most of this moist pumpkin bread before the next morning…and I didn't get to enjoy it for breakfast.
(*Note to self, make two loaves next time and hide one!)
This recipe won't use the whole can so here are more gluten free recipes that use pumpkin puree: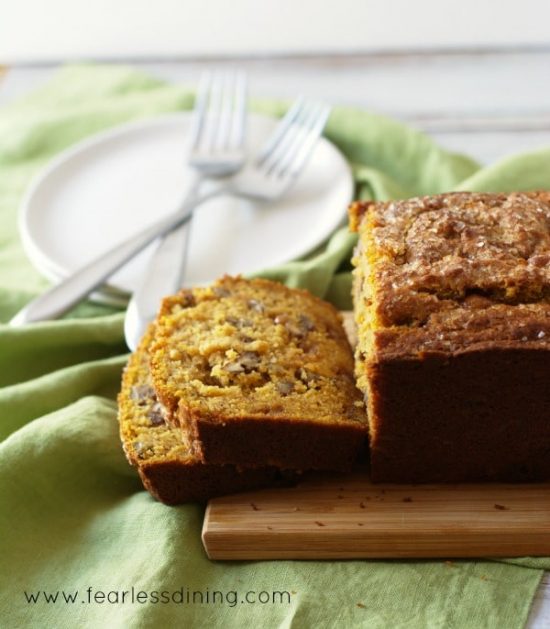 This pumpkin loaf is full of pumpkin and walnuts…and I couldn't resist adding those caramel bits to add a richness to this recipe. (Feel free to skip the caramel bits, this moist cake is so good, you won't even miss them.)
Enjoy because this is perfect gluten free pumpkin recipe for those who are Celiac and wheat free!
Fun Things to Add to Your Homemade Gluten Free Pumpkin Bread:
Nuts of any kind. My favorite nuts for pumpkin bread are walnuts and pecans. Their nuttiness works with the earthiness of the pumpkin.
Adding chocolate chips is also a delicious addition to pumpkin bread. You can use dark chocolate, milk chocolate, or even white chocolate chips in your recipe.
Caramel chips. I may be addicted to those yummy chips!
Mashed banana is also delicious when combined with pumpkin
What is the one cake you like to make that disappears quickly in your house?
To make this gluten free pumpkin bread dairy free:
To make this gluten free pumpkin bread recipe nut free:
Use 1 3/4 cups Bob's Red Mill 1 to 1 gluten free flour blend. (Don't use the Pamela's mix I list because isn't nut free.)
Click here to see all of the gluten free bread recipes on this blog!
(*Please note there is an affiliate link in this recipe. If you make a purchase using an affiliate link, it won't change the price you pay. A tiny commission will come to Fearless Dining to help offset the cost of running this blog. I appreciate your support.)
More Delicious Gluten Free Bread to Try:
Things You Need to Make This Recipe:
A non-stick loaf pan.
Gluten Free Pumpkin Caramel Loaf
Easy moist gluten free pumpkin caramel loaf
Ingredients
2 cups Pamela's Baking and Pancake Mix
1 teaspoon baking powder
1/2 teaspoon baking soda
1/8 teaspoon salt
2 large eggs
1 cup pumpkin puree
1/2 cup plain yogurt, I used full fat yogurt
3/4 cup brown sugar
1/2 cup coconut oil, melted
1 teaspoon pumpkin pie spice
1/2 teaspoon cinnamon
1/4 cup almond milk
1/2 cup walnuts
1/2 cup Kraft caramel bits
Instructions
Preheat the oven to 350 degrees.
Spray coconut oil in a loaf pan.
In a large bowl, add all dry ingredients and whisk to blend.
In a medium bowl, add all wet ingredients and whisk to blend.
Pour wet ingredients, nuts, and caramel bits into the dry ingredients and mix well.
Pour batter into loaf pan and bake 30 minutes, or until done.
Remove from the oven and cool on a cooling rack.
Nutrition Information:
Yield:

8
Amount Per Serving:
Calories:

398
Saturated Fat:

13g
Cholesterol:

43mg
Sodium:

156mg
Carbohydrates:

50g
Fiber:

4g
Sugar:

25g
Protein:

6g
Please note this nutrition information is calculated by a recipe plugin and is an estimate based on the ingredients used in this recipe.
More Delicious Recipes to Try!
Save
Save
Save
Save