This is the season for delicious gluten free holiday cookies! These are the best gluten free holiday cookie recipes on the blog...and ones that are perfect for holiday baking!
These popular gluten free Christmas cookies aren't just for the holidays!! You can enjoy them all year long!
You will find every type of cookie, and you will love bringing these cookies to a gluten free cookie exchange party! These are the cookies you bake and hide so your family doesn't eat them all in one sitting! If you love cookies as much as we do, you will want to check out ALL of my delicious Gluten Free Cookie Recipes!!
Do you love cookie exchange parties? I am so excited to give you some new cookie options for a gluten free cookie exchange that will wow your friends. Nobody will know these cookies are gluten free!! They taste that good.
Tips to avoid cross-contamination at a cookie exchange:
Keep the gluten free cookies on a separate table from the regular holiday cookies. If the gluten free and non-gluten-free cookies are too close, accidents can happen, crumbs can fly, minds can be changed, and the wrong cookies can be placed onto a gluten free plate.
Let your friends know if you are very sensitive. Many friends want to do the right thing and make gluten free cookies in their non-gluten-free kitchens. Cross-contamination is likely to happen, even if your friends are very careful.
Watch out for hidden gluten, and always ask to see the ingredient labels if you are in doubt!
If you haven't been to a cookie exchange party, it is time to throw your own this holiday season!!
This is just a sampling of the cookie recipes you will find here at Fearless Dining. There are so many cookies here because I have a killer sweet tooth :-). If you are like me, you will be trying them all! Don't forget to write and tell me which are your favorites!
Tools you need to make gluten free holiday cookies:
You need the right flour and ingredients to make gluten-free holiday cookies for your cookie exchange party. You can find my whole list here in My Gluten Free Pantry.
I use some of these gluten free ingredients in all of my gluten free cookie recipes:
Gluten free flour blend *(and add 1 teaspoon of Xanthan gum if your blend doesn't include it!)
Eggs
Sugar (coconut sugar or organic sugar, depending if you prefer refined or unrefined sugar!)
Vanilla
Coconut Oil or Butter (depending on if you prefer dairy-free!)
Almond flour to sneak in a little protein!
It seems like it was just Halloween, and here we are on the homestretch to Hanukkah and Christmas!! This year, I am all for delicious cookies ANY time of year. This collection of cookie recipes is perfect for those holiday parties, bake sales, teacher gifts, and cookie exchange parties.
What gluten free flour blends do you use to make gluten free cookies?
I have a few favorite gluten free flour blends that I prefer to use when I am baking. King Arthur Measure for Measure (awesome if you are corn-free too!), Bob's Red Mill 1 to 1 Gluten Free Blend, Cup4Cup, and Authentic Foods Multiblend.
There are many others that I haven't tried, but you want to make sure the blend you use does NOT contain bean flours (those are better for savory recipes) or a high starch-to-flour ratio.
Holiday cookie exchange parties are a popular way to share your favorite holiday cookie recipes. Which recipe will you try first?
Cookie baking tips:
Use room-temperature butter and eggs. I know that it sounds crazy to use butter and eggs at room temperature, but it dramatically helps how your cookies will turn out. You'll thank yourself later if you try it.
Take special care to measure correctly. If you add in too much gluten free flour or other ingredients, it can mess with the cookies as they bake. If they don't have the proper ratios of ingredients, you may end up with a disaster.
Chill the dough when possible. I know you are probably ready to eat your cookies, but taking a few minutes to chill the batter makes them less likely to spread.
Your oven temperature may be off. Periodically, check your oven temperature to make sure it's right. Otherwise, the cookies will, for sure, spread if it's not accurate.
Use a cooled cookie sheet when baking. Please don't take a hot cookie sheet and put the batter on it, or I promise the cookies won't turn out. They start baking immediately, and it messes with their shape of them. Use a couple of sheets and rotate them out when making large batches of cookies.
Don't let the cookies sit on the pan too long. After they have baked, only let them sit for up to 5 minutes on the baking sheet. The pan will still be hot and continue baking them otherwise.
🔑 Sandi says: For the best cookie-baking success, check out my Gluten-Free Cookie Troubleshooting Guide.
Can these cookies be made dairy-free?
Most gluten-free holiday cookie recipes can be made dairy-free with vegan butter or palm shortening.
How long do these cookies keep fresh?
These gluten free Christmas cookies will last about a week in an air-tight container in the refrigerator. You can also freeze them quickly if you want to enjoy them longer.
Can I make these ahead of time?
You can definitely make these gluten free cookies ahead of time. You can freeze them so that they are ready when you need them.
Can you freeze these holiday cookies?
You can easily freeze these Christmas cookies. Place them into a freezer-safe plastic bag or container and seal them.
Do you need to refrigerate the cookie dough before baking?
These cookie recipes are pretty varied, so you will want to check each recipe for the directions if you need to refrigerate the cookie dough first!
Also, check out my best Gluten Free Christmas Cookies on the blog :-).
The Best Gluten Free Christmas Cookie Recipes:
Gluten Free Pizzelles Cookies
Crisp, waffle like gluten free pizzelles cookies. Learn how to make lots of flavors of these delicious Italian wafer cookies.
Check out this recipe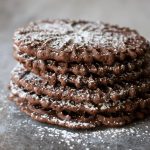 Gluten-Free Butter Cookies
Crispy delicious Gluten-Free Butter Cookies are perfect for the holidays or anytime you are craving a delicious cookie.
Check out this recipe
Gluten Free Gingerdoodles Cookies
These gluten free gingerdoodles are gingery cookies that are a cross between a snickerdoodle and a gingersnap.
Check out this recipe
Gluten Free Swiss Brunsli Cookies
If you love chocolate cookies, this delicious gluten free Swiss Brunsli Cookies recipe is so worth making. Perfect for the holidays or anytime.
Check out this recipe
Gluten Free Cardamom Cookies
Easy gluten free cardamom sugar cookies that. These cookies are perfect for Christmas!
Check out this recipe
Gluten Free Gingerbread Melting Moments
These delicious gluten free gingerbread melting moments cookies melt in your mouth. They are covered in powdered sugar and taste so good!
Check out this recipe
Gluten Free Sables
These gluten free sable cookies are light and buttery. They are French cookies also known as a Breton Sable cookies.
Check out this recipe
Gluten Free Eggnog Cookies
Melt in your mouth delicious gluten free eggnog cookies. These cookies are crinkle cookies.
Check out this recipe
Gluten Free Austrian Vanilla Crescent Cookies
These are a delicious, melt in your mouth gluten free Vanillekipferl cookie
Check out this recipe
Gluten Free Rum Raisin Cookies
Delicious homemade gluten free rum raisin cookies that are soft, yet crisp on the outsides.
Check out this recipe
Gluten Free Gingerbread Biscotti
You will love this easy gluten free gingerbread biscotti. Dip in coffee, or just enjoy these crunch biscotti anytime.
Check out this recipe
Simplifying the art of baking and cooking gluten-free recipes.
Save