You are going to love how easy these Gluten Free Cranberry Shortbread Bars are to make!
Sweet and tart at the same time, these bars are just bursting with holiday flavors!
Cranberry Shortbread Bars
Cranberries are one of those fruits that symbolize the holidays! Their sweet-tart flavor works in recipes from sweet to savory! I couldn't wait to share this new recipe with you.
You can easily make your own cranberry sauce as I show you below, or use leftover cranberry sauce from Thanksgiving!"
(If you love shortbread, you may also like these Gluten Free Shortbread Cookie Bars with Butterfinger or these Gluten Free Hawaiian Shortbread Bars.)
The thing I love most about these gluten free cranberry squares is that they FREEZE well. Yup, I am on sweets overload here and I had to freeze several to hide them from myself. I have been recipe testing, tasting, and eating a lot lately and I needed to make some of the sweets disappear.
My daughter pulled these cranberry bars out of the freezer the other day for some friends and they DEVOURED these bars in record time. She heated them up for 30 seconds in the microwave.
These cranberry shortbread cookies would taste amazing with vanilla ice cream served on top!
Fun Variations and Substitutions
Try using blueberry jam (or your favorite jam) instead of cranberry sauce. You will love shortbread bars with jam!
Add slivered almonds on top!
Add chopped pecans to the bottom shortbread layer
Top with fresh whipped cream
Add white chocolate chips!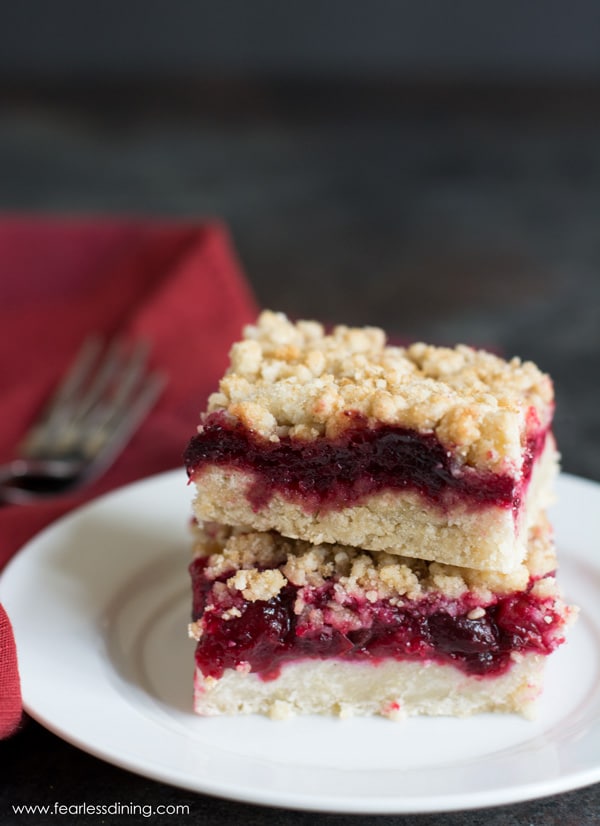 Are you ready to see how easy these cranberry shortbread bars are to make?
Homemade Cranberry Sauce
The first step is to make the fresh cranberry sauce. Add the cranberries and other cranberry sauce ingredients to a pan and bring to a boil. You will hear some popping as the cranberries pop under the heat.
While the cranberries are cooking, let's make the gluten free shortbread crust.
How to make a gluten free shortbread crust:
If you like shortbread, you are going to love how easy this gluten free shortbread crust recipe is to make. First, add your dry ingredients to a bowl. Add the cold butter in chunks to the bowl.
Use a pastry blender to cut in the butter until your crust is crumbly. (You can also use a food processor to do this.)
Add 3/4 of the crust dough to a greased 8×8 baking dish. (Save the other 1/4 to be used in the topping.) Press the dough down into the baking dish.
Bake the crust at 350 degrees for 10 minutes.
Add the cranberry sauce (or leftover cranberry sauce) to the partially baked shortbread. Spread it out to cover the shortbread crust.
How do you bake shortbread bars?
I bake my gluten free shortbread bars at 350 degrees.
Add the sugar to the remaining shortbread crust and then drop on top of the cranberry layer. Bake. Allow cooling completely before slicing.
How can you tell if shortbread is done?
I usually use the fruit layer as a barometer to determine if they are done. If the fruit layer is bubbling up around the top layer, they should be done.
More Gluten Free Cookie Bars to Try:
(*Please note this post has affiliate links. Ordering through my site will not change the price you pay. A tiny commission will come to Fearless Dining to help offset the cost of running this blog. I truly appreciate the support.)
Things You Need To Make This Recipe:
My favorite gluten free flour blend.
An 8×8 Baking Dish.
Gluten Free Cranberry Shortbread Bars
A delicious holiday gluten free cranberry shortbread bar recipe
Ingredients
Crust
1 1/4 cups gluten free flour blend
1/4 teaspoon salt
1/2 cup cold butter
1/2 cup sugar
1-2 tablespoons water, crust (Add one then if you need more add accordingly)
3 tablespoons brown sugar, topping
Berry layer
1 package fresh cranberries
1/2 cup sugar
1 teaspoon vanilla
Instructions
Preheat the oven to 350 degrees
Make the crust first. Add all of the dry crust ingredients to a bowl. 
Add the cold butter. Cut the cold butter into the dry ingredients with a pastry blender.
Pour 3/4 of the crust into a greased 8x8 pan.
Press the dough down into the pan so that it is flat.
Bake only the crust for 10 minutes. Remove from the oven.
In a small pot, add the cranberries, sugar, and vanilla.
Cook for 15 minutes on low heat until the cranberries all pop open. You can press a spoon against the berries to pop them. 
Let the cranberry mixture cool 5 minutes. 
Pour the cranberry mixture on top of the crust.
Take the remaining 1/4 crust mixture and add the brown sugar. Toss to mix.
Sprinkle the remaining crust mixture on top of the cranberry layer.
Bake for 20-25 minutes until the cranberry is bubbling.
Nutrition Information:
Yield:

12
Amount Per Serving:
Calories:

169
Saturated Fat:

4g
Cholesterol:

20mg
Sodium:

117mg
Carbohydrates:

25g
Sugar:

19g
**If your gluten free flour blend doesn't include Xanthan Gum, please add 1/2 to 1 teaspoon! **Please note this nutrition information is calculated by a recipe plugin and is an estimate based on the ingredients used in this recipe.
More Yummy Gluten Free Desserts To Try!