You will feel like a kid again when you grab a spoonful of gluten free chocolate steel cut oats. Plus, eating a bowl of stovetop steel cut oats is a fantastic way to warm up on a chilly winters day. Even my kids will ask me to make this recipe time and time again because it has become a household favorite.
Every bite is filled with chocolaty steel cut oats that are slightly sweetened with coconut sugar. The texture is chewy goodness that you can't get enough of.
When I was growing up, we would always eat oatmeal for breakfast. Once we started eating gluten free, I was worried I was going to have to give up the breakfast that I grew up enjoying.
I knew how easily oats could be cross-contaminated with wheat it is super important that you buy certified gluten free oats! There are several brands who sell certified gluten free oats, I like Bob's Red Mill and the ones at Trader Joe's. Being able to eat oatmeal has me beyond thrilled that I could still enjoy this comfort food.
During my journey of eating gluten free, I have found that you don't have to give up your favorite foods, you just have to adjust how they are made. Here is a guide to help you through the process as well. Gluten Free Pantry Essentials and Equipment Recommendations will get you started.
If you love gluten free chocolate oatmeal then you should check these other oatmeal recipes out:
Creamy Cardamom Vegan Oatmeal
Oatmeal can be one of those foods that can be very confusing when you eat a gluten free diet. I wanted to go over a few essential tips and answer some questions people often have about eating oats.
Are Oats and Oatmeal Naturally Gluten Free?
Yes, oatmeal is naturally gluten free. The issue is that the oatmeal can easily be contaminated with wheat, barley, and rye. They are often made in the same facilities as foods that contain those items so it makes sense that they can come in contact with each other. To stay safe, you should only purchase oats that have been certified gluten free.
Are Steel Cut Oats Better For You?
Yes, steel cut oats are better for you because they haven't been processed to the extent of other rolled oats. Steel cut oats are also loaded with vitamins, minerals, and fiber. They also can regulate your blood sugar, lower cholesterol and may even help you lose weight.
Can You Make Steel Cut Oats Ahead Of TIme?
Yes, you can make steel cut oats ahead of time and eat it at a later day. If you are planning to make extra steel cut oats, just store them in an airtight container in the refrigerator. You can eat them throughout the week, and the texture becomes even creamier.
How Long Will Cooked Oats Last?
Cooked oats will last about four days in the fridge. Freezing steel cut oats is another option. Flash freeze them in a muffin tin for one hour, then when they are solid pop them out and place them in a freezer bag.
Ready to make this easy gluten free breakfast? First, you will need to go shopping and get the ingredients.
Shopping List:
Cocoa Powder
Coconut Sugar
Certified Gluten Free Steel Cut Oats
Milk of your choice (I used almond milk)
Vanilla Extract (Optional)
Can you make these gluten free steel cut oats dairy free?
You can make these vegan chocolate steel cut oats dairy free by adjusting the milk. Here are some milk options that work wonderfully with this recipe:
Almond milk
Flaxseed milk
Cashew milk
Soy milk
How to make stovetop steel cut oats:
Grab your bag of steel cut oats, a pot with a lid, and water.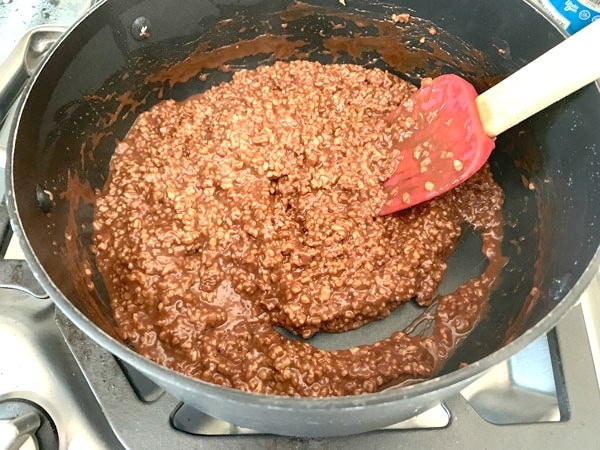 Bring 4 cups of water to a boil on the stove and add 1 3/4 cups steel cut oats, 2 tablespoons cocoa powder, 1/4 cup maple syrup, vanilla, and a dash of salt. Turn the temperature way down to low, cover, and simmer for 20-25 minutes. Stir occasionally so it doesn't stick to the bottom of the pan.
Looking for some more easy gluten free breakfast ideas? Have a look at these tasty recipes:
Steps to Make Gluten Free Chocolate Steel Cut Oats: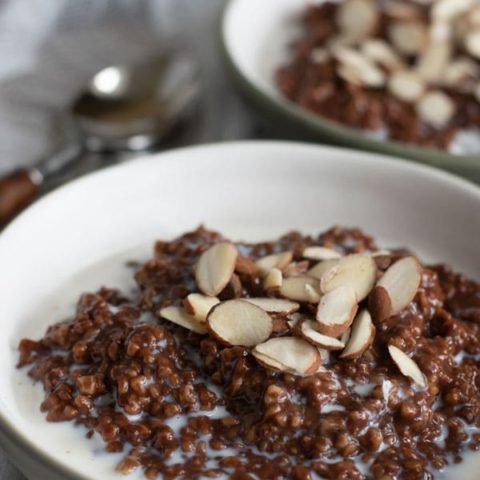 Chocolate Steel Cut Oats
Easy gluten free chocolate steel cut oats breakfast recipe the whole family will love.
Ingredients
4 cups water
1 3/4 cups steel cut oats
3 tablespoons cocoa
1/4 cup maple syrup
1 teaspoon vanilla
dash of salt
Instructions
Bring the water to boil in a pot.
Add in oats, cocoa, syrup, salt, and vanilla. Cover and cook on low.
Simmer for 20-25 minutes, stirring frequently.
Top with your favorite nondairy milk and almonds.
Recommended Products
There are affiliate links in my posts. As an Amazon Associate I earn from qualifying purchases. This doesn't change the cost you pay for an item, it just means a tiny commission comes to Fearless Dining to help offset the costs of running this blog.
Nutrition Information:
Yield:

4
Serving Size:

1 bowl
Amount Per Serving:
Calories:

335
Saturated Fat:

1g
Sodium:

15mg
Carbohydrates:

62g
Fiber:

8g
Sugar:

12g
Protein:

11g
**If your gluten free flour blend doesn't include Xanthan Gum, please add 1/2 to 1 teaspoon! **Please note this nutrition information is calculated by a recipe plugin and is an estimate based on the ingredients used in this recipe.