This easy gluten free fried chicken recipe is seriously the best. You will be hooked with one bite of this crispy, juicy, gluten-free fried chicken with tapioca starch! Follow all of my tips and tricks to get the best gluten free fried chicken ever!
Jump to:
When the owner, Ari, of Proposition Chicken in San Francisco, told me he was going to share his exclusive gluten free fried chicken recipe with us, I thought about how incredible this was. How often do you feel safe eating fried chicken at a restaurant? It is one of those things I truly miss.
Why This Recipe Is Great:
This recipe is made with tapioca starch and no flour, so it is naturally gluten free.
It gives you every step to make restaurant-quality fried chicken.
This recipe will bring back those memories of real crispy fried chicken. The kind your grandma made!
You can also use this recipe to make gluten free chicken tenders and nuggets too!!
Comfort foods like these rarely happen in the gluten-free realm; if they do, they are not very good. (Looking at this photo of gluten free fried chicken is really making me hungry!)
Ingredient Notes: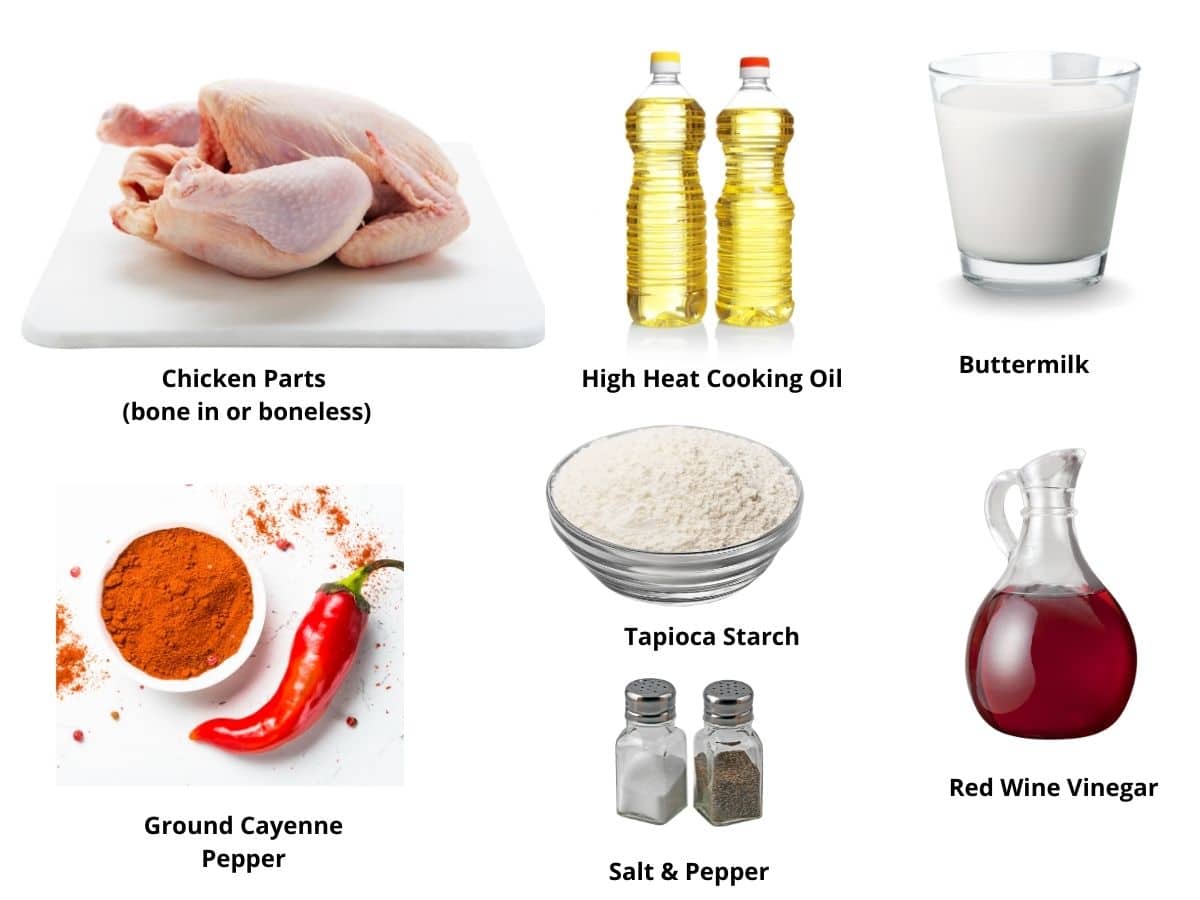 Chicken - You can use bone-in or boneless chicken cut for this recipe.
Tapioca starch - This is the hero of the recipe. It is grain-free and adds the crispiest of coatings!
Buttermilk - This adds flavor and juiciness. If you don't have buttermilk, mix 1 cup of milk with one tablespoon of lemon juice.
Red wine vinegar - Most vinegar is gluten free, but always read the labels!
Cayenne - This adds a hint of spice; it is optional.
Oil - One of the most important factors to consider when choosing an oil to use is the oil's smoking point. The smoking point is that moment when the oil is no longer glossy and shimmery looking, and it starts to smoke. I recommend using avocado oil or canola oil. If you use Canola, be sure to check Is Canola Gluten Free.
Recipe Step-By-Step Directions:
Step 1: Add all the buttermilk, red wine vinegar, and cayenne pepper to a large mixing bowl. Mix the ingredients with a whisk until the mixture is frothy. This should take about 2 minutes.
Add the raw chicken to the liquid ingredients, cover the bowl, and coat it with the buttermilk mixture. Cover the bowl with plastic wrap.
Step 2: Soak the chicken in the buttermilk overnight or for 12 hours in the refrigerator. This makes the meat more tender and juicy when you fry it.
Remove the chicken and dip it into the tapioca starch seasoning blend. Toss the chicken to coat it.
Step 3: In a Dutch oven or large 12-inch cast-iron skillet, heat the oil to 350-375º F. Use a digital thermometer to measure the temperature. Gently drop the chicken into the hot oil. Be careful of the hot oil spattering out of the pan!
HINT: I recommend using canola or avocado oil because they are good at high heat. Do NOT use olive oil or other low smoke point oils or the flavor will turn out rancid.
Step 4: Use long metal tongs to flip the chicken over so both sides cook evenly. Cooking time will vary by the cut of chicken you use and whether it is bone-in or boneless. Be sure the internal temperature of the meat is 165º F.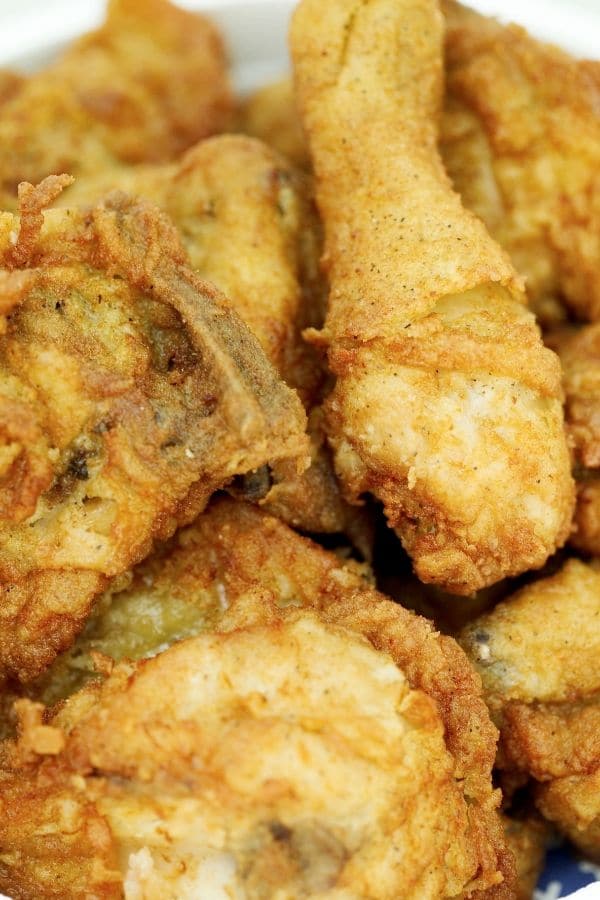 If you want to try one of my old Texan favorites...you need to try this easy Gluten Free Chicken Fried Steak recipe!! If you make chicken nuggets with this recipe, you can use them for my Gluten Free Orange Chicken!
Easy Frying Tip:
Our outdoor Weber grill has a side burner attached. I use this to make my fried chicken. I hate when hot oil splatters all over my kitchen; that smell permeates EVERYWHERE! Avoid all of this if you can, and cook this outside.
Recipe FAQ:
Is there gluten in fried chicken?
Unfortunately, traditional fried chicken does contain gluten. Not only do they coat the chicken in flour, but the fryers in many restaurants become contaminated because they also fry other gluten foods in the fryer.
What types of gluten free flour can you use to make this recipe?
The best gluten free flours to use for frying chicken and other savory dishes like eggplant parmesan are Tapioca Starch (the star of this easy chicken recipe), Cassava Flour, Bob's Red Mill Gluten Free Flour Blend (in the red label bag), and Gluten Free Bisquick.
How long do I fry it in oil?
The length of time to cook fried chicken depends on whether you cook it in a frying pan, air fryer, or deep frying. When cooked, you want to ensure the chicken's internal temperature is 165º F.

A deep fryer like this recipe calls for takes about 18 minutes. Cooking this recipe in a skillet with an inch of oil will take about 25 minutes. You will need to turn the chicken often so all sides get crispy.
Can you make this recipe in an air fryer?
I have not tried this recipe in an air fryer yet, but one of my readers has tried it. She said the fried chicken would take around 25 minutes to cook in an air fryer. This Air Fried Chicken Drumsticks Recipe is made a little differently but tastes amazing!
Do you need to use buttermilk in this recipe?
Buttermilk definitely adds to the flavor profile of this recipe. If you don't have buttermilk, why not make some with milk and lemon juice?

For this recipe, use regular milk and add one tablespoon of lemon juice. Let it sit for 10 minutes then you are ready to go :-). If you want delicious baked fried chicken, try this Gluten Free Buttermilk Oven Fried Chicken recipe!
Sides To Serve With Fried Chicken:
📖 Recipe
Best Gluten Free Fried Chicken Recipe
This is the best gluten free fried chicken recipe ever. One bite of this crispy, juicy gluten free fried chicken and you will be hooked!
*As an Amazon Associate, I earn a small commission from qualifying purchases.
Ingredients
Marinade
8-10

pieces

Bone-in chicken of your choice

1

cup

buttermilk

(*see note)

¼

teaspoon

cayenne pepper

¼

tablespoon

red wine vinegar

dash of salt and pepper to taste
Cook
2

cups

hot oil for frying

(*see note)
Instructions
Marinade
Put all ingredients (except chicken) into a bowl and whisk until fluffy.

Put the raw chicken into a large dish and pour the marinade over the butchered chicken.

Move chicken around to make sure all of the raw chicken is all covered in the marinade.

Cover with plastic wrap and refrigerate for 12 hours.
Prep
Drain marinaded chicken in a large strainer.

Place chicken in the tapioca flour and toss it around to cover the whole piece of chicken.

Let the chicken rest 2-3 minutes on a baking pan.

Gently heat oil in a pre-seasoned cast iron skillet. If you have a deep fryer, that is great! I would use that instead. The oil should be 350-375 F degrees before adding the chicken pieces.

Fry the chicken for 10 minutes on one side. Flip the chicken to cook the other side another 10 minutes. (Do this if you are not fully submerging your chicken in the hot oil. After you cook each side of the chicken, check the internal temperature of 165 F degrees. The total cook time would be around 20 minutes, but it depends on the cut of chicken you are using. If you are deep frying the chicken it will take less time for your chicken to cook.

Season the chicken with salt and pepper.
Notes
Many ask if you can use cornstarch instead of tapioca, this should be okay.
If you do not have buttermilk, you can make your own by mixing 1 cup milk with 1 tablespoon lemon juice.
If you like your chicken extra crispy, double-dip it! After doing one dip in the tapioca starch, put back into the buttermilk, then redip into the tapioca starch.
Use an oil that is made to tolerate high heat. Canola, avocado, and coconut oil are all great high heat oils for frying. (Note if you use coconut oil it will impart a flavor where canola and avocado oil are tasteless.)
You want your hot oil temperature to reach between 350-375 F degrees before adding the chicken.
This fried chicken will keep up to 3 days in the refrigerator in an air-tight container. To reheat, put onto a baking sheet, cover with foil (to prevent burning the crispy coating), and bake in the oven at 325 F degrees for 20 minutes. Check to see if it is heated all the way through.
SPECIAL NOTE
Please know that every gluten free flour blend has a different starch to grain ratio. If you use a blend I didn't test, you may need to adjust your moisture levels in your baked goods.
Nutrition
Serving:
1
g
Calories:
566
kcal
Carbohydrates:
15
g
Protein:
1
g
Fat:
57
g
Saturated Fat:
5
g
Cholesterol:
4
mg
Sodium:
32
mg
Potassium:
41
mg
Sugar:
1
g
Vitamin A:
76
IU
Calcium:
35
mg
Iron:
1
mg
Nutrition Disclaimer
Nutritional information is an estimate provided to you as a courtesy. You should calculate the actual nutritional information with the products and brands you are using with your preferred nutritional calculator.
Simplifying the art of baking and cooking gluten-free recipes.