What is on the menu for breakfast in your house? I have pulled together 10 of my most popular gluten free breakfast ideas to help you have the best breakfast ever. Gluten free doesn't have to be hard to make.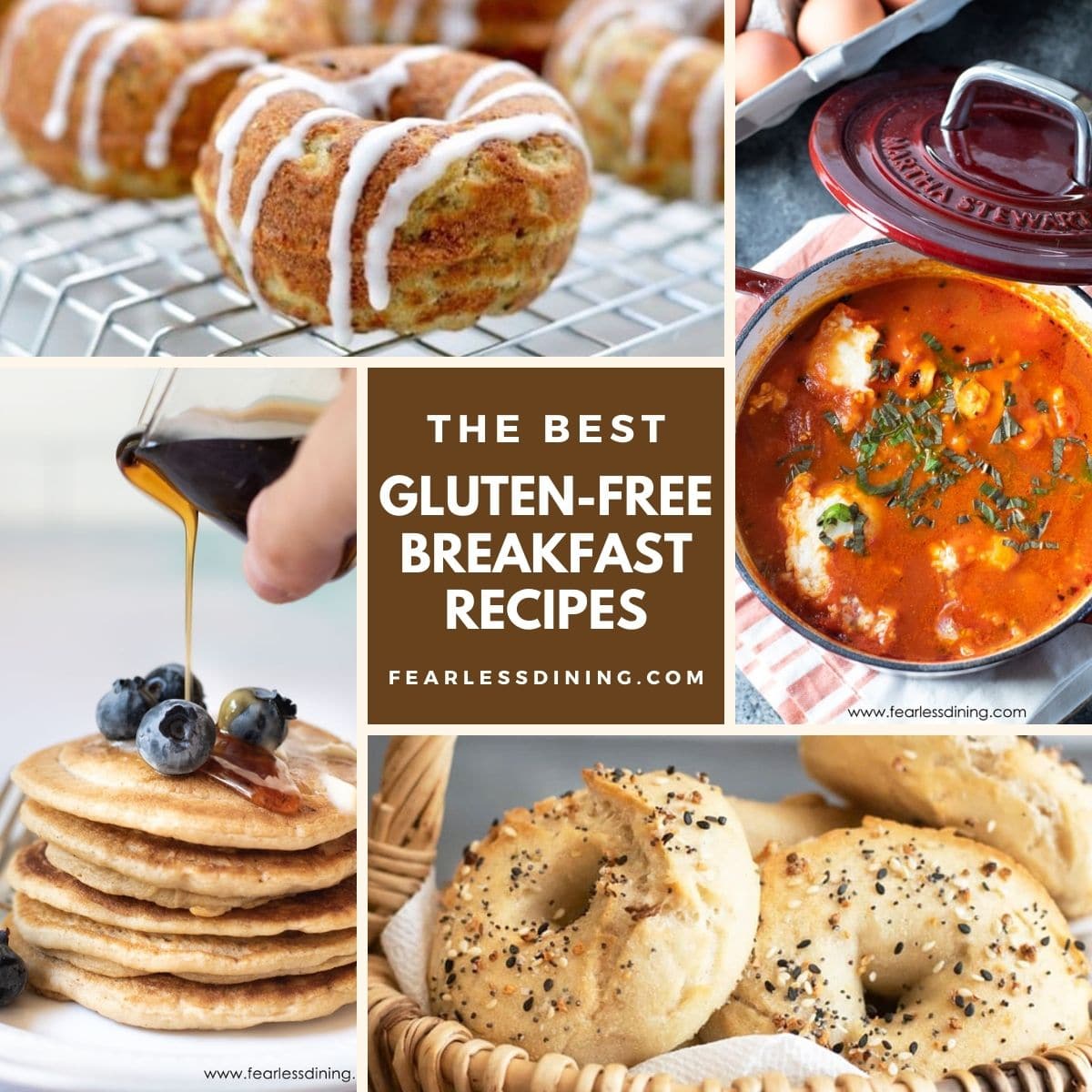 Jump to:
This post is dedicated to all of you who are either new to gluten free living or looking for some new breakfast ideas to jazz up your mornings! Many also want to make breakfast with their kids and help them learn their way around the kitchen.
Why I love these gluten free breakfast recipe ideas:
These recipes are easy to make with simple ingredients.
I love that kids can get in the game by making these recipes, too!
You can make many of these recipes and freeze the extras so you always have a ready-made breakfast on hand.
It is time to break out the mixing bowls, pull the eggs out of the refrigerator, and grab the other ingredients too. These recipe ideas for the perfect gluten free breakfast will make this day memorable.
All 31 of these gluten free breakfast recipes have easy-to-follow step-by-step directions so you can easily make the recipe. I include sweet and savory breakfast recipes so everyone can find something they love. These breakfast ideas are perfect for brunch as well!
You will find delicious breakfasts like these:
Eggs
Pancakes
French Toast
Muffins
Pastries
Scones
Gluten Free Breakfast Pastry:
1 Gluten Free Kolache is one of my husband's favorite breakfast treats. Fill them with jam.
2. These Gluten Free Cheese Danish have a sweet cheese filling, and you can add a dollop of jam too!
3. Gluten Free Flaky Pastries are a French treat. They are so incredibly flaky!
4. Gluten Free Pop-Tarts are one of my kids' favorites. Fill them with your favorite fruit!
Gluten Free Muffins:
1 Gluten Free Zucchini Muffins - Who said zucchini has to taste bad? It is delicious in these fluffy gluten free muffins.
2. Gluten Free Strawberry Muffins - You can use strawberries or any fruit you like. These muffins are the fluffiest!
3. Gluten Free Lemon Poppy Seed Muffins - If you love lemon, this is the muffin recipe to try next!
4. Gluten Free Banana Oat Muffins - These healthy muffins are bite-sized and perfect for snacking!
5. Gluten Free Blueberry Muffins - You can't go wrong with this classic muffin. Use fresh or frozen blueberries.
6. Gluten Free Vegan Chocolate Chip Muffins - If you can't eat eggs, this vegan option is delicious!
7. High Protein Blueberry Muffins - Need a protein boost? These muffins have lots of protein hidden inside!
Gluten Free Scones:
1 Gluten Free Cinnamon Apple Scones - By far one of the best scones ever!
2. Gluten Free Blueberry Scones - This classic British-style scone is easy to make.
3. Gluten Free Maple Bacon Scones - Maple and bacon were made to go together!
4. Gluten Free Date Nut Scones - One of my original scone recipes, these scones are full of delicious flavor!
5. Gluten Free Cornmeal Cheese Scones - If you are feeling like something savory. These cheese scones are really tasty!
Gluten Free Pancakes:
1 Gluten Free Pancakes - These gluten free and dairy-free pancakes are light and fluffy!
2. Gluten Free Oatmeal Banana Pancakes - These pancakes are full of all of the healthy good stuff, but still taste sweet and delicious.
3. Gluten Free Buckwheat Pear Pancakes - Pear adds so much sweetness to these buckwheat pancakes.
4. Cassava Flour Pancakes (Paleo) - Cassava flour is all of the rage and this easy pancake recipe is so easy to make.
Gluten Free French Toast and Waffles:
1 Gluten Free Stuffed French Toast - Stuff your French toast with this sweet vanilla bean ricotta and fresh berries.
2. Gluten Free Chicken and Waffles - Chicken and waffles make the ultimate brunch!
3. Gluten Free French Toast Cheesecake - Try something unique for breakfast. French toast makes a great cheesecake crust!
4. Jules Gluten Free Belgian Waffles - My friend Jule's Belgian waffles recipe is absolutely incredible.
5. Gluten Free French Toast Muffins - Use bread in a fun new way making these muffins. They freeze well too!
Egg Dishes:
1 Garden Vegetable Shakshuka - This shakshuka is a wonderful breakfast to try. It is hearty enough to serve for dinner too!
2. Tex Mex Migas - Kick it up a notch with this tasty Tex Mex breakfast.
3. Egg Muffin Cups - Have the kids help make these with their favorite breakfast fillings.
4. Bell Pepper Frittata - This easy fluffy frittata is an easy breakfast to make.
5. Gluten Free Breakfast Sandwich - Grab some English muffins and have some fun with toppings!
6. Egg and Potato Skillet - This is a staple recipe in our house. Anything bacon is so good!
Check out the Breakfast Ideas Web Story too!
Simplifying the art of baking and cooking gluten-free recipes.