What is on the menu for breakfast in your house? I have pulled together 10 of my most popular gluten free breakfast ideas to help you have the best breakfast ever. Gluten free doesn't have to be hard to make. If you are new to gluten free living, don't forget to check out my free Guide to Gluten Free Living. There are tons of tips and tricks to navigate gluten free cooking and dining.
When I was deciding which recipes to choose, I chose recipes that would be easy for dads and kids to make together. Magic happens when we can get our kids to help in the kitchen :-).
This post is dedicated to all of you who are either new to gluten free living or maybe you are looking for some new breakfast ideas. Many also want to make breakfast with their kids and help them learn their way around the kitchen. Does the mom in your house like breakfast in bed? What about dad?
It is time to break out the mixing bowls, and pull the eggs out of the refrigerator, and grab the other ingredients too. These recipe ideas for the perfect gluten free breakfast will make this day memorable."
All ten of these gluten free breakfast recipes are not only really easy to make, but they have simple steps so even your little ones can help make these. I include both sweet breakfast recipes and savory breakfast recipes, so everyone can find something they love. These breakfast ideas are perfect for brunch as well!
Grab your helpers and get ready to cook! Don't worry about the mess…you know that is going to happen regardless :-). (And just don't let Mom see the mess!)
I would love to hear about your special celebrations and what you had for breakfast. Do you get served breakfast in bed?

Easy Gluten Free Breakfast Recipes
The hero of breakfast and one most people often miss are pastries. Wait until you try this Gluten Free Cheese Danish recipe. It is crazy good. Fill with a sweetened cream cheese mixture and your favorite jam!! If you love pastries, don't forget to try my famous Gluten Free Flaky Pastry recipe too!
Light and Fluffy Gluten Free Strawberry Muffins
When I say light and fluffy, you will find this is the ONLY muffin recipe you will ever want to make again. They are that good. Just use your favorite fruit! I have a TON of delicious gluten free muffins recipes on my blog that you will want to check out!
These muffins are not only gluten free, but they have almond flour, which adds some protein as well!
Gluten Free Date, Coconut, and Pecan Scones If you are looking for something a little different, these Scones are one of my personal favorites. Kids can get their hands a bit dirty making this recipe, which is half the fun!
Here is a link to all of the gluten free scone recipes on this blog in case you love them too! I include both sweet and savory scones…a scone for any occasion :-).
If you are looking for a paleo recipe, these easy Paleo Pear Muffins make a great breakfast for when you need something on the go! Made with coconut flour, they are light and full of chunks of pear and cinnamon. If you love paleo recipes, check out my Paleo Apple Donuts recipe too!
Love donuts but you don't want to feed your kids too much sugar in the morning? Your problem is solved with these delicious Gluten Free Breakfast Donuts. They are super healthy, but don't tell anyone! Nobody will know these donuts are healthy!!
I have a TON of gluten free donut recipes on the blog…which is your favorite?
This Gluten Free Lemon Poppy Seed Cake recipe is fairly new on the blog. Our lemon tree is producing a crazy amount of lemons this season and I have been busily working to create new lemon recipes!
If you love lemon as much as we do, here are my best Gluten Free Lemon Dessert recipes to try.
Peanut Butter Lovers Rejoice over this Gluten Free Peanut Butter Cinnamon Rolls recipe. A gooey sweetened peanut butter glaze tops these delicious rolls. These are definitely one of my kids' favorite recipes.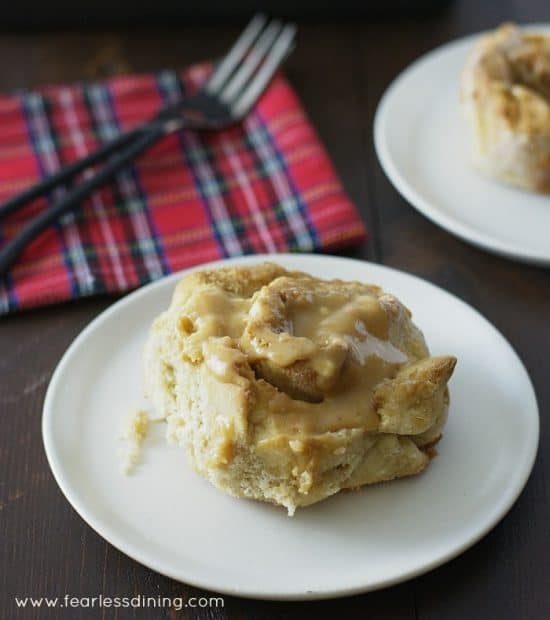 If you love pancakes, this easy Gluten Free Buckwheat Pear Pancake recipe is a wonderful breakfast treat! This is also one of my favorite breakfast recipes to make for brunch. Add in blueberries or any fruit.
(And don't let the word buckwheat scare you away…this is a wonderful gluten free flour to use. Its flavor blends with the fresh pears and maple in the best way!)
Here is a pancake recipe for my grain-free readers. These light and fluffy Gluten Free Cassava Flour Pancakes make a delicious breakfast. These pancakes are also paleo, meaning no dairy or refined sugars too!
If you have some fresh strawberries or another berry on hand, this Ricotta Stuffed French Toast is a fun breakfast treat kids love. Gluten free bread makes wonderful French Toast!
If you love a more classic shakshuka recipe, you will love this Garden Vegetable Shakshuka. You can use any vegetables in your refrigerator. I do suggest using Cento brand peeled canned tomatoes in this recipe, their flavor is far superior to most canned tomatoes. (unsolicited plug!)
If you like a heartier breakfast, this Ground Turkey Chili Shakshuka recipe is perfect. Filled with a quick and easy homemade turkey chili, the eggs and spices cook together! Add in some fire-roasted hatch chiles for a spicy pizzaz!
This simple Pepper Frittata recipe is so easy to adapt. Use this basic recipe and add your favorite vegetables, cheese, and even meat to make this frittata everyone will love.
Another savory recipe, this easy breakfast recipe incorporates one of my favorite spicy foods, hatch green chiles. The flavor of hatch chiles blends beautifully with cheese in these Hatch Chile Cheesy Grits. Top with a fried egg and let that runny yolk drip down into these spicy cheese grits!
If you love hatch chiles as much as I do, here is a great tutorial on how to fire-roast hatch chiles!
If your family likes a more simple breakfast, this homemade Cinnamon Granola is quick and easy to make. Sprinkle it on yogurt and fruit for a light breakfast. If you prefer a grain-free paleo granola, check out this Paleo Granola recipe!
Breakfast wouldn't be complete without something for my chocolate lovers. Chocolate is often considered unhealthy, and definitely not for breakfast….but I aim to prove the skeptics wrong with this delicious cream Gluten Free Chocolate Steel Cut Oats recipe!!
If you are short on time, overnight oats are a great option for oatmeal lovers. Give this Apple Crisp Overnight Oats recipe a try.
Happy morning everyone 🙂
Save