This easy gluten free sourdough bread recipe is made from my sourdough starter recipe, and it is so easy to make you will be surprised it is gluten free! Making your first gluten-free sourdough starter is a bit of work, but it is well worth the effort!
This sourdough bread is also egg-free and dairy-free, so it is perfect for those with food allergies!
Jump to:
(This post was updated and reorganized from an older 2014 post. I included a lot more tips from myself and readers to help you make this recipe with success.)
There is nothing better than the taste of fresh sourdough bread! It is seriously (or should I say srsly) the most incredible comfort food! This recipe comes from Sadie, of the famous Bread Srsly in San Francisco. This is not her current recipe, as she has tweaked her recipe over the years, but it turns out incredibly. I have also streamlined this recipe quite a bit since she first shared her recipe with me back in 2014.
Sadie used a combination of millet, sorghum, brown, and white rice flour in her original recipe. Many of us don't have a lot of individual flours on hand...so it was important for me to simplify the ingredients. This is a great introduction if you want to try making a version of Bread Srsly's famous sourdough bread.
I encourage you to read Sadie from Bread Srsly's story about how she started her famous gluten free sourdough bread company! Her story is so romantic! Her fams affectionately call it Srsyl Bread :-).
This is the second installment in my how-to-make gluten free sourdough bread series. The first thing you need before making this gluten free sourdough bread is to make your gluten free sourdough starter. See the Do This First section for making your gluten free starter.
If you love gluten free bread as much as we do, check out my delicious gluten free bread recipes.
Making gluten free sourdough bread takes a lot more time and work to make sourdough bread without yeast. The good news is once you have a starter, it is quick to make this bread.
Do This First:
Go to my How to Make a Gluten Free Sourdough Starter page and make your gluten free starter! Do this FIRST!!
One of my readers had great success making this gluten free sourdough with Bob's 1 to 1 Gluten Free Flour Blend, another with Krusteaz. I have added photos of every step along the way to make this recipe easier to follow.
A Note on Gluten Free Flour Blends:
I have tested several different gluten free blends. I talk a lot about King Arthur Measure for Measure, which is a standard blend. I also used a very starch-heavy gluten free flour blend by GF Jules. Both performed very well.
The main difference is the texture of the bread. GF Jules was much lighter and fluffier, while the King Arthur flour blend loaf was a little more hearty, like regular sourdough bread. Both loaves are baked with a nice crust. I brushed melted butter on both halfway through baking so they would brown.
Many of my readers have chimed in with different flours they have tried in the comments, so I encourage you to keep reading through everyone's comments. Dana loved Bob's Red Mill 1 to 1 Gluten Free Blend with this recipe.
I made mine with Krusteaz Gluten Free 1 to 1 flour, and it turned out great. I will definitely be making it again. Thanks for the tips on buttering the top and baking with water/steam. The crust is perfect."

Veronica R.
Recipe Step-By-Step Directions:
We are finally ready to make this gluten-free sourdough bread loaf! Are you as excited as I am?
Step 1: You will need ½ cup of your gluten free starter. Make sure it is bubbling and at room temperature! I typically take my starter out of the refrigerator the night before I make bread. I feed it by adding some gluten-free flour and water and let it sit on the counter overnight.
Step 2: Put the dry sourdough bread dry ingredients into a large mixing bowl and whisk together.
Step 3: Add water and the sourdough starter as described in the recipe card below. Mix well. You want a wet dough, like a thick pancake batter.
Step 4: Grease a non-stick metal 1 lb. loaf pan and coat well using a basting brush. Pour in the dough. Don't overwork the "batter." Let it rise in the pan for 2-12 hours (go by how big it rises). It may look lumpy. Let it- don't overwork- you are eliminating the rise with every stroke.
🔑 Sandi says: Put aside about ½ cup of the starter from your bowl to be used as your starter for another time. You can store it in the refrigerator and feed it 2-3x a week. You can read more about making and feeding a sourdough starter in my How To Make a Gluten Free Starter post.
This is my favorite option so far - let it rise in the pan you'll use for baking and it has the softest crust and best crumb of the four 5 recipes I've tried, while still being super easy."

Sara K.
Note that the King Arthur Measure for Measure is a little runnier in consistency. The GF Jules has a much higher starch content and looks much fluffier!
Step 5: Bake the gluten free sourdough loaf for 45 minutes at 375º F. I noticed it hadn't browned on top – so I brushed the top with melted butter at the 45-minute mark and then quickly closed the oven door quickly.
Hurry when gently brushing the melted butter on- the longer the oven is open, and the rack pulled out a bit – will lose a tiny bit of its rise. Once the oven is closed again, the rise comes back quickly.
Step 6: Bake for the full 60 minutes with a Probe style Roasting Thermometer showing 160-180º F in the center. Note bake time will vary depending on the size and depth of the pan you bake your bread in.
If you notice that the thermometer has a bit of residue on the probe, you can turn off the oven and leave the loaf in the oven to cool so it finishes baking and cooling more gently to keep as much of the final baked-in rising and fluff.
Cool completely before removing from the pan and slicing with a serrated bread knife.
Read my Gluten Free Bread Troubleshooting Guide for more tips and possible troubleshooting.
How to get crusty bread:
I highly recommend baking this bread with a pan of hot water to create steam. Sadie at Bread Srsly didn't do this, but I found baking with hot steam creates a really good crust to the bread.
To get steam, you can fill a shallow baking dish with very hot water and put it on the bottom rack in your oven when you turn the oven on. Keep it there the first hour your bread bakes.
You can also bake your sourdough in a Dutch oven. Keep the lid on for the first 45 minutes of baking, then remove the lid for another 30 minutes.
Recipe FAQ:
Is sourdough bread gluten free?
No, regular sourdough is not gluten free because it is made with wheat flour. If you are gluten free, you need to use gluten free flour to make your starter and bread.
How can you speed up the rise?
If you want to speed your rise a little, add 1-2 teaspoons of sugar. Many of my readers have used 1 teaspoon of soda powder mixed in. I added 1 teaspoon of sugar to the GF Jules mix before adding it to the bread loaf tin, and it seems to have risen higher and kept the rise through baking better.
Why do so many use Bob's Red Mill 1:1 and King Arthur Measure for Measure when these flours don't work with yeast?
In the early days of gluten free baking, there were not many choices in flour or blends. Many people didn't know Bob's 1:1 wasn't recommended for yeast recipes, so they used it. Bob's 1:1 does work in this recipe. I don't know why, but why not, with so many readers using it with good success?
Can you shape this bread as an oval?
Sadie's sourdough recipe was meant to be loaf style, and it is not really "formable," so it doesn't make a boule style round loaf.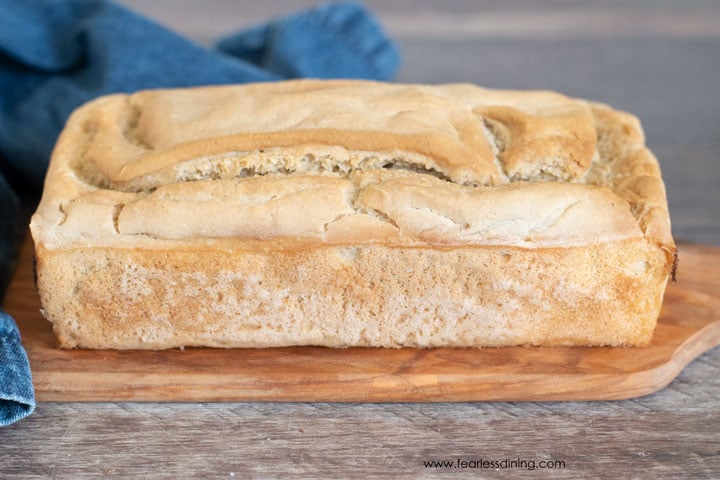 Reader Tips:
I am putting in a lot of reader tips...there is so much experience in perfecting your bread. I encourage you to read the tips and comments section.
It was a pleasure at each step- because it was an adventure. Not everyone is that enthusiastic, I know. But, for someone whom has zero experience in gluten free baking – this brave trial was easy and enjoyable."

Dana
I am new to gf sourdough bread baking, and each loaf is improving. Only the first was a complete fail due to stickyness. I mix my dough in the a.m., and mid afternoon, I mix a 2 T. boost of flour, ¼ c. of water and 1 teaspoon of baking soda, add that into the dough and move the dough into my loaf pan for a fairly quick rise. I bake at 400F for an hour after dinner for use the next day. I check temp with a probe for 200+F. I don't use steam and crust is cruchy/chewy. I've used center of oven and low center without noticing a difference. Some tips that may work - fluff flour with fork before measuring, and mix with a fork, too. You can cover your loaf pan with a second for the ride to allow room and protect. Some bake like this to simulate a Dutch oven, but I've not tried it yet. If I use the baking soda, it really helps the rise and opens the grain. Otherwise it is fairly sense and short. I am wondering how to reduce stickyness more. I am thinking a different flour may help. I have been using Wal-Mart GF All Purpose and BRM in the red bag. Both have some starches. I usually toast my bread slice and that dried them a bit, too. This has been a fun adventure, and we've enjoyed discard pancakes, too.

Chris, reader comment
I successfully babied a sorghum starter for several weeks feeding it regularly and discarding only occasionally until it matured. I have found the process to be not as finicky as it is usually presented and is quite forgiving. I have since made 4 successful loaves of various kinds of gluten free bread, baking once a week and keeping my sourdough in the refrigerator during the week, bringing it out the night before I plan on using it and feeding it. I always make mine with a stand mixer and beat it for 3-4 mins before putting it into a loaf pan forming it with a wet silicone spatula. I always use bottled or spring water in my recipes as chlorine kills bacteria, therefore living sourdough. If I am in a hurry to bake, I add 1 teaspoon of baking sofa to my loaf. It reacts with the acidic sourdough and causes a faster rise. If I am not, I practise patience...not my finest asset! Sometimes rise may take anywhere from 12-48 hrs for the dough to double in size. Because I live in the great white north, I also always put my bread in the oven with the light on to rise. I oil the top of my loaf lightly with olive oil and place a kitchen towel over it. Once it is fully risen I remove it from the oven and heat my oven to 450. I put the loaf in and then decrease the temperature to 420 for 20 mins. This gives a beautiful chewy crust. Then I decrease my oven again to 375-400F and bake for 30 minutes until the interior loaf measures above 205F. Let it cool completely before slicing up the loaf. Store in the freezer taking out what you will use, defrosting in the microwave until warm. This recipe makes fantastic sandwiches! I use this method with all the loaves I have made and it works great! Hope this helps!

Lois M., reader comment
We've accidentally left out the salt a few times at the bakery, and we found that the bread did not rise as much as a salted dough! It was really interesting, and not at all in line with the baking rules I know. The key to getting your recipe down is the balance between water, binder, and bake time. Too little water means the dough can't stretch enough to take full advantage of the binder. Too little binder, and the water will just make it harder to bake, with less rise because there isn't enough elasticity. Too low a bake temp means that the amount of oven spring will be small.

Sadie, responding to a reader question about salt
Serve With:
If you haven't eaten a lot of sourdough bread or are looking for some ideas on what to serve it with, here are a few tasty ideas:
If you love gluten free bread, you will want to try these Gluten Free Cheddar Herb Muffins recipes too. They are so light and fluffy. Also, these Paleo Biscuits are delicious and perfect for anyone who needs to be grain-free!
Sadie's Original Recipe:
Here is the recipe that Sadie gave me back in 2014, untweaked. Several readers still use this recipe, so I wanted to include this in my article. This is the quote from Sadie, who used a millet, rice, and sorghum flour blend. The salt and xanthan gum are not used in the starter but in the bread:
Mix together equal parts of the flour of your choice and water. Avoid using pure starches like tapioca, corn, or potato starch.
Leave it in a bowl at room temperature, covered by a towel. Add a little more flour and a little more water every 8-12 hours (2-3 times per day).
After 3-5 days, the mixture should start to smell sour and have some bubbles. Congratulations, you're almost there.
Once your mixture is bubbling, add a little bit to your bread mix. Do not use any yeast. Let this rise for at least 12 hours.
Once the dough has risen, it will be your sourdough starter! Use a little bit of this dough in a fresh batch of dough.
You'll be impressed at how vigorous your sourdough can be.
Always save a cup or so of your last dough to use as a starter in your next batch.
Keep it in the fridge, and be sure to "feed" it with fresh water and your blend of flour from the bread recipe at least once a week, but twice if you can.
If you want to try another great sourdough recipe, give this Gluten Free Sourdough Bagels recipe a try! If you want to make incredible gluten free bread quicker, give my delicious Gluten Free Bread Machine Bread recipe a try!
📖 Recipe
Gluten Free Sourdough Bread
An easy loaf style gluten free sourdough bread recipe. This is a recipe from Sadie at Bread Srysly.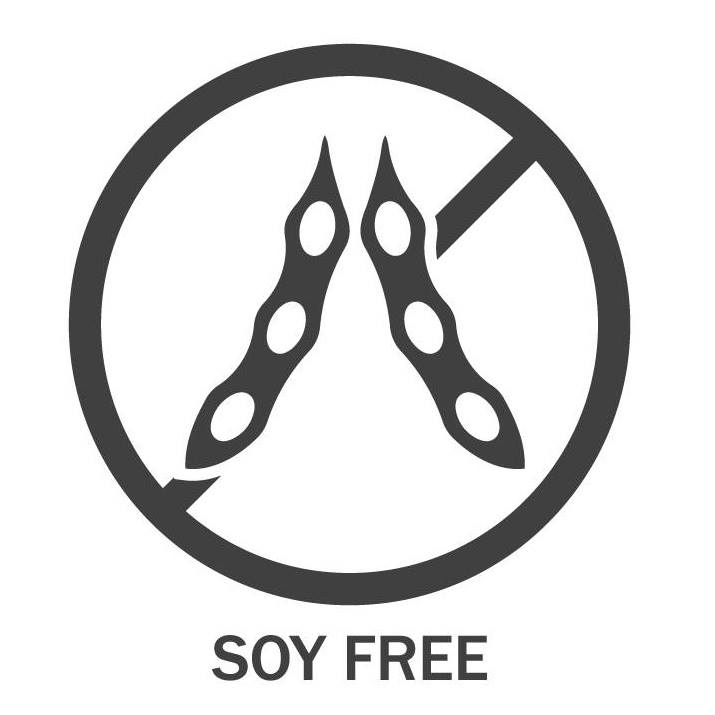 Ingredients
2

cups

gluten free flour blend

* see note

1

teaspoon

kosher salt

½

cup

sourdough starter

water by feel
Instructions
Please read the post because it is loaded with tips from me and readers. It is impossible to put them all in this recipe card.

Put dry ingredients into a bowl and whisk together.

Add water and sourdough starter.

You want a dough that is wet like pancake batter.

Let the dough rise for 12-24 hours at room temperature.

Put some aside to be used as your starter for another time.

Put in a greased loaf pan and bake at 350-400 for one hour.

Cool completely before slicing.
Notes
Read the entire post. You will miss a lot of tips and tricks in making this recipe a huge success.
Use a flour blend that works well with yeast. I like to use Cup4Cup, Pillsbury, or Jules GF Blend. Many readers have successfully used Bob's 1:1 and King Arthur's Measure for Measure.
Note this is a recipe that came from Sadie at Bread Srsly. She has lots of tips in the article as well as 100s of reader comments filled with tips.
SPECIAL NOTE
Please know that every gluten free flour blend has a different starch to grain ratio. If you use a blend I didn't test, you may need to adjust your moisture levels in your baked goods.
Nutrition
Serving:
1
slice
Calories:
76
kcal
Carbohydrates:
16
g
Protein:
2
g
Fat:
1
g
Polyunsaturated Fat:
0.1
g
Monounsaturated Fat:
0.1
g
Sodium:
194
mg
Potassium:
0.04
mg
Fiber:
2
g
Sugar:
1
g
Calcium:
13
mg
Iron:
1
mg
Nutrition Disclaimer
Nutritional information is an estimate provided to you as a courtesy. You should calculate the actual nutritional information with the products and brands you are using with your preferred nutritional calculator.
Looking for more? Get my FREE Gluten Free Lemon Desserts E-Cookbook when you sign up for my weekly recipe newsletter!
Save