If you love spicy, you will love adding hatch chiles to your cooking (and baking!) Watch our video tutorial to learn how to roast hatch chiles either on the grill or on your stove. Here are also 12 delicious hatch chile recipes to help you explore new ways to enjoy these peppers!
Jump to:
Delicious, fresh hatch chiles are in stores now...so if you like spicy, give them a try. Hatch chile recipes are incredibly popular in the southwestern and western portions of the United States.
Hatch chiles have a unique flavor and are deliciously spicy long green peppers that pack a fair amount of heat. The hatch chile season is short, so many chefs and people buy a case, fire roast them, and freeze them all year long.
Although most people use these chiles for savory recipes, you can also use hatch chiles in desserts! If you want to try something different, be sure to try this homemade Gluten Free Hatch Chile Apple Pie recipe!
What Are Hatch Chiles?
Authentic hatch chiles are grown in the Hatch Valley of New Mexico (hence their name!) and are a wildly popular spicy pepper. They are most common in the Southwest, but they also show up in other country areas like here in the Bay Area!
Several of our local grocery store chains now carry these peppers during the summer months. Green hatch chiles are not for the weak at heart because these hatch chile peppers can be spicy!
I used to think hatch chiles were a specific type of chile, but I was wrong. Hatch really just refers to a region where chiles are grown.
Varieties Of Hatch Chiles:
New Mexico #20 is the mildest of the chiles.
Big Jim is medium hot/spicy.
Sandia Select is HOT.
New Mexico green chile 6-4 is the most common chile.
How Spicy Are Hatch Green Chile Peppers?
These roasted hatch chile recipes are for you if you love spicy peppers. They are said to pack a medium heat, but I have had many that are a lot spicier. Follow along with me and find a new recipe using hatch chiles to try!
Are you ready to don your gloves and roast some New Mexico green chiles? I can't stress enough that you want to wear gloves when you are peeling the skin off these roasted chiles. If you forget and then touch your eyes, it really hurts!!
I tossed the green chiles onto my grill and allowed them to blister. You want the skins to be very blistered.
How To Roast Hatch Chiles On A Grill:
When choosing how to cook my hatch chiles, I most often grill the green chiles on my grill so they get a nice smoky flavor. The skin blisters quickly, and there is no real clean-up.
Heat your grill to about 400º F.
Wash your hatch chiles.
Toss them on the grill rack whole. Occasionally, turn them to get dark spots (blistered) all over the chile.
Let the skin get burned and blistered over the open flame! You want the skins to be very blistered.
Remove from roasted peppers grill, and allow the peppers to cool. This will help to loosen their skin.
It is good to don gloves and carefully peel off the burnt skin.
Remove the stems and seeds.
These are spicy, and a little hatch chile pepper goes a long way in a recipe.
How To Roast Hatch Chiles On A Stove:
Turn on your stove.
Heat a cast-iron pan until it is hot. Add a teaspoon or two of a high heat oil like olive oil. You just barely want to coat the pan, so less is better.
Add the chiles and allow to char on each side. Turn to get the blistered skin on all sides of the pepper skin.
Allow the peppers to cool.
Follow steps 6-8 above.
How To Roast Hatch Chiles In The Oven:
Turn on the oven broiler and move the oven rack up close to the burner, so the whole chiles are close to the heat source.
Wash your chiles.
Place the chiles on a sheet pan in a single layer.
Broil the chiles until the skin is blistered. Use tongs to flip them over so that all sides are fire roasted.
How To Peel Blistered Hatch Chiles:
I get asked this question a lot. Hatch green chiles have very thick skins, and peeling them is important. The thick skin also leaves a not-so-good after-taste, so I am giving you easy directions to peel your green chiles.
Once you remove the chiles from the grill, oven, or stove, place them on a plate or in a dish to cool slightly.
This cooling allows the skin to soften, making peeling them a lot easier.
Grab a hatch chile and pinch a blistered area and pull. The skin will pull back easily from the chile.
I don't use the skins for anything, so I just toss the blistered skins into the trash.
I can't stress enough that it is very important to wear gloves when you peel hatch chiles. I learned this the hard way when I rubbed my eyes after peeling chiles. It definitely hurts! You can use rubber kitchen gloves or medical gloves.
(If you use medical gloves, put them on, then wash your hands to remove any powder residue before peeling the chile.)
The best way to preserve your hatch chiles is to freeze them. I freeze hatch chiles ALL of the time. Hatch chiles are only available for a few short months in the summer, so if you want to enjoy their spicy flavor all year round, you will want to freeze them. There are two ways to freeze your hatch chiles:
Be sure the skin is removed before freezing the chiles. (See above How To Peel Hatch Chiles.)
Make sure you fire-roast and peel the hatch chiles before freezing them! I place the peeled hatch chiles into a freezer-safe bag, squeeze out the air and freeze them.
Freeze the hatch chiles in a single layer in a freezer bag, or chop the hatch chiles and put them into an ice cube tray. Pop the frozen cubes into a freezer bag. I have frozen my hatch chiles both ways. If you do not plan to make chile relleños, I recommend using the ice cube trays method.
What Can You Make With Hatch Chile?
You can make a variety of dishes with hatch chiles. Here are some of my favorite things to make:
Chile Rellenos
Enchiladas
Burritos
Chile con Queso
Salsa and Chile Verde and other delicious sauces
Wine - Yes, there is a company that makes hatch chile wine!
Pies and desserts have become popular in the South.
Are you ready to feast your eyes on some delicious ways to enjoy hatch chiles?
If you love all types of chiles, here are 8 amazing Shishito Pepper recipes to try!
More Easy Pepper Recipes:
The Best Hatch Chile Pepper Recipes:
Hearty Ground Pork Chili Recipe
A delicious hearty ground pork chili recipe that makes the best family dinner. Naturally gluten free!
Check out this recipe
Tuna Melt Panini with Grilled Onion and Hatch Chiles
Easy grilled cheese tuna melt panini full of sweet grilled onion and spicy hatch chiles.
Check out this recipe
Hatch Chile Hummus
Easy fire-roasted hatch chile hummus. It makes a delicious spicy appetizer.
Check out this recipe
Easy Healthier Funeral Potatoes with a Mexican Twist
A healthier version of funeral potatoes with fire roasted hatch chiles.
Check out this recipe
Fully Loaded Green Chile Potato Skins for #SummerFest • The Heritage Cook ®
This entry is part 23 of 49 in the series Food Network Hallelujah, football season is back! The men in my life are thrilled and I am happy to see...Read More
Check out this recipe
Pork Chile Verde
This pork chile verde uses fresh roasted hatch green chiles and lots of roasted tomatillos. It can be served plain, over rice, or wrapped up in a corn tortilla.
Check out this recipe
Slow Cooker Lamb Stew With Hatch Chiles
This is an easy spicy slow cooker lamb stew with roasted hatch chile peppers. I also include a non-spicy version!
Check out this recipe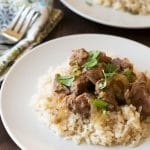 Grilled Pork Chops With Hatch Green Chile Polenta
A healthy, vibrant dish with flavors of New Mexico and the desert southwest! Grilled Pork Chops with Hatch Green Chile Polenta combines a green chile flecked polenta with a cumin-rubbed and grilled pork chop, and
Check out this recipe
Roasted Hatch Chile Cheese Grits and Eggs
An easy hatch chile cheddar grits with eggs recipe. It makes the best breakfast!
Check out this recipe
Spiced Pork Stuffed Hatch Chile
Spicy, smoky, sweet and succulent - Spiced Pork Stuffed Hatch Chile is great as a party appetizer, main meal or an easy weeknight dinner!
Check out this recipe
Hatch Chile Corn Dip for Game Day Eats
Creamy with a kick, this Hatch chile corn dip is just what you need to munch while watching the big game with friends.
Check out this recipe
Gluten Free Hatch Chile Apple Pie
If you love sweet and spicy, wait until you try this homemade gluten free hatch chile apple pie recipe! Everyone will love this sweet and spicy flavor combination!
Check out this recipe
Looking for more? Get my FREE Gluten Free Lemon Desserts E-Cookbook when you sign up for my weekly recipe newsletter!
This post was updated from an older August 2018 post with more information and tips for fire-roasting hatch chiles!